Alice Black Jewelry "Pretty Vacant" 2013 A/W Collection
Alice Black – an independent Japanese accessory brand that's popular in the Tokyo street fashion scene – debuted their 2013 Autumn/Winter collection in Harajuku last week. The silver jewelry in the new Alice Black "Pretty Vacant" collection is heavily influenced by the 1970s punk scene. The brand's founder, Norimi, is a longtime figure in the Harajuku street fashion scene, and influences from that culture seep into his designs as well.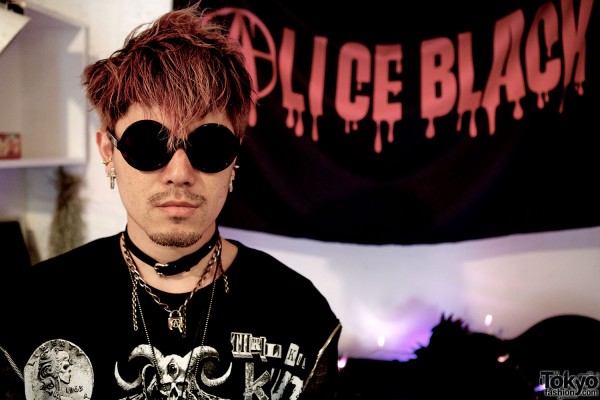 The Spring/Summer 2013 Alice Black collection was the first to feature leather items (in addition to the brand's popular silver work). The new Autumn/Winter collection takes the brand's leather evolution a step further with the release of an Alice Black platform boot created in collaboration with the British footwear brand Broga Vidar.
In addition to the leather items (including belts and bracelets), Alice Black showed plenty of new silver designs – including rings, necklaces, and earrings. The pieces are inspired by punk culture – and of course the brand's trademark character, a skull with anarchy symbol mouse ears, makes a few appearances as well. The new collection will be available at Wall (LaForet Harajuku, first floor) as well as various select shops, the brand's official website, and several online boutiques.
Check out the Alice Black "Pretty Vacant" 2013 A/W Collection pictures below and remember that you can click on any of the photos to see them in high resolution.
Click on any of the Alice Black pictures to enlarge them.
The Alice Black x Broga Vidar boots are produced in collaboration with the British/Japanese brand Broga Vidar. For more information on Broga Vidar, check out their official website. The cool floral arrangements in the Alice Black "Pretty Vacant" Harajuku exhibition were by Ikkaya Tokyo.
For more information on Alice Black's collections – past, present, and future – check the brand's official website.
Photos by Kira.
***
About the photographer:
Born in Japan, educated in Japan and the US, Kira shoots exclusively with Canon DSLRs. Photography assignments include fashion, bands, sporting events, and portraiture for various companies and bands throughout Japan & the world. His portfolio can be viewed at Artist-Photo.