Aoyama Christmas Pictures 2009
Christmas 2009 has passed us by – and now we've all moved onto celebrating the New Year – but that won't stop us from posting the last of our Tokyo Christmas 2009 photo walks. The final walk is in a really nice area: Aoyama! Somehow, with all of the parties and shopping, we didn't quite get these pictures posted before the holiday, but they look just as pretty now as they did last week. And, maybe you'll even feel a little nostalgic for…a few days ago. Or, maybe not. Anyways, please join us for a walk around Aoyama to check out how various shops and fashion brands wished Japan a Happy Christmas 2009.
We'll start this walk on Kotto Dori. Kotto Dori is a famous shopping street in Aoyama that links Aoyama Dori and Roppongi Dori. We'll start on the Roppongi Dori end of the street, near where Kotto Dori intersects with one branch of Highway 413. That intersection is the location of the Raf Simons shop (Neil Barrett used to be there), and only a few shops down from the Rick Owens shop on 413 that opened in 2009. We love Rick Owens leather jackets, so we'll use any excuse to end up in the area of that shop!
(Remember, you can view a high quality version of any photo by clicking on it.)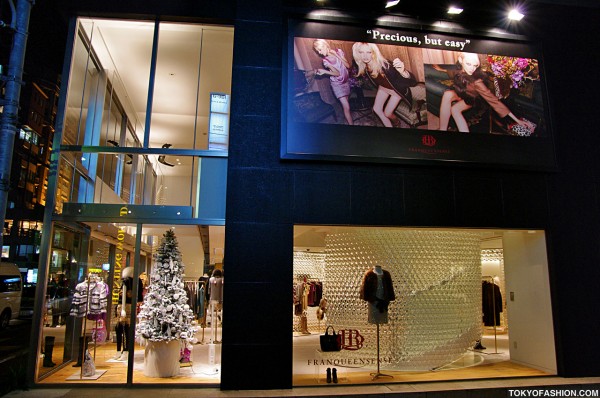 Okay, even though we started near Rick Owens and Raf Simons, neither of those shops were really in the holiday spirit. So, we'll start walking up Kotto Dori toward Aoyama Dori. The first shop that we'll actually photograph is the Franqueensense store. It's not too far from the special Commes de Garcons shop that changes to different projects all of the time (where they had the LV collborations, the Vogue shop, etc.). The CDG shop is in between projects right now, so nothing going on. But, Franqueensense has a nice message for the holidays on the side – "Precious, but easy".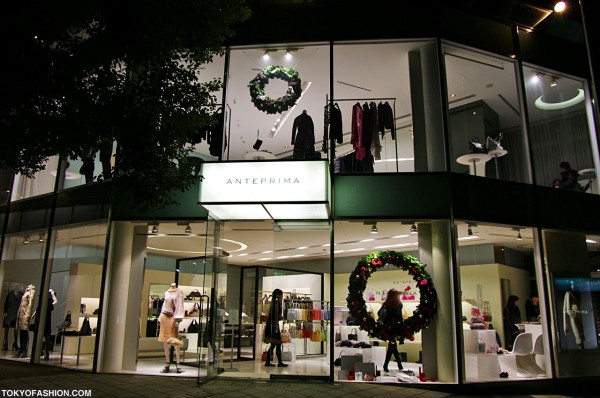 As we walk on, we see several huge wreaths in the window of the Anteprima Aoyama shop. Now, it's time to veer off of Kotto Dori and wind around the side streets between Kotto and the part of the 413 where the Prada building is. There are a ton of important brand shops on these little back streets, so it's going to take time to wander around them. We'll basically just zig-zag back and forth and try to hit most of the cool shops.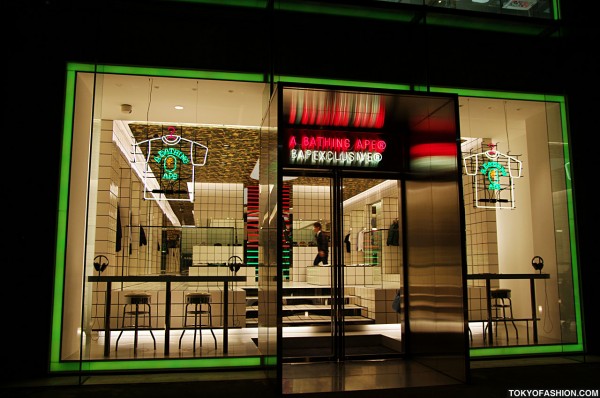 The first shop we stumble upon back here on the side streets is BAPE (A Bathing Ape) Exclusives Aoyama. This shop looks so cool at night. It's not too crowded now, but we've been here before when there are long lines outside because of a special release or a celebrity making an appearance or whatever else might be going on. No matter what you think of the BAPE brand, this shop has to be checked out when you are in Tokyo. The design is ultra-modern. Tonight, the colors are red and green, which looks a little bit like the holidays to us.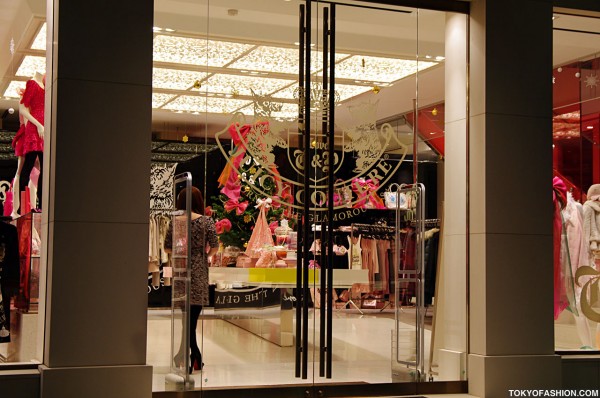 Just down from BAPE is the Juicy Couture shop. You can see a little Christmas tree (and a staff member) inside the door!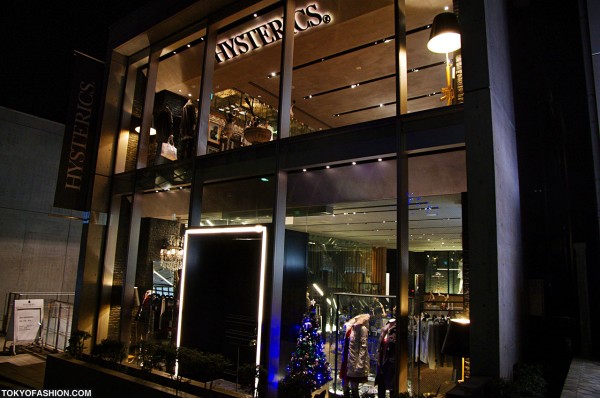 Next to Juicy is the Hysterics store. This location is the flagship shop for Hysteric Glamour. If you're looking for Hysteric Glamour clothing, but you want to step up to the next level, this shop carries their highest end stuff, some limited items, collaboration goods, and even occasionally some items from other brands that Hysteric has worked with. Highly recommended if you're into HG. Besides all of that, they've got a little Christmas tree in the front window.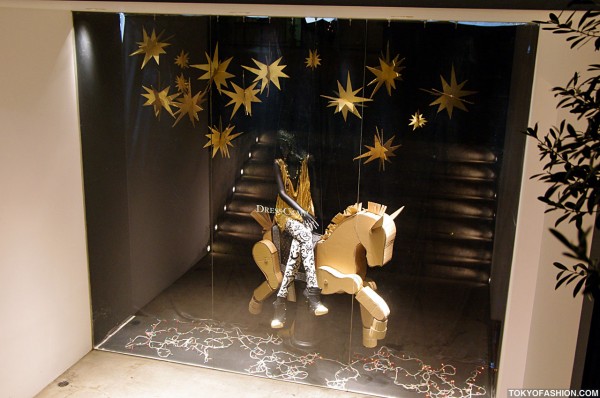 The DressCamp shop has a cute wooden pony in the window.

The Alain Mikli eyewear shop has decorated the front window for the holidays.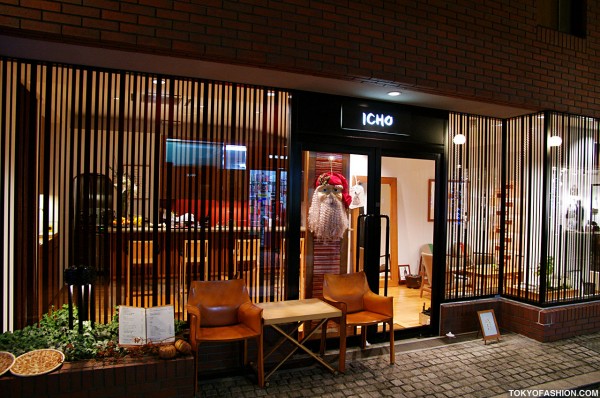 Not really familiar with this shop, Icho, but they had a cute Santa in the window, so we had to stop and take a photo!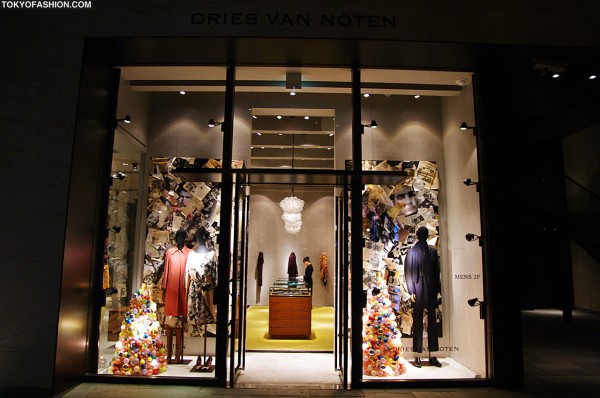 The Dries Von Noten shop looks great. You can see right inside!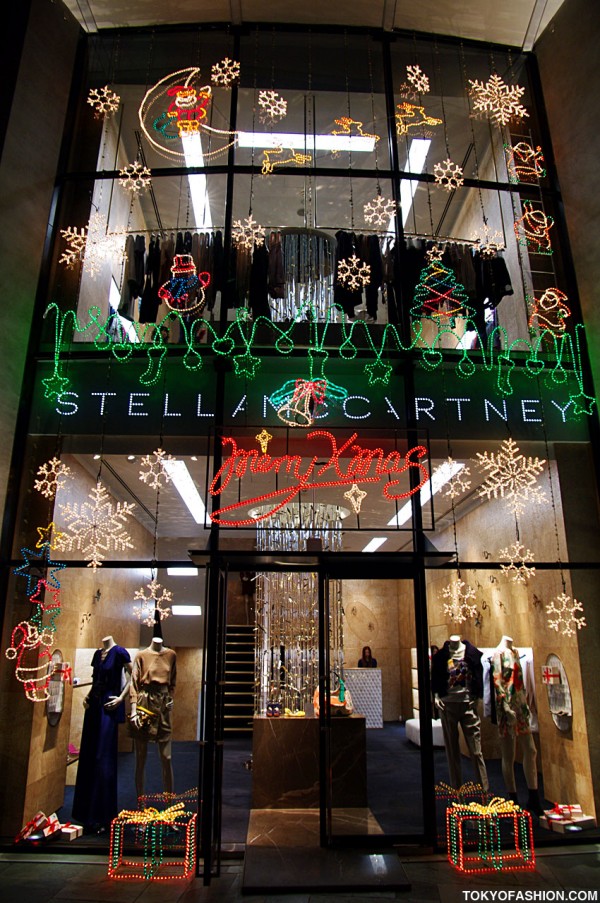 When we saw the Stella McCartney Aoyama shop, and all of the great Christmas lights that they put up on the outside, we guessed that this would be the best decorated shop of the evening. We weren't wrong!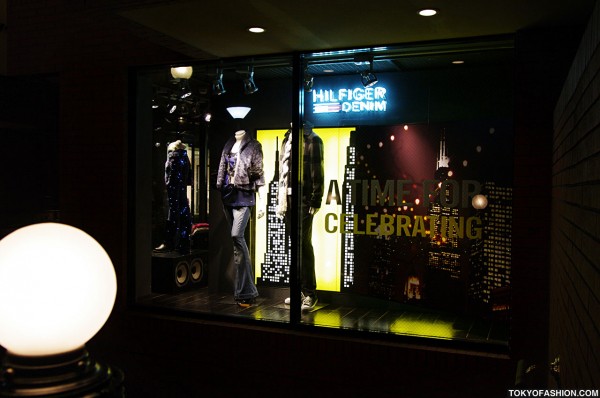 A nice window display for Hilfiger Denim showing a skyline with the message, "A Time For Celebrating".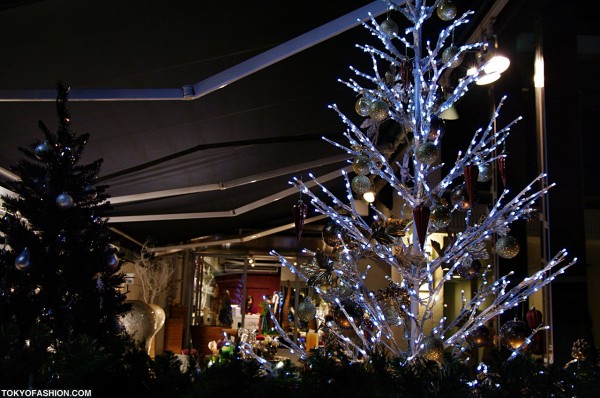 Not sure what shop this is, but the Christmas tree out front was beautiful. It got us to hoping for snow this winter in Tokyo. The weather has been really warm so far this year, but hopefully January will bring colder days.

This is the new-ish Carina building. There is a Christmas tree inside, but more impressive is the architecture of the building itself. It stands out, even in an area where every new shop that opens tries to outdo the last new shop.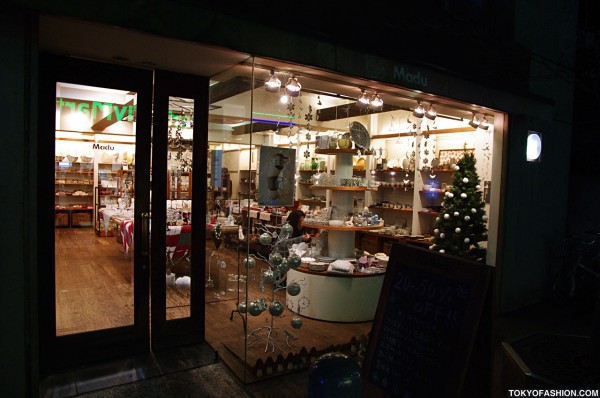 Here's a cute little shop called Madu that has hardwood floors, a Christmas tree, and a rustic feel to it.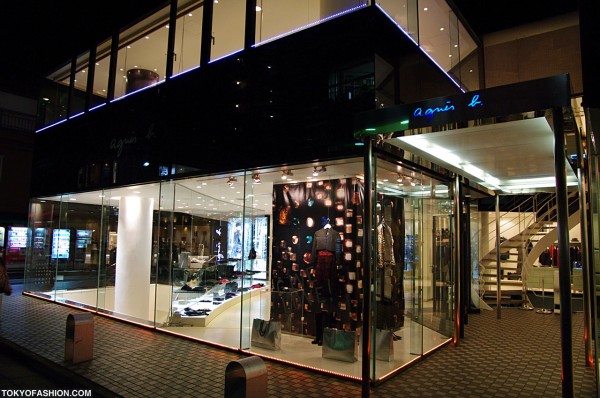 The (hard to read in this picture) holiday message on the window of Agnes B Aoyama is, "GIVE LOVE!"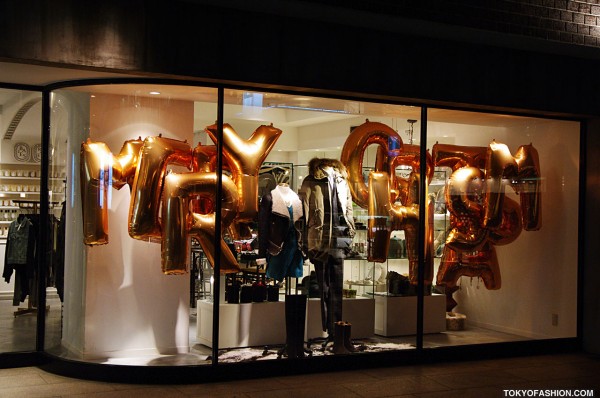 American Rag CIE has a very nice – and very gold – "Merry Christmas" message in the window!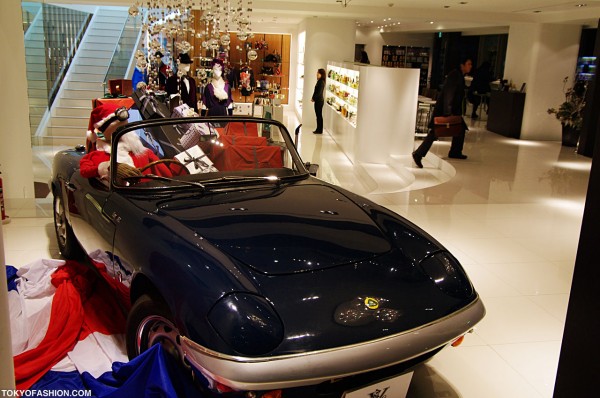 Hey, it's Santa Claus driving a convertible filled with presents driving over the British flag at the Vulcanize London shop in Aoyama!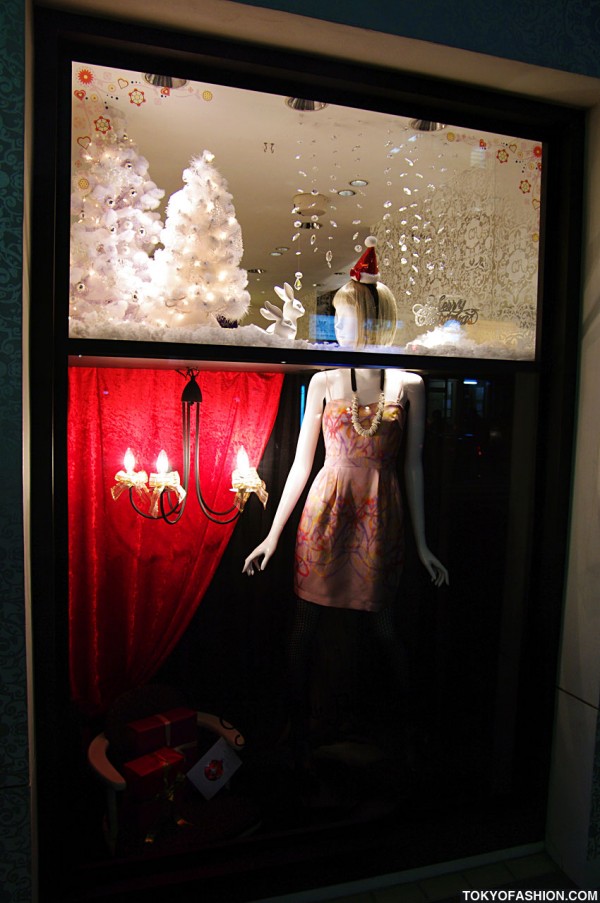 Back on Kotto Dori, we see a strange window display at Cynthia Rowley's shop. Looks like a fairy tale or dream scene with rabbits, Christmas trees, and a lot of snow. Very cute!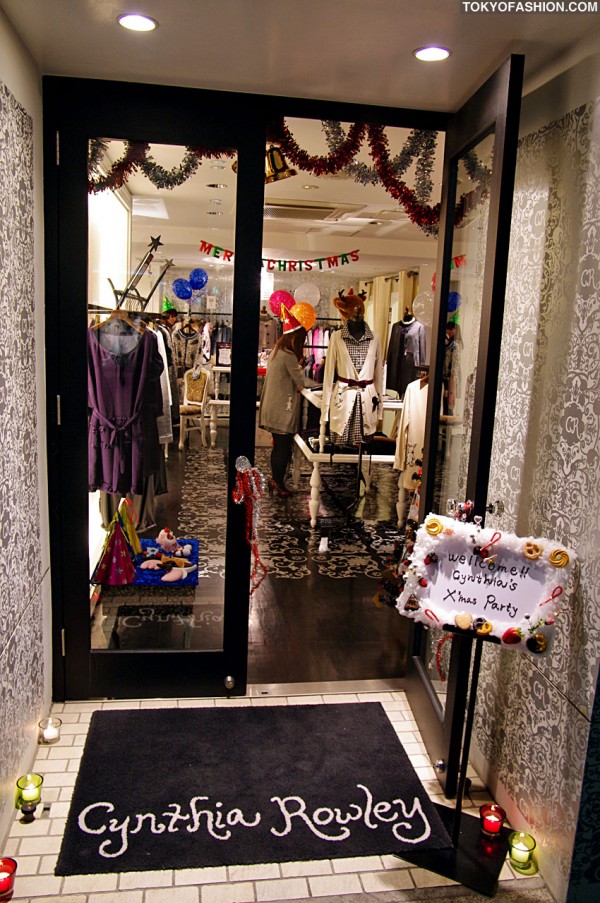 Inside of the Cynthia Rowley shop, the staff are all wearing Christmas-themed party hats. It was very cute, but as we tried to shoot a photo of them through the door, some of the staff went scrambling. Maybe a little shy! Anyways, the sign out front says "Welcome! Cynthia's Xmas Party!"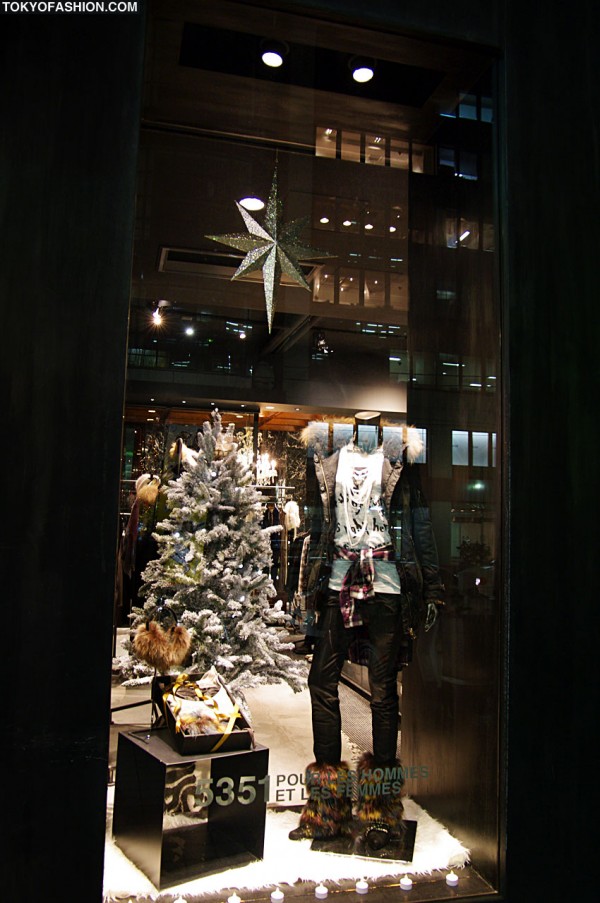 We're getting very near Aoyama Dori now as we pass the 5351 Pour les Hommes (and 5351 Pour les Femmes) shop.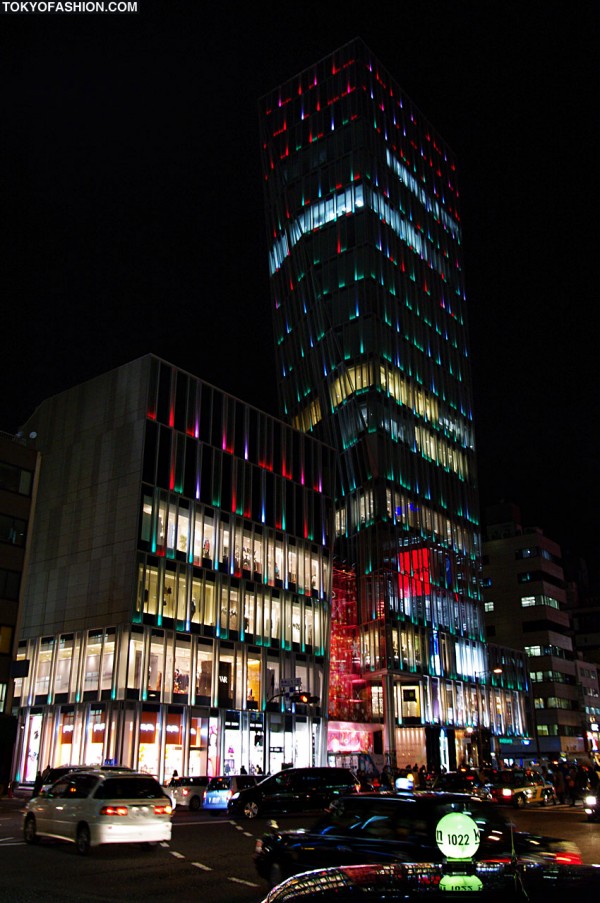 Look, it's the AO Building! That means that we have reached Aoyama Dori. The AO Building is a new Aoyama landmark that opened in March of 2009. It houses a bunch of brand shops, restaurants, and various other businesses. But, more importantly for us right now, it's lit up in green and red for Christmas. Let's try to get a picture with a Tokyo taxi in the foreground. Okay, got it! Time to move on…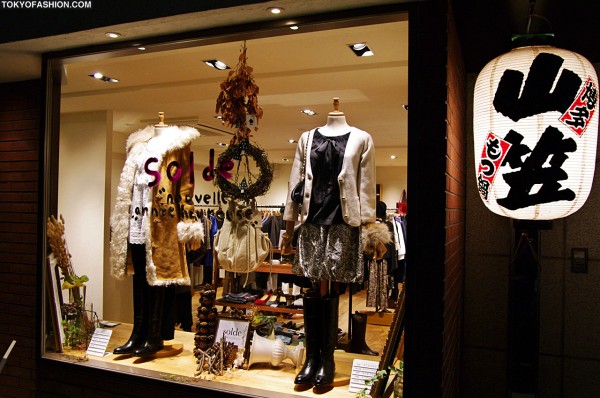 Now we're going to cross Aoyama Dori (so that we'll be on the same side of the street as the AO building) and start to hit the backstreets that are roughly in the triangle that is formed by Aoyama Dori and Omotesando Dori. There are way too many shops in this area to get them all, but we'll try to cover most of the cool ones! The first shot is a cute little Boutique with a traditional Japanese lantern right next to it. The mixing of new and old Japan is one of the things that makes Tokyo so cool.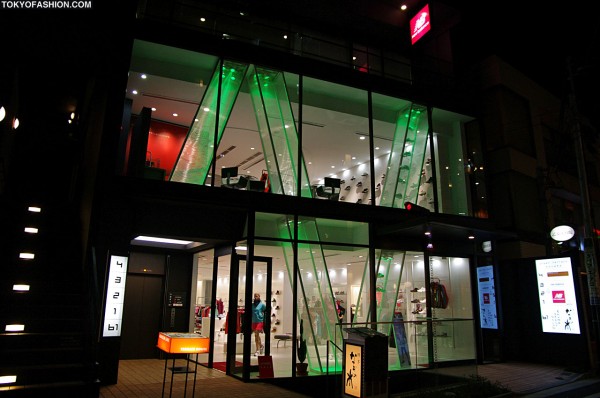 This is the New Balance Aoyama shop. It always looks cool, but the green lights tonight are especially nice.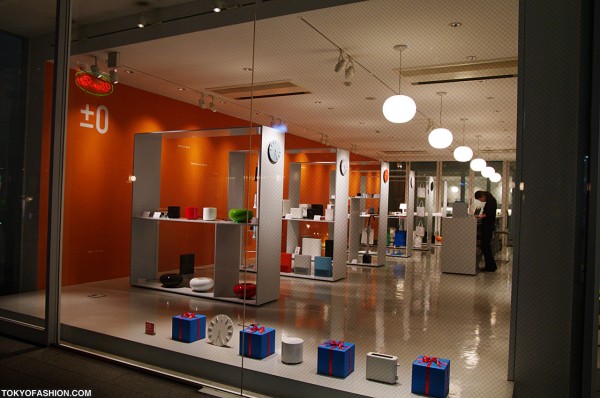 The +/- 0 (Plus Minus Zero) shop looks so clean. You can bet my apartment will never look like that!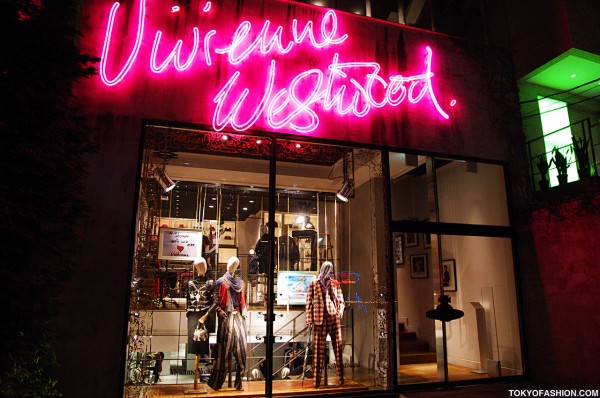 I could stop and take pictures of the Vivienne Westwood shop all night. The pink neon sign lights up the area in front of the shop beautifully. I might have to pass on the full plaid suit for tonight, though.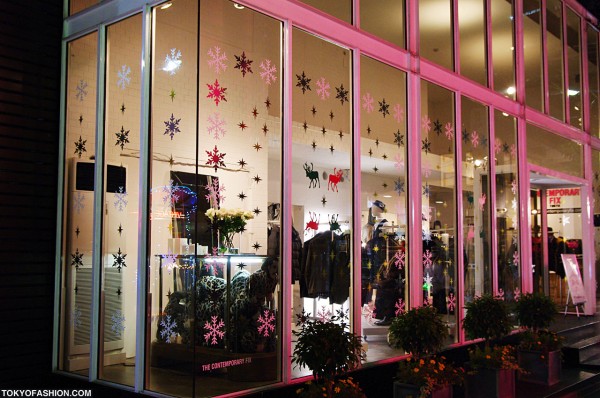 The Contemporary Fix Aoyama has decorated their front window with snowflakes and other holiday graphics. Do you know this shop? If you're into Japanese streetwear, you must check it out. They carry tons of hard-to-find items from some of the coolest Japanese (and import) streetwear brands. They also do collaborations, special releases, and pop-up shops that you'll only find here.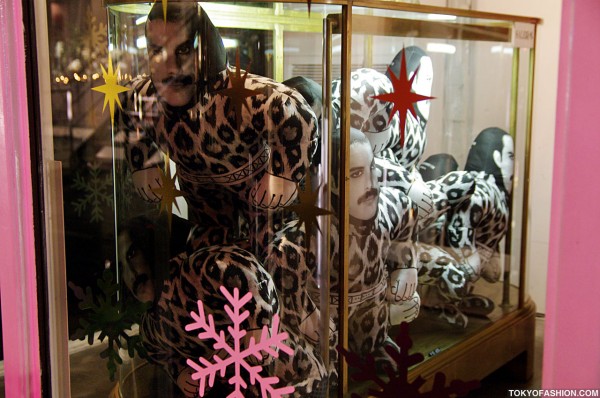 Speaking of special releases and collaborations – are my eyes deceiving me, or does that look like a fish tank full of Freddie Mercury dolls inside of The Contemporary Fix? When we ask at the shop, they claim it's a character created by one of the brands, and the doll is a limited edition collaboration with the shop. That's might be, but it still looks like a buff Freddie Mercury with an animal print body to me! We might just have to buy one…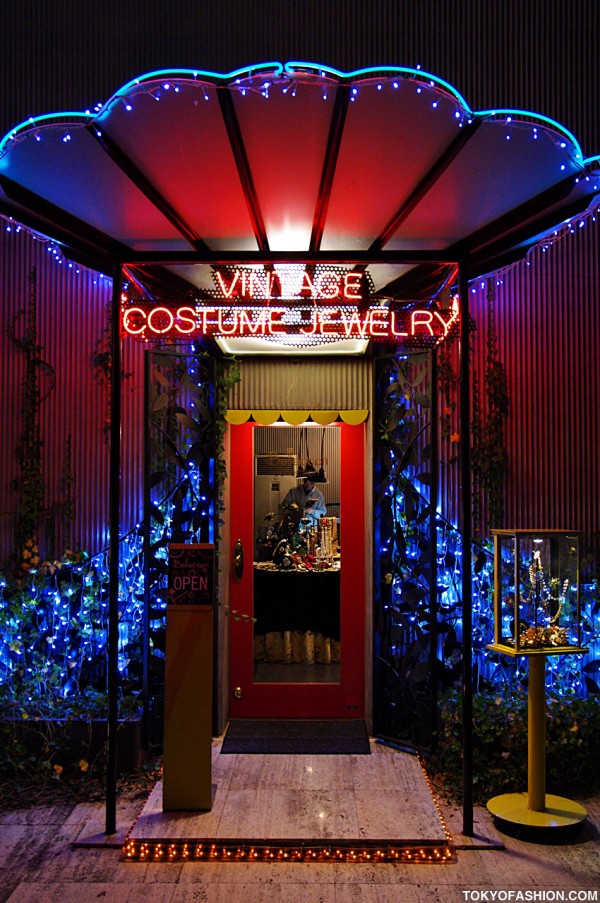 Just around the corner is this beautiful vintage costume jewelry shop.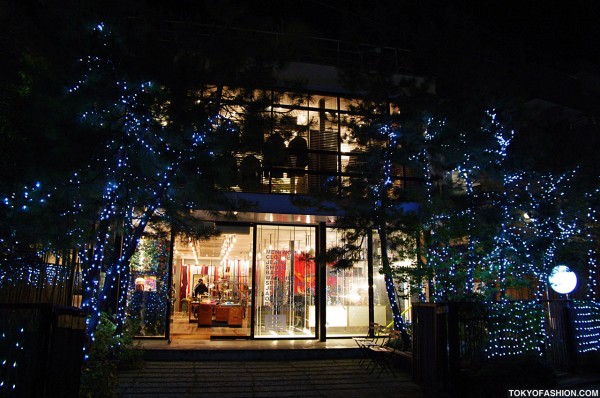 Next stop, the Paul Smith Space. It's a shop with an art gallery upstairs. If you want to meet Paul Smith when he's in Tokyo, or check out some cool art/photography shows, this is worth a visit.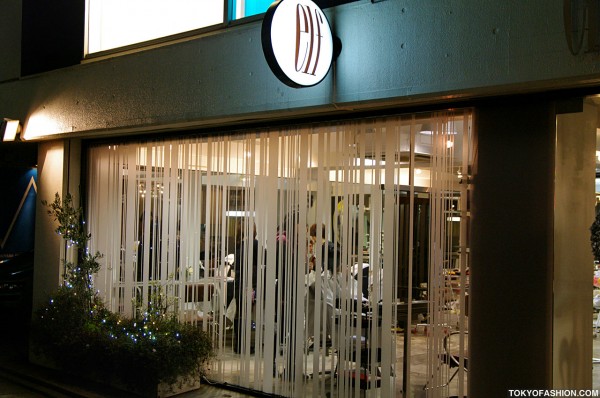 Now passing a cute Japanese hair salon called "ELF". Inside, there are plenty of people getting their hair done. Nothing really Christmas themed here, except the "elf" part. :-)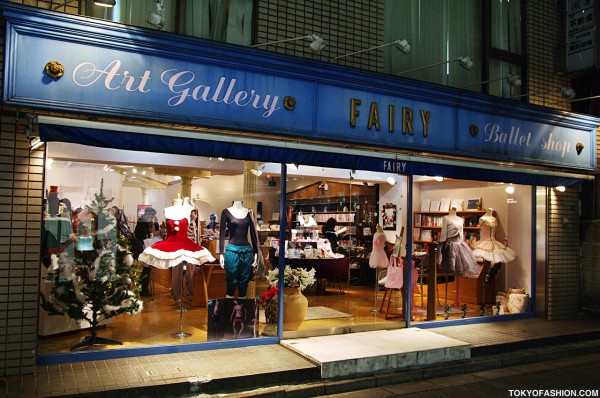 Walking back toward Aoyama Dori, we pass this cute ballet shop called "Fairy" with a Christmas tutu in the window.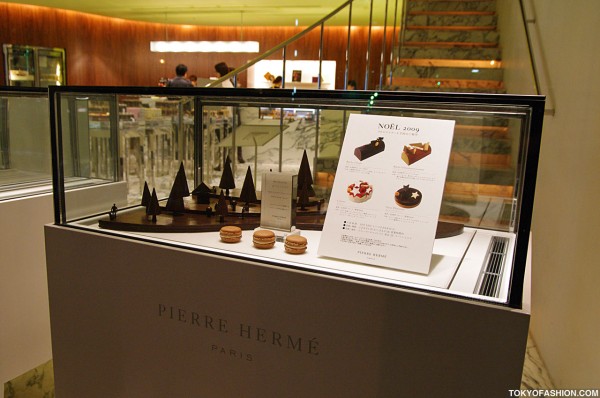 Now we're back on Aoyama Dori and walking toward the AO Building and Omotesando Dori. Here is the Pierre Herme sweets shop with some chocolate Christmas trees in the window.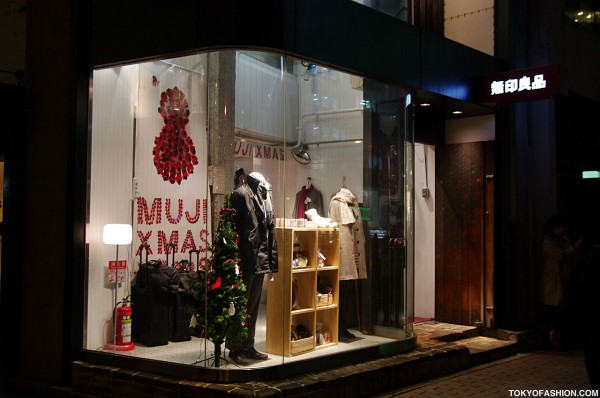 Now passing the Muji shop with "Muji Xmas" in the window.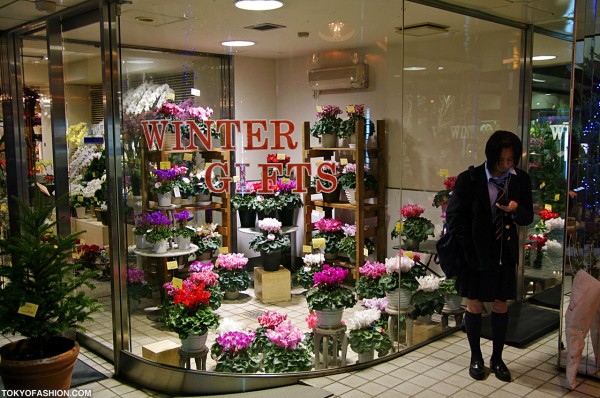 Here's a cute flower shop in Aoyama with a Japanese girl in uniform typing away on her keitai (mobile phone).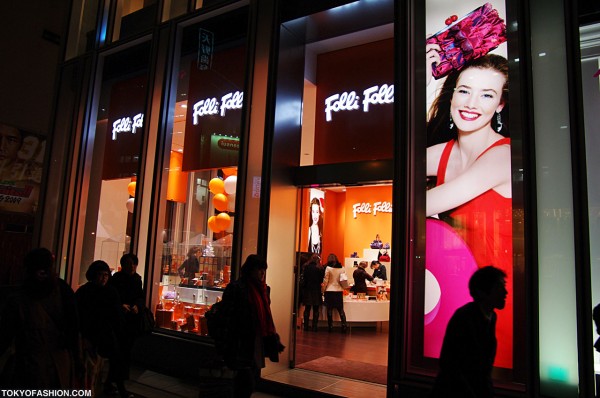 As we continue on Aoyama Dori toward Omotesando, we've reached the AO Building. Here is one of the ground floor shops – Folli Follie. You can see a group of Japanese girls shopping inside as other people pass by outside.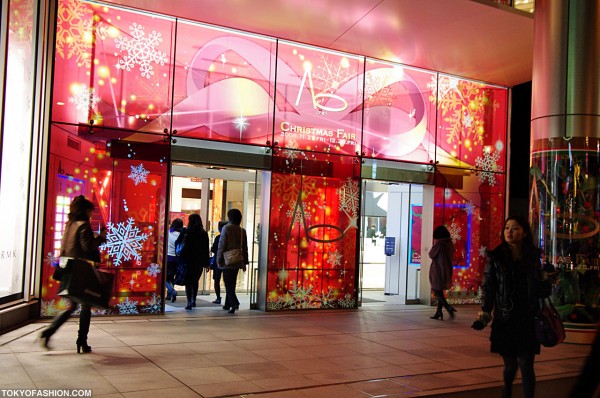 The entrance to the AO Building with a sign promoting their "Christmas Fair 2009". We'd go inside, but they have a "NO PHOTO" rule, so let's stay outside instead.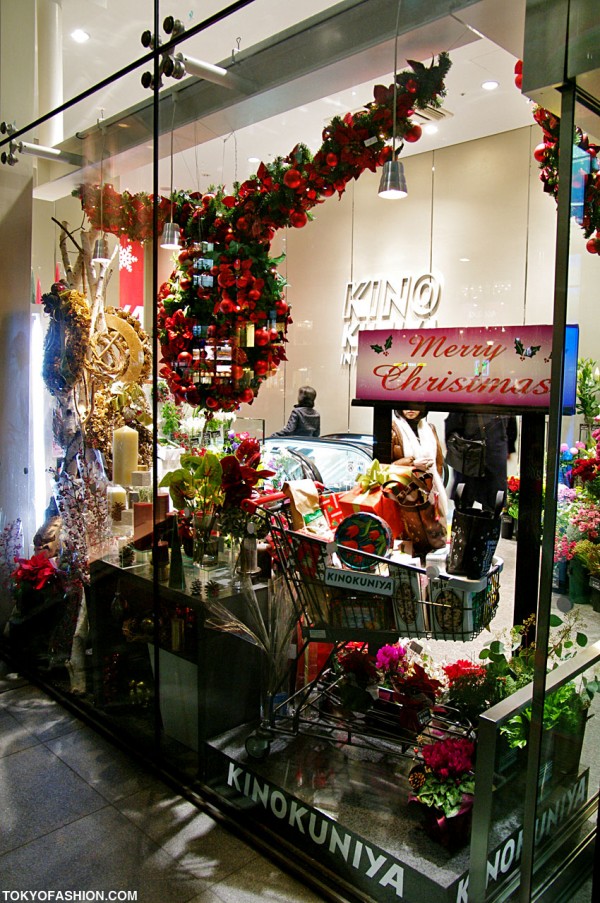 If you live in central Tokyo, you know what this is – it's Kinokuniya! Kinokuniya is a great grocery store with lots of import brand goods. If you're longing for some ingredients or a treat from your home country, you might find it here. (Where else will you find boxes of instant mac and cheese in Tokyo?) No time for grocery shopping now, though!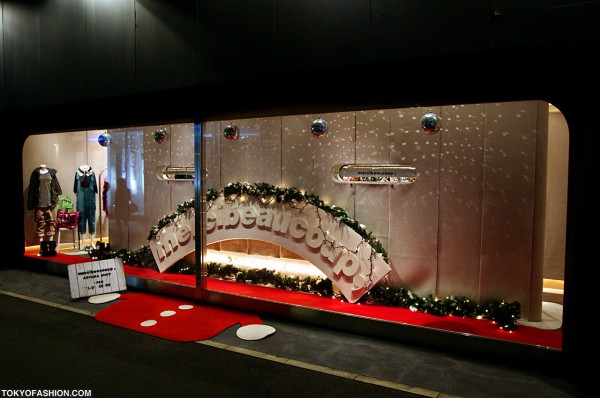 On the little street next to the AO Building, we take a quick photo of the Mercibeaucoup Aoyama shop.

Near Mercibeaucoup there is a little shop called Bisley PerfectOrder Design Lab, which seems to sell bags, bicycles, and interior goods. I've never been inside, but they have three cute little angel figurines in the window.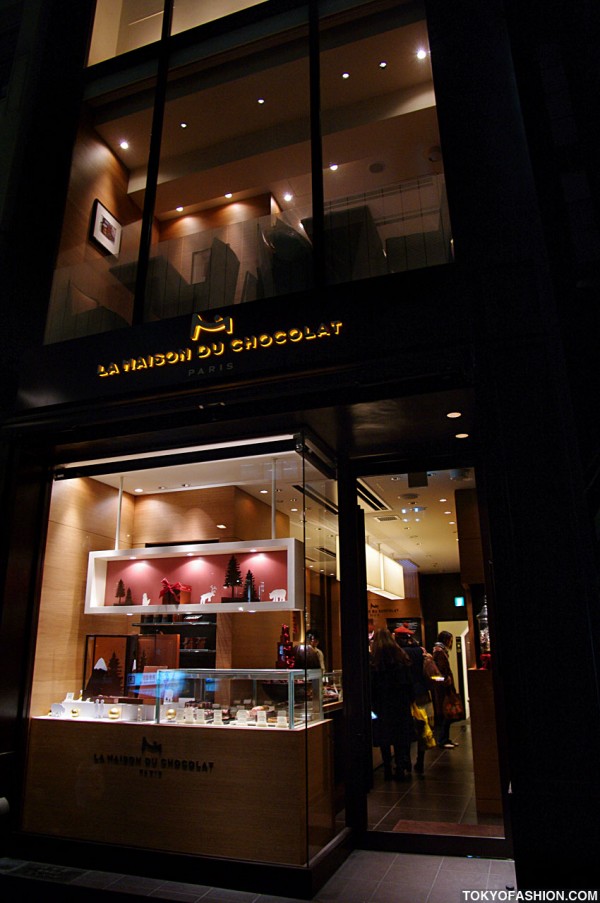 Alright, now we've reached the new La Maison du Chocolat shop and cafe in Aoyama. This is TokyoFashion.com's favorite Tokyo chocolate shop. The old location was on Omotesando Dori, but that building is being torn down. Upstairs is the cafe where you can have hot chocolate and eat macaroons!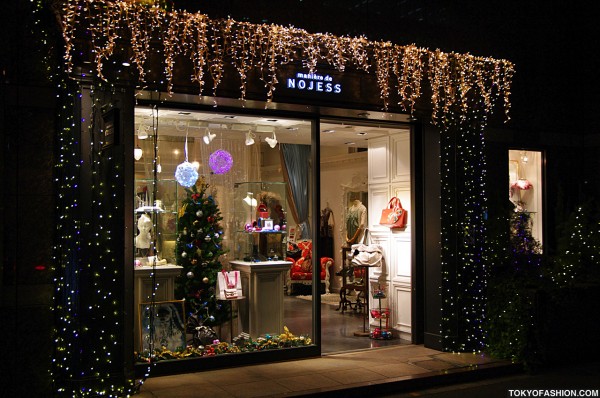 Continuing on toward Omotesando Station, we notice that the Maniere de NOJESS shop is in full Christmas mode. Good for them! They're giving the Stella McCartney shop some competition for best decorated shop of this photo walk.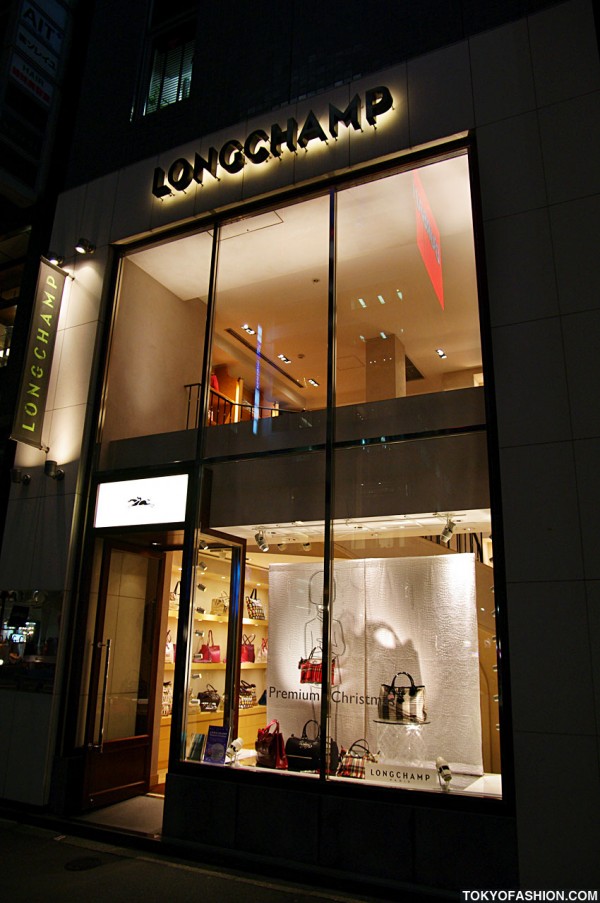 If you're looking for a "Premium Christmas", look no further than the Longchamp Aoyama shop.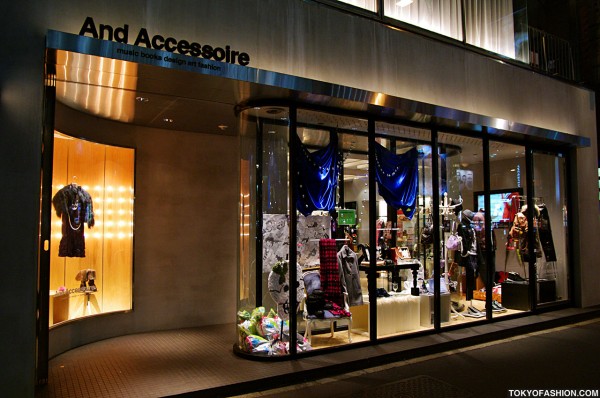 The skull rug in the window of the And A accessories shop (called And Accessories) might make a nice Christmas gift for my brother. Sort of a pain to carry home, though.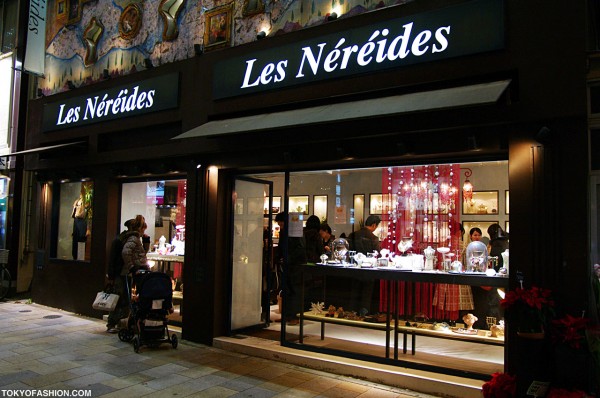 Okay, we've finally reached the intersection of Aoyama Dori and Omotesando Dori. (We photographed some of the shops here on our Omotesando photo walk). This time, we'll keep moving in the same direction down Aoyama Dori so that we can take pictures of the businesses on the other side of Omotesando Dori. If we were too tired, this is also where the location of Omotesando Station, so we could hop the subway home. But, there are a few more photographs to be taken – onward! The first shop we stop to check out on this side of town is Les Nereides Aoyama. Notice the Japanese woman with a stroller also doing some window shopping.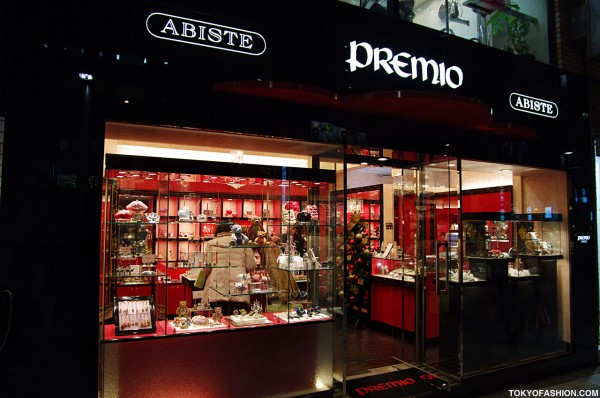 In the Abiste Aoyama shop, you can buy pretty much anything you can think of covered in sparkling jewels – teddy bears, watches, piggy banks, phones, pens, you name it.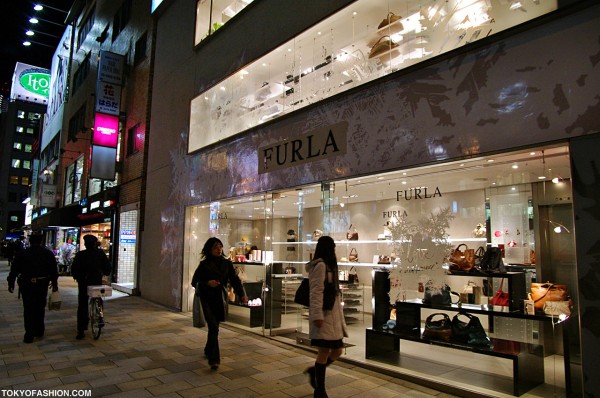 As we pass the Furla shop, two Japanese police officers pass by us – one on foot and one on a bike. We could take off running in the other direction just for fun, but they seem nice enough, so we'll quickly turn around and see if we can get them in our picture. Done!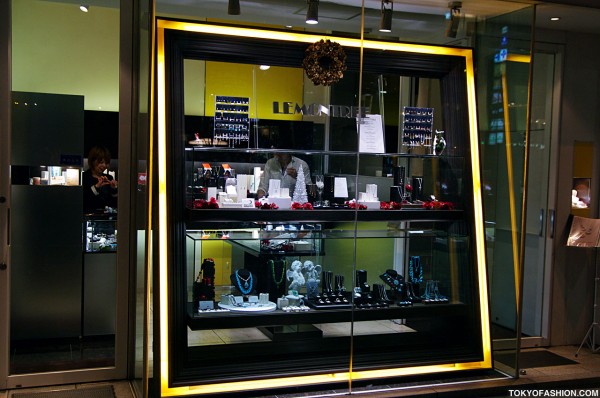 Inside of the tiny Lemontree Aoyama jewelry shop, we can see one of the shop staff working away with a big smile on her face.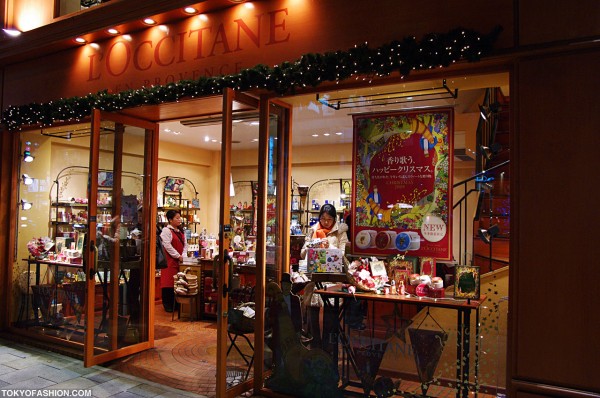 The L'Occitane shop looks so cute that it makes us think for a moment we might be in France. Well, except for all of the Japanese shoppers inside. Little known fact: the first time I ever bought L'Occitane was in Paris!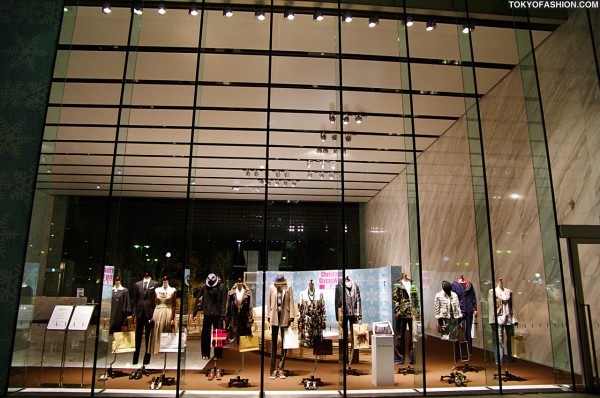 As we keep walking down Aoyama, the shops are getting less dense. This walk will soon be over! But first, we take a quick shot of this fashion building in Aoyama. They sometimes have fashion collection previews and other events inside of this building. Tonight there are a bunch of brands displayed in the window and the text says "Christmas Giving Week". Not sure what it's all about, but it looks cool with all that glass.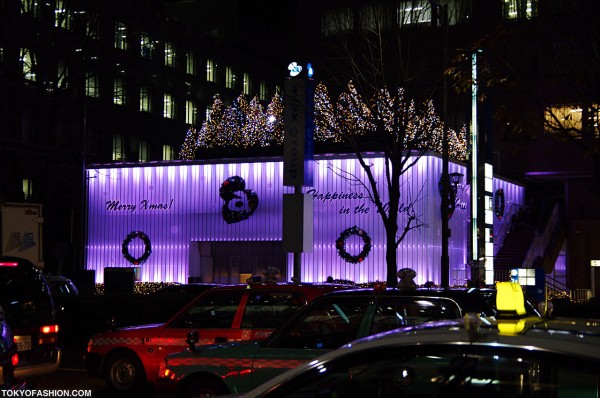 Well, we've pretty much run out of time for tonight, so let's end this walk with a good picture. Looking across Aoyama Dori to the other side, we can see the Avex Building. Avex is one of the biggest Japanese record labels, hosting acts including Ayumi Hamasaki, Koda Kumi, DJ Ozma (a Japanese New Years Eve favorite), M-Flo, The Pillows ("…kids don't need the masters…"), Tsuchiya Anna, and V6. But all of that Japanese celebrity goodness aside, Avex has setup a forest of lighted Christmas trees on the small building in front of their office tower. They've also lit the building up so that it changes colors every few seconds. We'll end the night with a purple Avex building sharing the message "Merry Xmas!" and "Happiness In The World".
That's it for tonight's Aoyama Holiday Photo Walk. This is the last of our photo walks for 2009. We hope that you've enjoyed them and that they've given you a little taste of what central Tokyo is like during the Christmas and New Years holidays. We would have liked to have covered more areas (especially Shinjuku and Ginza), but maybe next year!
Happy 2010 everyone, and we wish you the best year ever!