Aoyama Christmas Pictures 2010
Merry Christmas! The big day has finally arrived and – just in time – we're ready to share our final Tokyo Holiday Photo Walk of this year with you. The area that we saved until last is one of the coolest – Aoyama! Located between Omotesando, Harajuku, and Shibuya, this neighborhood is home to some of the most interesting brand shops, boutiques, cafes, and restaurants in Tokyo. One of the things that we like most about shopping in Aoyama is that the area seems to have the highest concentration of high-end chocolate and sweets shops on this side of Tokyo. We did our best to snap pictures of those for you as well!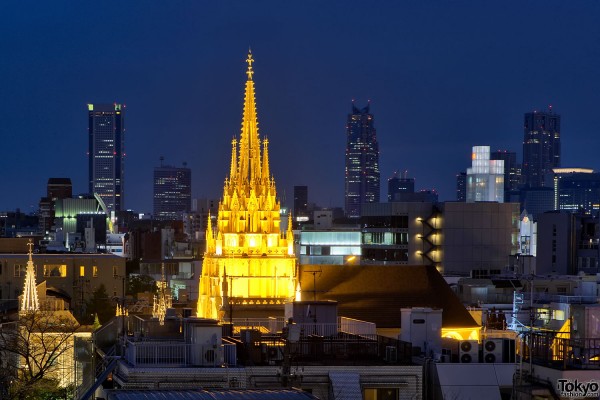 The Aoyama neighborhood sprawls out on both sides of Aoyama Dori going north and south from Omotesando Station. Technically, a part of our Omotesando Dori walk (once we crossed Aoyama Dori heading toward Roppongi) is also considered Aoyama. Tokyo neighborhoods do not always have clear boundaries. The issue is further confused by the fact that some shops/landlords prefer to use names that reflect their tastes, rather than geography. This means that you might find "Dior Omotesando" right next door to "Kiddyland Harajuku" and so on. All of that said, we'll do our best to keep our wanderings tonight inside of Aoyama!
Aoyama may not have massive street illumination like Omotesando, but we'll have no problem finding plenty of pretty holiday lights, Christmas trees, and other festive things to photograph. If you're ready for our Aoyama Holiday Photo Walk – the grand finale of Tokyo holiday photo walks – let's get moving! (Don't forget that you can click any of the pictures to see them in high resolution.)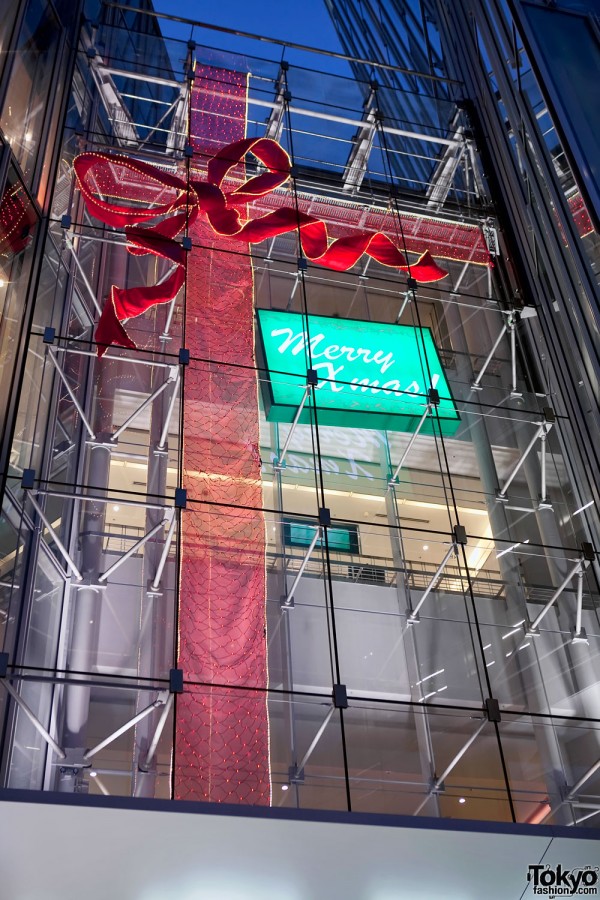 We're going to start this walk at the AO Building in Aoyama. Even though it only opened in 2009, this nine-story glass building has already become a landmark. It's located in the center of many popular shopping streets, so we can walk outward from here like spokes from a wheel. There is no real natural way to do this walk, so like our second Harajuku outing there will be a lot of backtracking and zig-zagging. Don't worry about getting lost, as we can always find the AO Building by looking up.
BTW, the first photo in this article – the one above this one – is taken from one of the terraces on the 5th floor of the AO Building. You can see Harajuku, Omotesando, Shibuya, and Shinjuku from the higher floors in the AO Building.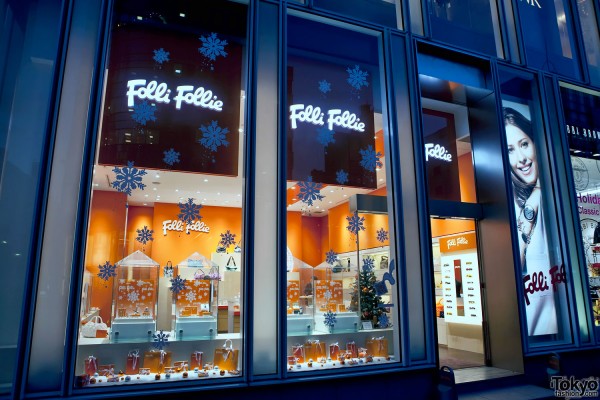 This is the Folli Follie shop on the outside of the AO Building, facing Aoyama Dori.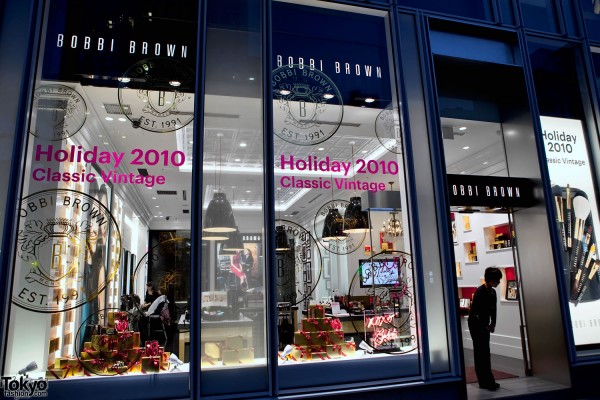 Bobbie Brown, also in the AO Building.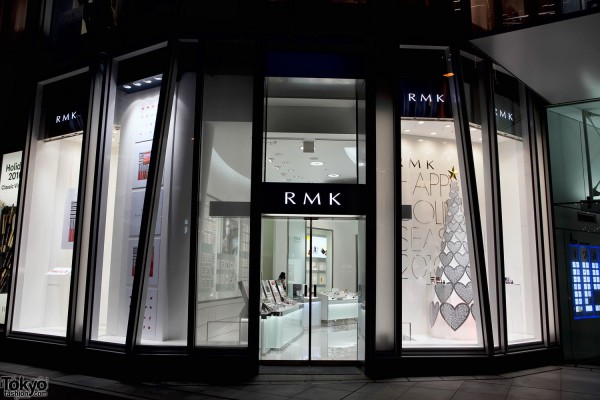 RMK is in the AO Building. The next shop down is a Chanel make-up store, but I couldn't get a good photo. Anyway, there's plenty of high-end make-up on the outside of AO.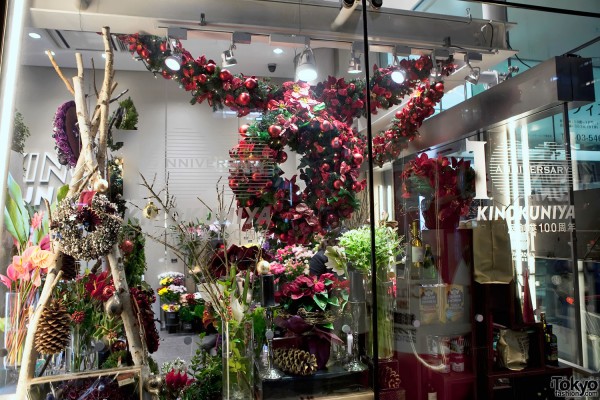 This is the entrance to the Kinokuniya grocery store in the basement of the AO Building. If you want to find import groceries in this area of Tokyo, check out Kinokuniya. I have bought lots of holiday food – including sweets – here!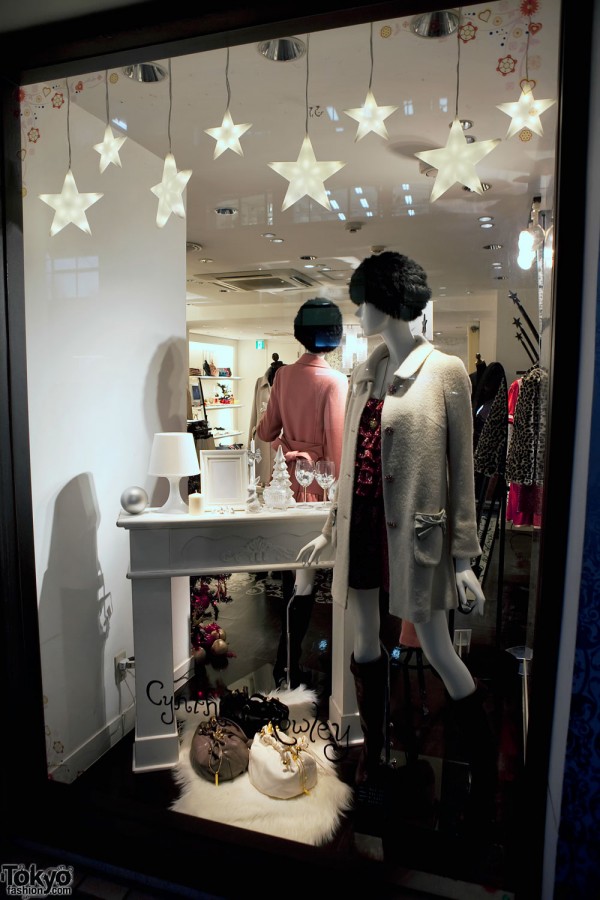 Now we're making our first move away from AO. We'll head down Kotto Dori and photograph shops along this famous street. First up – Cynthia Rowley Aoyama.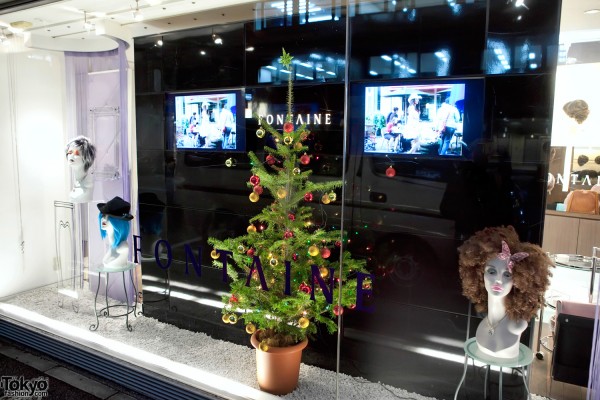 Fontaine Aoyama. Is this a salon? Not sure, but they have a nice Christmas tree – and a blue wig.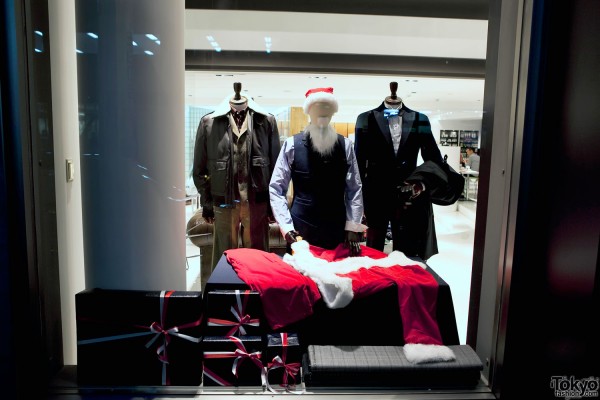 Dapper Santa at Vulcanize Aoyama.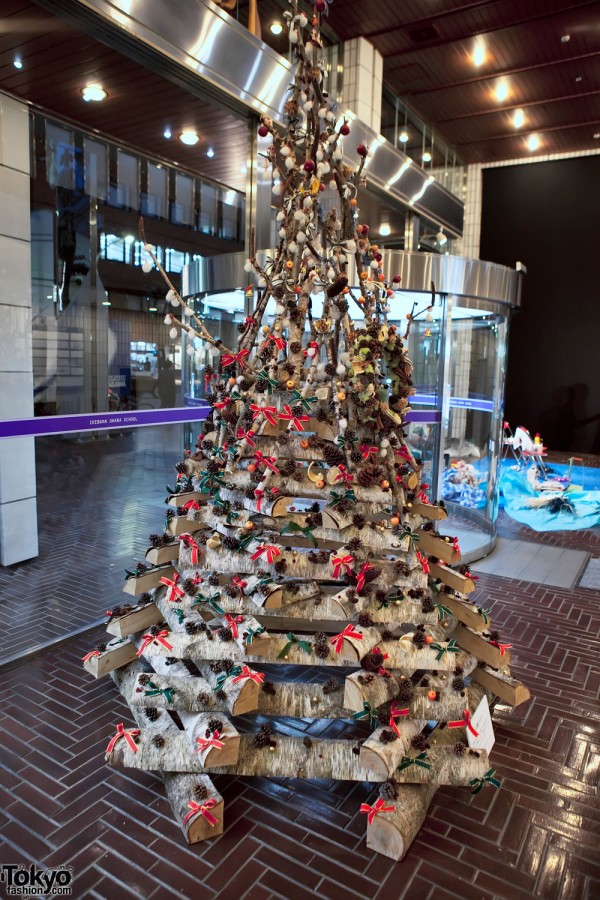 This Christmas tree is made out of chopped-up wood. Seems cannibalistic somehow.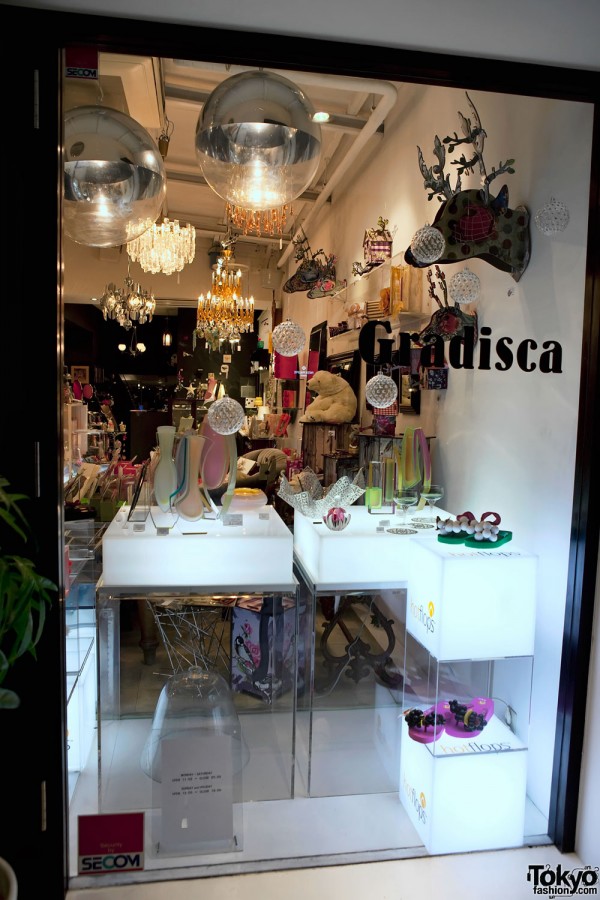 There appears to be a reindeer head on the wall of Gradisca Aoyama.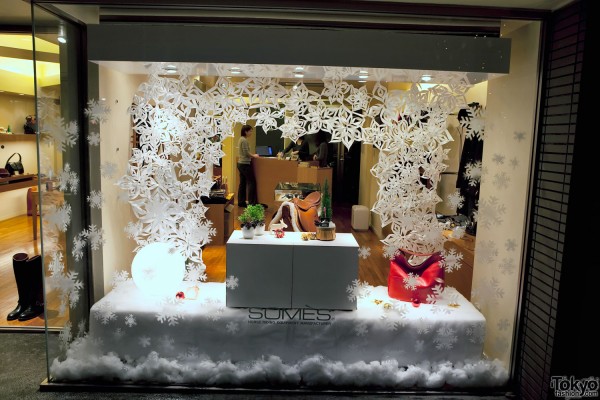 As we progress a ways down Kotto Dori, I'm sad to see the Raf Simmons flagship store has closed. It was on the corner a block or so down from the Rick Owens Aoyama shop. Rick is still there – Raf, not so much. Anyway, here is a store that seems to be selling saddles – you know, the things you put on your horse. In Tokyo. Yeah.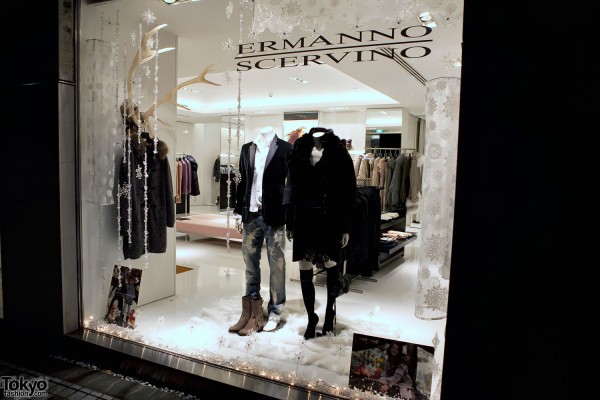 Ermanno Scervino Aoyama.

Awesome Banner Barrett Aoyama Christmas window & a guy looking in at the shoes.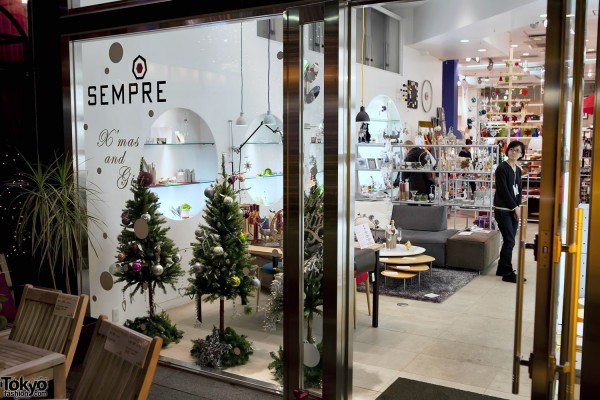 Plenty of cute holidays gifts at Banner Barrett Aoyama.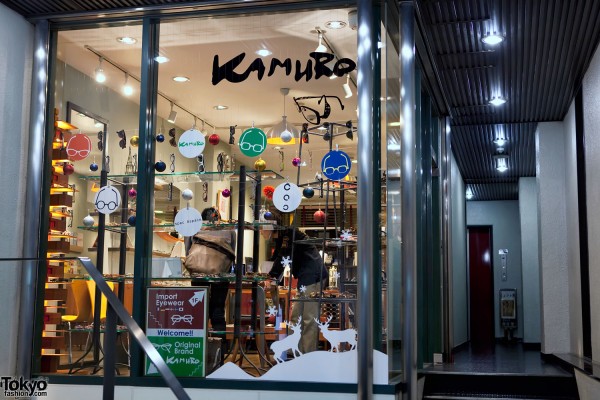 Kamuro Megane eyeglass shop. I've never been inside this one. How about you?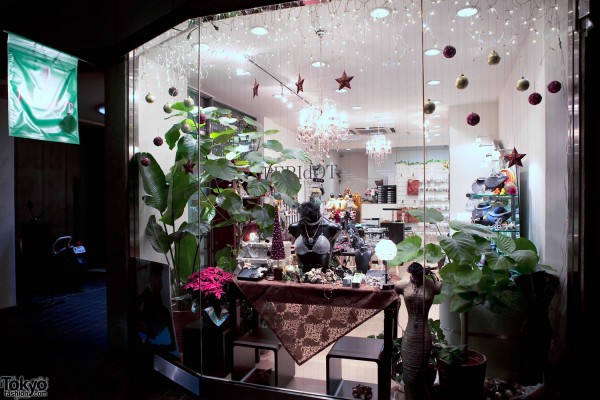 Chandeliers in the window of Peridot Aoyama as we make our way back down the other side of Kotto Dori toward the AO Building.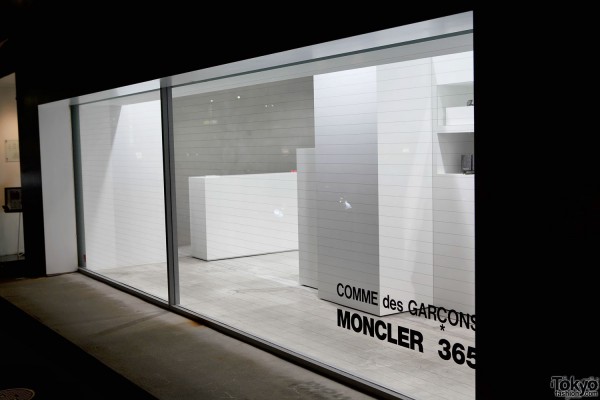 The extremely clean Commes des Garcons x Moncler 365 temporary shop. There are great jackets in this store. I have a Junya x Moncler jacket from a few seasons ago, so I don't need one right now – but it is getting colder in Tokyo lately.

Christmas Love AKA jewelry. Don't try to eat that jeweled macaron! We'll find some real ones later!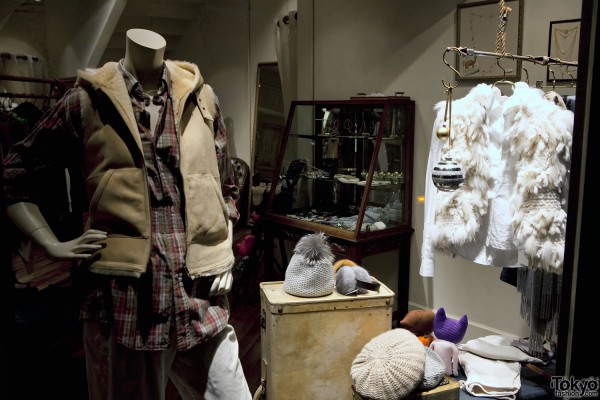 A feathered vest & Christmas ornaments in the window of a Kotto Dori shop.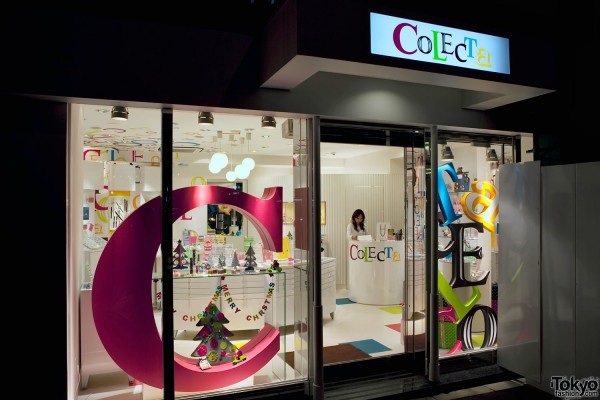 Here is the colorful COLECTa Aoyama store. We've now made it all the way back to AO.

Here is a wide shot of the massive AO Building, our basecamp for this holiday photo walk!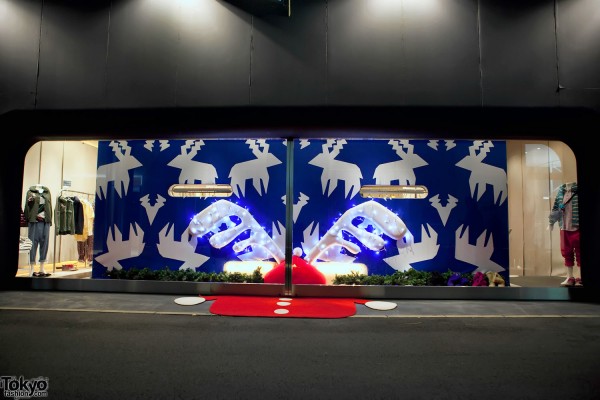 Right next to AO is the merci beaucoup Aoyama flagship store. This is a super,cute Japanese fashion brand, and they have a super,cute holiday window with giant plush reindeer antlers.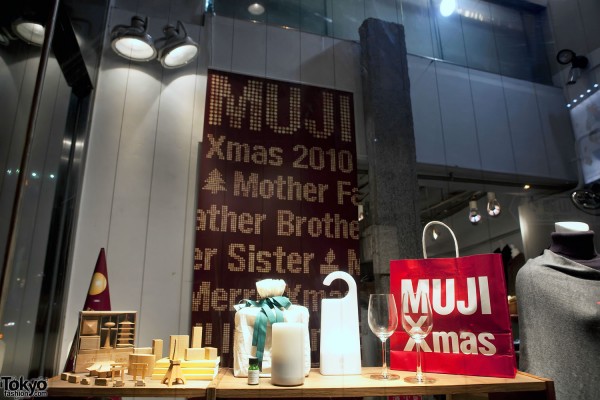 Let's take a look at the shops along Aoyama Dori. How about a Muji Xmas?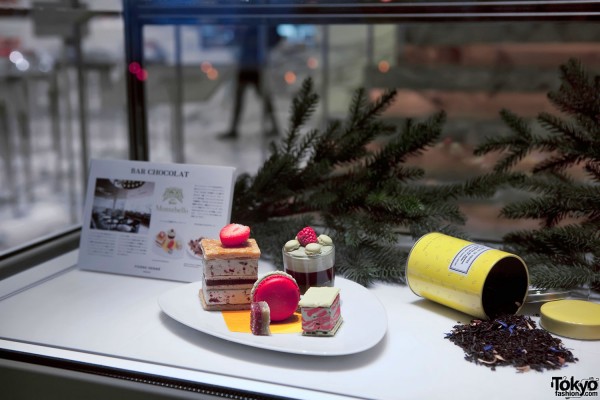 I promised you chocolate, and I won't let you down! Here is the first of four amazing Pierre Hermé Aoyama holiday windows.

More Pierre Hermé sweets. The windows of this shop are tempting all year, but even more so during holidays like Christmas and Valentine's Day!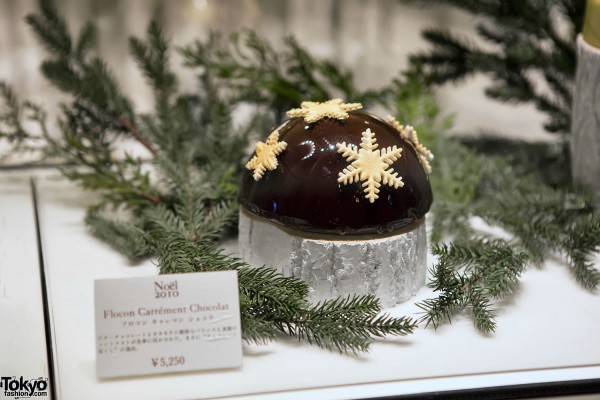 Chocolate & snowflakes at Pierre Hermé Paris in Aoyama.

A large chocolate and a small axe at Pierre Hermé Aoyama.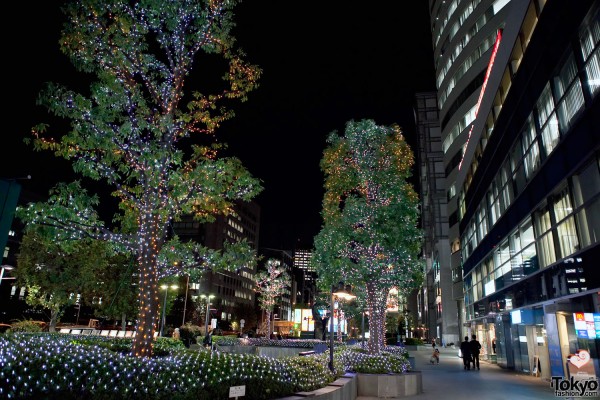 Christmas lights and trees as we look down Aoyama Dori toward the United Nations University. This is about as far down Aoyama Dori that we'll go on this walk in this direction. There are too many small streets to explore close to AO for us to wander too close to Shibuya tonight.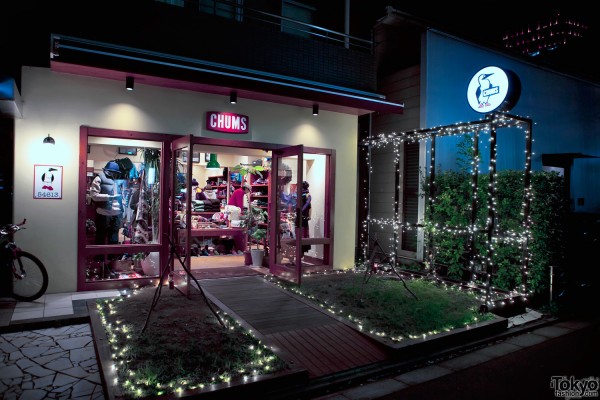 Now we're walking down one of the small streets that leads in the direction of Meiji Dori. There are many little streets over here. I have no idea if any of them have names. Here is the Chums Aoyama shop all lit up.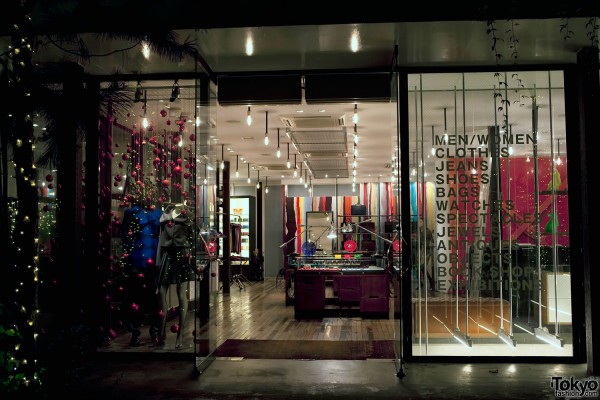 And, of course, The Paul Smith Space is always decorated for the holidays.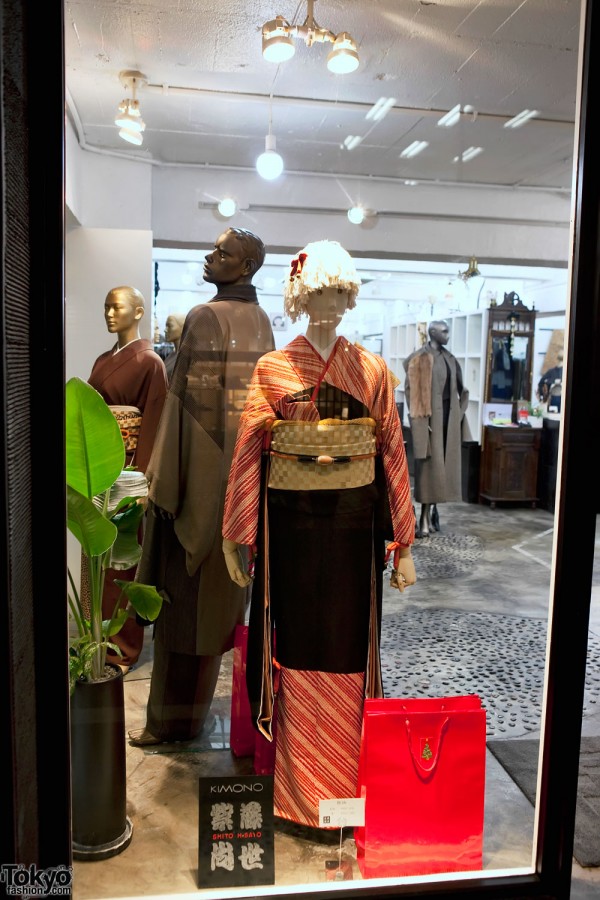 Now we've begun to wander randomly around the little streets in this area. Here is the Shito Hisayo boutique with a holiday-looking kimono in the window.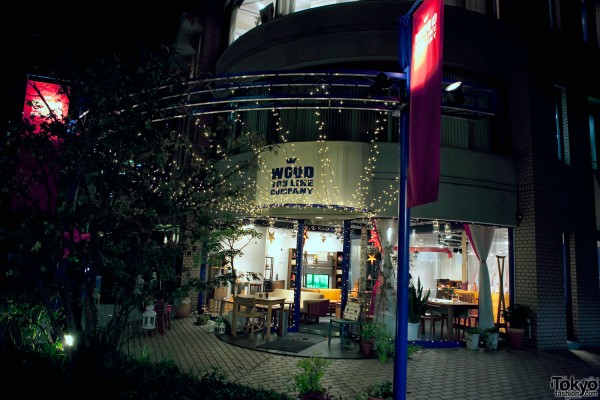 Wood You Like Company? That's the name of the shop. Get it? Me too. I think they sell cool wooden furniture.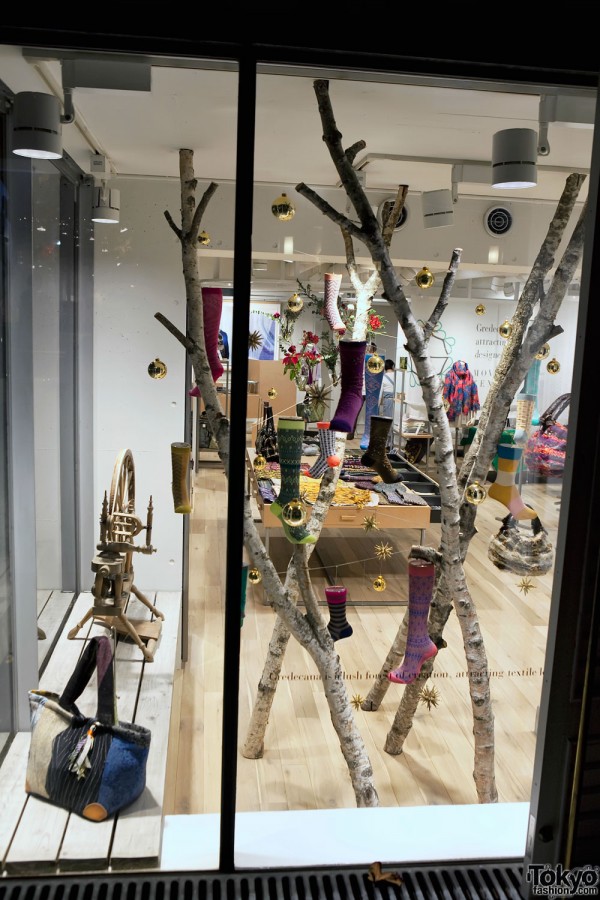 Gredecana Aoyama. This Japanese brand has handbags made of really cool colorful fabric, and they also sell socks. Lots of socks.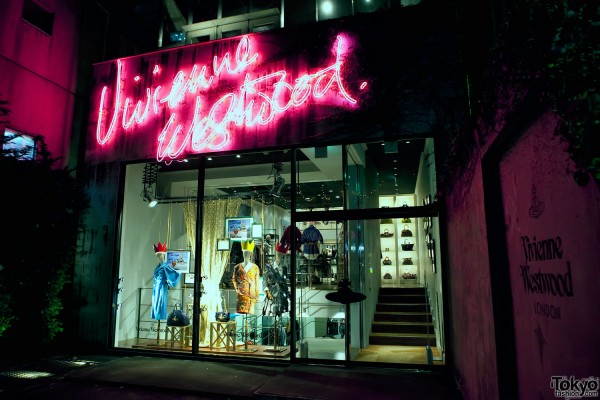 Vivienne Westwood Aoyama. Pink neon.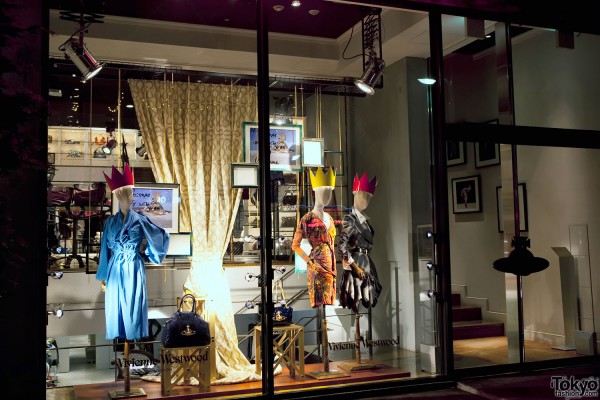 The mannequins in the Vivienne Westwood Aoyama window are wearing crowns. That could be for Christmas. Or not.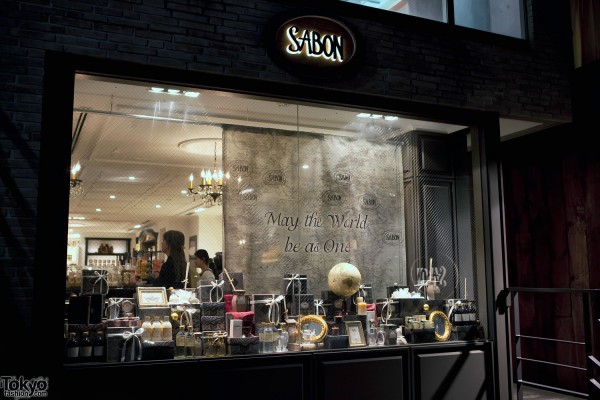 Sabon Aoyama – May The World Be As One. And there's a globe in the window.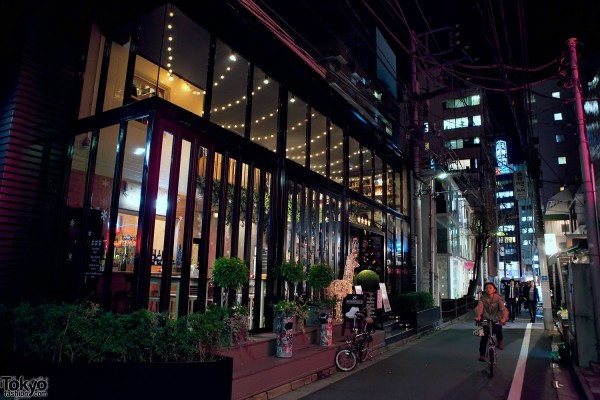 The Contemporary Fix Aoyama. This is a cool select shop if you're into Japanese streetwear. The store used to be bigger, but now it's partly a Pariya bakery.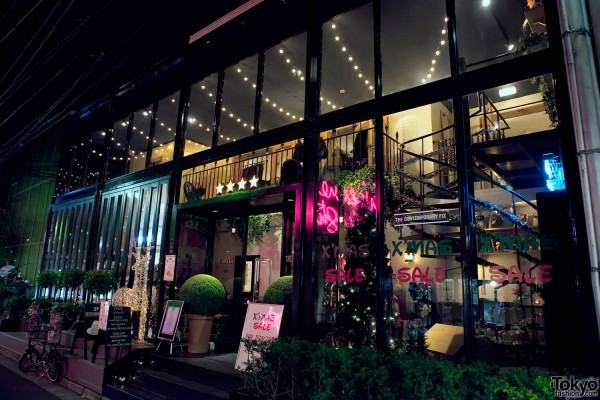 This is the recently opened Pariya Aoyama. They have the best cupcakes in this part of Tokyo – maybe in all of Tokyo. We stopped to eat some cupcakes while we were taking these photos. I'll post a photo later. You'll see.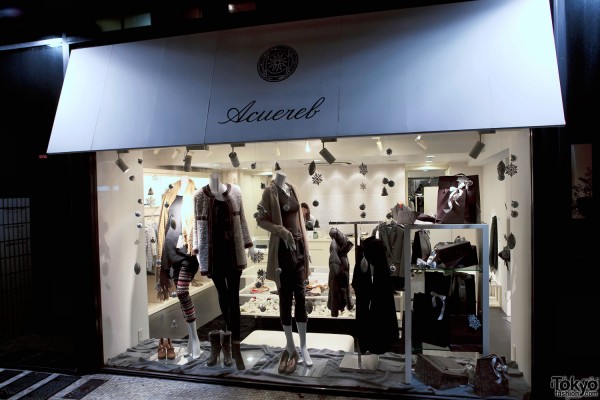 Acuereb Aoyama. This photo isn't too exciting. I wonder why I took it. Too much sugar in my system after the cupcakes? :-)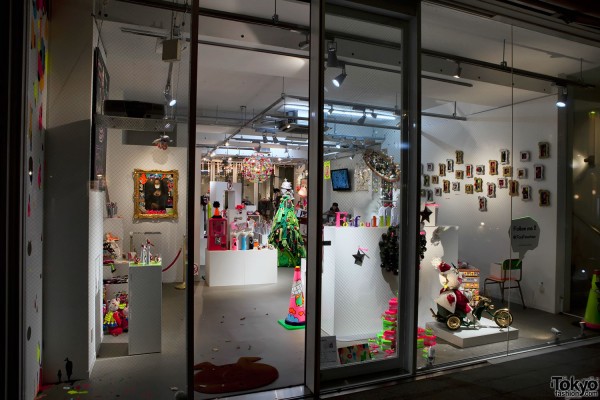 The amazingly colorful Foufouille Aoyama store. This shop is full of bright funny things, many of which are pink. I'm not really sure what the concept of the store is, but it's cool to look around.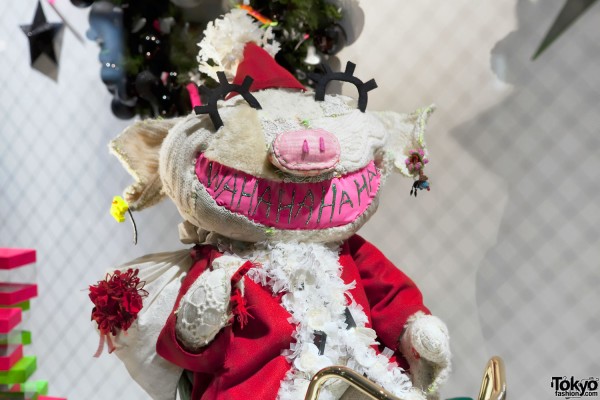 A really happy Santa that might also be a pig in the window of Foufouille Aoyama.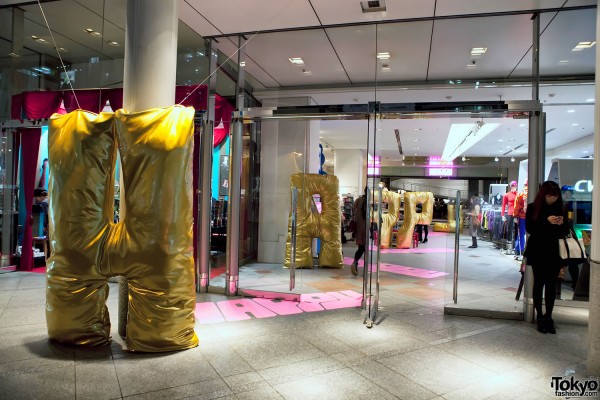 We've once again we've made our way back to Aoyama Dori. Now we'll cross the street and take more photos on the other side. Here are huge gold letters that spell out HAPPY at Spiral Aoyama.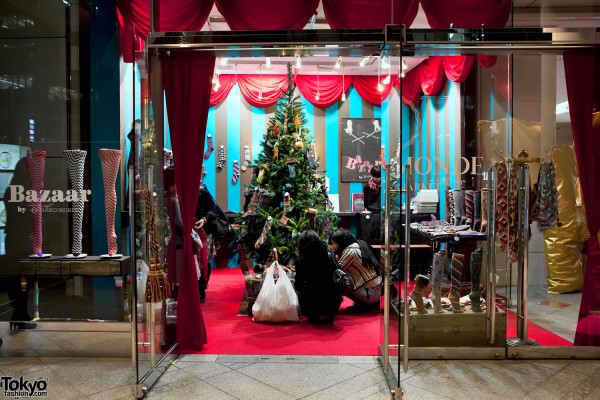 Bazaar by MARCOMONDE at Spiral – colorful tights, a Christmas tree, and Japanese girls.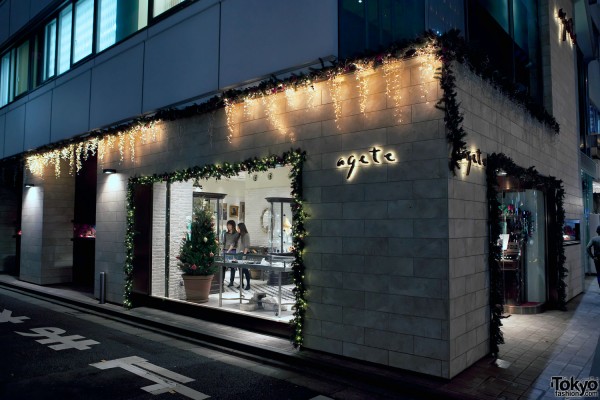 A cool agete building in Aoyama. Blow this one up and you can see the people in the window!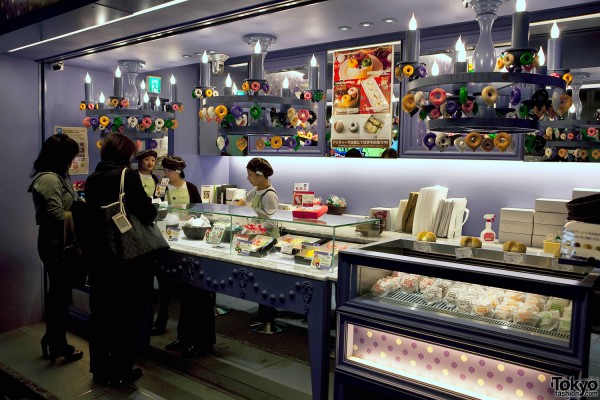 This Aoyama donut shop is really popular. I can't remember the name of it, but it's cute.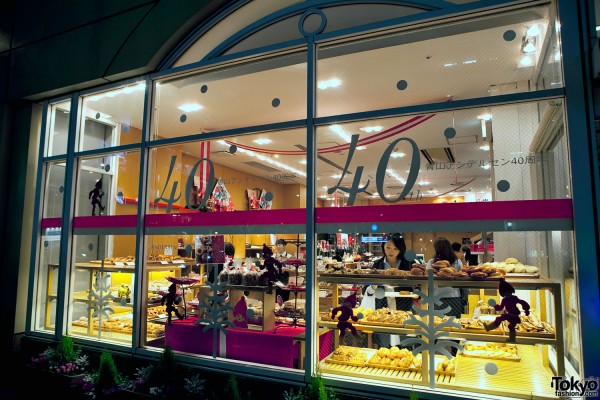 Andersen bakery in Aoyama. I promised you lots of sweets, right?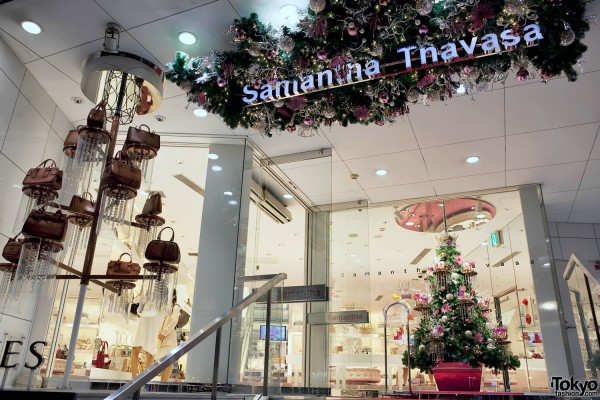 This is the Samantha Thavasa flagship store on the corner of Aoyama Dori and Omotesando Dori. We also walked by this store on our Omotesando Holiday Photo Walk. BTW, I bought someone a Christmas gift from Samantha Thavasa this year. Could it be for you? :-)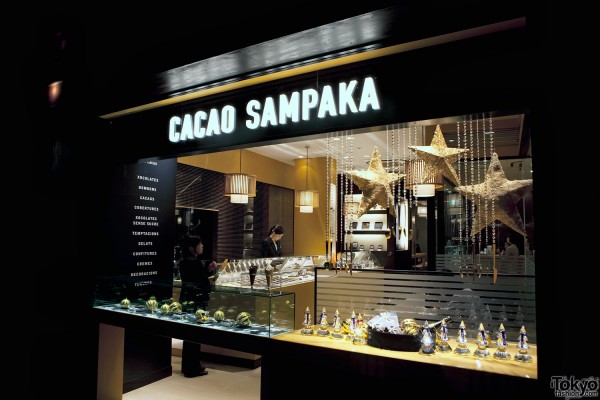 Now we've taken a right at the intersection of Omotesando and Aoyama Dori, then another right into the neighborhood between Kotto Dori and Omotesando Dori. There are millions of shops in this area, so we'll wander randomly again. Let's start with chocolate at Cacao Sampaka Aoyama.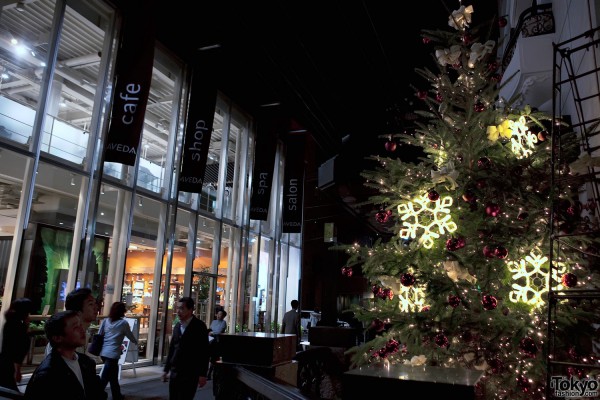 An Aoyama Christmas tree!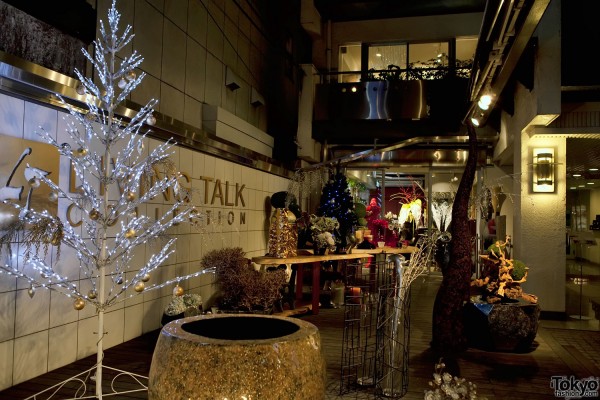 Another Christmas tree – this one at Living Talk Collection.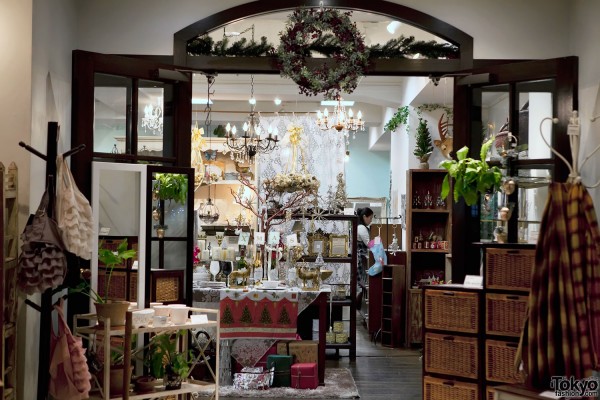 A shop filled with interior goods, lights, and stuff. In case you don't have enough "stuff".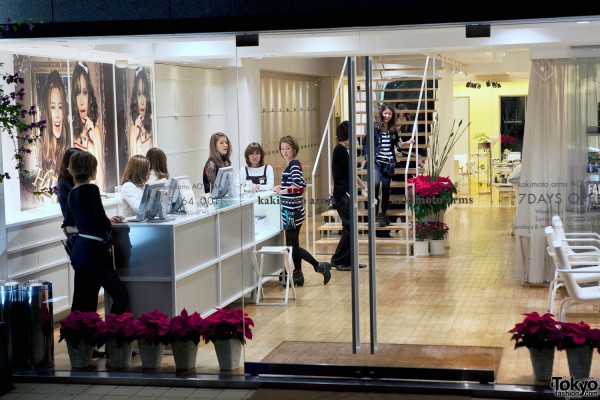 There were like twenty stylish Japanese girls in the window of this Aoyama salon.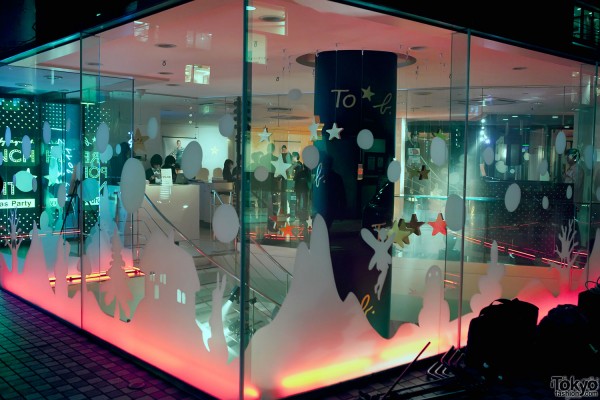 Agnes B. Aoyama was having a Christmas party. I think the store was closed for the event.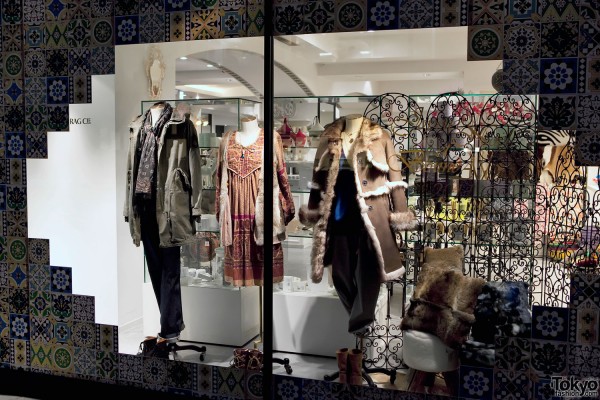 American Rag Cie. Aoyama holiday fashion.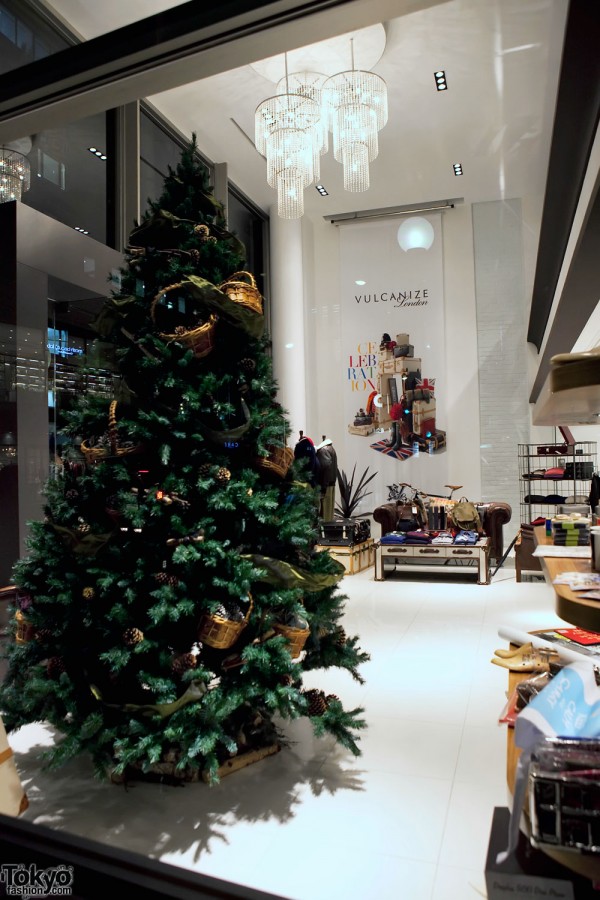 Somehow, we've made it all the way back to the other side of Vulcanize Aoyama. There is a Christmas tree in this window.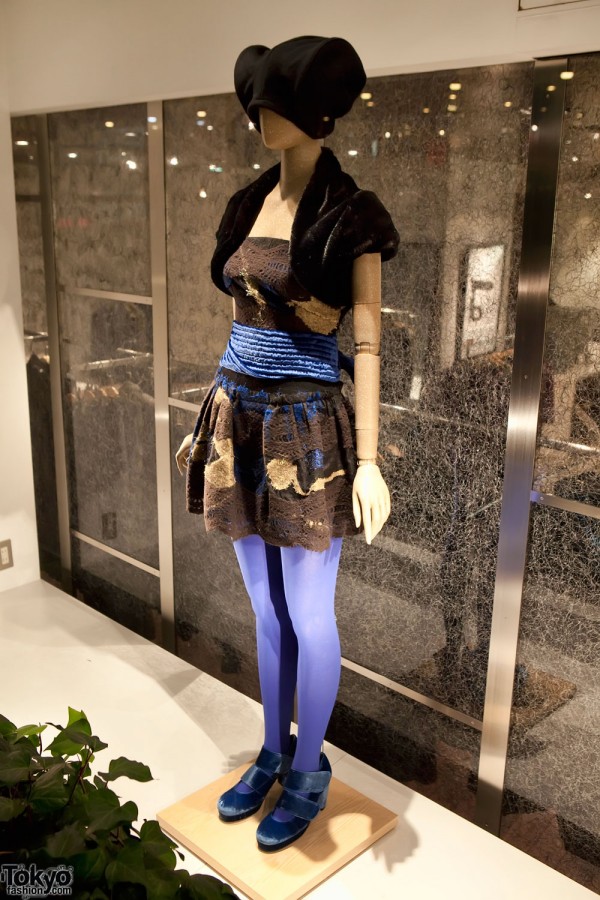 The fashion in this window – by Japanese designer Hiroko Koshino – has nothing to do with Christmas, but it's awesome.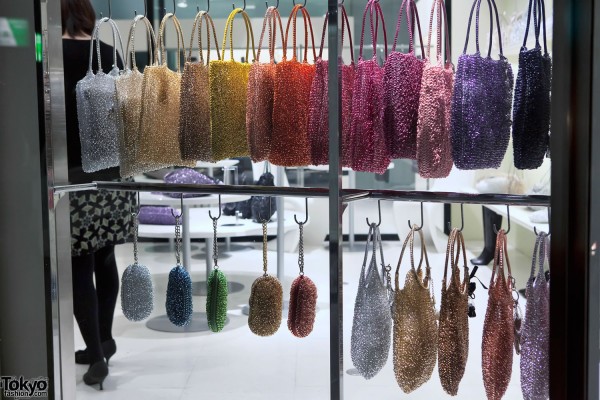 Colorful bags in a random Aoyama shop window.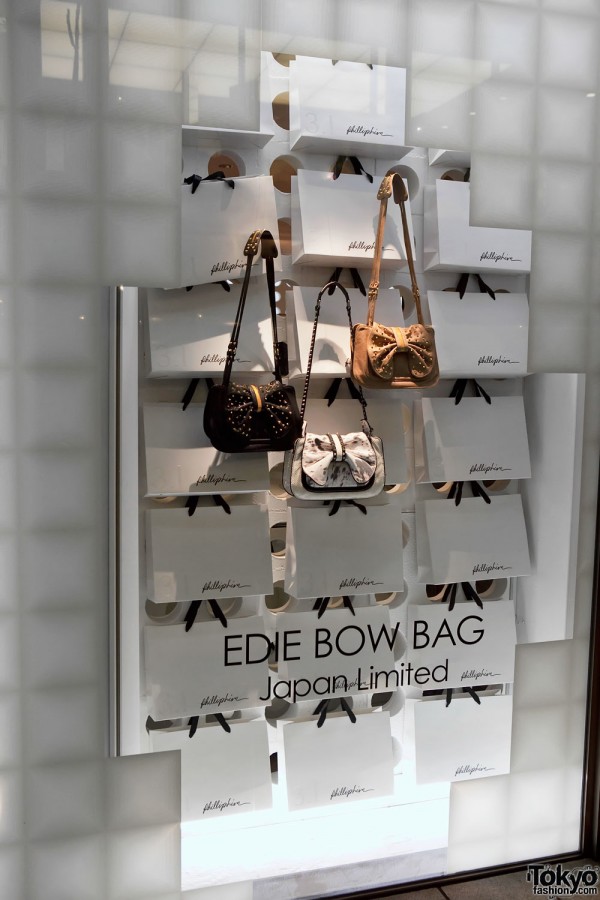 Phillip Lim "Edie Bow Bag" Japan limited edition. What does this have to do with the holidays? It might make a nice gift for someone. How's that?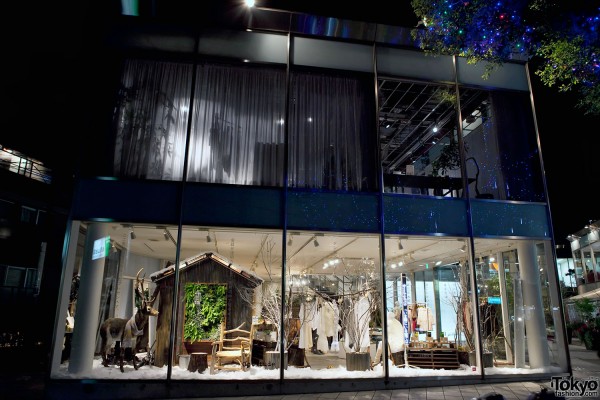 Optitude Aoyama has one of the best Christmas windows we've seen in all of our holiday walks. Wow.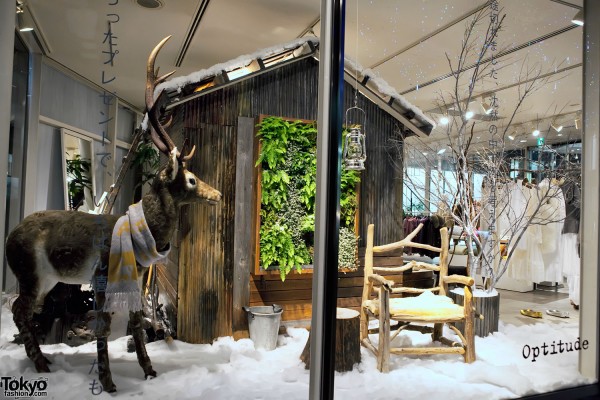 A closer look at the Optitude holiday window – with a life-sized reindeer. Nice!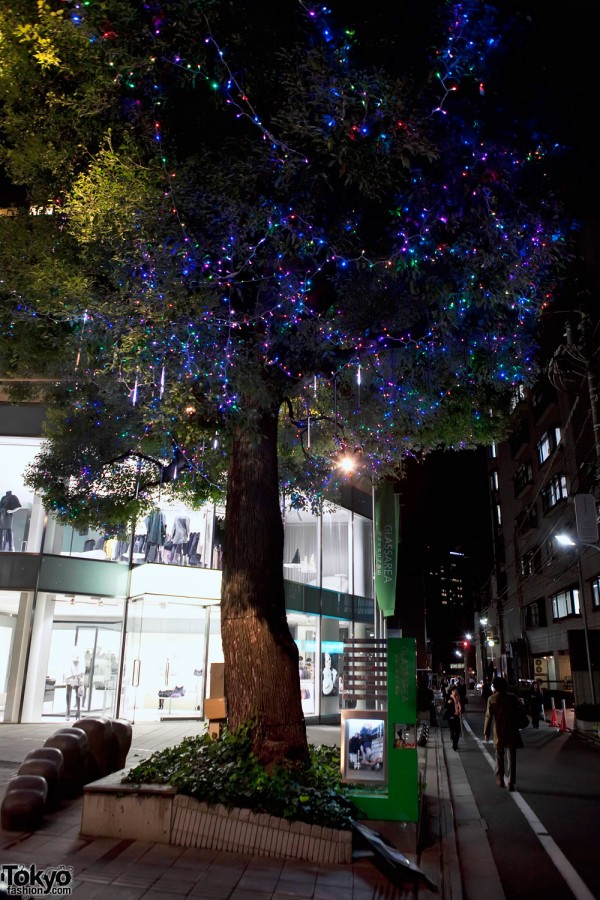 A tree decorated with Christmas lights near Optitude.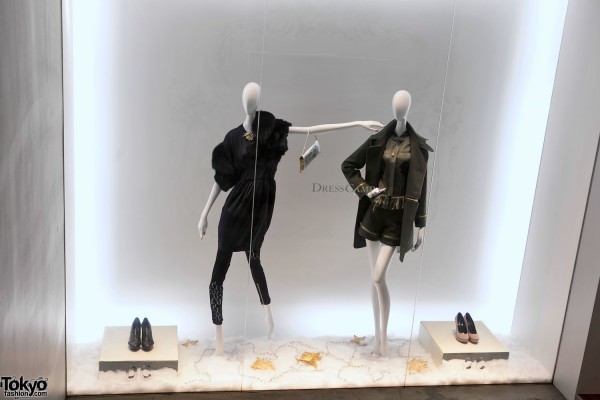 DressCamp Aoyama. Their window is really white, but I think there are holiday stars on the floor. Maybe.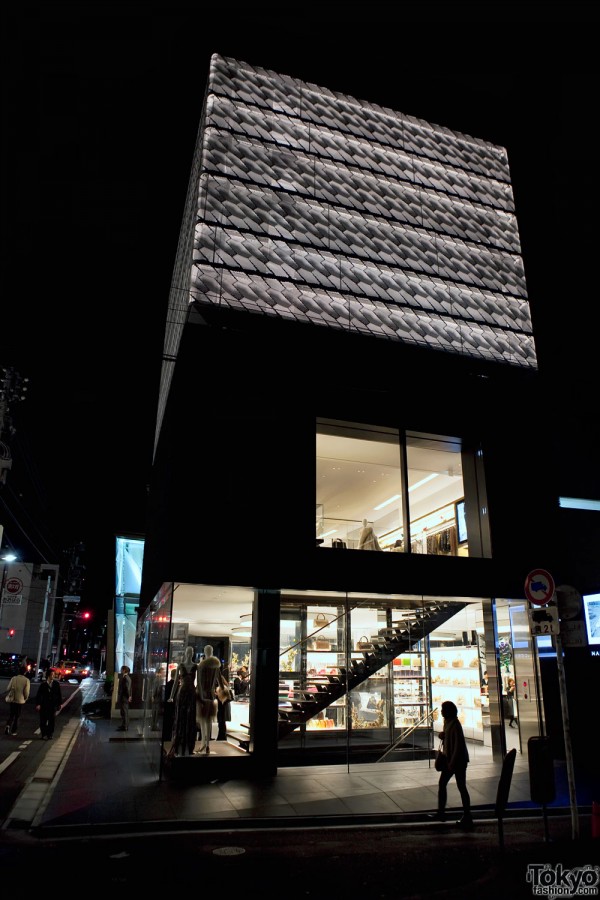 The brand new Marc Jacobs Aoyama flagship store. This building is awesome. It's designed to look like a lantern.

Hysterics Aoyama. This shop carries the higher-end fashion from the popular street brand Hysteric Glamour. If you like Hysteric Glamour, but you are looking for something more upscale, don't miss this shop.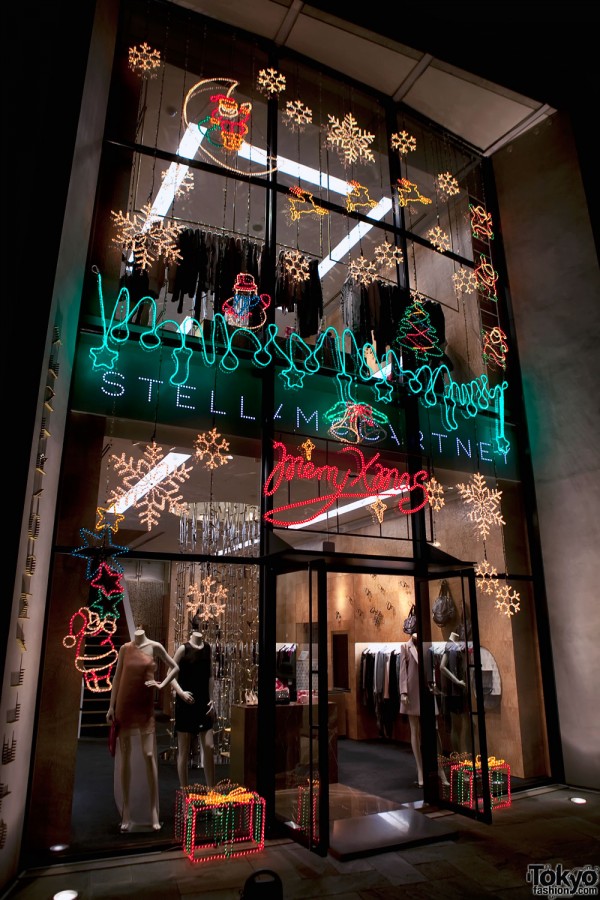 Stella McCartney goes all out for Christmas again this year!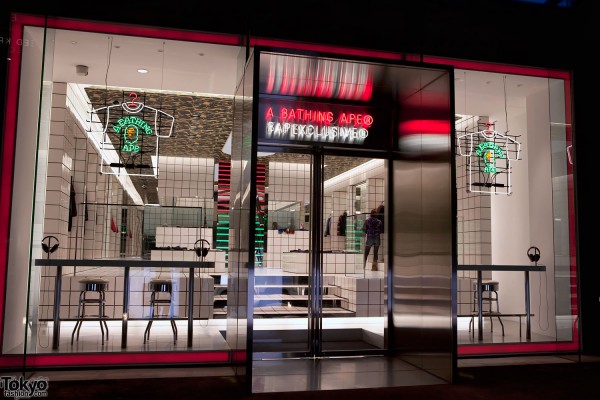 A Bathing Ape Aoyama. The secret of this photo is that the colors of this BAPE lights change every few seconds. I just waited until the colors looked Christmas-y, then took a picture. If I had waited another few seconds, it might have been Halloween instead. :-)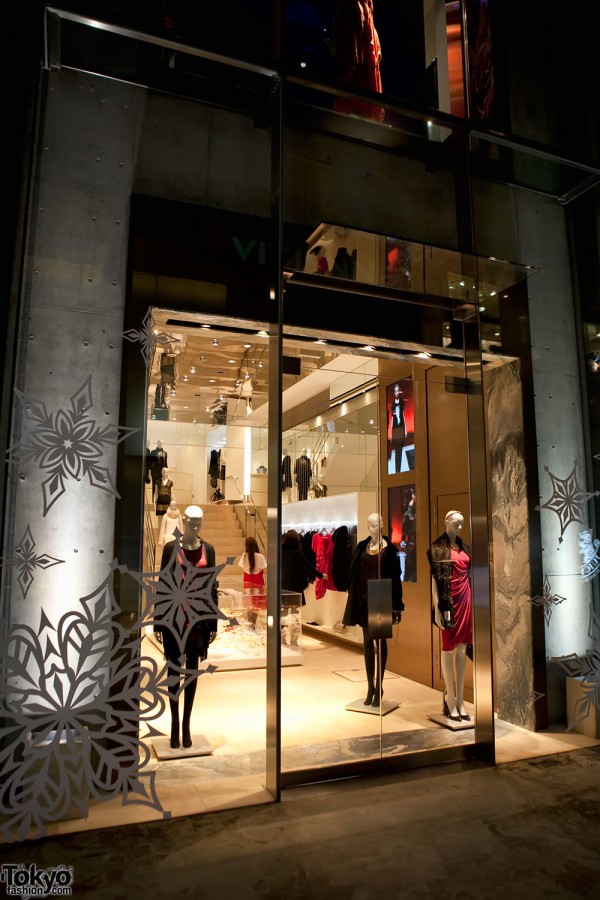 Vivienne Tam Aoyama.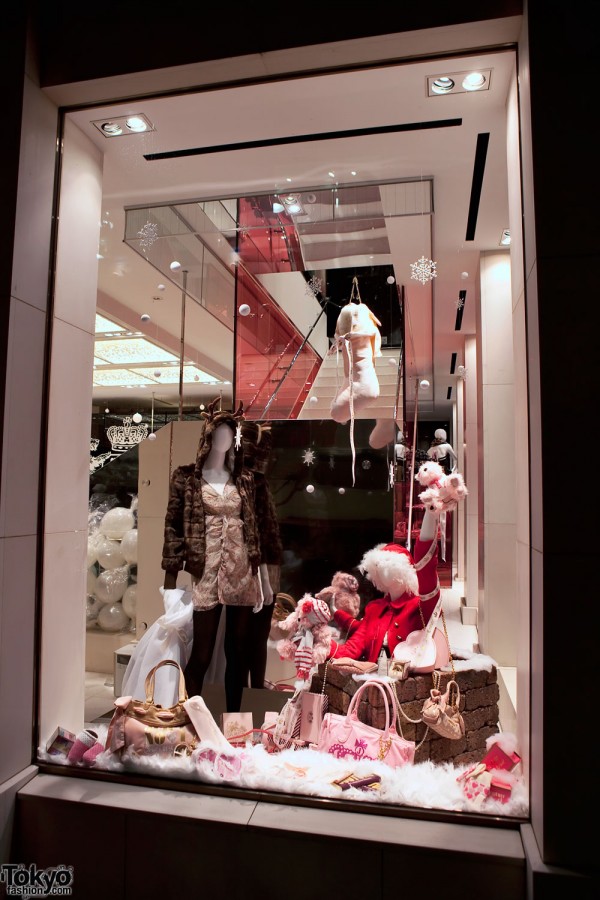 Juicy Couture Aoyama had a nice Halloween display. They've made a good one for Christmas as well. Lots of pink.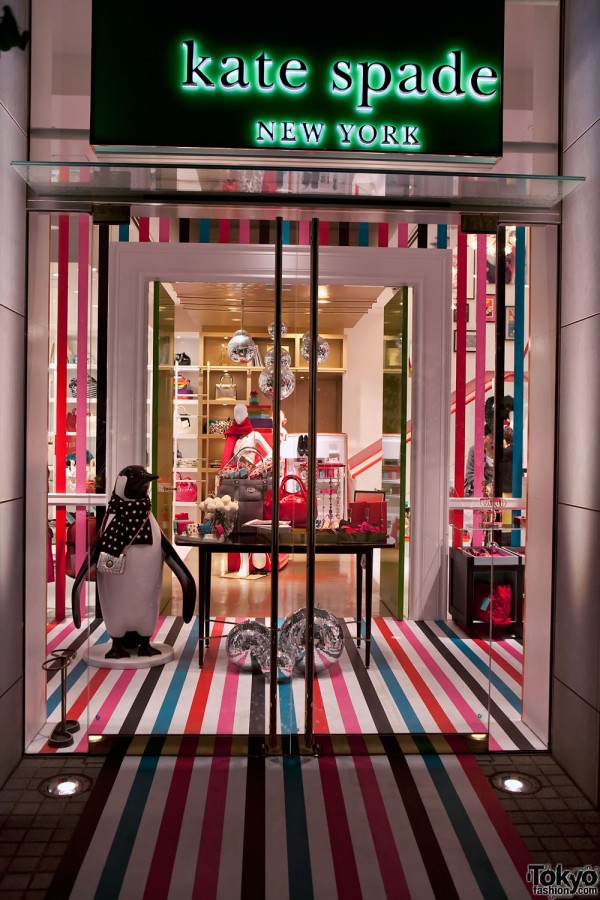 The Kate Spade penguins are ready for Christmas – and they love stripes.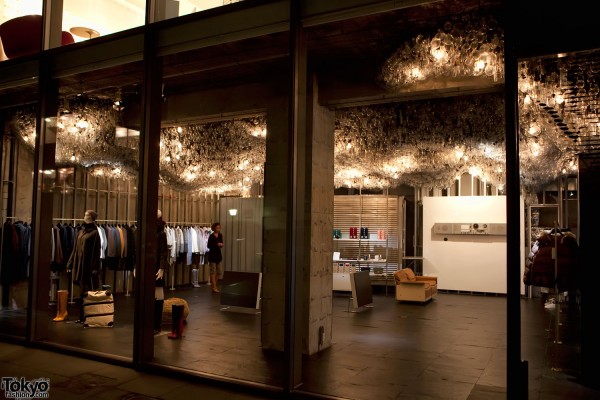 Undercover Aoyama. Too cool for Christmas. I like this shop. Don't miss it if you come to Tokyo.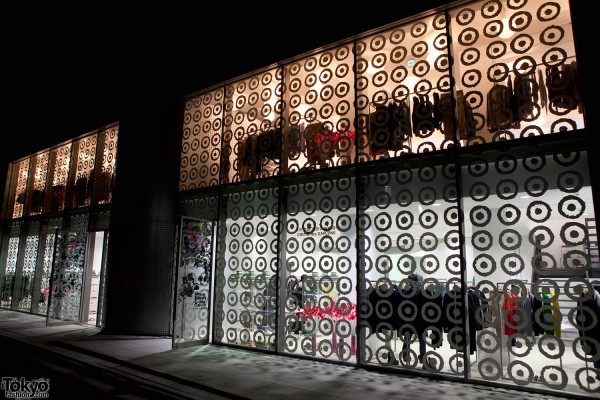 The 10 Corso Como Comme des Garcons store would be easy to not find if you didn't know where to look, but it's a must-see on any shopping trip to Tokyo. They stock Junya Watanabe and other amazing collections.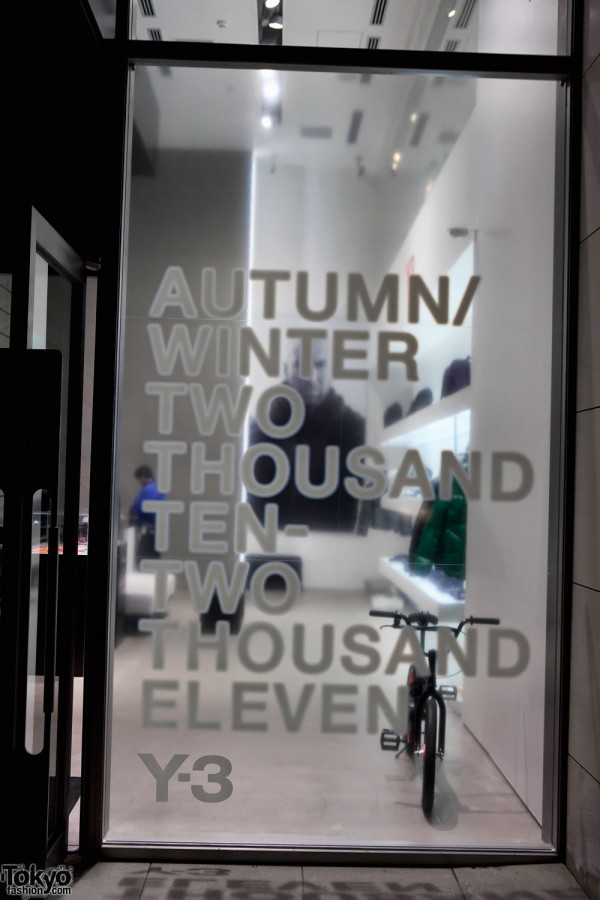 Y-3 Aoyama by Yohji Yamamoto has a snowy looking window.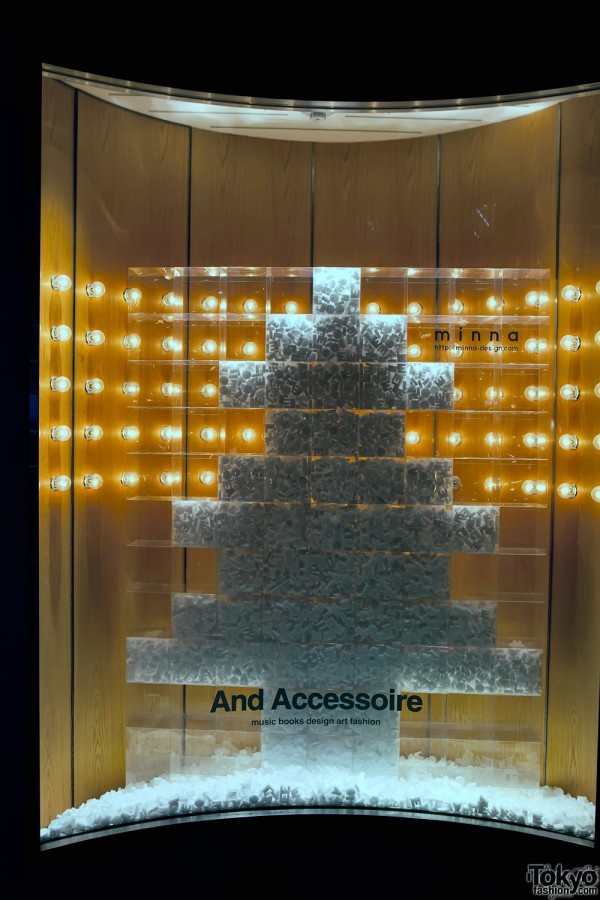 We've done a lot of wandering, and it's now getting late. Time to make our way back to the AO Building. We'll walk the AO side of Aoyama Dori in the direction of Omotesando Dori. First stop: the And Accessories shop. The actual Japanese fashion brand is called "And A", but this is their accessories store.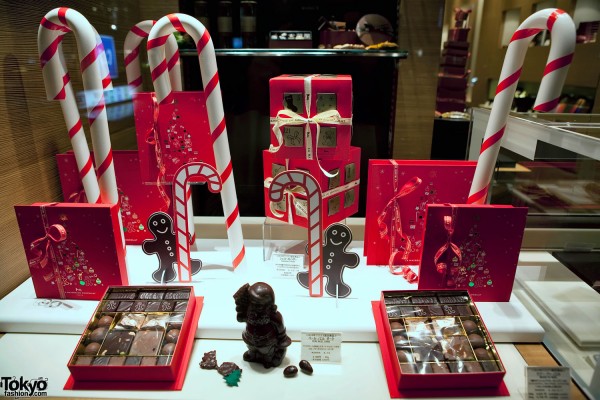 My favorite chocolate store in Tokyo – La Maison du Chocolat Aoyama – is 100% in the holiday spirit with this window.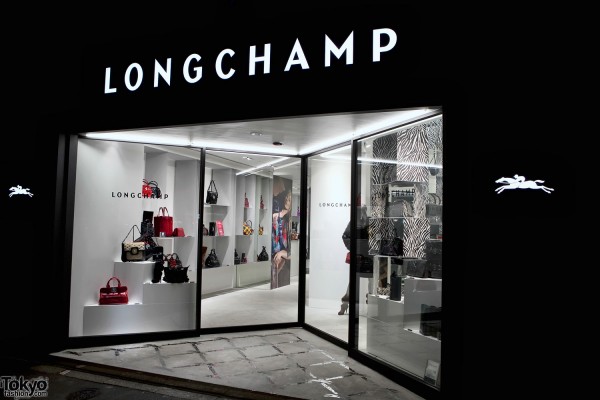 Longchamp Aoyama. Plenty of Kate Moss goodness inside!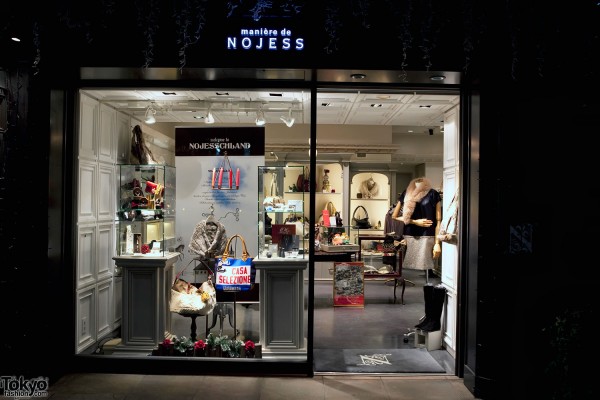 The Japanese brand Manière de NOJESS usually has a nice holiday window. Maybe next year.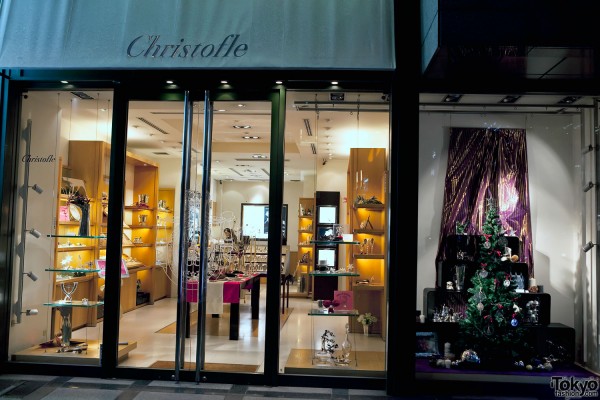 A Christmas tree in Christofle. It almost rhymes.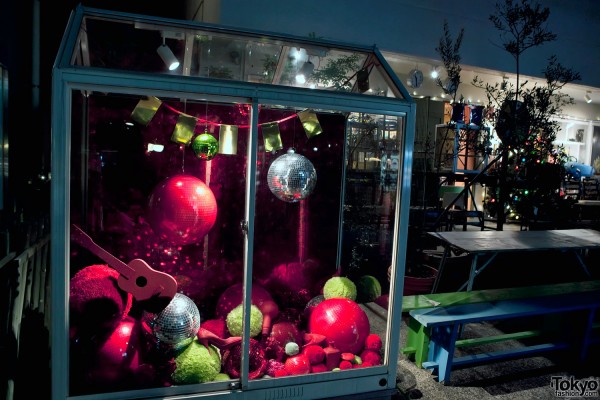 Nothing says Christmas in Japan like red disco balls and guitars. We've been sidetracked by a little trip down more narrow alleys off Aoyama Dori, BTW.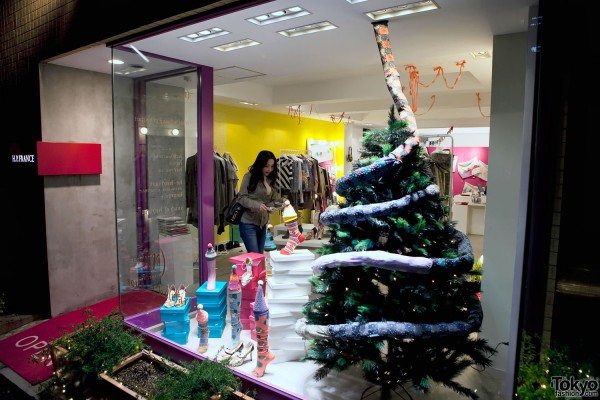 I'm pretty sure that's supposed to be a big stocking in the H.P. France Christmas tree, but it looks a lot like a huge snake to me. That girl could be in danger! Or not.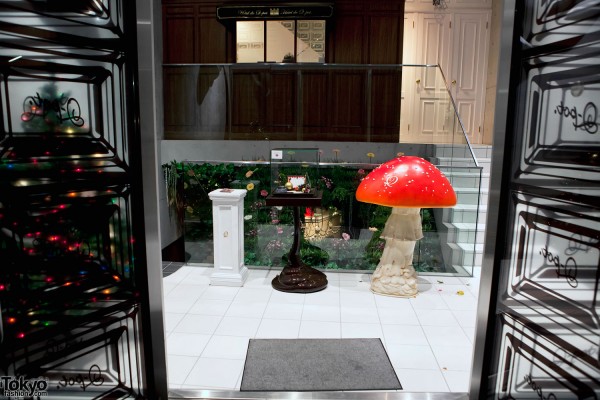 Giant mushroom!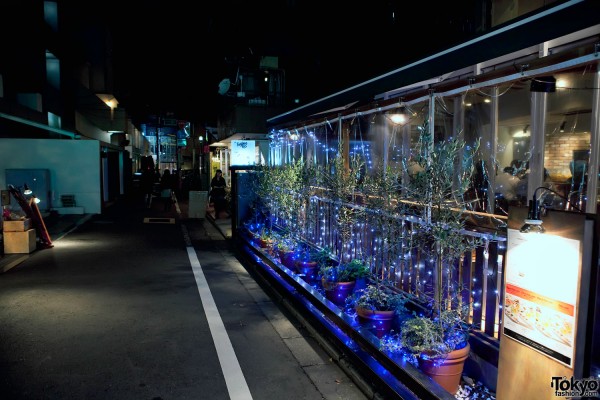 Christmas lights and a cafe along a narrow Aoyama street.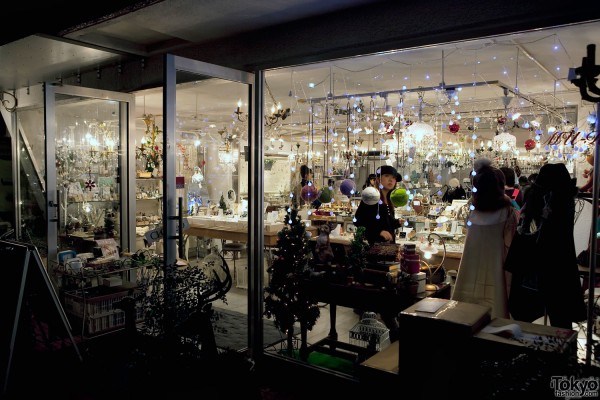 All of the lights… That's a Kanye song.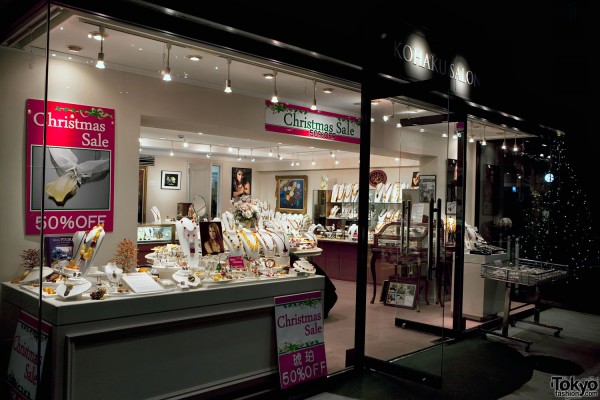 "Christmas Sale 50% Off." I'll wait for the "New Years Sale 100% Off."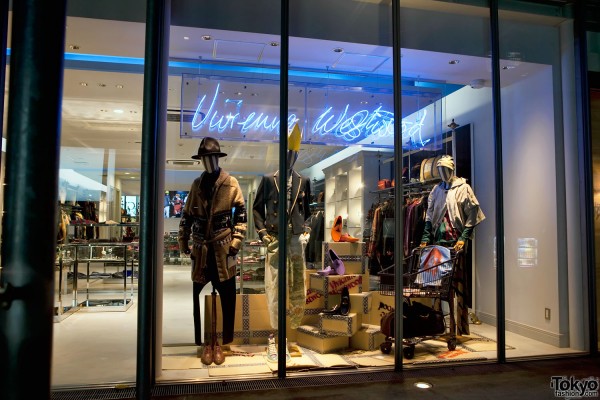 Another Vivienne Westwood store. This one has blue neon instead of pink.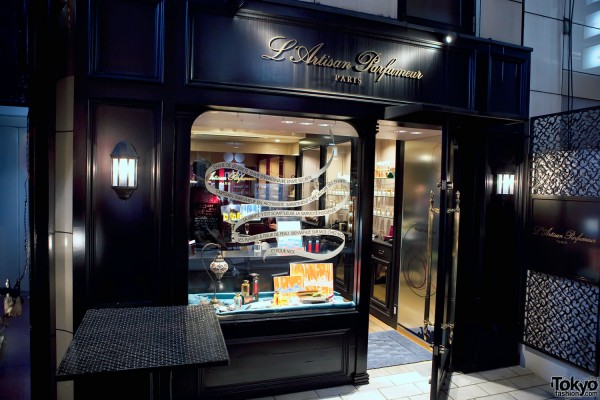 L'Artisan Parfumeur Aoyama. If you're into perfume, this is a nice shop.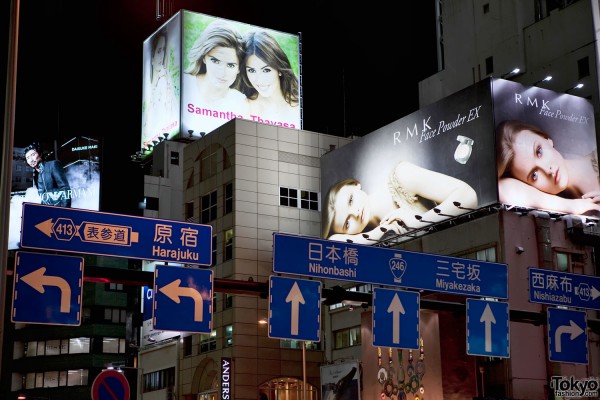 Okay, detour over. We're back on Aoyama Dori, and need to get moving down this street if we're going to see everything we want to see before the shops start closing. Check out the road signs and billboards above our heads!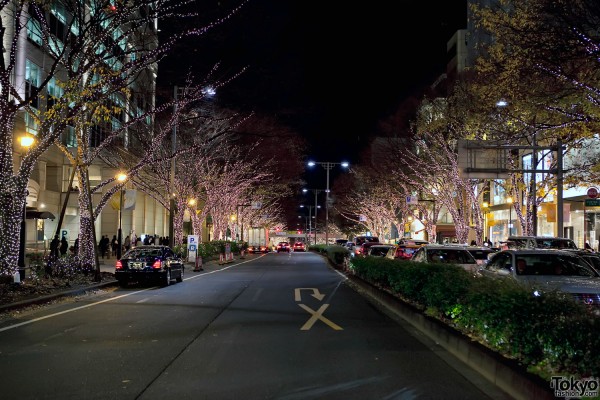 We are moving down Aoyama Dori away from the AO Building (bye bye!). This photo is taken down Omotesando Dori as we cross the street. This is where we took our Omotesando photo walk!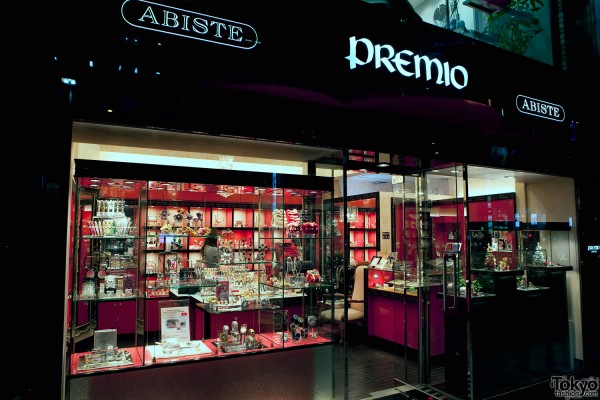 Continuing on down Aoyama Dori, here is the Abiste shop. Lots of bling!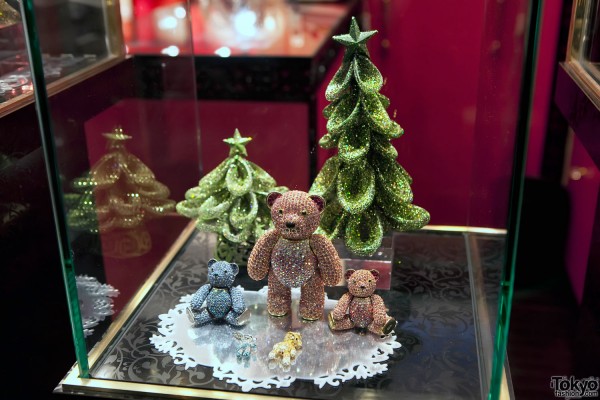 Sparkling Christmas trees and teddy bears in the window of Abiste.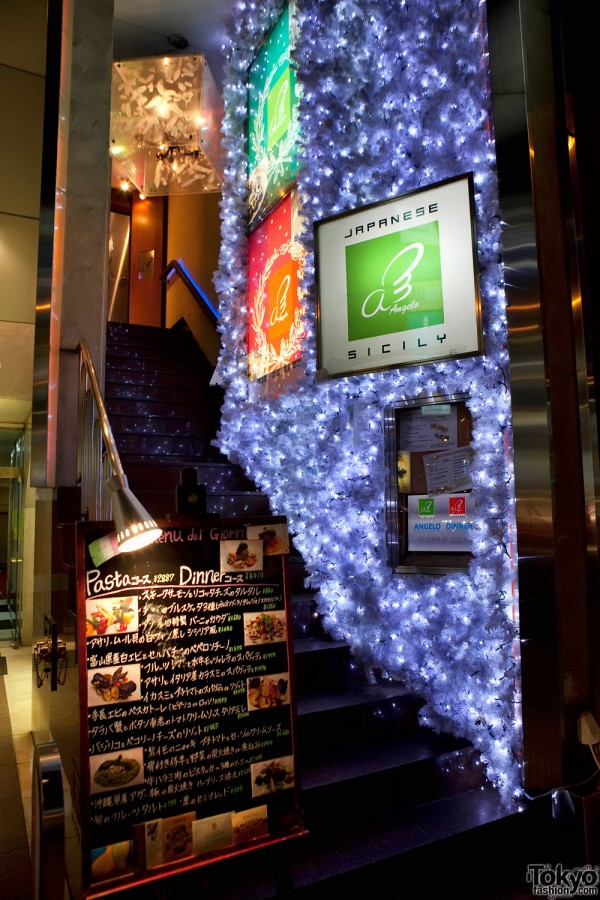 Japanese Sicily? Why not?!

Aiming our camera across to the other side of Aoyama Dori, we see the big FrancFranc building. The interior design of this shop is pretty crazy. Check it out if you're in the area.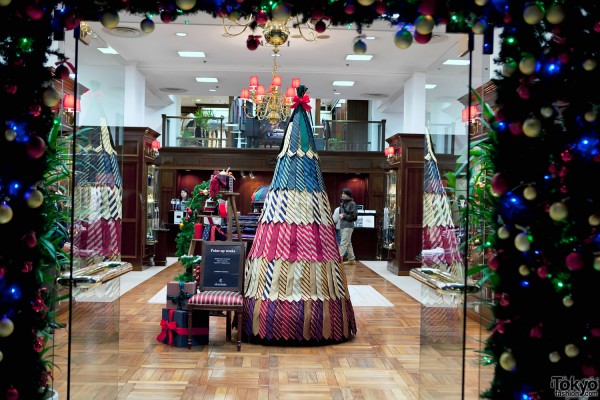 A Christmas tree made of ties inside of Brooks Brothers. It could be a salaryman's dream come true – or nightmare.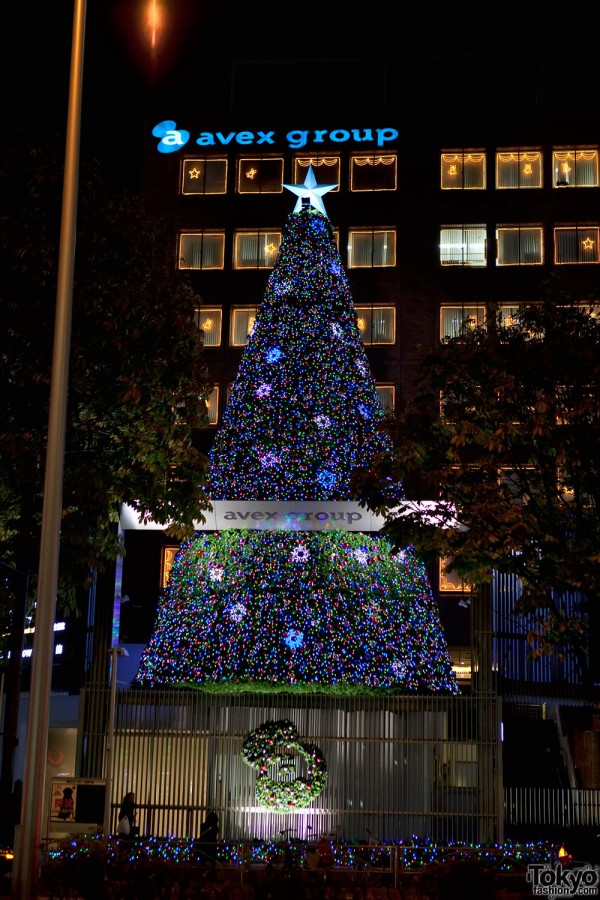 The Avex Christmas tree on Aoyama Dori!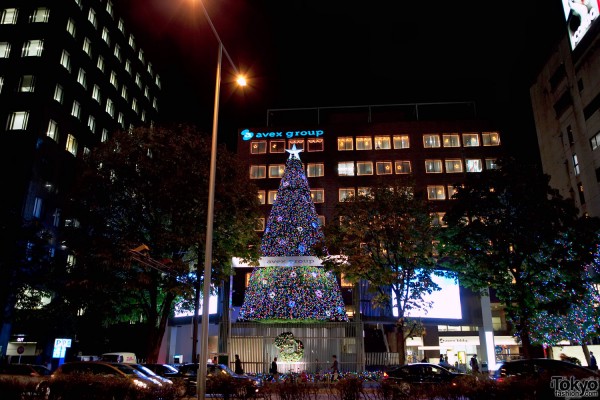 This is the Avex building on Aoyama Dori. Many famous JPop stars, Japanese actors, and other celebs frequent this place. There is also a Tony Roma's in the basement. Mmmm…BBQ ribs.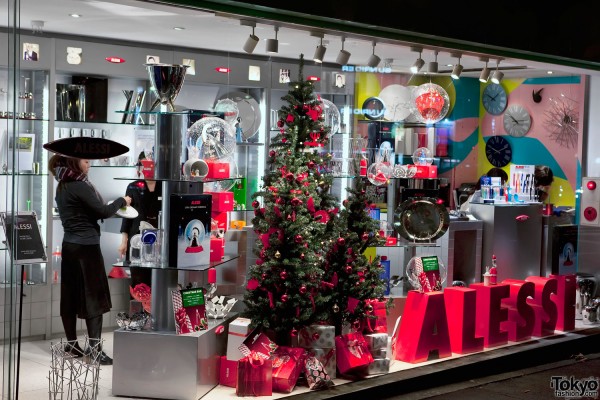 Alessi! They sell brightly colored kitchen and home goods. I have one of their paper towel holders, but it never seems to fit the paper towels that my local konbini sells. It does look cute, though.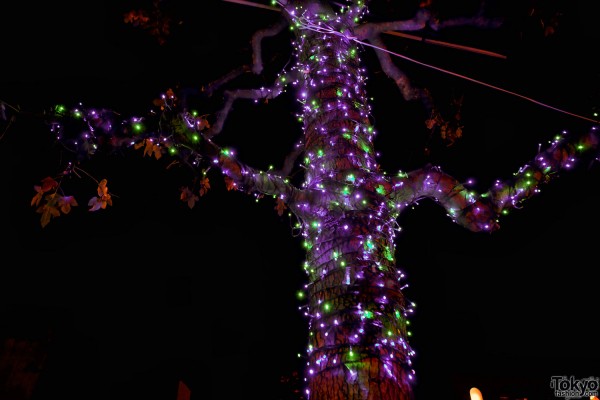 Now we're turning left onto Killer Dori. If we follow this street all the way down, we'll run into the Diesel Harajuku store.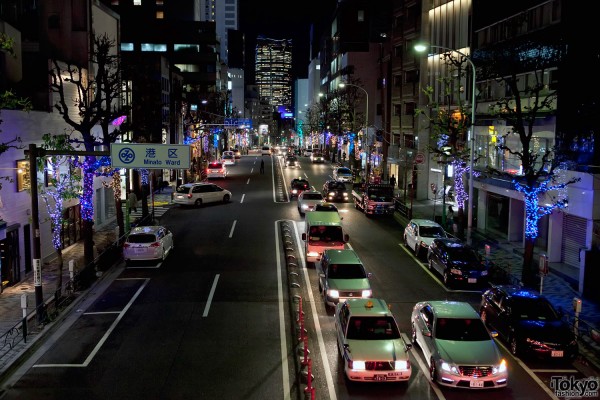 This is a shot of Killer Dori from a pedestrian bridge. They've put up some nice Christmas lights.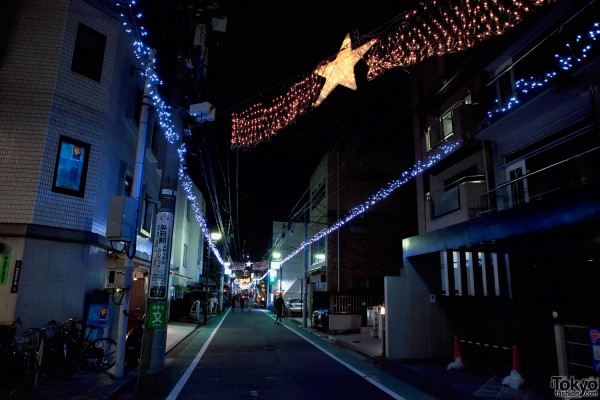 And this is one of the street running off of Killer Dori. If we followed this little street all the way, it would take us back to Omotesando Dori. There are lots of little shops on it as well, including the grapevine by k3 boutique. I love grapevine, but we don't have time tonight.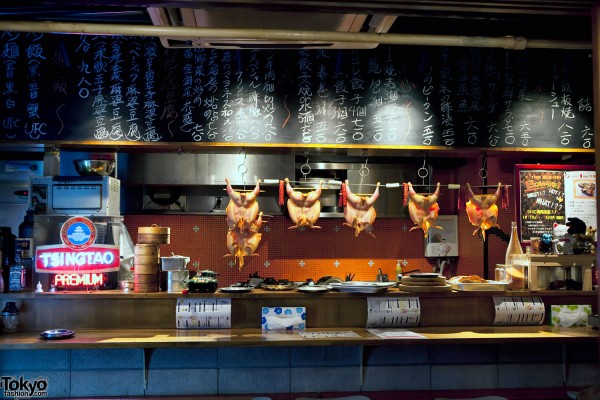 This is a Hong Kong-style chicken restaurant on Killer Dori. They serve Vampire Chicken. It's really spicy.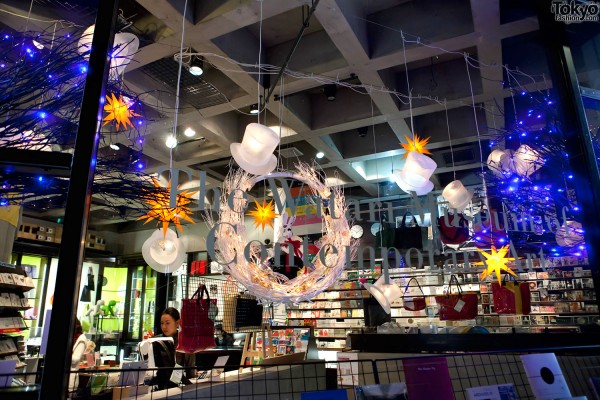 The Watari-um, also known as The Watari Museum of Art, on Killer Dori. They've had amazing shows here with everyone from contemporary street artist Barry McGee to legendary video artist Nam June Paik. Check the Watari-um website if you're going to be in Tokyo.
With that, we have pretty much reached the end of our Aoyama Holiday Photo Walk. A little further down this road, we will find ourselves in Harajuku. But before we end the night, I wanted to share one last photo. Earlier, I told you that I'd show you the delicious Christmas cupcakes that we ate at Pariya. As promised, here they are…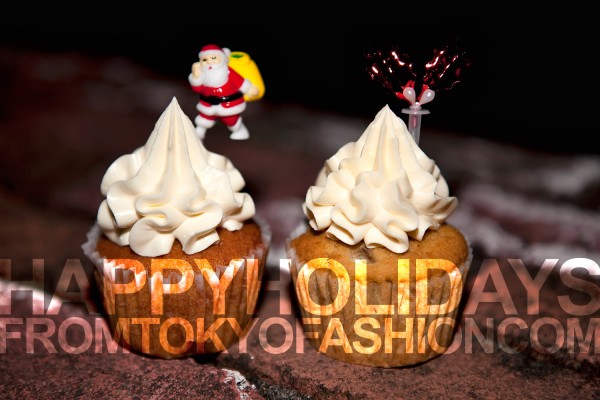 Thank you for coming along on our Aoyama Holiday Photo Walk. We hope you had a good time. Not only are we done wandering around Aoyama, but this was the last of our Tokyo Christmas 2010 photo walks. Our timing was pretty good this year, as we are finishing up on Christmas day – just in time for you all to relax and enjoy quality time (and good food) with your friends and family.
Merry Christmas and Happy Holidays to all of you from your friends in Tokyo!