Avantgarde Harajuku – A Peek Inside the Uber-Popular Tokyo Legwear Boutique
Avantgarde Harajuku is the most influential legwear boutique in the Tokyo street fashion scene today. You can't walk down the street in Harajuku, attend a youth-centric Tokyo fashion party, or browse a Japanese street fashion magazine or snap website without seeing someone wearing tights from Avantgarde. That's pretty amazing, considering that the shop has been open for less than a year. It's hard to say why some shops explode in popularity, but much of Avantgarde's meteoric rise can be traced directly to the vision of its owner Kazuhiro Watanabe.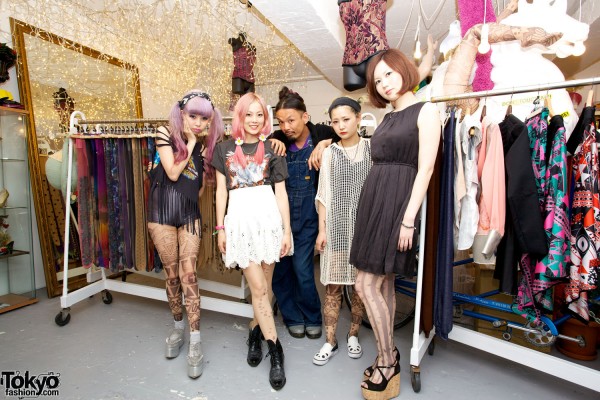 Born in Tokyo, Kazuhiro-san had already worked in the fashion industry in Sapporo for a decade when he came up with the idea for what would eventually develop into Avantgarde. He observed that for the most part the Japanese fashion industry was selling the same pairs of black and beige stockings over and over again. Producers in Japan, he felt, looked at legwear as akin to underwear rather than as fashion accessories. Kazuhiro believed that stockings and tights should be fashionable and fun – adding flare to an outfit and making the wearer feel happy, sexy and confident.
With the idea of bringing cool legwear to the Japanese market, Kazuhiro began importing interesting styles from America. Several years later he began creating his own designs. Thus in 2009 the "Mam Avantarde" legwear brand was born. The original designs were only available online until October of last year – when the first Avantgarde retail shop opened in Harajuku.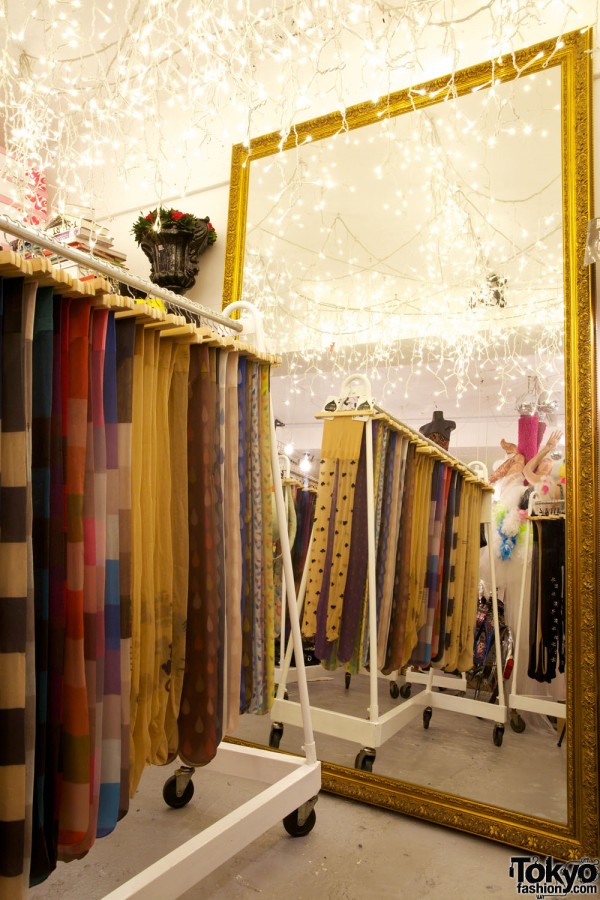 The Avantgarde Harajuku boutique – located near the famous KDDI Designing Studio (very close to the popular shops G2? and Nadia boutiques) – stocks its own Mam Avantgarde brand tights as well as import items and other Japanese labels. The shop's interior is cool – with a full-size carousel horse in the shop's center, antique mirrors, packed display cases, and paintings along the walls. The hallway walls along the stairs as you enter the shop are covered in signatures and drawings by famous Avantgarde shoppers – such as Kyary Pamyu Pamyu, Halicali, and members of AKB48.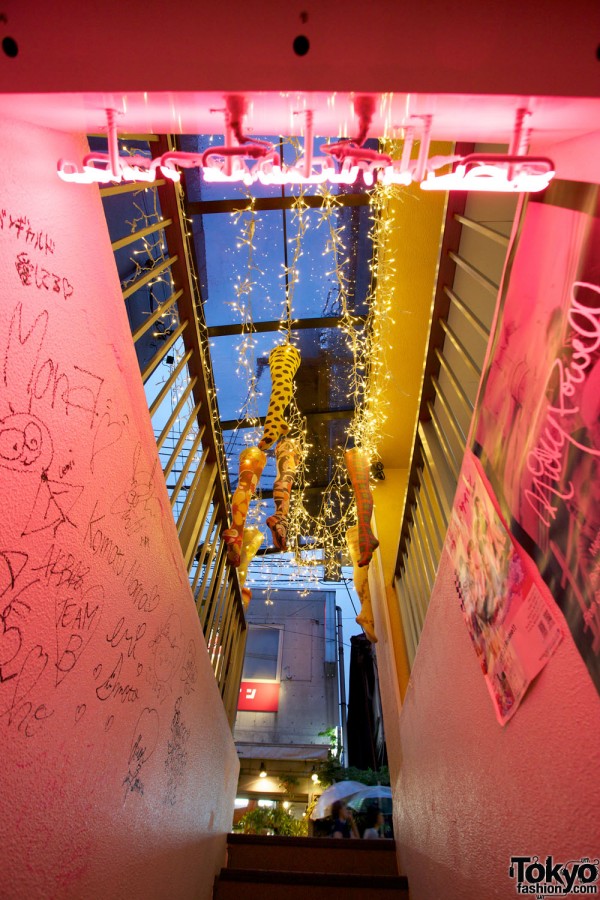 Popular Mam Avantgarde tights include their Disney collaborations, a line of graphic tights with red-hot Japanese illustrator Choco Moo, and their original tattoo tights designs. New designs and collaborations are added to the Mam Avantgarde collection every month.
In addition to legwear, Avantgarde Harajuku seeks out creative, young and independent designers of footwear, bags, accessories, and handmade fashion items. Kazuhiro-san said he employed a "head-to-toe" concept when creating the shop. You might come in for the tights, but leave with new platform boots, a handmade purse, or colorful earrings. The current – but ever-changing – list of available brands includes Music Legs, Vive Vagina, Celeste Stein, Jeffery Campbell, Tsuru, Mormor, Lanie, Algorithm, Endless, and Shojono Tomo.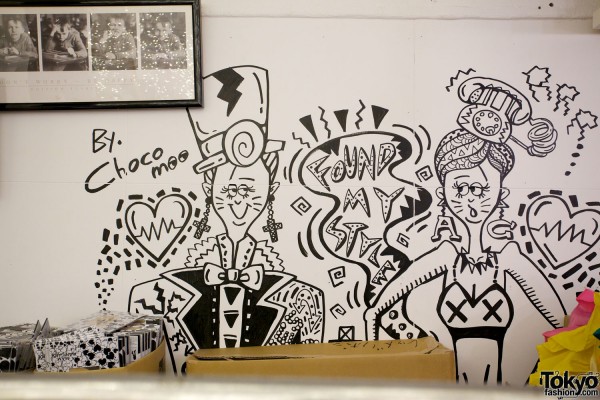 It would be a mistake to write a profile of Avantgarde Harajuku without saying a little about the shop's staff. From the owner Kazuhiro-san (who actually holds the Guinness Book of World Records record for the tallest mohawk) to the she's-in-every-street-snap-magazine-in-Japan awesomeness of Juria Nakagawa to the respected fashion blogger and party-girl Momo, Avantgarde is as much a community as it is a store. It's not uncommon for us to pop in and find any number of well-known Japanese models, designers, or artists hanging around. More than just a place to buy cool fashion, Avantgarde has quickly become a kind of cultural phenomenon and center of influence in Harajuku.
Enjoy our pictures of the Avantgarde Harajuku shop below. If you want to see photos of people wearing their tights, see our Harajuku street snaps. If you'd like to just browse the current Mam Avantgarde collection, check out their official website.
Click any of the Avantgarde Harajuku pictures to enlarge them.
We send out our "Thank You" to Kazuhiro Watanabe, Juria, Momo, and the entire Avantgarde Harajuku staff. They were very kind to spend some time with us while we were working on this article, and they are always super friendly when we see them in Harajuku. We definitely recommend that you check in with them in person the next time you find yourself in Harajuku.
Here is all of the important Avantgarde Harajuku info:
What: Avantgarde Harajuku legwear and emerging designer's boutique
Where: Harajuku, near the KDDI Designing Studio.
Finding It: The shop is underground, so look for the stairs with tights hanging above them.
Address: B1F, 3-22-7 Jingumae, Shibuya-ku, Tokyo, Japan 150-0001
Phone: 03-6804-3739
Hours: 11:00-20:00
Online: Official Website
All photos by Kira.
***
About the photographer:
Born in Japan, educated in Japan and the US, Kira shoots exclusively with Canon DSLRs. Photography assignments include fashion, bands, sporting events, and portraiture for various companies and bands throughout Japan & the world. His portfolio can be viewed at Artist-Photo.