Campus Summit 2013 Pictures – Gyaru Fashion & Culture in Shibuya
Campus Summit is one of the biggest gyaru events in all of Japan. Held once a year since 1995 in the heart of the gyaru capitol of the world Shibuya, the event draws over 1,000 Japanese gyaru and gyaru-o with a mix of gyaru fashion shows, gyaru music, and gyaru culture. Japanese gyaru fashion has been going though major changes in the last few years, but the crowds at Campus Summit 2013 showed that gyaru culture is still strong!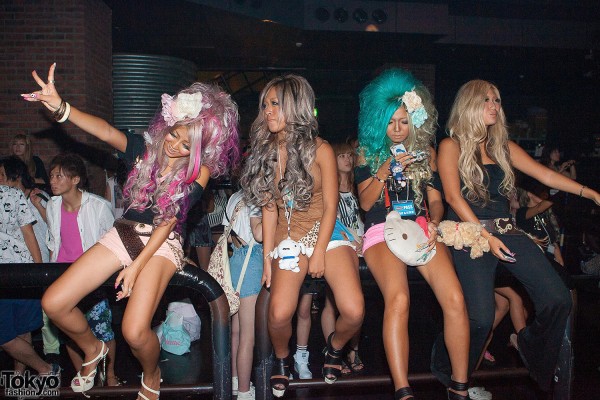 Campus Summit 2013 featured top faces from the most famous Japanese gyaru magazines Egg and Men's Egg, as well gyaru models, singers, and performers. Shibuya 109 fashion brands Garula, Ank Rouge, Cecil McBee, and Co&Lu each presented fashion shows. Musical guests and performers included Izuoka Misaki, Jasmine, Da-Ice, Serena, White Jam, Angry Cats, Real Hearts, Misaki, Pimm's, Ainyan, Gal Doll, and Coco Girl (by Coco LuLu). Between onstage events, the crowd enjoyed music spun by DJ GKKY and DJ Terminator. On top of all that, hundreds of gyaru – both on their own and as part of gyaru circles (including Black Diamond) – were on hand to show their support.
Campus Summit is definitely changing with the times. While the event used to focus on the classic gyaru look, the more recent editions of Campus Summit have showcased everything from the most modern gyaru looks to classic Shibuya gyaru and even a few old school yamanba/ganguro. Though there's a wide spectrum between old school gyaru and new styles, everyone at Campus Summit 2013 seemed to have a good time supporting the overall gyaru culture.
For those of you that couldn't make it, we brought back over 200 photos from Campus Summit 2013 to share with you (just as we did at Campus Summit 2011). Enjoy the pictures and let us know what you think in the comments!
Click on any Campus Summit 2013 photo to enlarge it.
We'd like to thank the Campus Summit organizers for inviting us to their event again this year, as well as the friendly people we met at the event who allowed us to take their pictures. We're already looking forward to Campus Summit 2014!
For more information on Campus Summit, check out the official website.
Photos by Michael.
***
About the photographer:
Michael Steinebach has been fortunate enough to travel and see the world. Exposed to the limitless possibilities of photography 20 years ago, he grew up looking at things differently. He currently shoots in the areas of people, fashion, and news photography in Japan. He maintains a Facebook page with samples of his work. He can be emailed about contract work or with questions or comments on his photography.