Campus Summit Pictures – Shibuya Gals x Yumachi & Aina, Kanako Kawabata, Lip Service & More!
Campus Summit is one of the biggest parties of the year in Shibuya. Our first report on Campus Summit 2011 gave you a full introduction to the massive gyaru and gyaruo gathering. This year's event was supported by the Japanese music industry (via Avex) and the Japanese fashion industry (via TeAmo, Lip Service, and other Shibuya 109 brands), and featured many of the top gyaru models and gyaru music acts. All of those elements – plus the nearly 2,000 excited gyaru and gyaruo in attendance – came together in the amazing Campus Summit 2011 grand finale!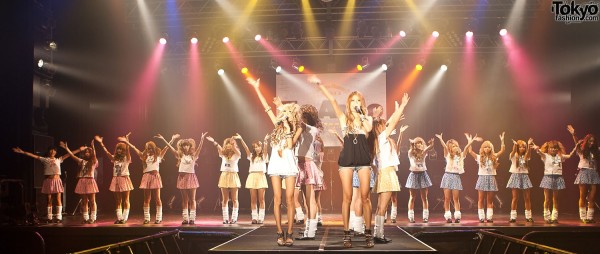 The high point of Campus Summit 2011 was the energetic performance of the event's theme song "Sailor Suit And Loose Socks ~ I Love You a Million Times" by gyaru egg models (and Campus Summit hosts) Yumachi & Aina. Yumachi & Aina performed together with Shibuya's answer to AKB48, the 22-member-strong gyaru group Shibuya Gals.
The crowd went crazy when Yumachi & Aina with Shibuya Gals danced Para Para in pink, blue, and yellow leopard print school uniforms. After a costume change, the entire group came back for more singing and dancing, clad in leopard print bikini tops and cutoff shorts. It had the vibe of a wild gyaru beach party minus the sand — and without the long train ride to Enoshima!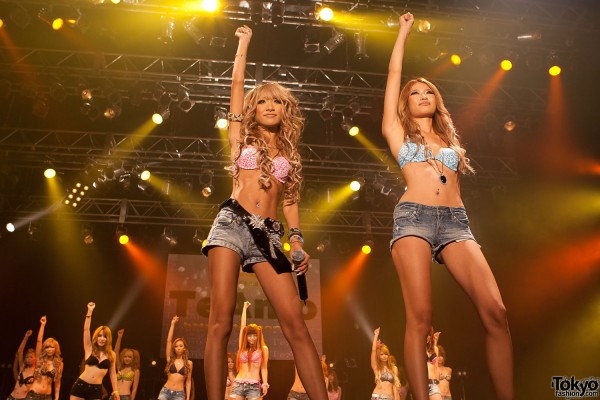 After the Shibuya Gals performance, then the drama heated up as the Lip Service fashion show winners were announced. During the Lip Service Fashion Show and Audition, gyaru models competed to become GliA models. Arisa Kasamatsu walked away with the Grand Prize. Second place went to Sakura Hayashi, and Sari Katou was awarded an Honorable Mention.
As the night came to an end, the Campus Summit stage was filled with Shibuya models and musicians (Kanako Kawabata, Yumachi, Aina, Misaki, PlayZ, CIEL, Gal Doll, and many more) while DJ GAKKY (aka men's egg model Yuuki Inagaki) spun on the turntables and the crowd cheered.
Please enjoy all of our pictures of Campus Summit 2011, and we hope you have a chance to visit the party yourself in 2012!
Click on any of the picture to see high resolution versions.
In case you missed it, don't forget to check out part one of our report with lots more Campus Summit 211 pictures! A big Thank You to the organizers and promoters of the event for inviting us, and we hope to see you at Campus Summit Shibuya next year!
For more info on Campus Summit performers and brands, check out these websites:
About the photographer: Michael Steinebach has been fortunate enough to travel and see the world. Exposed to the limitless possibilities of photography 20 years ago, he grew up looking at things differently. He currently shoots in the areas of people, fashion, and news photography in Japan. He maintains a Facebook page with samples of his work. He can be emailed about contract work or with questions or comments on his photography.