Campus Summit 2011 Pictures – Shibuya Fashion, Gal Doll, PlayZ, CIEL, Misaki & More
In early August, one of Tokyo's biggest gyaru (and gyaru-o) events of the year was held at Shibuya O-East. Almost 2,000 girls and guys styled in full-on Shibuya hair, fashion, and makeup – along with many of the top names in Shibuya gyaru culture and music – were in attendance for the huge "Campus Summit 2011" party. This year's party was sponsored by the Japanese colored contact lens company TeAmo.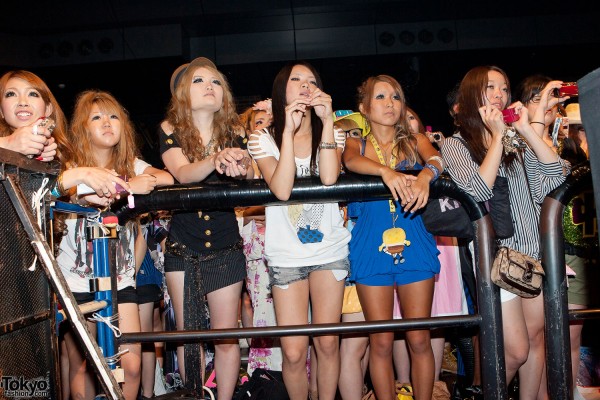 Campus Summit is an event organized by student clubs across Japan. The clubs hold not only the annual Summit in Shibuya, but also 57 smaller gatherings in 47 of Japan's prefectures. Since its inception in 1995, over 270,000 high school and college students have participated in Campus Summit, and 450,000 copies of the event's CDs have been sold. This year's tie-in CD "Campus Summit 2011" went on sale in late July on the Avex label.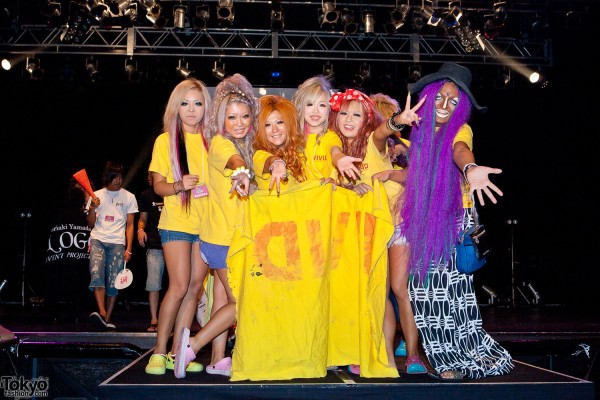 With the Tokyo party being the biggest Campus Summit event in all of Japan, the lineup reads like a who's who of Shibuya gyaru ("gal") and gyaruo (male "gals") culture. Campus Summit 2011's image girls were super-gyarus Yumachi and Aina – both of whom were on hand and doing double duty as singers as well as hosts. In addition to the supercute duo, attendees cheered on the "No. 1 Fashion Producer Battle" sponsored by Japanese fashion magazine Salus, in which egg models Kanako Kawabata, Yumachi, Nemoyayo, Maña, Mirai, Erichose, and Kate Riho competed to put together the best ensemble using pieces selected by Salus from online fashion retailers.
The musical acts of the night were all well-known names in the Shibuya scene – many connected to the bibles of gyaru culture, egg and mens egg magazines. The "Secret Live" performance of the night was the musical debut of popular magazine model Misaki (egg, Ranzuki, Popteen), performing her single "Girl's Rock". The three-piece Shibuya idol group Gal Doll danced and sang several of their songs to a cheering crowd as well.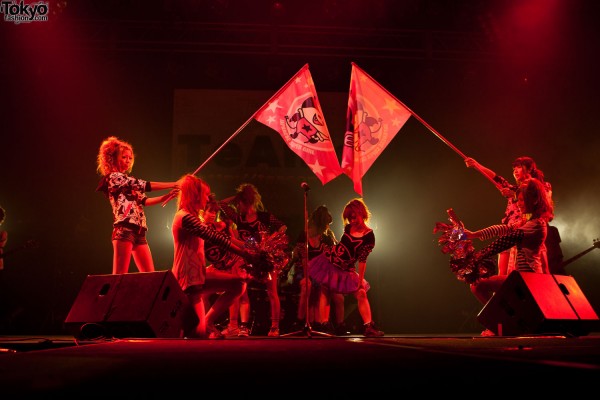 Though girls ruled the party, there were plenty of guys on hand as well – both in the crowd and on stage. Men's egg model Yuuki "Gakki" Inagaki was the special guest DJ under the name "DJ GAKKY". He took a break from the turntable to perform with his band PlayZ alongside fellow mens egg models Ayumu Satou, Yukihide Sawamoto, Kazuaki Ooishi, and Katsumi Yoshida. CiEL – a band made up of mens egg youth models Takeshi 'James' Yamada, Chihiro Saitou, Mio Takahashi, Kouichi Hokuda, and Hayato Ise – also took the stage to the delight of fans.
The gals in the crowd also cheered the men's egg fashion show. Daichi Tanaka, Akihiro Ishigaki, Makoto Kurono (Makochi), Takazumi Hikichi, and Takeshi James Yamada and other popular gyaruo models graced the stage in popular 109-2 brands including Buzz Spunky and Bonds&Peace.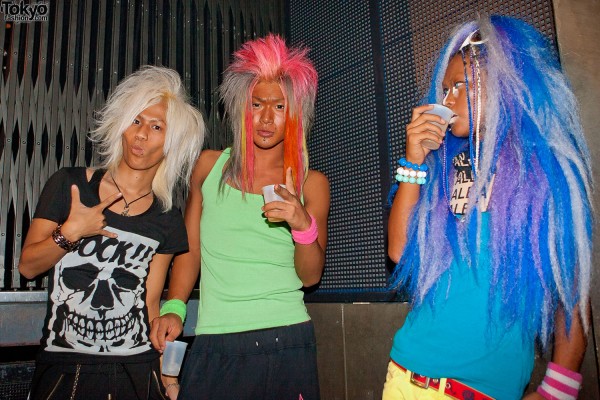 If that sounds like a lot of Shibuya goodness, it's just the beginning! The Campus Summit 2011 party was so big – and the entire scene was so amazing – that this is only the first of our two reports. Part two features the Campus Summit Grand Finale with over two dozen Shibuya girls dancing in leopard print school uniforms, the crowning of the fashion contest winners, and more.
For now, please enjoy these pictures of Shibuya's Campus Summit 2011 party. Remember the you can click on any of the photos to blow them up! Also, don't forget to check out the official Avex website, and all of the related links at the bottom of this article.
Click on any of the picture to see high resolution versions.
Also make sure you check out the second part of our Campus Summit 2011 coverage, featuring a performance by the gyaru supergroup Shibuya Gals!
For more info on the various groups participating in Campus Summit, you check out these links:
About the photographer: Michael Steinebach has been fortunate enough to travel and see the world. Exposed to the limitless possibilities of photography 20 years ago, he grew up looking at things differently. He currently shoots in the areas of people, fashion, and news photography in Japan. He maintains a Facebook page with samples of his work. He can be emailed about contract work or with questions or comments on his photography.