Candy & Sister: Bleeding-Edge Fashion in Shibuya
A hidden alleyway in the middle of Shibuya nestled between a street crammed with cafes and the Loft building. It's dark and a little eerie, but about halfway down you'll see a neon sign with the word "Candy" scrawled on it. No, it doesn't cater for Tokyo's legendary sweet tooth – but is one of the most cutting-edge fashion boutiques in the capital. Full of edgy apparel such as chain mail vests, wild and avant-garde footwear and a small but perfect collection of clothing – Candy is the epicenter of cool. Stocking a host of young domestic labels as well as a selection of international names such as Komakino and current English fashion darling Gareth Pugh, the boutique is a regular hangout for stylists, fashion students and customers looking for something special — not just your regular throwaway fashion experience.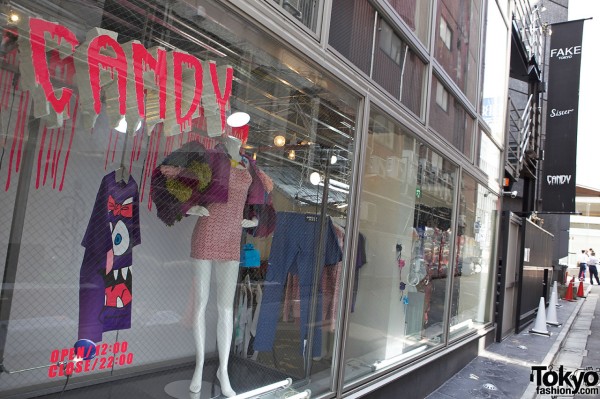 Having moved from its original location in Shinjuku ni-chome (Tokyo's gay quarter) in April this year, Candy occupies the ground floor — while girly offshoot Sister and event/art space Gallery Fake occupy the floors above. Candy PR/manager Shogo Yanagi says that "some thought the original store was unusual and maybe too underground but we hoped we could introduce more young designers. We wanted more people to know about our store so that's why we came to Shibuya. We also wanted to introduce fashion to other kinds of people not just people in the industry. And although Sister and Candy have different concepts and style we have the same direction so we thought it would be interesting to have our stores in the same building and create an interesting chemistry between us."
It's a compact space but the creativity coming from within is incredible. Although the selected brands are very much different, they all share a common aesthetic and aim to push the boundaries and ideology of fashion. Yanagi cites Bodysong and Balmung as representative of the emerging movement of young and exciting Tokyo based labels. Balmung hit the headlines earlier this year by providing Lady Gaga with sunglasses for an appearance on Japanese TV, while Bodysong work on textures and unorthodox shapes. Other notable young designer Junya Suzuki sculpts anime-inspired architectural clothing which blurs the boundaries of fashion and installation art.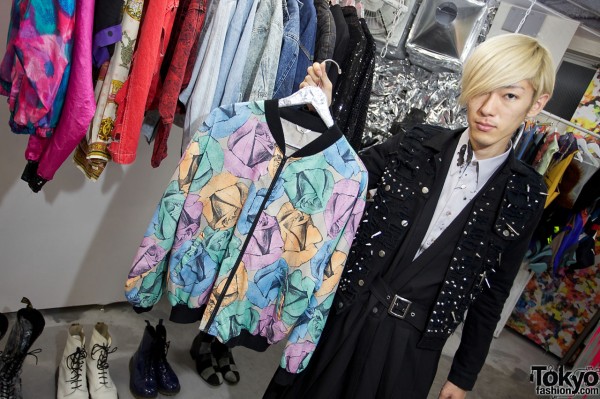 Sister, named after the Plastic Ono Band song "Sisters O Sisters", is Candy's rock chick sibling. The buyer has a love of gothic/horror and PR/Manager Fuyuri Kobayashi says that the pieces found in Sister come from the buyer's personal choices such as Piers Atkinson jewelry which she describes as "cute but also very strange. It has an underground look but at the same time makes me feel really good." Sister specializes in one-of-a-kind jewelry and millinery, as well as a collection of niche vintage and lauded contemporary Japanese designers such as Central Saint Martins graduate Sachio Kawasaki.
Elegant and edgy, Sister is a strangely beautiful boutique on the darker side of the fashion scale. Hats and jewelry come from some of the most creative designers around such as the legendary Stephen Jones and Erikson Beamon. The second floor boutique also plays 60s — 80s rock music and Kobayashi says that the creative team is inspired by music, old movies, books and even iconic singer and actress Marlene Dietrich.
Yanagi and Kobayashi agree that Candy and Sister are about more than just the act of shopping. It should be an emotional experience, a place where people can come to discuss and think about fashion and art. Friendly and open the boutiques are for anyone interested in a special enduring style which creates bonds between fashion and people.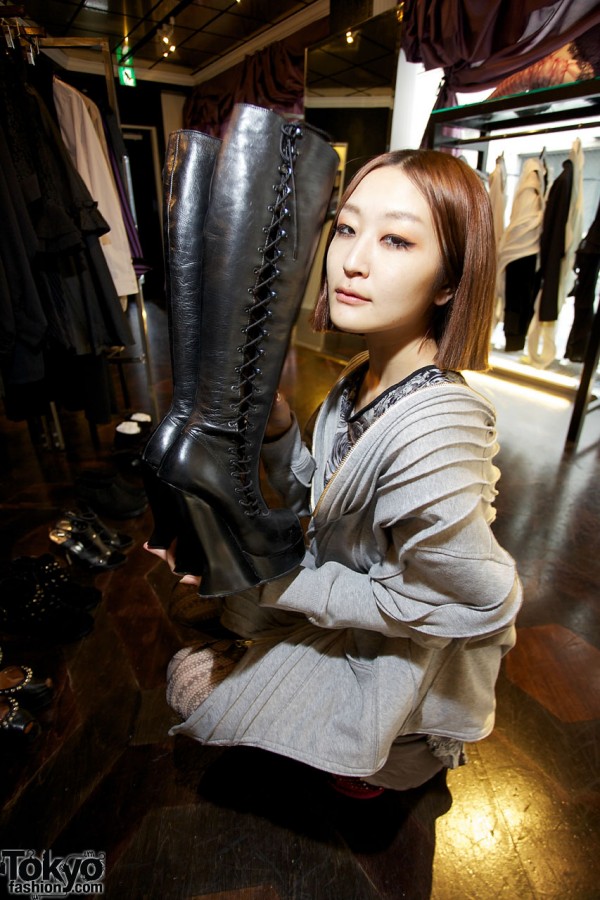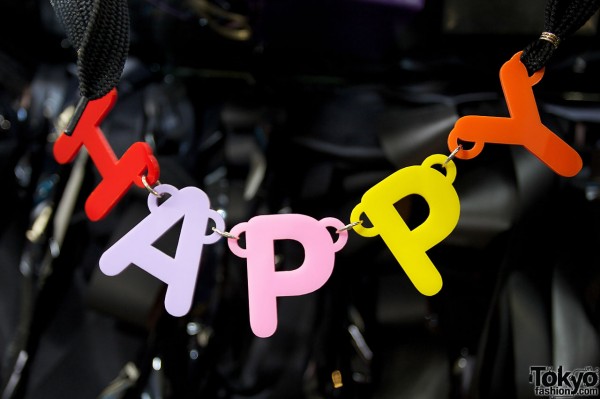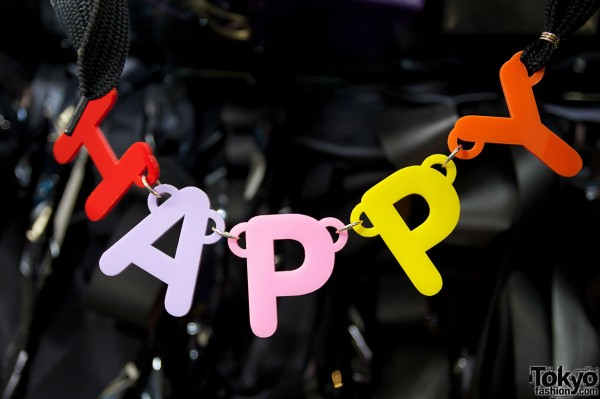 Here is all the important info on the Candy & Sister boutiques in Shibuya.
Candy : 1F Fake
Address: 18-4 Udagawa-cho, Shibuya-ku, Tokyo 150-0042 Japan
Tel/Fax: 03-5456-9891
Sister : 2F Fake
Address: 18-4 Udagawa-cho, Shibuya-ku, Tokyo 150-0042 Japan
Tel/Fax: 03-5456-9892
Gallery Fake : 3F Fake
Address: 18-4 Udagawa-cho, Shibuya-ku, Tokyo 150-0042 Japan
Tel/Fax: 03-5456-9893
On the Internet (you can order from Candy's website from overseas, look at the English instructions!):
Article text by Paul McInnes and all photos by Will Robb.
About the author:
Paul McInnes is a fashion and arts journalist based in Tokyo. He is the fashion editor (menswear) and contributing arts editor of The Japan Times. He is also the Tokyo editor of Sportswear International and contributes to publications such as High Fashion, Dazed Digital, JC Report and Japanese Streets. He has also been interviewed for TV including NHK's Tokyo Fashion Express and lifestyle magazines such as Metropolis and Kaleidoscope magazine.
About the photographer:
As long as he is behind his camera Will is a happy man. He has photographed everything from the slums of Bangkok to the catwalks of Tokyo. He is a contract photographer for Lonely Planet, his images and photo essays have appeared in Time Out, The Japan Times, Sportswear International and a variety of other newspapers, magazines and guidebooks around the world and his photo essays from Iraq for The Griffith Review even earned him a mention in the Australian book review of the year in 2006. In addition to his media related work, Will also shoots events, portraits, weddings and the occasional CD cover. Whatever he's working on, he always writes about his jobs and how he goes about them at Will Robb Photography.