Converse Japan MYDENTITY Campaign
Converse Japan has a cool ad campaign going on right now called MYDENTITY. The ads – billboards, magazine advertising, and TV spots – all show Japanese schoolgirls and Japanese schoolboys dressed in school uniforms and wearing various different Converse shoes, including the legendary Chuck Taylor All Stars.
The ads are eye catching because they focus on the traditional Japanese school uniforms and contrast those with colorful Converse shoes. When you look at the pictures and video, every kids is basically wearing exactly the same thing. The only thing that differentiates the Japanese school kids is their choice of which Converse shoes that they're wearing.
Here is a Converse billboard for MYDENTITY currently on display at Harajuku Station, near the Omotesando Exit: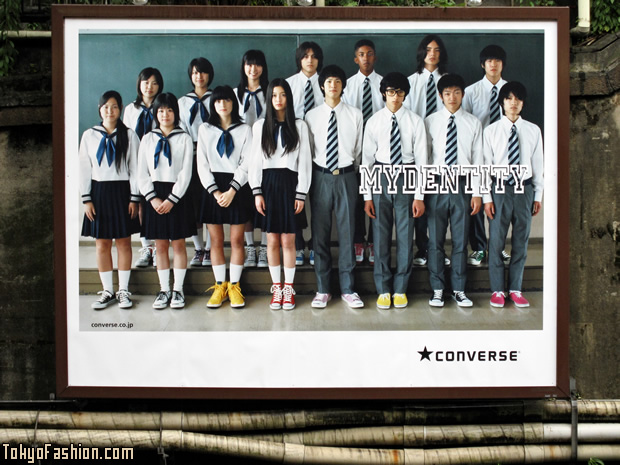 Here is a video for the MYDENTITY, where you can get a better idea of what Converse is trying to say/do with the campaign, even if you can't understand Japanese. In the first part of the video, the kids are in school doing Japanese school things – by the end, they have their own J-rock band and everyone's happy and the lead singer girl is jumping in the air.
Of course no modern ad campaign would be complete without a crazy Flash website – and Converse Japan has one for MYDENTITY. Each of the kids in the ads gets his or her own profile and, of course, the sneakers they're wearing get hyped. Meet the MYDENTITY Japanese schoolgirl who loves red Chuck Taylor All Stars: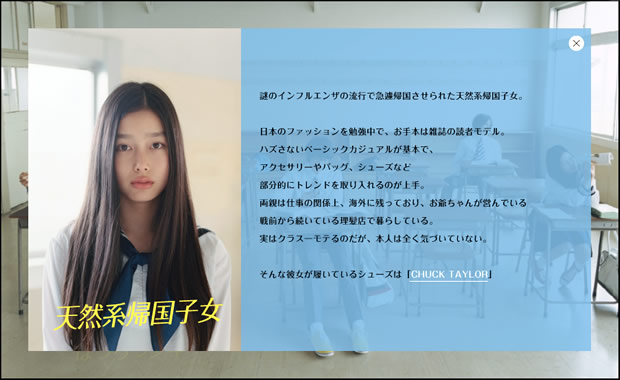 If you want to find out which shoes are part of the campaign, or see more of the pictures, videos, or Flash MYDENTITY ads, check out the official Converse Japan website.