Fangophilia – Interview & Behind the Scenes Video
To say that Japanese accessory brand Fangophilia makes "custom" or "one of a kind" body jewelry is an understatement. In the words of the brand's founder Taro Hanabusa, "Fangophilia creates body extension accessories through careful molding to the individual parts of the human body." Melding Hanabusa's personal interest in body modification with his self-taught silversmithing skills, each of Fangophilia's signature pieces is handcrafted to fit the wearer – and only the wearer.
To celebrate the release of Fangophilia's debut lookbook, TokyoFashion.com is proud to present an exclusive making-of video and interview with founder/designer Taro Hanabusa.
Tracing the Forms of the Human Body – Behind the Scenes with Fangophilia

Don't forget to Follow TokyoFashion.com on YouTube.
Before launching Fangophilia, practicing Japanese dentist Taro Hanabusa was using his dentistry knowledge to create custom teeth accessories for his friends in Tokyo's body modification scene. We frequently saw people wearing his custom molded fangs. In fact, we were first introduced to his work by a Tokyo girl wearing Fangophilia fangs.
Over time, Hanabusa's interest in body modification and piercings lead him to expand his accessories beyond just teeth. Still using techniques influenced by his dental training, he began molding jewelry for other body parts as well – including knee caps, hands, ears, and the face itself. With Hanabusa's area of work expanding, and the popularity of his accessories growing, Fangophilia was officially born in June of 2012.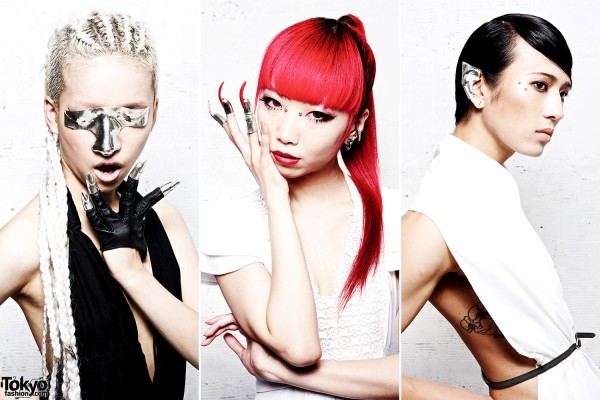 Since its launch last year, Fangophilia has built a dedicated underground following in Japan's fashion scene while maintaining its roots in Tokyo's body modification and tattoo subcultures. The brand has been picked up by Garter at Koenji's famous Kitakore Building, as well as being stocked at one of Asia's most influential streetwear boutiques, Dog Harajuku. Lady Gaga, 2NE1, and many top international stylists and celebrities look to Dog for creative inspiration and to find out "what's next".
Each Fangophilia piece is custom-made from a mold of the wearer's body. The hand-molding process means that the brand's creator has a personal relationship with every person who purchases the jewelry. This relationship is part of what differentiates Fangophilia from most accessory brands. Because of demand from people who can't come to Tokyo for the molding process, Fangophilia has recently released a few limited "ready to wear" pieces (include silver finger tips and other items). However, the custom-molded pieces are the driving force behind the brand's existence and will remain at the heart of Fangophilia's philosophy.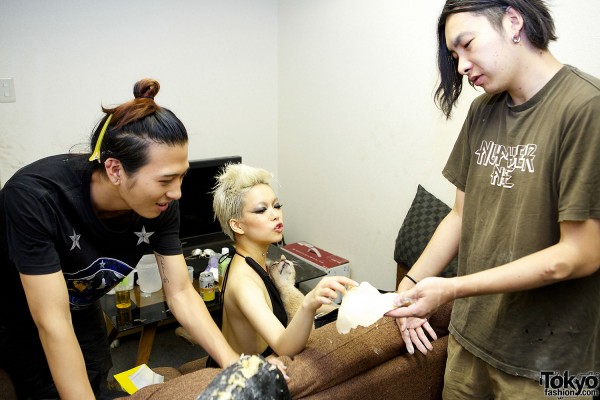 When we heard that Fangophilia founder Taro Hanabusa was planning the first lookbook for his brand, we asked if we could document the process. Not only did he agree to sit down with us for an interview and allow us to film the making of the visual campaign, but one of the Tokyo Fashion photographers was actually part of the project. We hope that you'll find Hanabusa's work as fascination as we do. This is an extremely young and original Japanese brand, and one that has already been getting a lot of attention. We expect big things from Fangophilia, and we're looking forward to seeing where Taro Hanabusa takes his project in the future.
Once you've viewed the video, check out the final images from the lookbook photoshoot in our previously published Fangophilia pictorial. For more information on Fangophilia in English, visit the brand's official Facebook page (and the links at the bottom of this article).
Behind the Scenes with Fangophilia – Molding Hirari & Shunsuke
Click on any of the Fangophilia pictures to enlarge them.
Fangophilia Online:
Facebook (English-friendly) | Official Website | Twitter | Instagram
Models in the Video:
Hirari Ikeda (Twitter | Instagram)
Hidemi Tsukata (Twitter)
Sioux (Twitter | Instagram)
Shunsuke Okabe (Twitter | Instagram)
Machiko (Twitter | Instagram)
Makeup Artist: Yosuke Toyoda (Rooster)
Thank you to everyone involved in this project, with a special thank you to Fangophilia and Taro Hanabusa.
Photos by Kira.
***
About the photographer:
Born in Japan, educated in Japan and the US, Kira shoots exclusively with Canon DSLRs. Photography assignments include fashion, bands, sporting events, and portraiture for various companies and bands throughout Japan & the world. His portfolio can be viewed at Artist-Photo.