Forever 21 Harajuku Opening Day Pictures
Tokyo Fashion has been reporting on the arrival of Forever 21 in Harajuku for months, and today the mothership finally landed. The media gathered, the line of Japanese fashionistas ran around the block, Don Chang made an appearance, and the Tokyo shoppers went crazy – all before noon.
The massive (19,000 square-foot) new Forever 21 shop, the first ever in Japan, is located in a prime location right next to H&M on Meiji Dori – between Takeshita Dori and LaForet Harajuku. So, being where it is, it's natural that we might think to compare last fall's H&M Harajuku opening with Forever 21's opening day, right? Well, the festivities and excitement seemed similar, thought there were definitely more people in line for H&M. Keep in mind that Forever 21 sells really cheap (low priced) fashion, and they don't have the name recognition in Japan, or cool collaborations with brands like Comme des Garcons, that H&M does.
To say that there were less people in line for Forever 21 than there were for H&M doesn't mean that the line today was short – far from it. The line of people waiting to get into the new Forever 21 Harajuku shop went around the block and all the way up to Harajuku Station. Rather than bore you with text, though, we'll just post a bunch of pictures so you can see for yourself what was going on and who was there!
The crazy scene in front of Forever 21 Harajuku an hour before the 11am opening.

Walking the Forever 21 line – a lot of Japanese girls waiting to get in!

These girls waiting in line were very friendly – smiles and peace signs for Tokyo Fashion!

Near the end of the line – you can see people all the way down Omotesando Dori.

Back to the front – cool people lined up in front of H&M on Meiji Dori:

The Forever 21 Japanese staff appears with goody / freebie bags!

This cool (and friendly) guy was nice enough to pose with his Forever 21 bag for us.

Forever 21 Japanese staff girls with cute "Forever 21 Tokyo" t-shirts.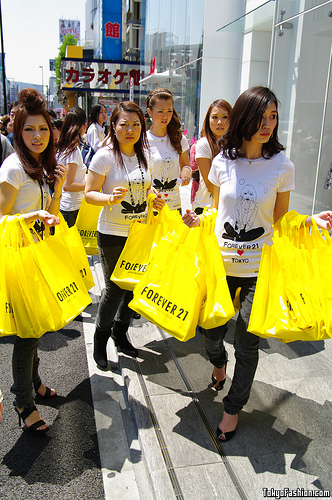 Forever 21's founder and owner, Do-Won (aka Don) Chang, speaks.

The ribbon cutting photo – that means the opening is seconds away.

The ribbon is cut! Forever 21 in Harajuku is officially open.

Mad rush to the doors as they open for the first time.

Very important people greeting shoppers as they enter the store.
Look, in the background of this picture, actual shopping going on at Forever 21 Harajuku!

The Japanese press is excited about the doors opening – very excited.

That's it – the shop is open for business and the Forever 21 girls are walking away. Bye!

Because of the large crowds, and our desire to get these photos posted as soon as possible for you, we didn't have time to actually make it inside of the Forever 21 store this morning. We'll save that for another day. We did get a lot more pictures than what's been posted here, and we'll get some more of those edited for you soon. There are some cool "line fashion" pictures that show what people were wearing in the Forever 21 line. Stay tuned for those. Also, as always, just click on over to Flickr to see bigger versions of any of the pictures above.
Check back soon for more updates and photos!
External Links: