Harajuku Christmas Pictures 2009 – Part 2
Welcome to another in our series of Tokyo Christmas 2009 photo walks. The basic idea is that we walk you around Tokyo, shooting pictures and explaining where we are and what we're seeing as we go. In the last walk (Harajuku #1), we covered Harajuku from Meiji Dori up the hill toward Harajuku Station. In today's walk – Harajuku Part 2 – we will try to cover most of the rest of Harajuku. Today's area encompasses basically everything east of Meiji Dori – including Cat Street and Ura-Hara. We're intentionally excluding Omotesando Dori east of Meiji Dori from this walk because that's an entire walk in itself. We'll cover that area in another post very soon.
So, without further delay, let's grab our camera and hit the pavement near where we left off last time…
(Remember, you can view a high quality version of any photo by clicking on it.)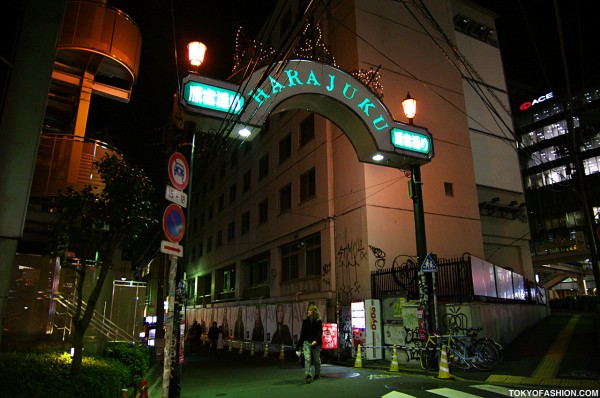 Okay, here we go! We're starting out where we left off in the first Harajuku walk – at Killer Dori, across from the Diesel Harajuku shop. We'll walk right onto Harajuku Street from Killer Dori, directly under that big green lighted sign!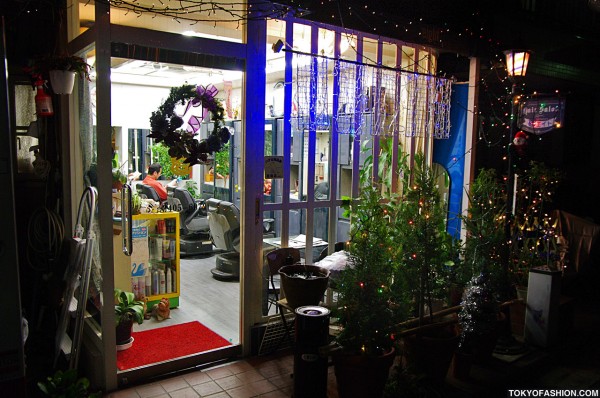 First stop, a haircut? Well, maybe not tonight – but there are hundreds of cute hair/make (make = makeup in Japan) shops scattered around Harajuku. This one has little lighted Christmas trees out front.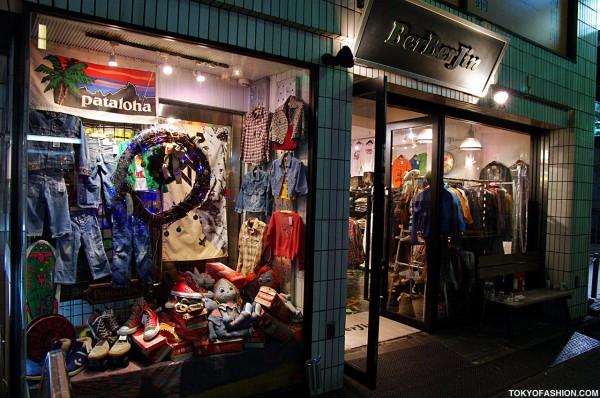 We continue down Harajuku Street, walking parallel to Meiji Dori toward the intersection of Meiji Dori and Takeshita Dori. This street is packed with lots of used/vintage/resale clothing shops, including this one – BerBerJin.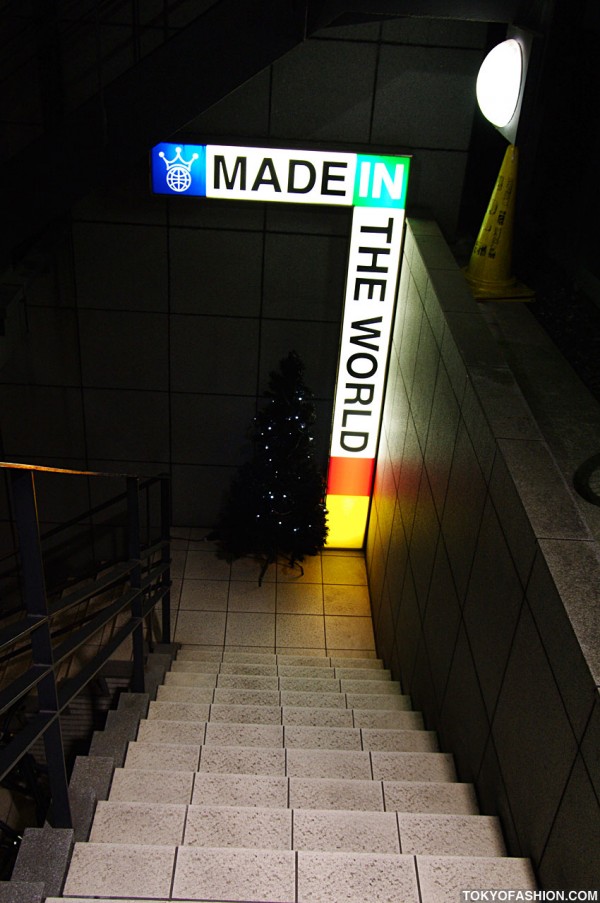 Many of the shops in Tokyo are underground. If you don't look down, you'll miss some cool stuff. Made in The World Harajuku is a select shop run by the same company as Made In World Shibuya. (We're not sure why the Shibuya shop is missing "The", but there must be a good reason.) They have a little Christmas tree to lure you in.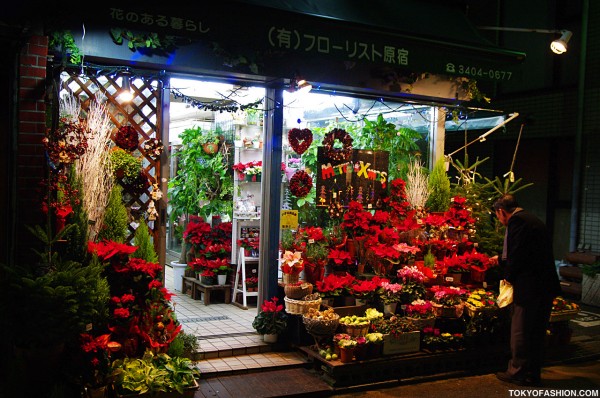 A beautiful little flower shop with lots of bright red poinsettias for Christmas. I bought a small Christmas tree at this shop a few years ago!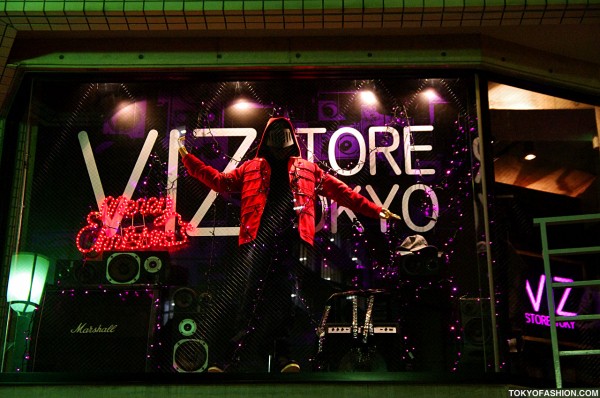 Is that Michael Jackson in the window of the Viz Tokyo shop? Hmm. Anyways – just as a lot of the cool stuff is underground, even more is somewhere above your head. When you're wandering around, don't forget to hit the stairs and see what's going on seven floors up.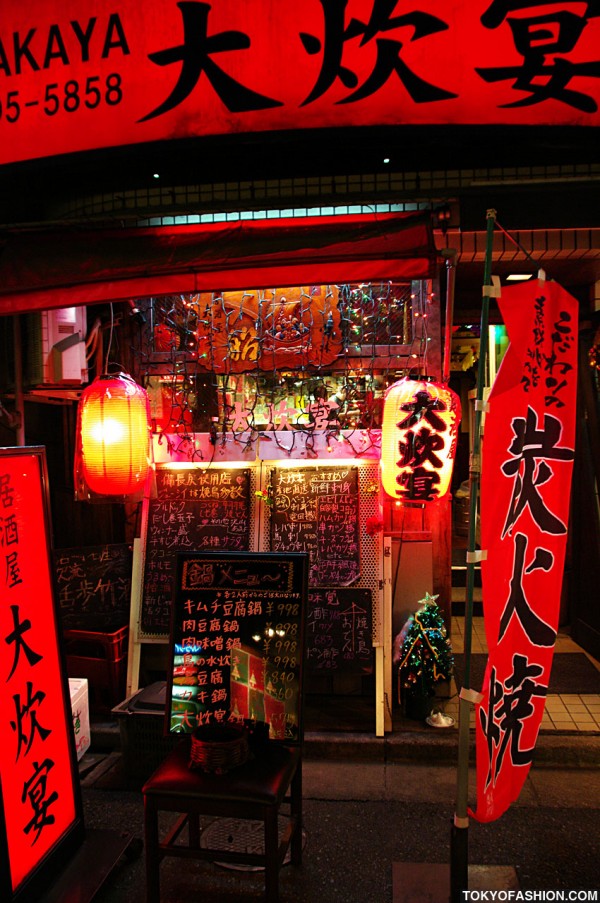 Christmas lights are about the only thing western about this restaurant. Looks like we stepped back in time!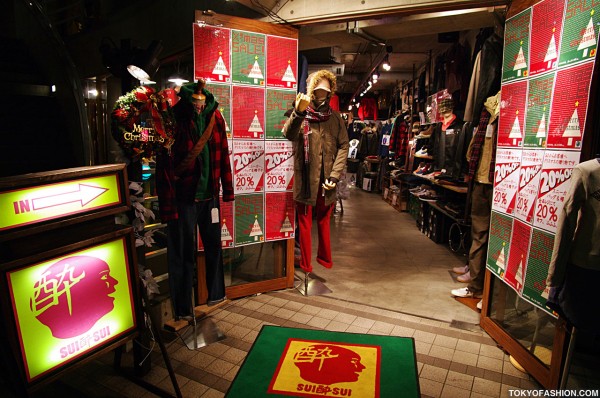 The SuiSuiSui Harajuku shop, another of the shops in this area that carries a mix of new and used clothing – a lot of it looking to be a bit "Americana" inspired.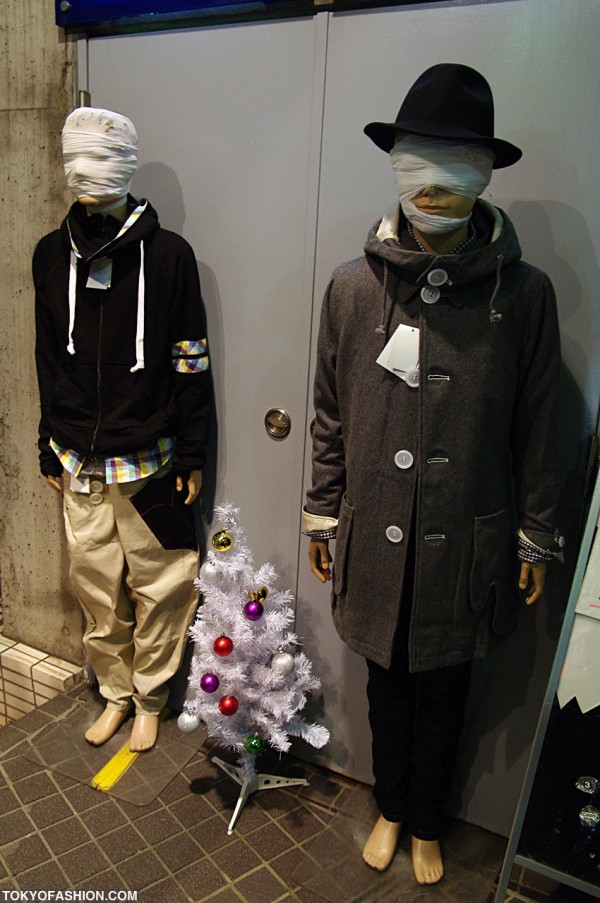 These are Japanese zombies guarding the tiny white Christmas tree between them. Either that, or someone working at the shop downstairs has a strange sense of humor.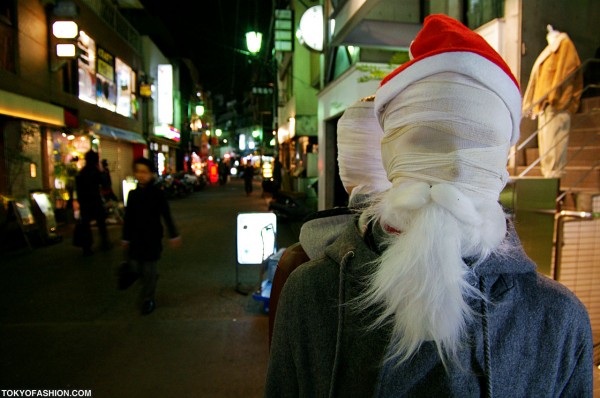 It's Japanese Santa mixed with The Invisible Man – wearing a hoodie! Not totally sure what's going on here, but I like it. Behind the Santa mummy you can see where we've come from down the street.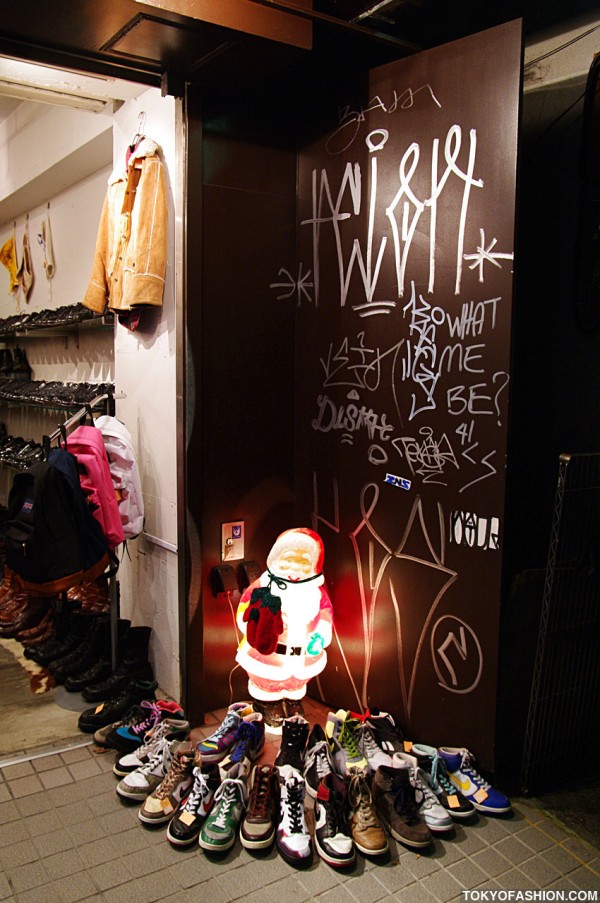 This shop has it all – used sneakers, graffiti, and a Santa the size of a garden gnome.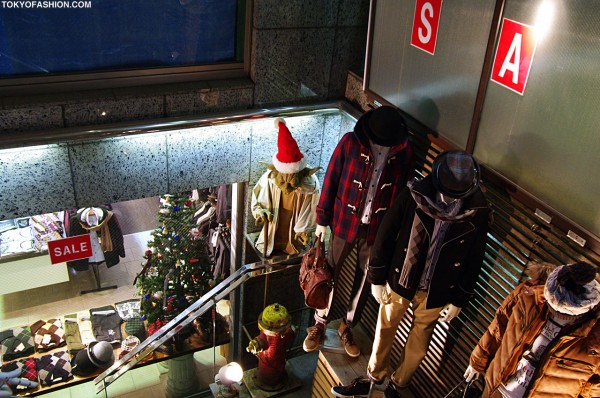 Down these stairs we have a fire hydrant, a Christmas tree, Yoda dressed as Santa, and a folded stacks of argyle shirts. If one (or more) of those doesn't interest you, then you must be the Grinch! And by the way, the Grinch is green, Yoda is green. I'm just sayin'…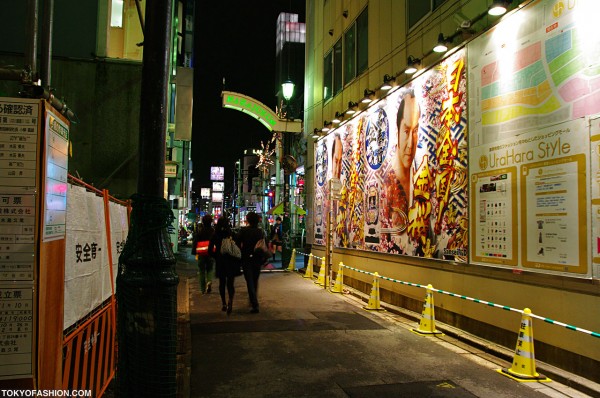 As we continue down the street, we can see Meiji Dori – and, far off in the distance, the Cutie Magazine sign past LaForet and Gap Harajuku.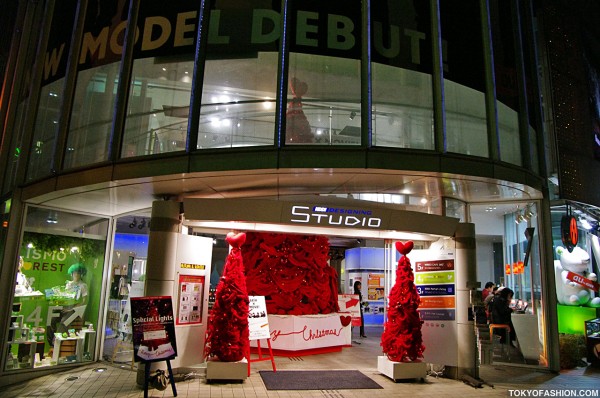 Now we've reached the intersection of Meiji Dori and Takeshita Dori (we walked near here, but on the other side of the street in our Takeshita photo walk). This photo is a close-up of the KDDI Designing Studio – one of the best known buildings in Harajuku.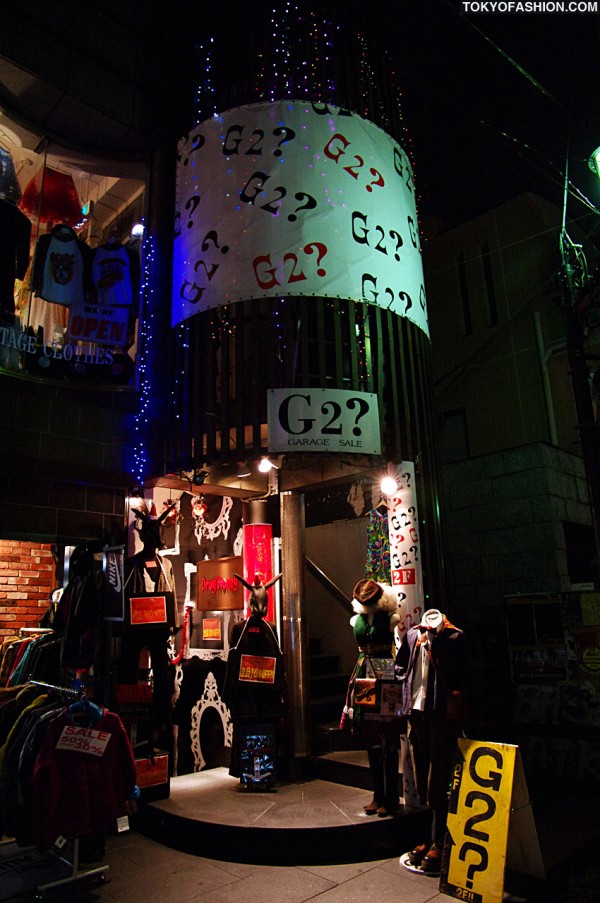 Now we've turned left toward Cat Street on the street that continues as Takeshita Dori on the other side of Meiji Dori. This is one of the many clothing shops for young Japanese guys along this stretch of the road and its little side streets.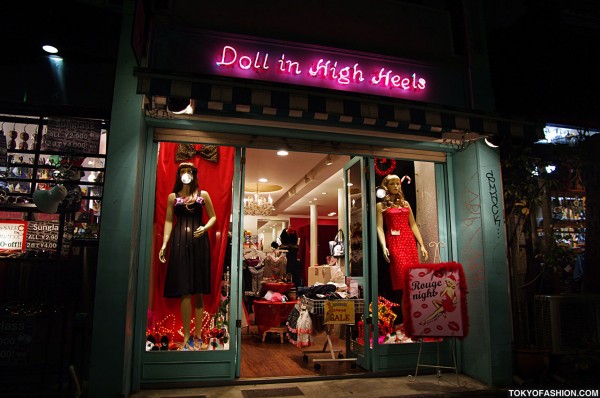 Doll in High Heels – how cute is this shop? Christmas decorations in the window and nice graffiti on the right side of the building, too.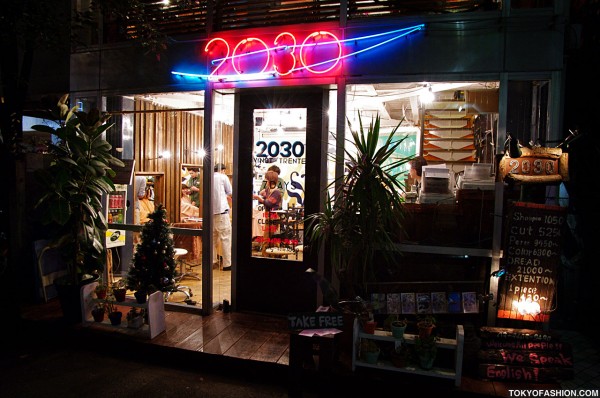 We've started to wander a little from the main street, taking a few short detours on the little side roads and alleys. Here we find another cute Harajuku hair salon. This one has a Christmas tree and a sign out front that says "Welcome All People!! We speak English!"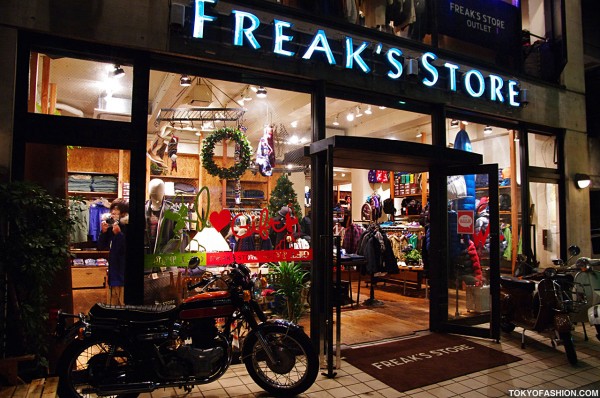 Many Japanese stores and brands have awesome names. "Freak's Store" is a very popular chain of select shops in Japan. Nice motorcycle and scooters out front!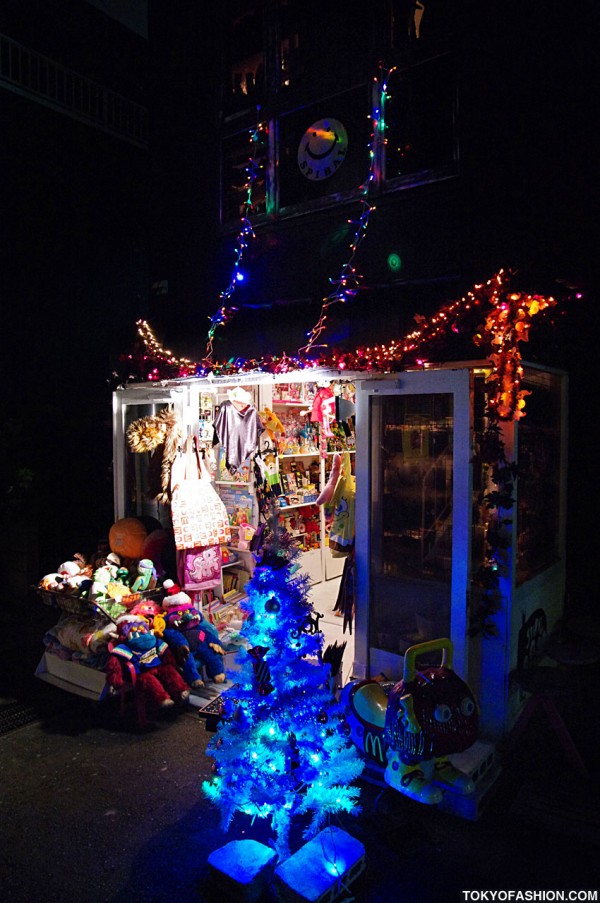 Went down a tiny alley and noticed this place all lit up. The picture sucks a bit, but they have about a million Christmas lights, a Christmas tree, and plenty of cute characters goods, dolls, and other stuff you know you can't live without.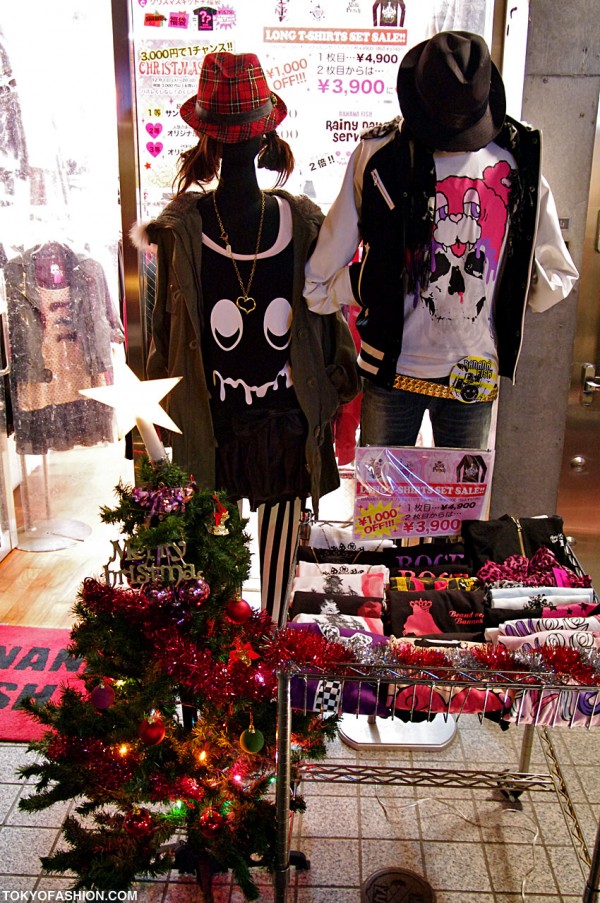 Okay, we wandered around the little backstreets until we somehow ended up all the way back to the area near Killer Dori, but further away from Meiji Dori now. Here is the Banana Fish shop between Killer and Cat Street. Should we go inside and look for LaCarmina? :-)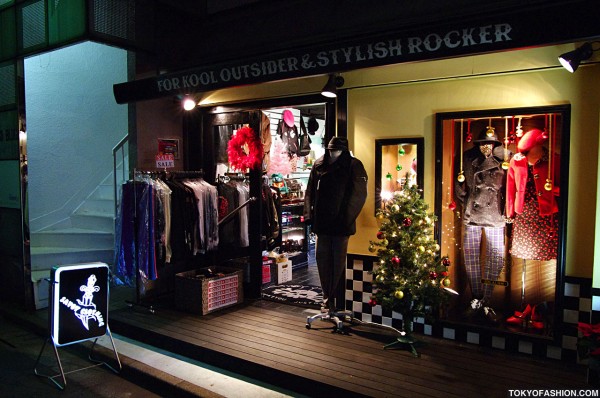 The shop next store to Banana Fish is only for "Cool Rocker and Stylish Outsider". Too bad for us that we fit more in with the "Stylish Rocker and Cool Outsider". So close, but so far away!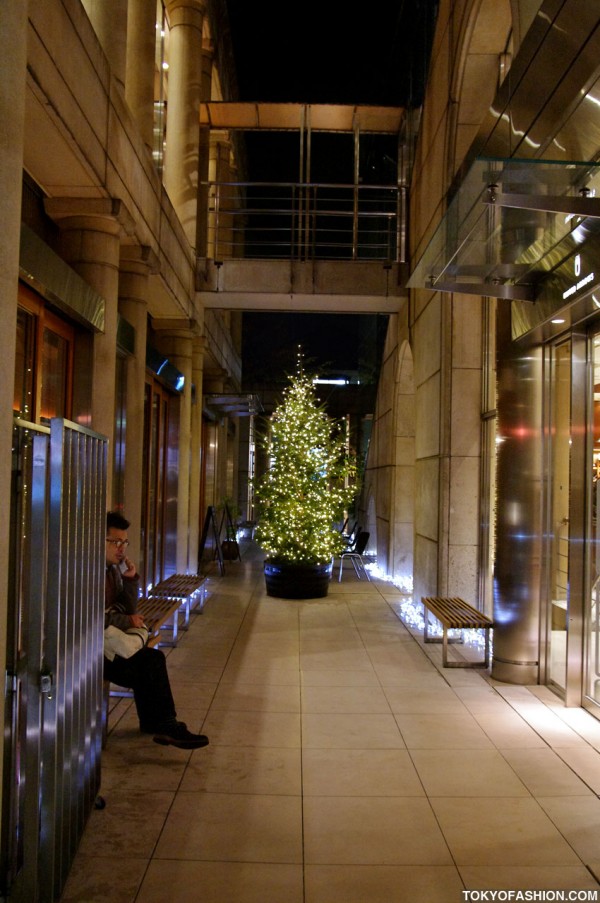 Okay, now we've made it all the way back to Killer Dori. This is the courtyard of a small group of shops on Killer Dori. It looks very nice and Christmasy (that's probably not a word, but neither is "Japanesey", so yell at Utada, not me).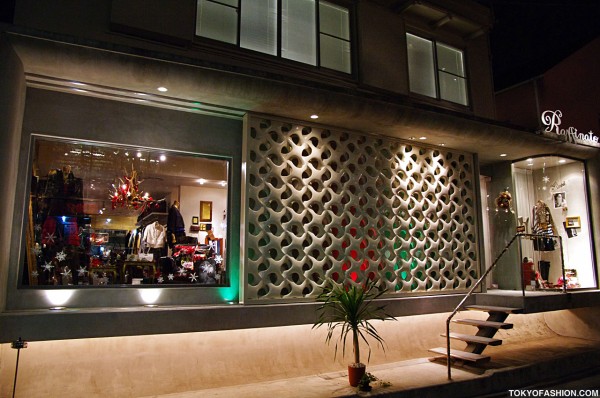 Okay, we've gone too far (again). We're going to turn right onto the famous Cat Street and head in the direction of Shibuya. It'll be a long walk, but we'll see a lot of cool shops, fashionable people, and (hopefully) holiday cheer along the way. The first Cat Street shop to catch our eye is the Raffinato store right off of Killer Dori. It's a really nice looking building, don't you think?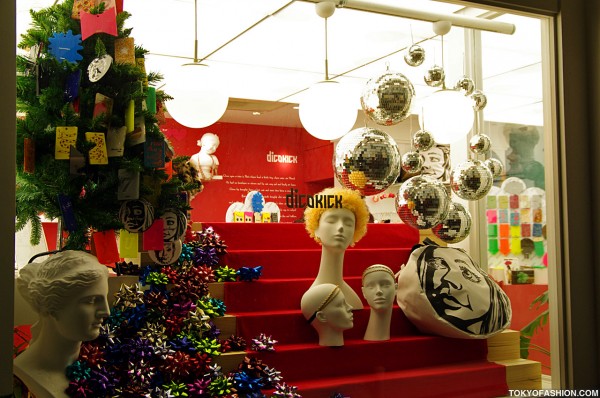 Continuing on down Cat Street, we fall in love with the Dicokick window display. It's full of Christmas and disco balls. What's not to love? The effects of the bad economy in Japan can be felt in this area of Cat Street. There are literally more empty shops than there are active ones. This was once a really crowded and fun area, but now it looks a little like a ghost town back here. Let's hope that 2010 brings better days for Ura-Harajuku!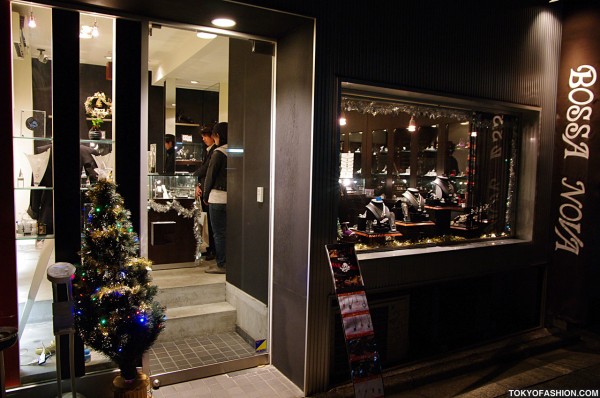 A few doors down, the Bossa Nova jewelry shop has a little Christmas tree, and maybe a customer or two inside. Yay!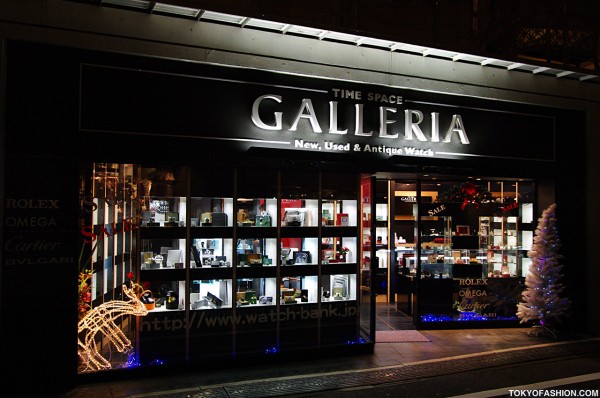 If you're looking for new and used watches – you've come to the right place. We're just looking for Christmas lights. Who needs a watch when you've got an iPhone?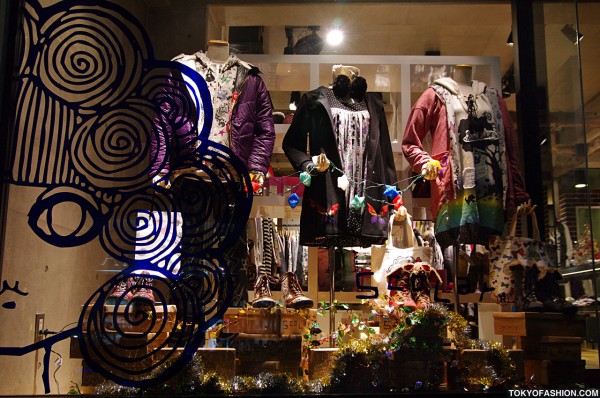 Hey, it's Scolar Harajuku. We covered the grand opening of this shop back in 2008!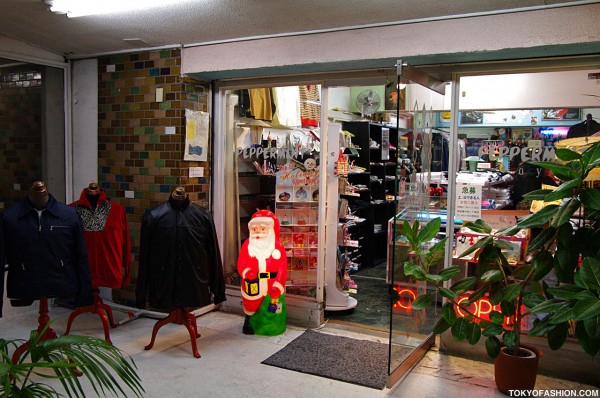 Another lighted Santa – this one outside of Peppermint.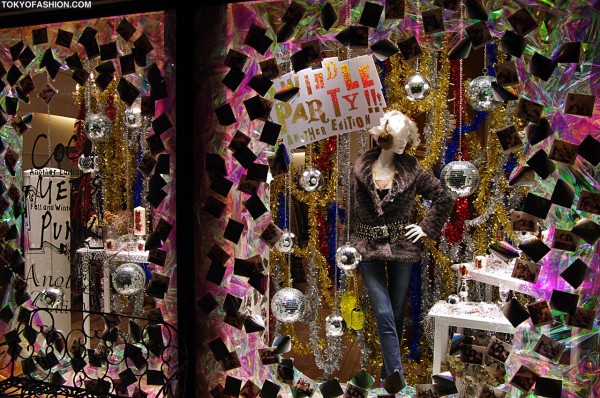 We've just past the old Nike shop – the one that closed a few years ago before they opened the bigger one further down Cat. We've reached Another Edition, and it's time to party. What kind of party? How about a Swindle Party? What does that mean? Not sure, but it's almost certainly got something to do with punk rock and disco balls! Seems like disco balls are quite popular for Christmas 2009 in Harajuku!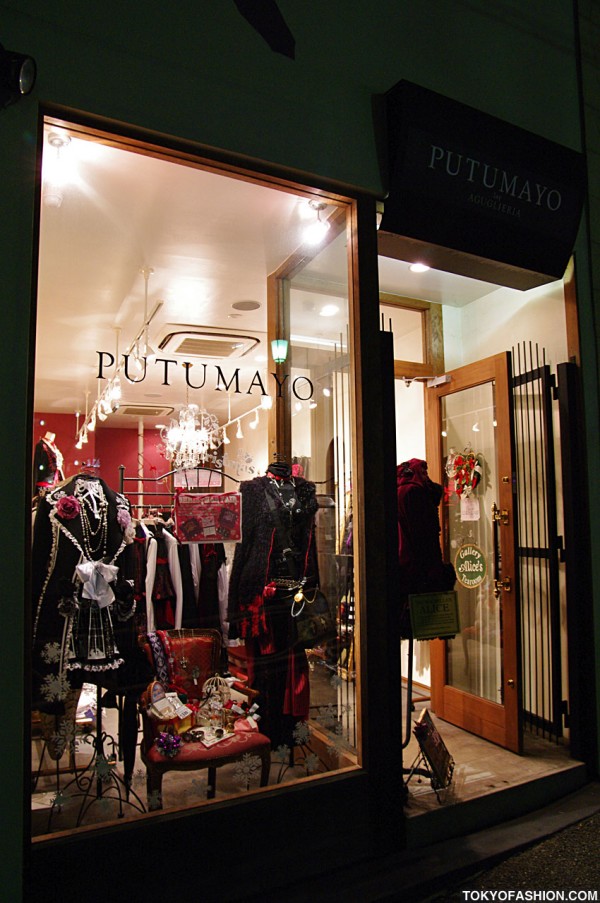 If you're not in the mood for a Swindle Party, we could always stop in at Putumayo and get a little gothic instead. Everything is possible in Harajuku!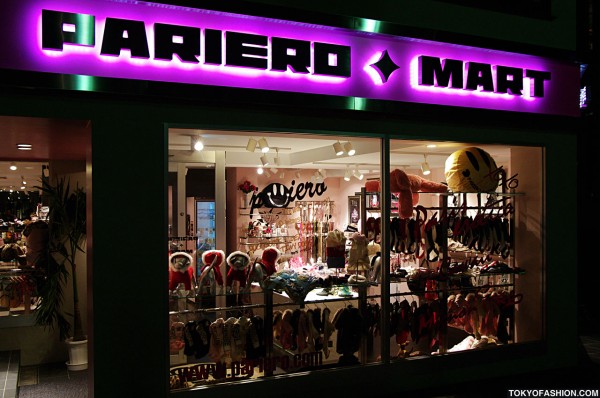 The fact that we're looking at the brand new – just opened – Pariero Mart pet accessories shop means that we have reached the intersection where Cat Street meets Takeshita Dori – or whatever it's called on this side of Meiji (ask a few people, get a few different answers). We'll continue down Cat Street, still heading in the direction of Shibuya. Still far away from our final destination!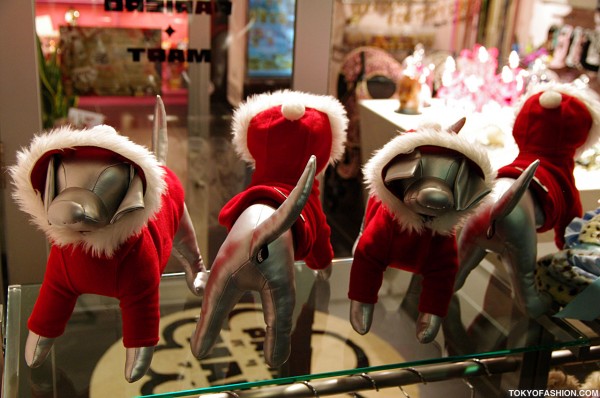 Before we walk on, let's take a closer look in the window of the pet goodies store. These are cute little fake dogs dressed up as Canine Santa.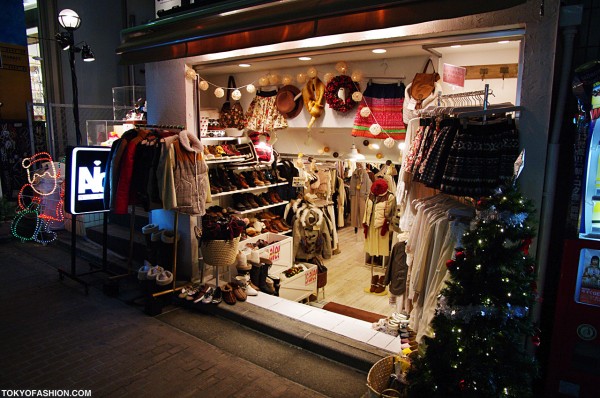 This cute shop should have used the slogan, "Have a Very Mori Christmas!" I've been waiting to use that joke all night. Sorry!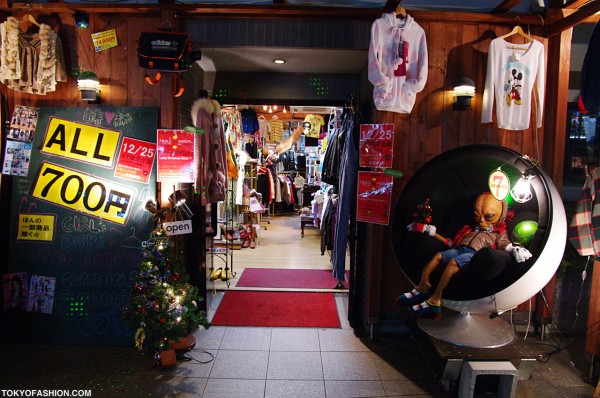 This is the resale shop Sevens where everything costs 700 yen. It's a bit random and chaotic, but the price is right. Plus, they have a Christmas tree and a strange alien creature in a 1960s chair out front.

Soffitto Harajuku – Converse sneakers under an all-red Christmas tree. Okay!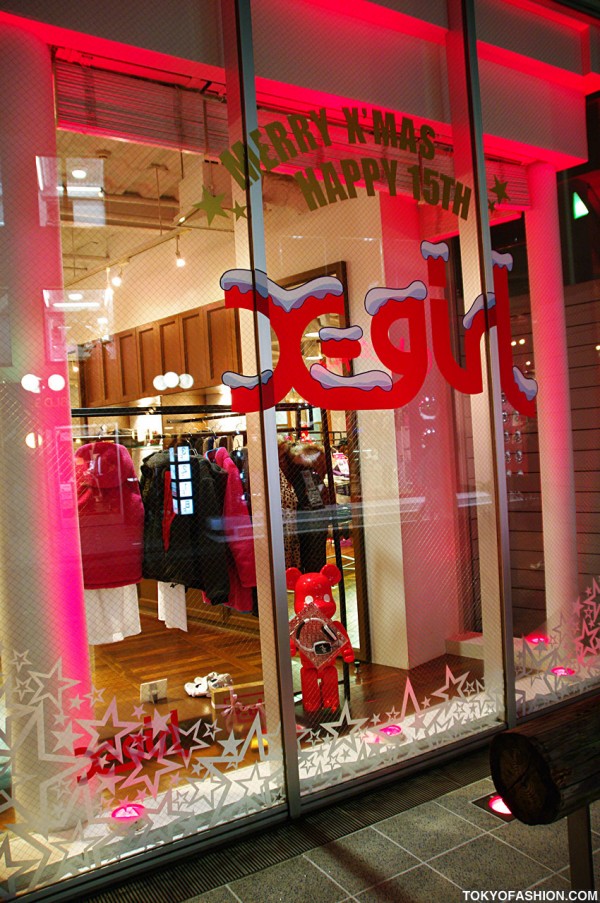 It's X-Girl! Merry X-Mas. Happy 15th (their 15 year anniversary as a brand) – and a huge Bearbrick in the window!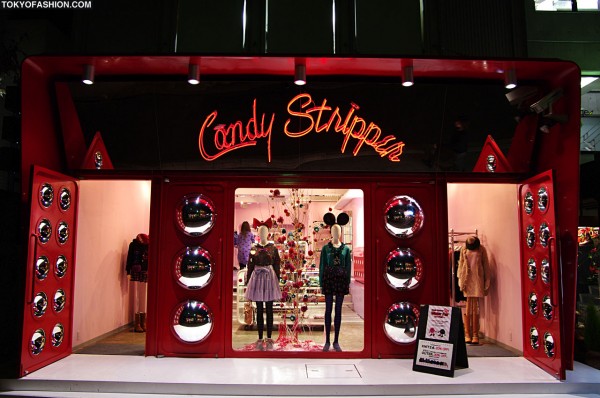 There is no better shop picture to be taken on Cat Street at night – or probably even in the day – than the Candy Stripper shop. This store was designed perfectly. Tonight they have their interpretation of a Christmas tree in the window.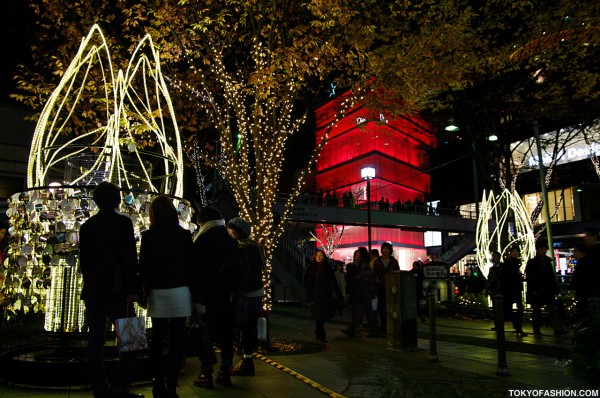 Wow, we've already made it to Omotesando Dori. From here, we can see this year's street illumination. All of the trees are lit up, and they've hung gold bells all over the place. It's pretty cool! On the right, you can see the Dior building (glowing red) and the bridge over Omotesando Street. We'll be crossing that bridge soon enough.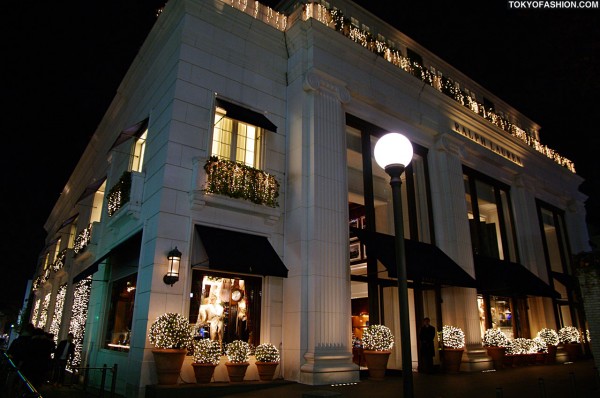 A quick look back at the massive Ralph Lauren building on the corner of Cat and Omotesando.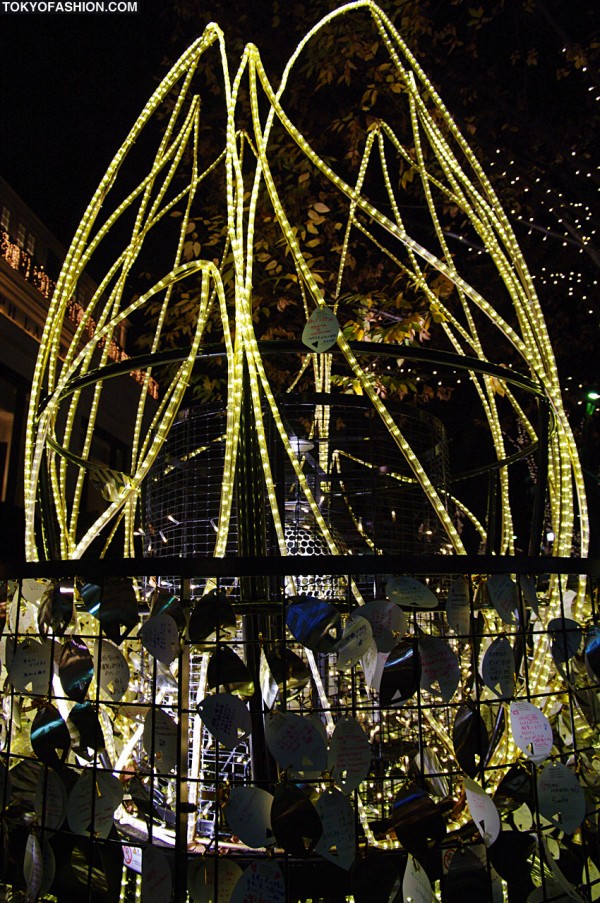 Hundreds of little handwritten notes tied on one of the lighted lotus flowers on Omotesando Dori. Passersby write their messages on the papers, then tie them to the fence around the lights.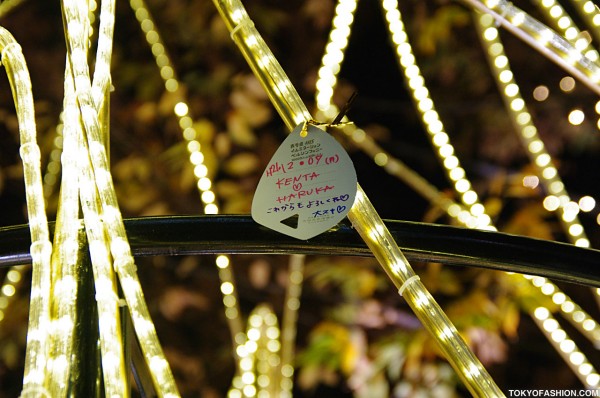 Kenta Loves Haruka – that's what Christmas is all about right there.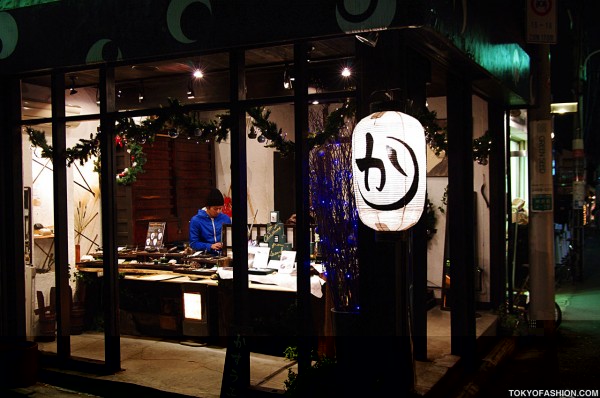 After checking out the Christmas illumination, we take a right on Omotesando Dori, then take the first side street on the right. There are many little back streets in Harajuku. We want to get pictures of some of the shops in this area – between Meiji Dori and Cat Street – before we cross over Omotesando and continue toward Shibuya. The first shop we stop to check out on this side street is a cute little Japanese jewelry shop where you can clearly see the employee working inside.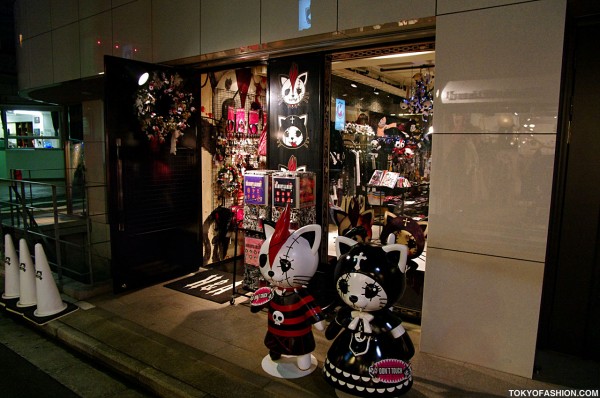 Here is the H.Naoto Hangry and Angry shop with big characters out front.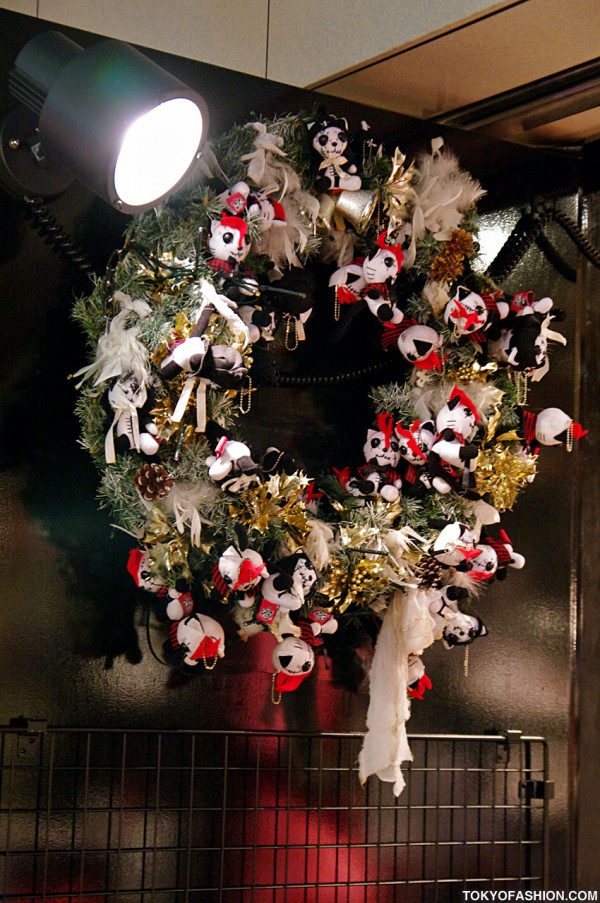 On the door of the Hangry and Angry shop, there is a wreath decorated with little stuffed Hangrys and Angrys. Cute? Scary? You decide!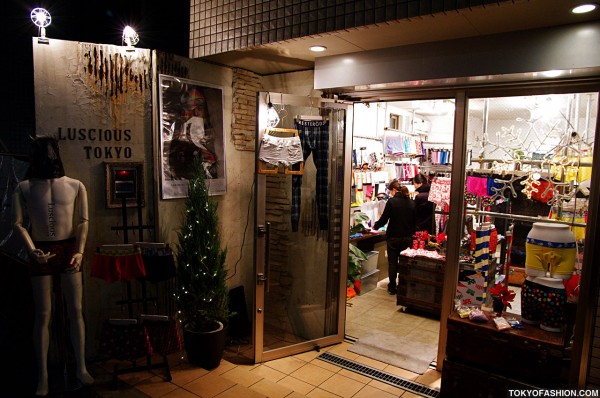 Luscious Tokyo is a pretty well-known underwear shop. There's a mannequin in underwear out front, and a Christmas tree.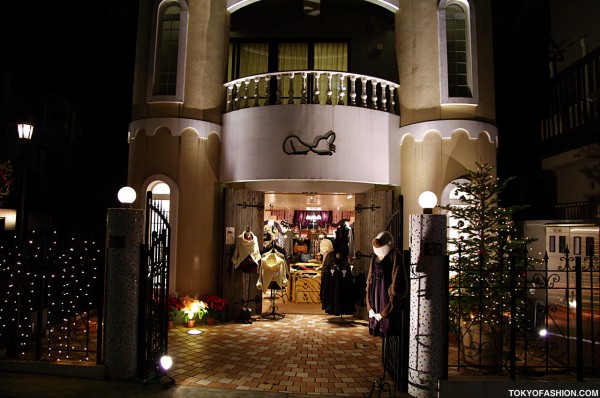 This cute Harajuku shop has lots of Christmas lights – and a silhouette of two dogs kissing on the side of the building.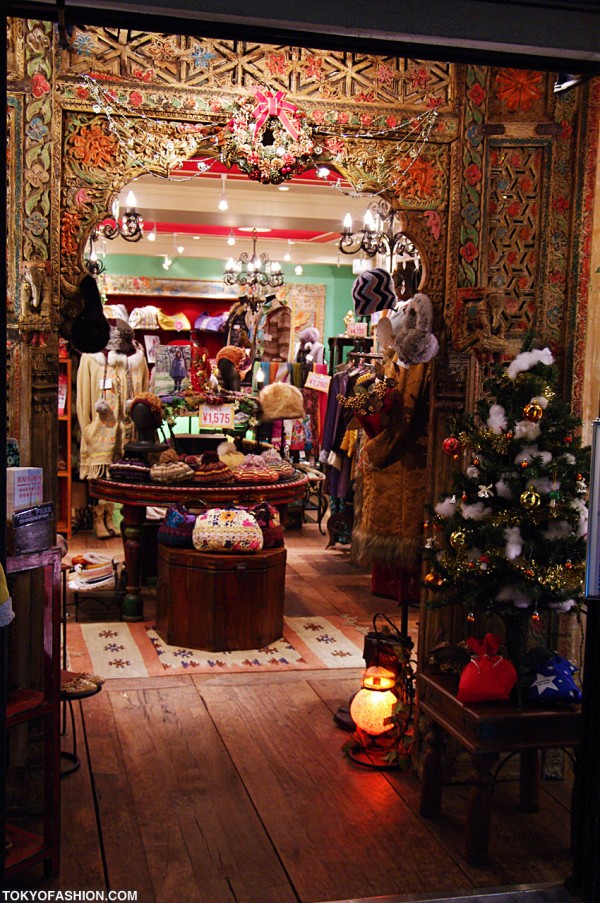 A cute little Christmas tree, a wreath, and crazy tapestry wallpaper!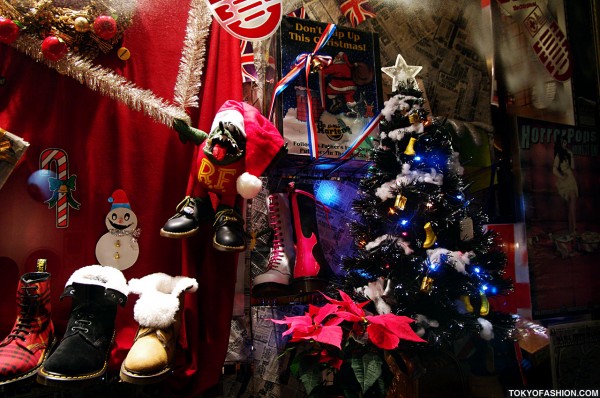 It's a Rat Fink Christmas tree in the window of…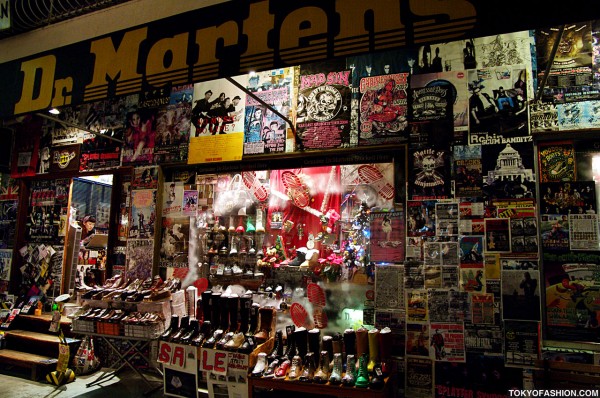 …Dr. Martens Harajuku!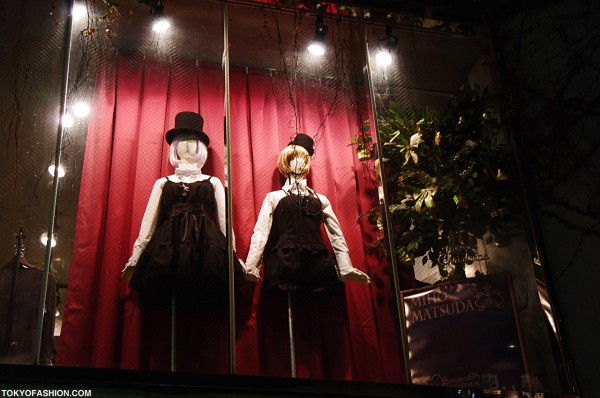 A "Merry Christmas" window display by Gothic Lolita designer Miho Matsuda at the Goldseal Harajuku shop.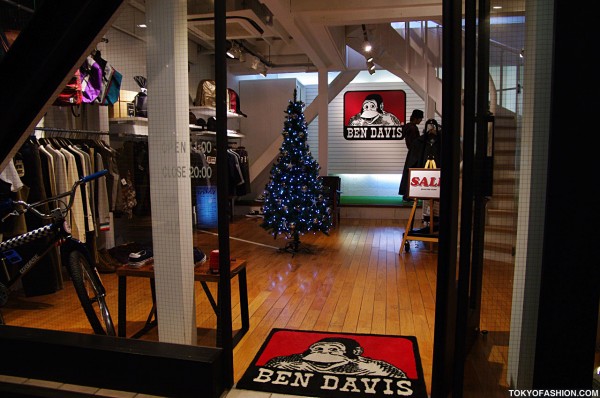 Here's a beautiful Christmas tree inside the Ben Davis shop.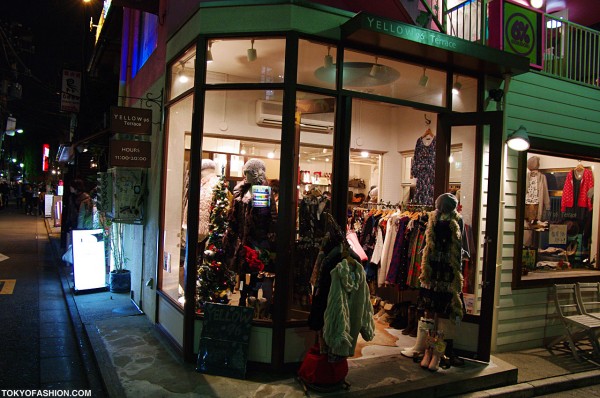 As we pass the Yellow 96 shop, you can see the sign for 6%DokiDoki in the top right of the picture. That's the shop that had a temporary store in San Francisco in Aug/Sept of 2009.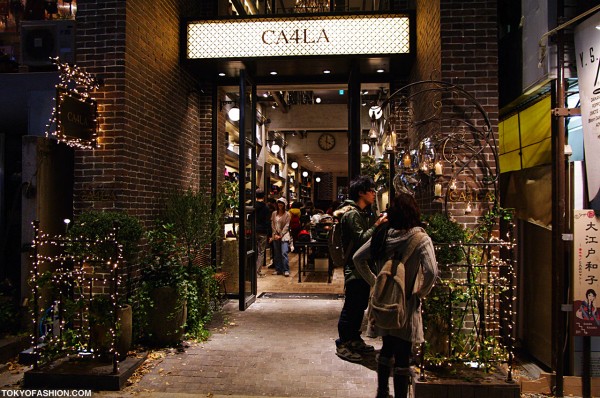 We've covered a bunch of the side streets. (Many of the shops didn't have anything up for the holidays, but we got a few pictures, at least). Now we're back on Omotesando Dori and heading back for the pedestrian bridge near the Dior building. On the way, we pass by the brand new CA4LA hat shop. This is an extremely popular chain of hat shops in Tokyo. They carry their own brand as well as lots of domestic and import hat brands. The range goes from budget hats all the way up to 50,000+ yen high end imports. Their new Omotesando Dori shop is really nice, and they've got a lot of Christmas lights out front!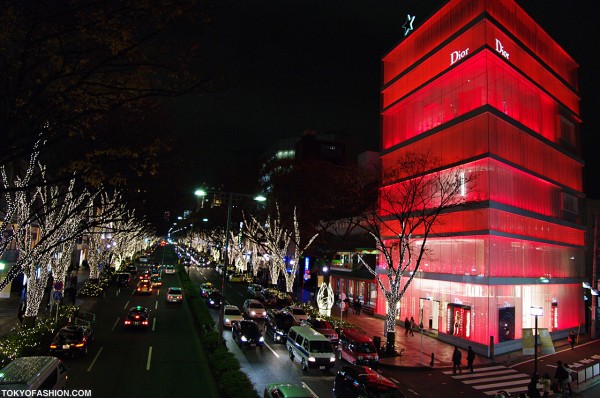 We're now crossing the pedestrian bridge. Even though some guy in a yellow jacket is using a bullhorn to repeat "DON'T STOP ON THE BRIDGE" over and over again, we'll join the 150 other people pausing (we didn't stop, we just paused!) for a quick photo of the beautiful Christmas lights on Omotesando Street. To our left is Omotesando Hills, and to the right, the Dior Building. Okay, time to get moving – don't want to anger the guy in yellow!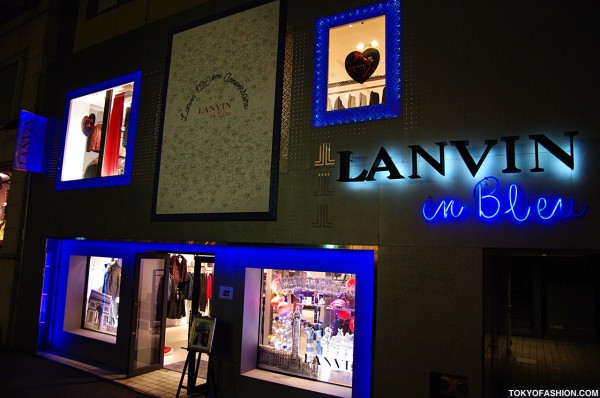 Now we're back on Cat Street (on the other side of Omotesando Dori) and continuing our previously derailed walk towards Shibuya. Our first picture is a shot of the nicely lit Lanvin store.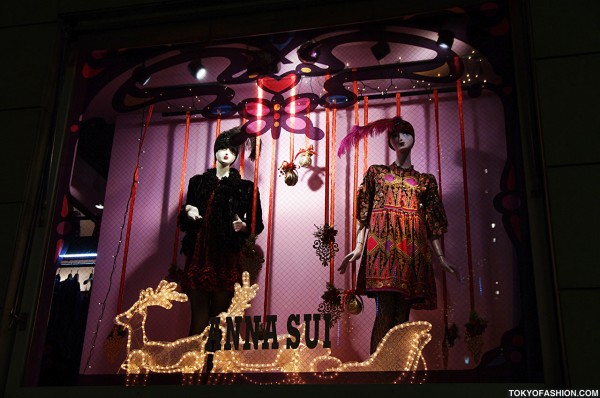 Anna Sui loves Christmas, and reindeer, and Harajuku – and really really bright colors and patterns!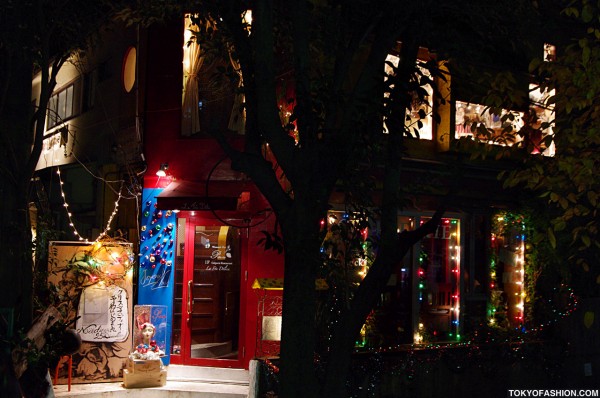 This is a cute cafe just off Cat Street, behind some lighted trees. I've had lunch there a few years ago, and it's not bad at all!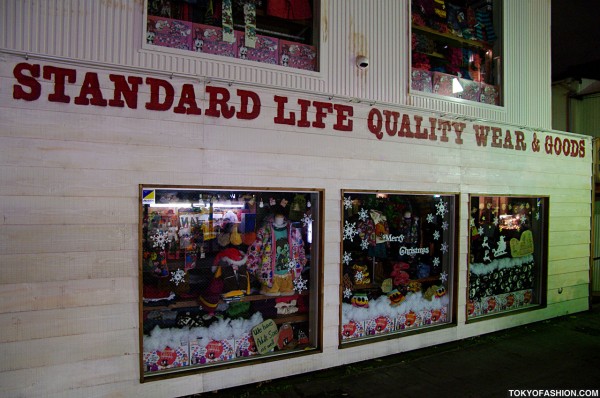 Standard Life Quality Wear And Goods. What more is there to say?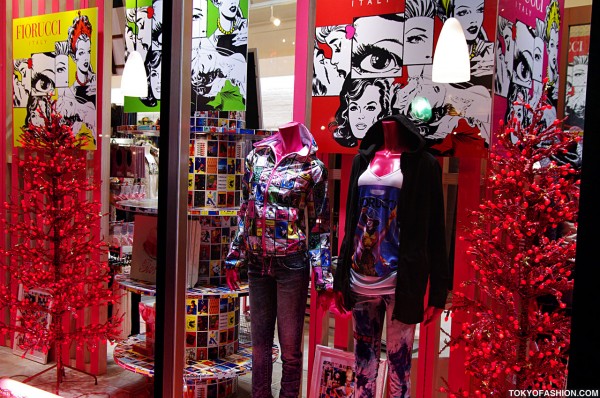 The Fiorucci Harajuku shop has very, very red Christmas trees this year.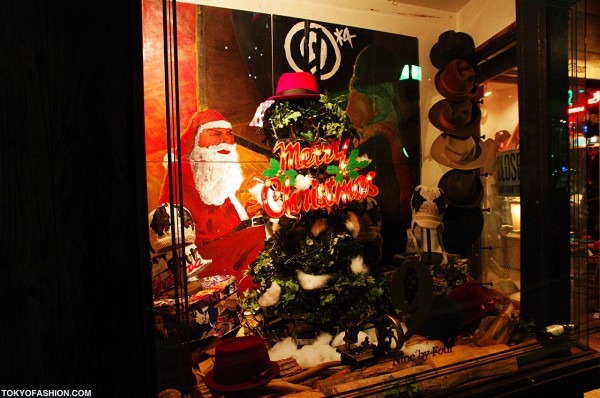 We continue on, and pass by the Nine by Four hat shop – which displays nice Santa Claus artwork in the window.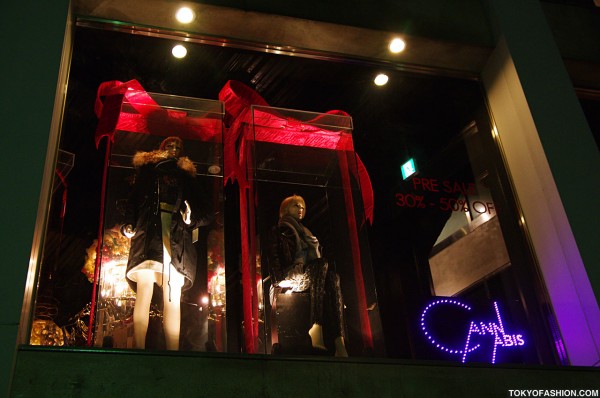 Two mannequins wrapped in huge bows at Cannabis Tokyo.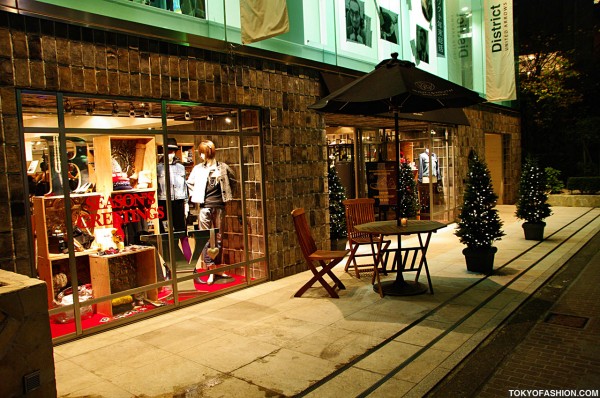 The Beauty and Youth shop has four Christmas trees out front. There was another B&Y shop way back on the other side of Harajuku, but it only had two trees. This one wins!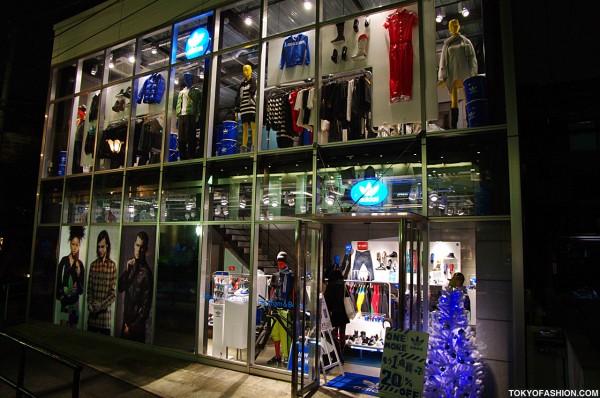 The Adidas Original shop on Cat Street has a very small tree out front. You used to be able to find Jeremy Scott shoes here – not sure if they're long gone or not!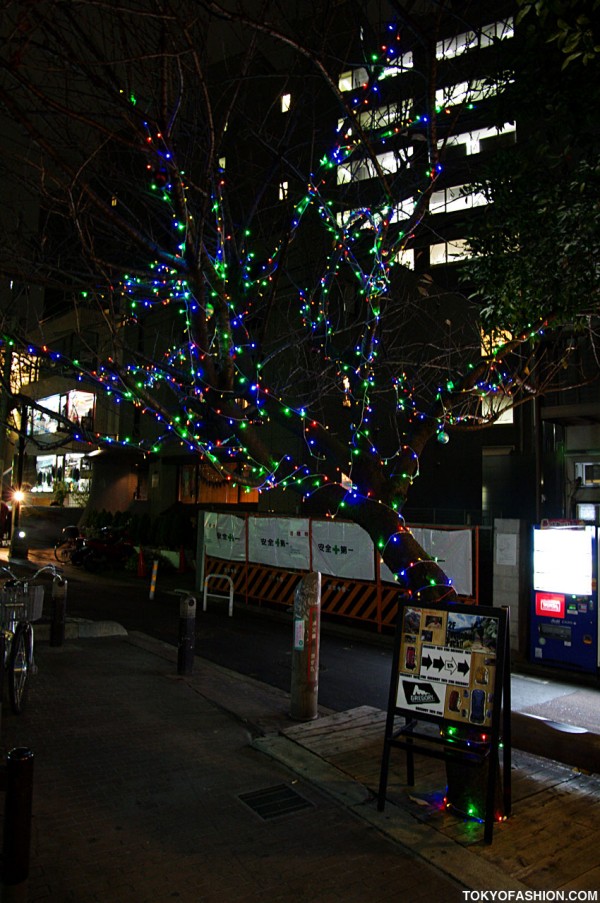 This is Cat Street's very own Charlie Brown Christmas tree. I actually saw the guy putting the holiday lights up earlier in the month. Needless to say, he didn't need a very big ladder.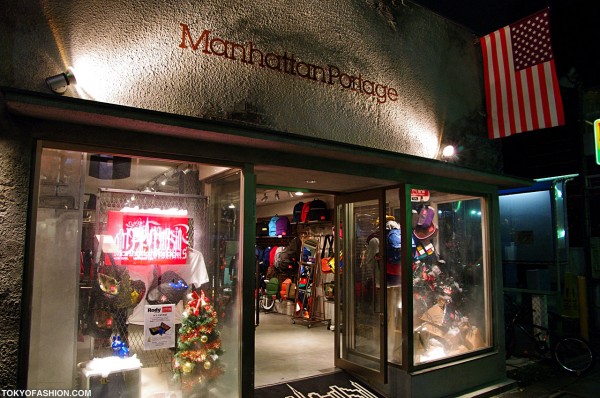 Cat veers left a bit after the funny Christmas tree. We're technically in Shibuya now, but we didn't cover Cat Street on our Shibuya walk so we're going all the way to the end! Here's the Manhattan Portage shop with snow painted on the window. This shop gets interesting exclusives sometimes, if you're into messenger bags.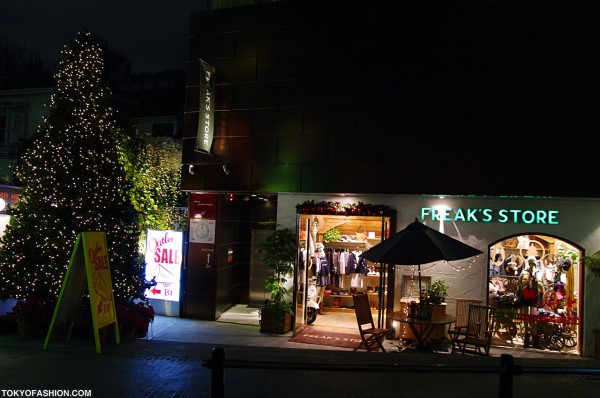 Hey, another Freak's Store! This one has a big Christmas tree out front instead of a cool motorcycle.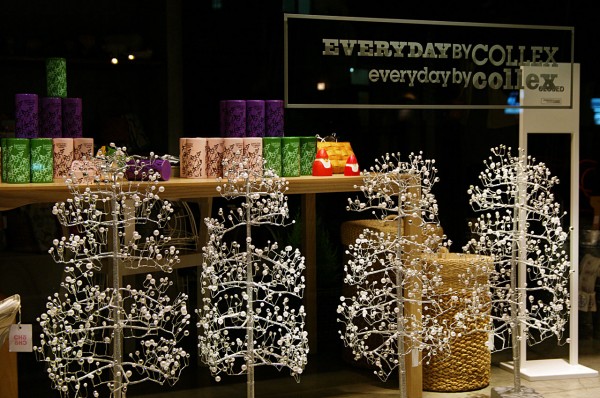 Past the Freaks, we notice these strange minimalist trees in a shop window. The text says "Everyday by Collex". In fact, it says it twice!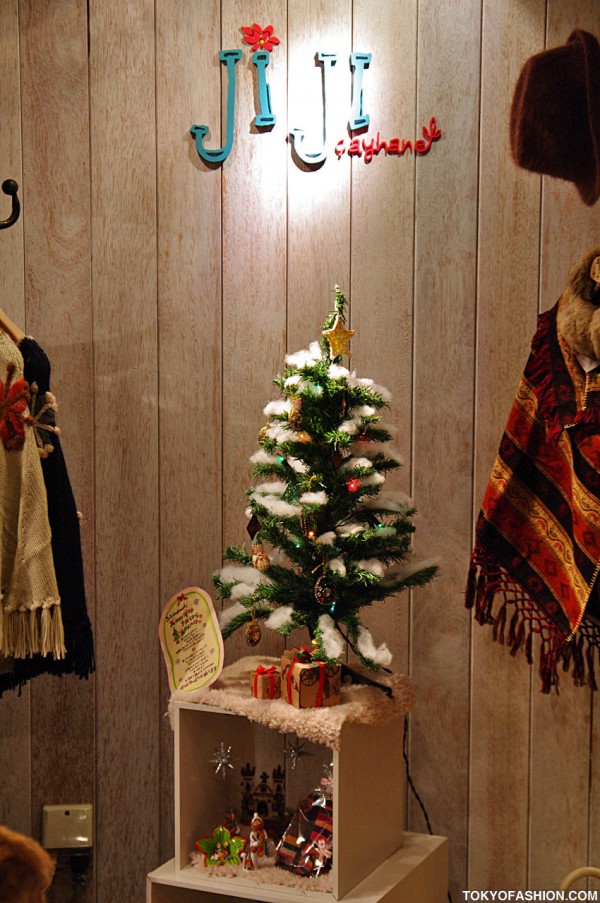 The Jiji Cayhane shop Christmas tree is only a couple feet tall (if that). It's really cute.

Bouncing back to the other side of Cat Street, we can now see Meiji Dori. The end is near. Here's the Solberry shop with a white Xmas tree in the window.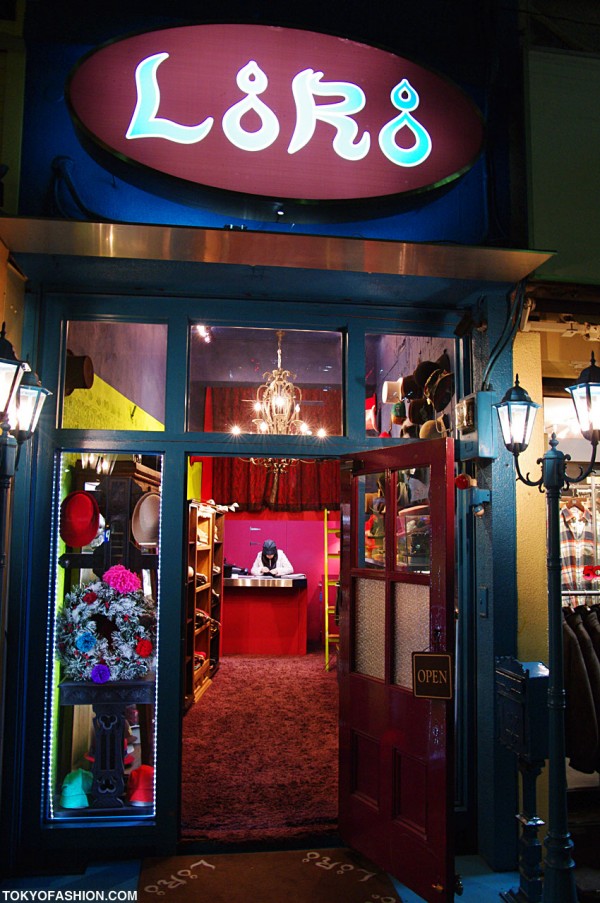 Okay, this is it – the end of the road. The last shop we'll photograph before calling it a night is the LORO shop near the intersection of Cat Street and Meiji Dori. We are definitely in Shibuya now, and we are also VERY near the Deliziefollie gelato shop. Maybe it's time to put away the camera and eat some sweets. Until next time…Happy Holidays and Merry Xmas!
Our next Tokyo holiday photo walk will probably be Omotesando Dori. Check back soon! In case you missed any of the previous photo walks, we've already done Christmas in Shibuya, Takeshita Dori, and Harajuku Part 1.