Takeshita Dori Christmas Pictures 2009
Welcome to the second in our ongoing series of Tokyo Christmas 2009 photo walks. In this edition, we take a quick stroll down one of the most famous shopping streets in Harajuku – Takeshita Dori (or Takeshita Street if you prefer). We'll start this walk at the top of the hill, coming from Harajuku Station, and end it at the bottom of the Takeshita Dori where it meets Meiji Dori. We also cheat a little by taking pictures on a few of the side streets that come off of Takeshita, but that entire area has the same vibe, so we figured it was okay!
Replicating this photo walk is very simple. Just grab any train on the JR Yamanote line to Harajuku Station and leave via the Takeshita exit of the station. You'll be staring right at the scene in our first photo when you scan out of the ticket gate. Once you're there, just start walking straight ahead and you'll be heading down Takeshita Dori, just like we did. Now, on with the walk!
(You can view a high quality version of any photo by clicking on it.)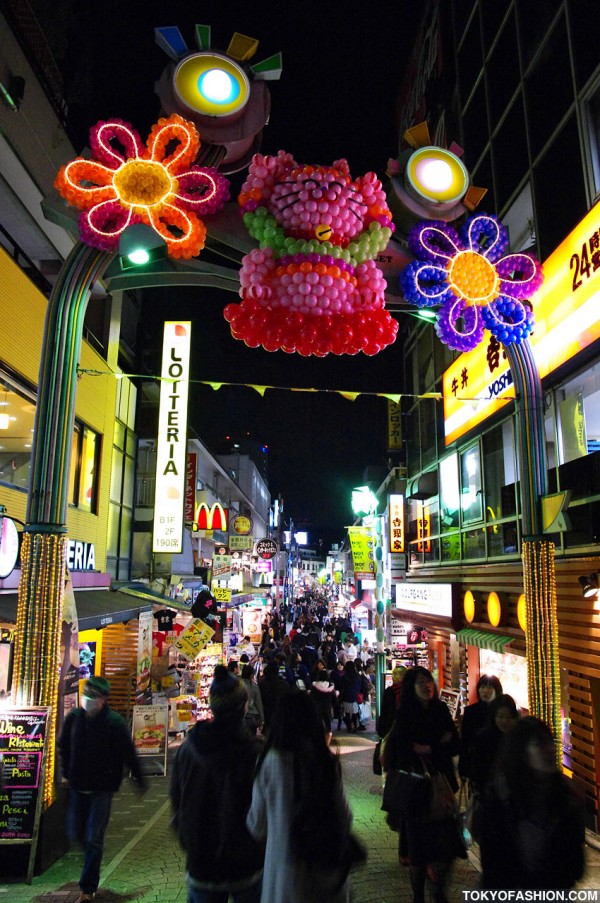 Entering Takeshita Street from Harajuku Station.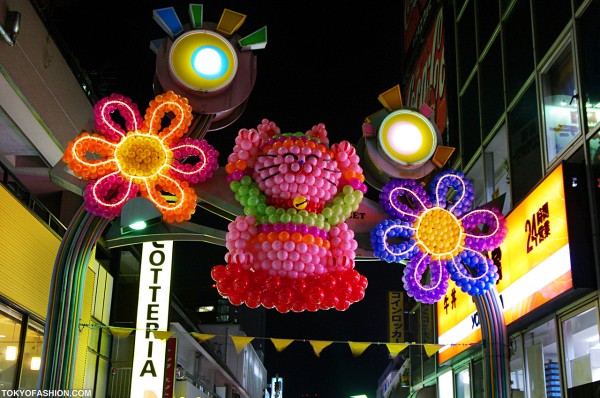 Closeup of the cute cat balloons sign welcoming you to Takeshita Street.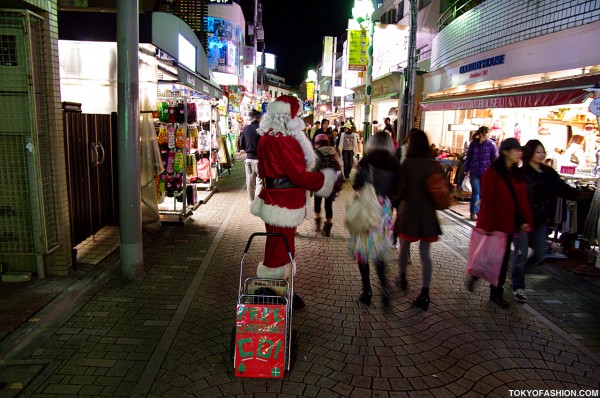 Hey look, it's Santa-san, and he's giving away something free!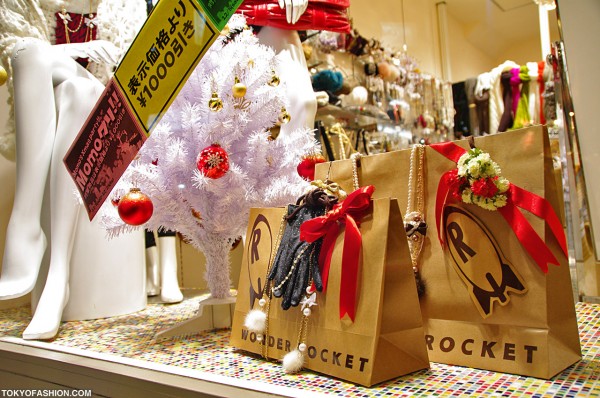 Momo's Xmas Party is on at Wonder Rocket on Takeshita.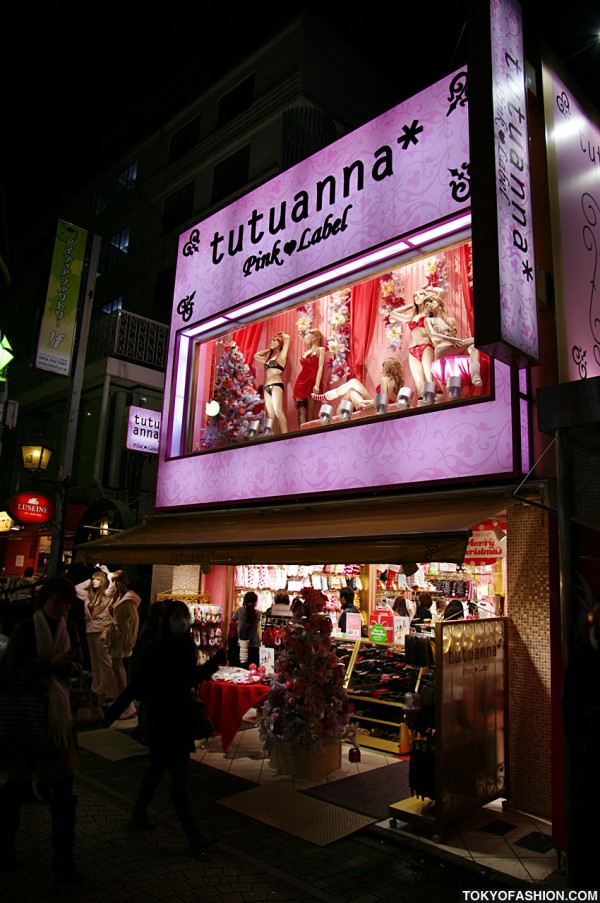 Tutuanna has a Christmas tree, a lot of leggings, and other related stuff.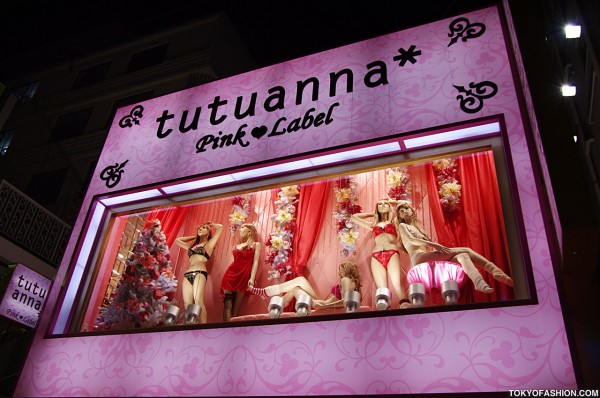 A close-up of the upper floor Tutuanna Christmas window display. Girls in underwear and a Christmas tree!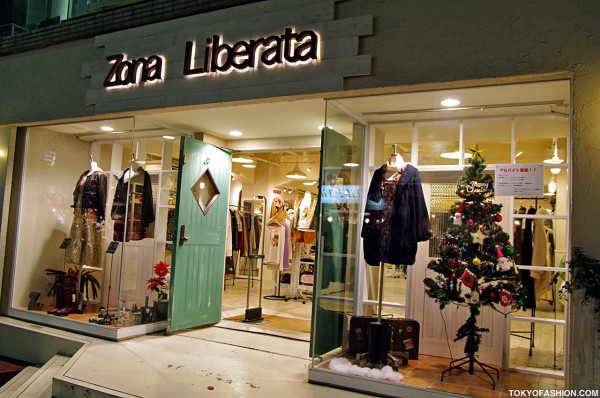 Zona Liberata has a Christmas tree, too.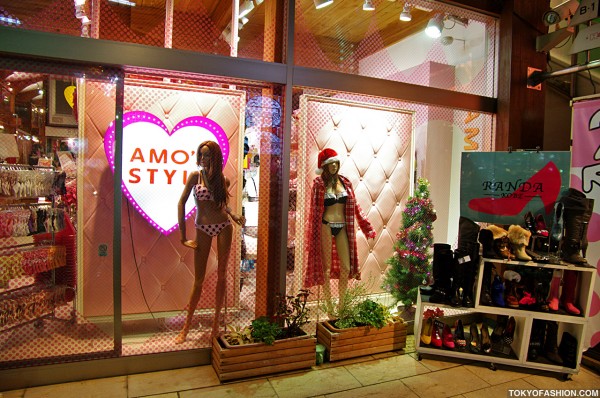 Amos Style – more underwear and Christmas spirit on Takeshita.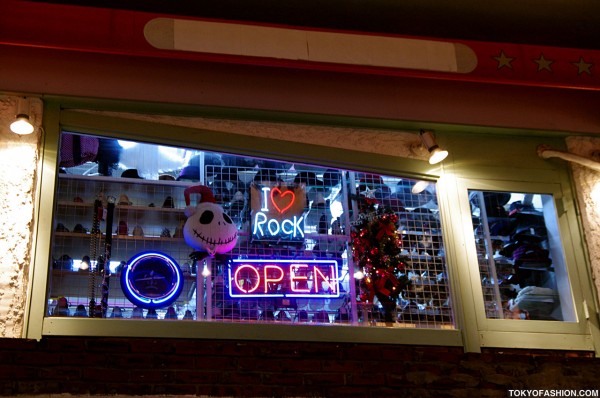 I Love Rock & Christmas.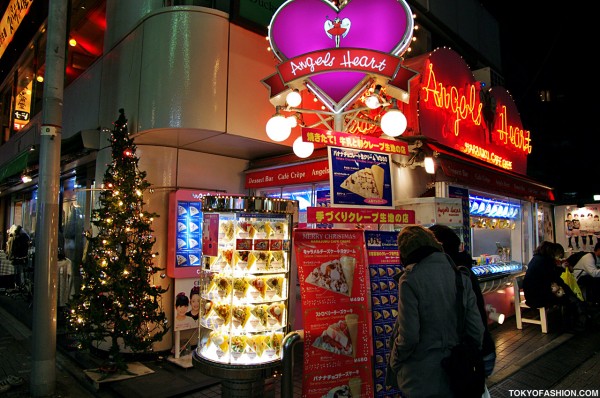 Angel's Heart Crepes is in full Christmas mode. There are several famous crepe shops on Takeshita. This is the first one we find when walking from Harajuku Station down the hill toward Meiji Dori.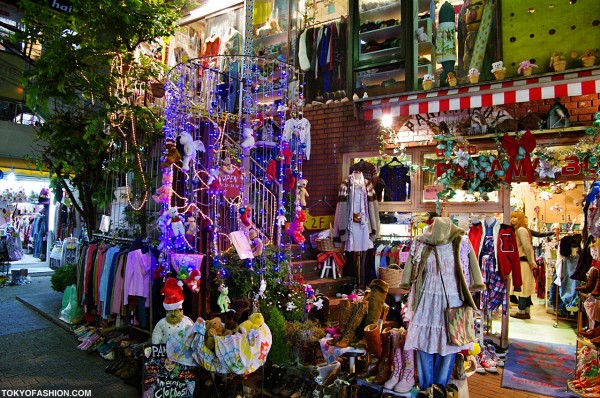 Several different shops on a side street just off Takeshita, and a tree decorated with lights and ornaments.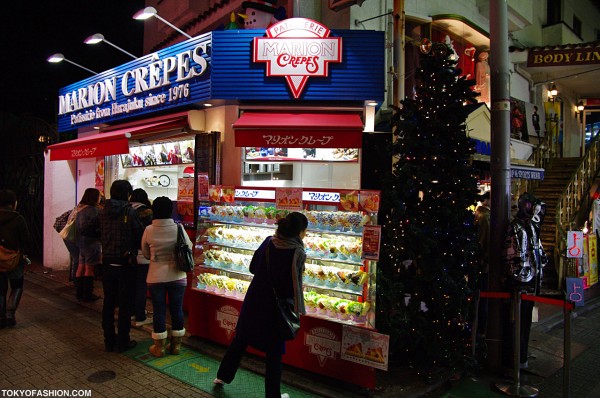 Several Japanese shoppers waiting for tasty Marion Crepes.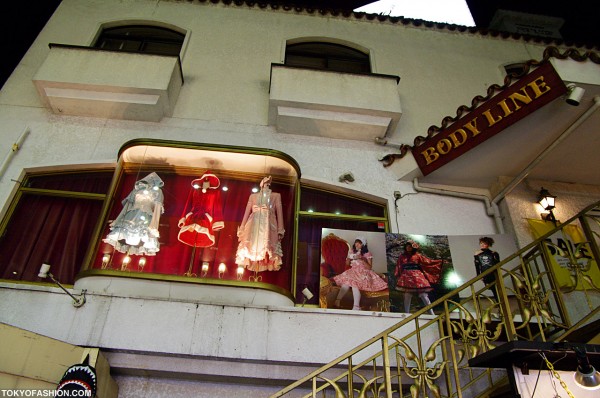 A Body Line window display showing lolita fashion & a Santa costume together. Which will you choose?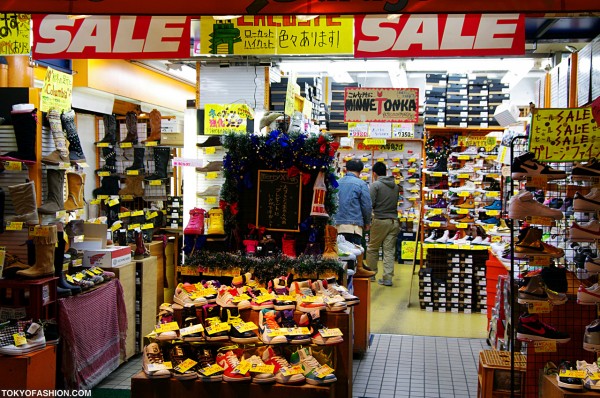 Lots of shoe shops on Takeshita. You can get your sneakers & boots at a Christmas sale.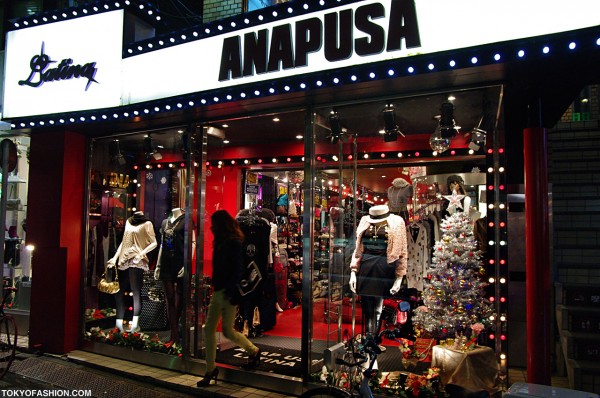 Another side street. There are several ANAP stores here. This is ANAP USA ,and they've got a white Christmas tree in the window.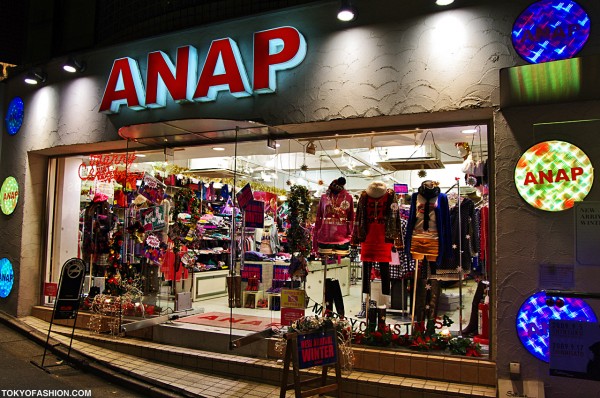 The main ANAP store with colorful lights, Christmas signs, and decorations.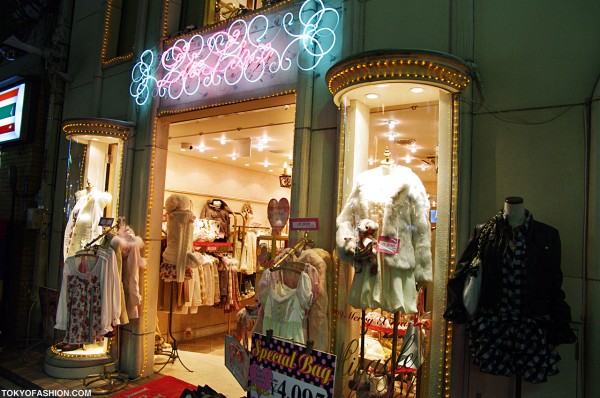 Liz Lisa back on Takeshita Dori. Not too many Christmas decorations, but they do have a special Holiday Bag for about US$50.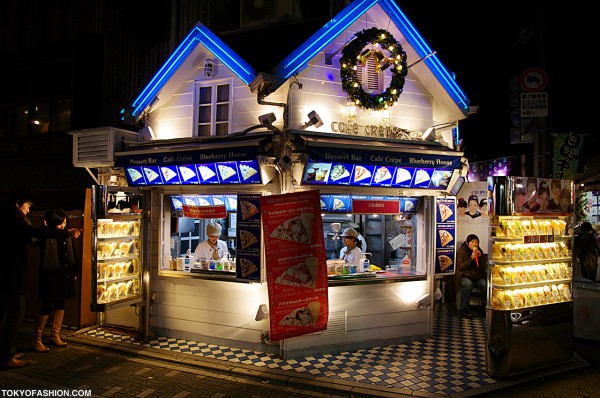 Cafe Crepe. You can see the cute workers inside the shop quite clearly in this picture.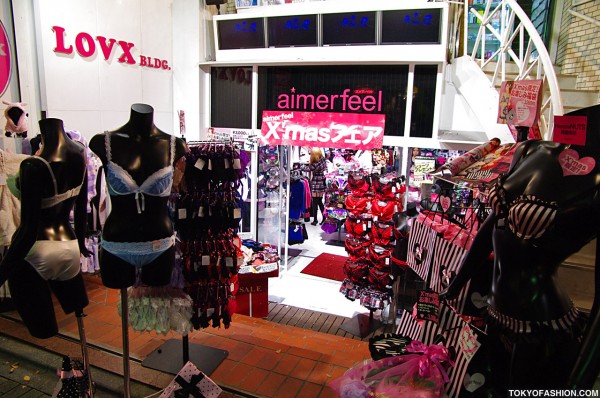 It's an Aimerfeel Xmas sale!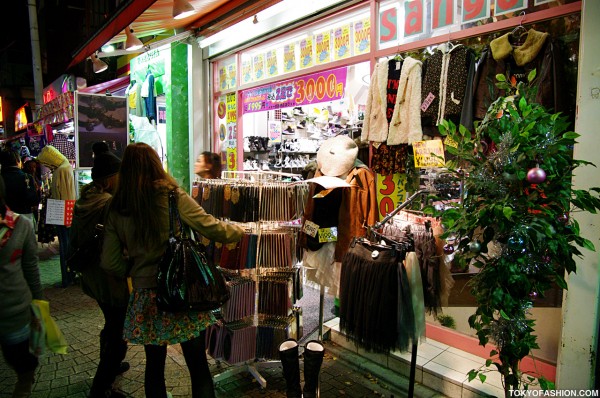 Shoppers checking out a sale on tights and shoes on Takeshita.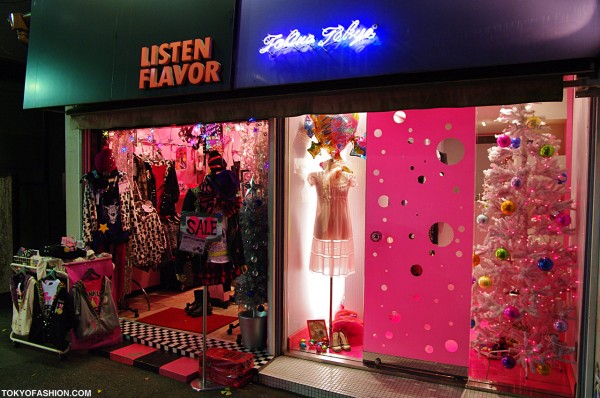 Two cute shops just off Takeshita Dori – one with an amazing super-pink Christmas tree.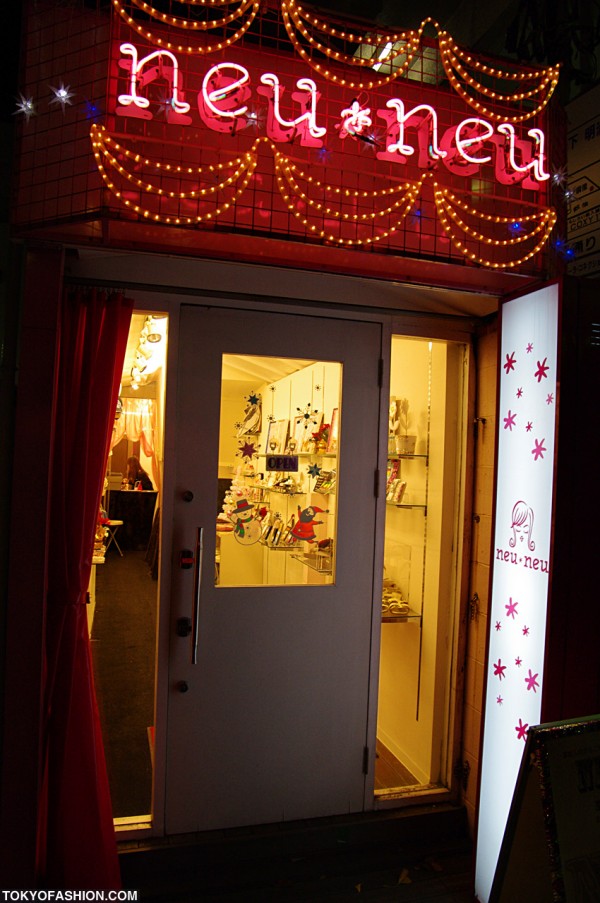 Neu Neu – a cute but tiny shop with a snowman on the window.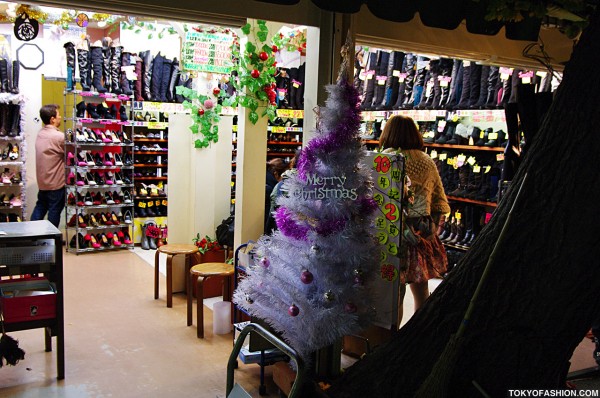 Another shoe shop. You can never have enough shoes in Tokyo!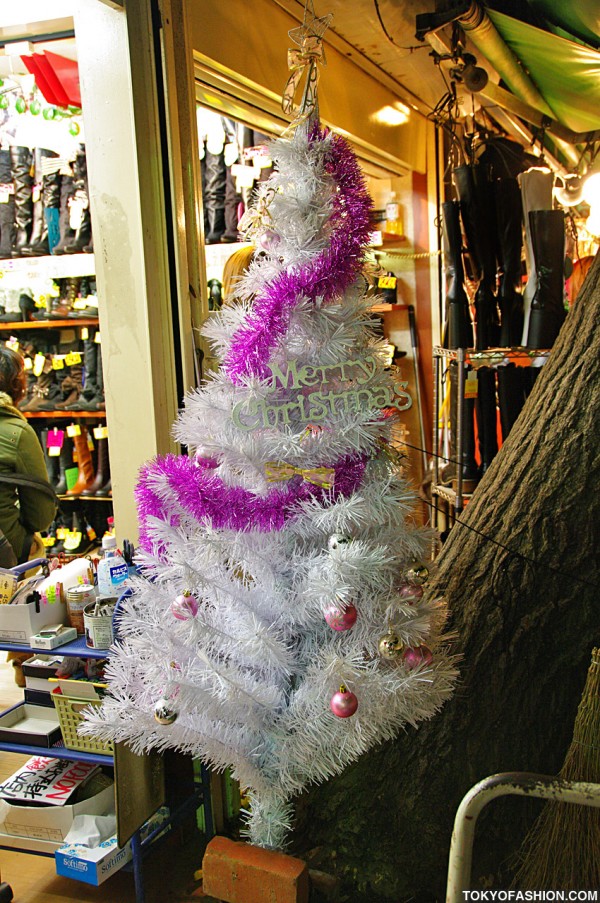 You can never have enough shoes – or Christmas trees.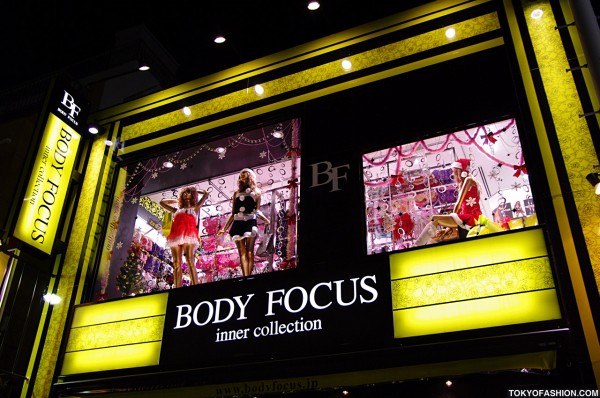 Continuing on down toward Meiji Dori, we find yet another underwear shop. The Body Focus upstairs window reminds us a little of the Tutuanna one from earlier – except that one was pink, and this one is yellow.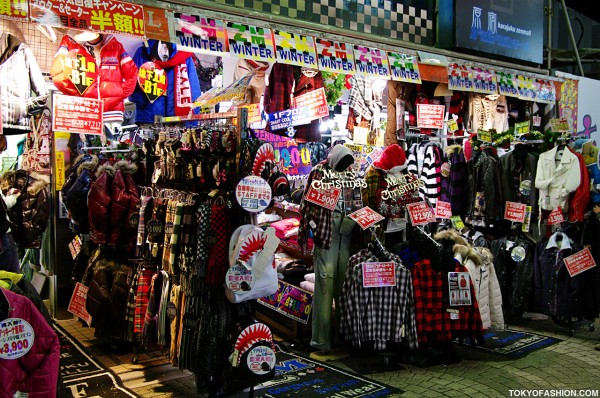 Zen Mall doesn't waste any space. Any jeans, jackets, or other casual clothing you can imagine – all on sale for Christmas.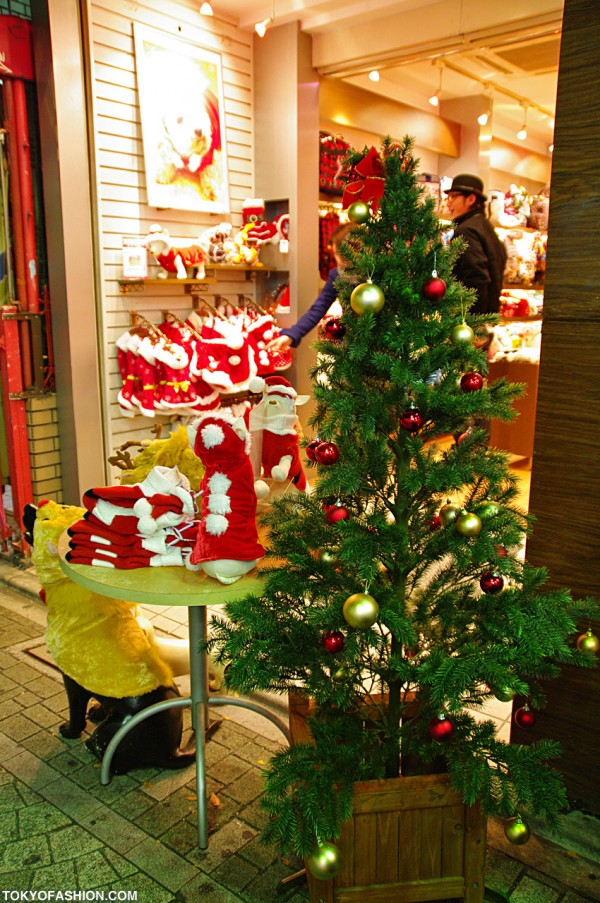 Don't forget your dog or cat during the holidays! Pet Paradise has plenty of Christmas costumes for pets of all sizes. (Well, not really "all" sizes – Tokyo pet stores mostly cater to micro-dogs!)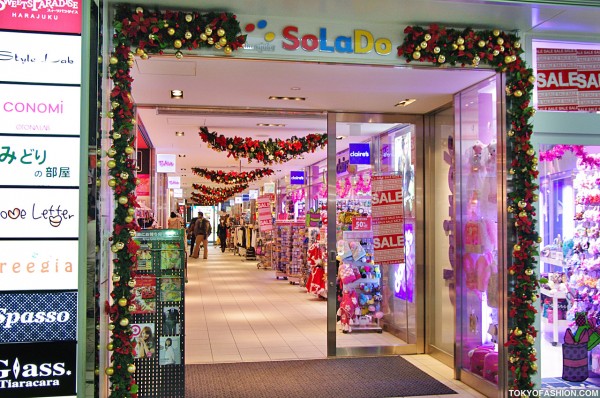 The recently opened (maybe a year ago?) four-floor (including basement) SoLaDo shopping mall on Takeshita Dori. Lots of shops, and lots of holiday sales.

It's Pink Latte on the outside of SoLaDo. As far as we know, this is the only shop on Takeshita Dori with a full-size airplane inside. At the very least, it's the only one with a full-size PINK airplane inside.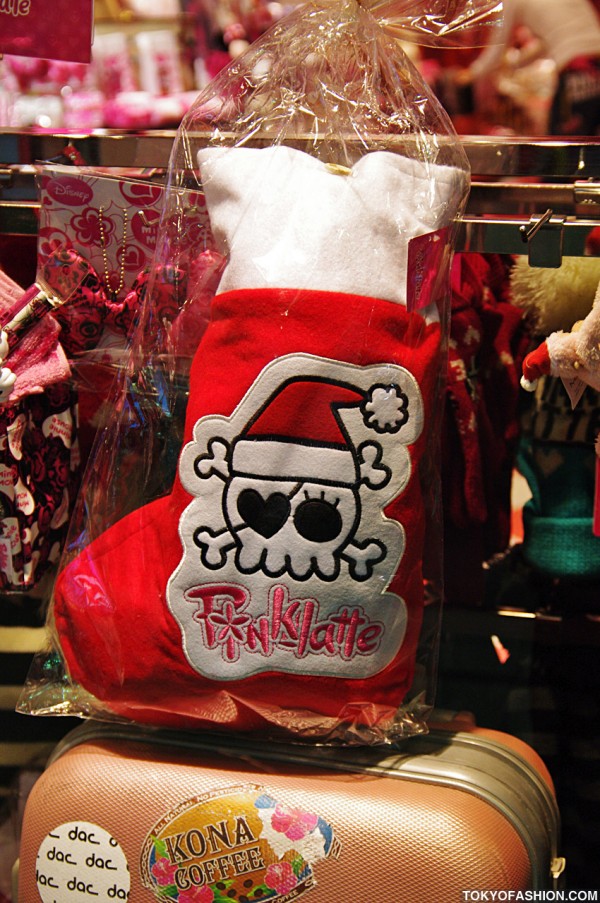 Cute Pink Latte skull Santa stocking – a perfect Xmas gift for the Harajuku girl or boy in your life.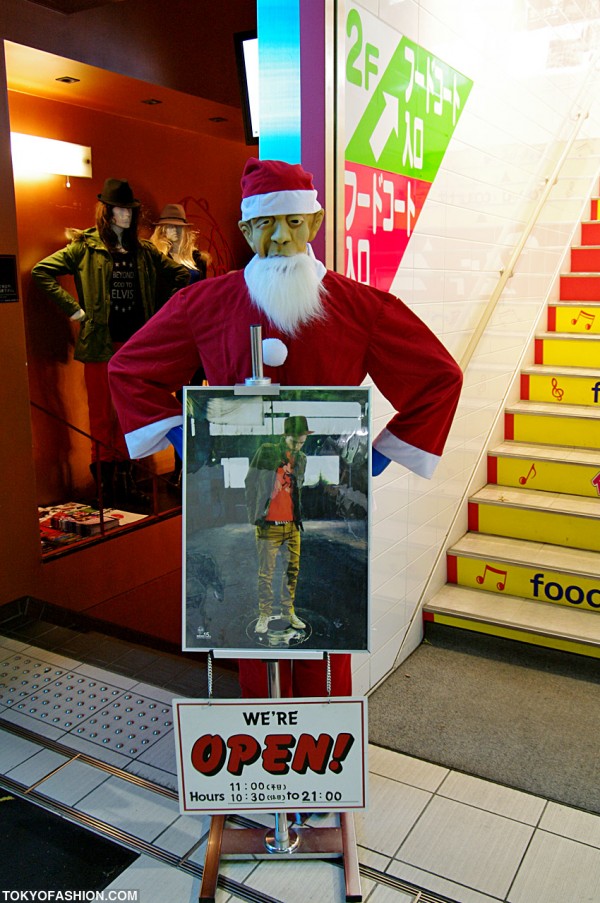 Santa with a very scary rubber mask face. The shop is open, but not sure I want to go inside after seeing him!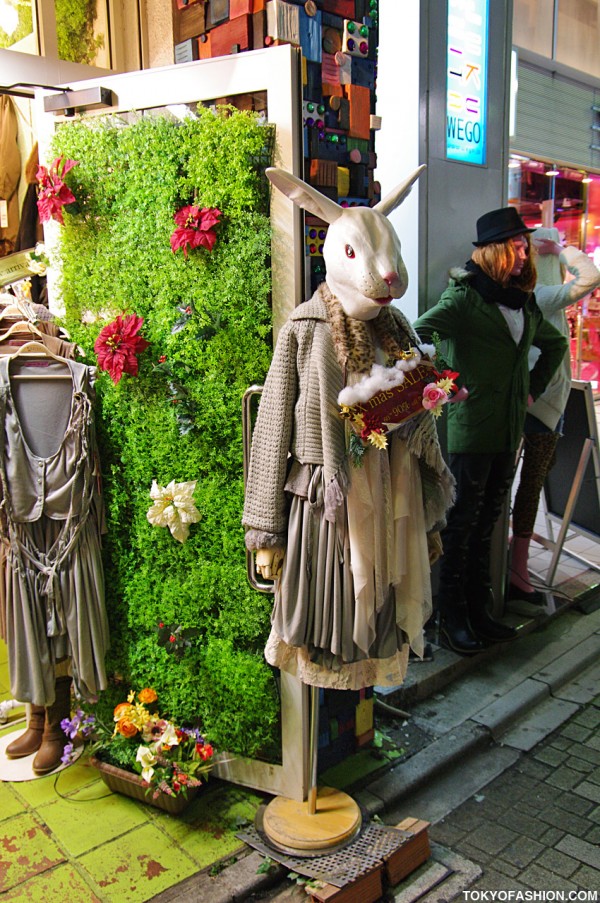 A rabbit-headed person wearing Japanese mori fashion out in front of another of the Takeshita Street Wonder Rocket stores. The sign says that some items are 90% off during the Xmas sale!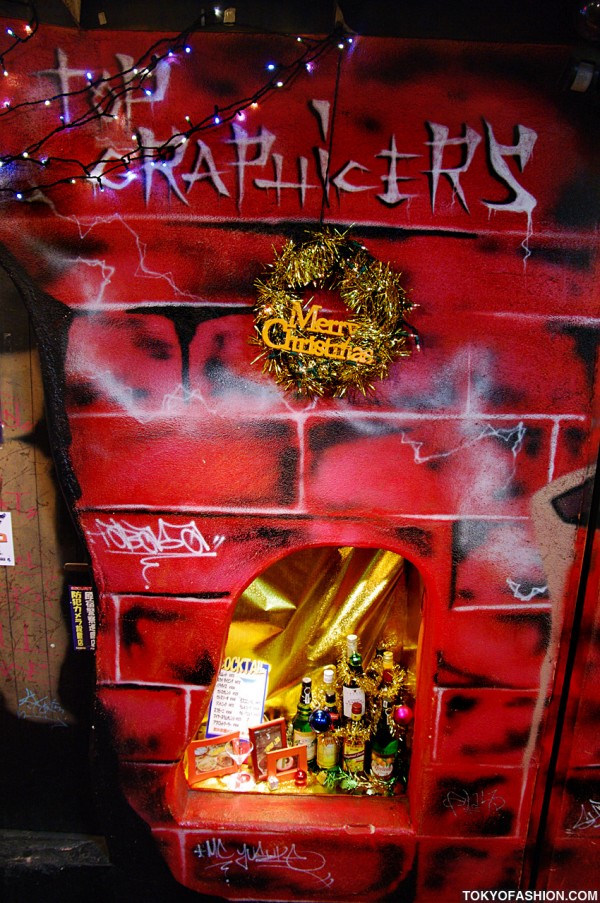 A wall painted to look like bricks that says "Top Graphicers" – and Christmas cocktails in the window.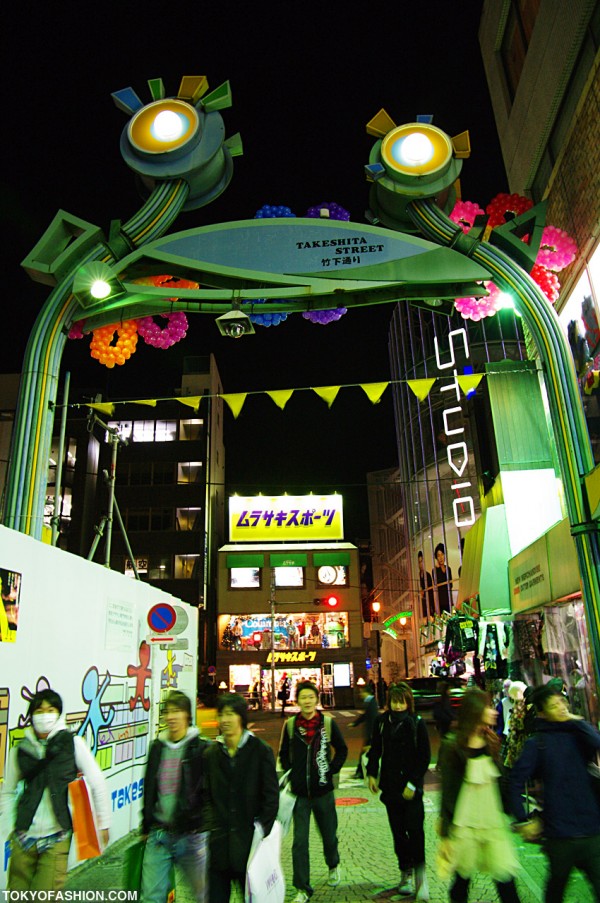 It's a little cold as we near the bottom of Takeshita where it meets Meji Dori. You can see the passersby wearing jackets.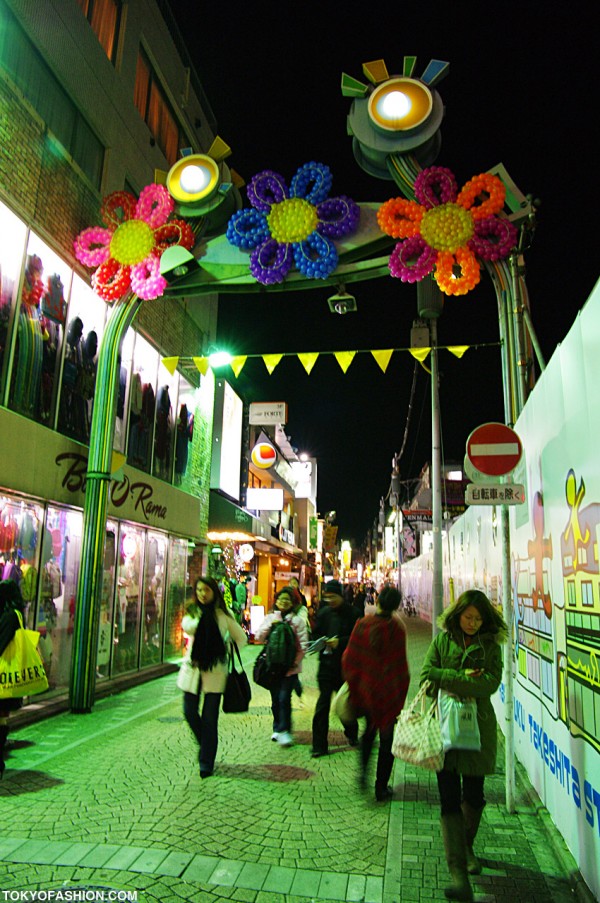 We've now passed by the sign at the bottom of Takeshita, and we're looking back up the street from where we've just come.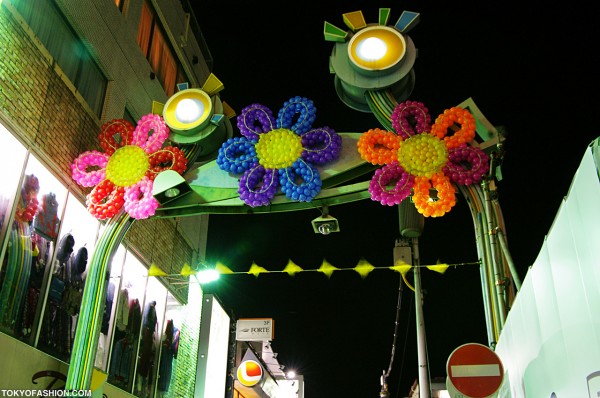 The Takeshita sign at the bottom of the hill is nice too – but no cute balloon cat here!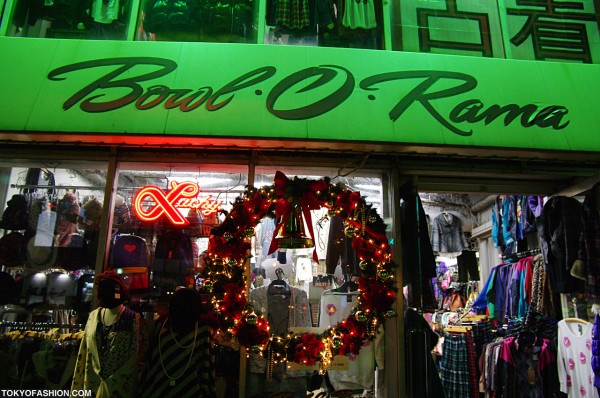 And the last photo is a giant wreath on the side of Bowl-O-Rama. This is the shop on the corner of Takeshita Dori and Meiji Dori.
That's it for our Takeshita Dori Christmas photo walk. Remember that every picture above can be seen in higher quality by click on it.
We'll pick up with the rest of Harajuku in another walk. Check back soon!