Shibuya Christmas Pictures 2009
The end of the year holidays – which, in Japan, mostly means New Years and Christmas – are quickly approaching. Now that we're into December, Christmas decorations and lights are quickly appearing all over Tokyo. The local government of each neighborhood in Tokyo generally has its own ideas about what trees should be illuminated, what end-of-year events would be fun for their residents, etc. Many Japanese business and shops also get into the spirit by decorating their buildings, store interiors, and display windows. At this time of year, you're also likely hear Christmas music (often bossa nova versions of popular western holiday hits) in many of the shops around central Tokyo.
In an effort to share the Tokyo holiday spirit with those of you who aren't in Japan – or even those of you who are in Japan, but not central Tokyo – TokyoFashion.com is going to publish a series of photo walks featuring popular Tokyo neighborhoods. The first of those walks will be Shibuya. The way it works is pretty simple: we'll wander around each neighborhood with our camera taking Christmas/holiday-related photos, then post them here for you with related comments. We'll try not to post too many pictures from any one neighborhood, so hopefully you won't get bored.
So, here goes the first Tokyo Christmas 2009 photo walk. Welcome to Shibuya…
(You can view a high quality version of any photo by clicking on it.)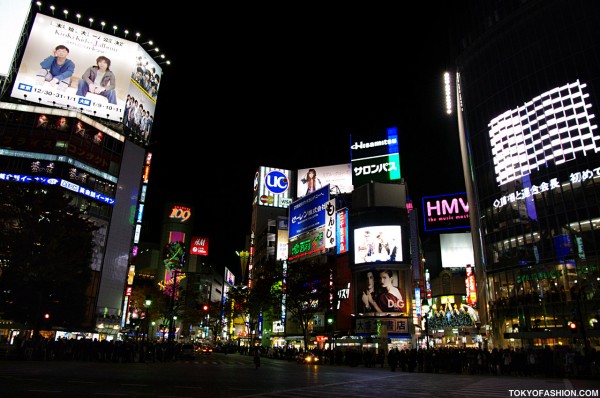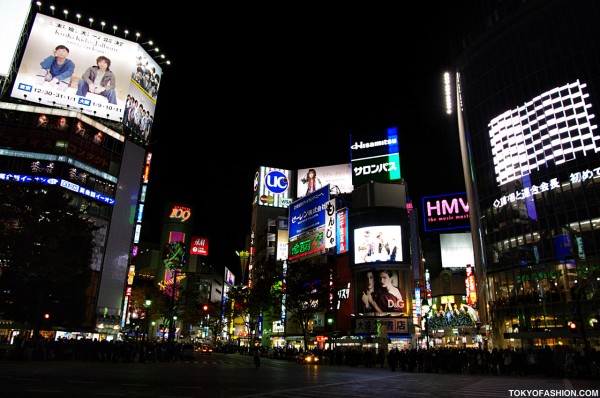 We start off this walk by exiting Shibuya Station at the famous Hachiko Exit and heading toward the Shibuya scramble, one of the busiest pedestrian crossings on the planet. In the above photo, we are looking across the scramble with the station behind us. You can see Center Street on the left side of the photo, and Shibuya 109 up the street on your left.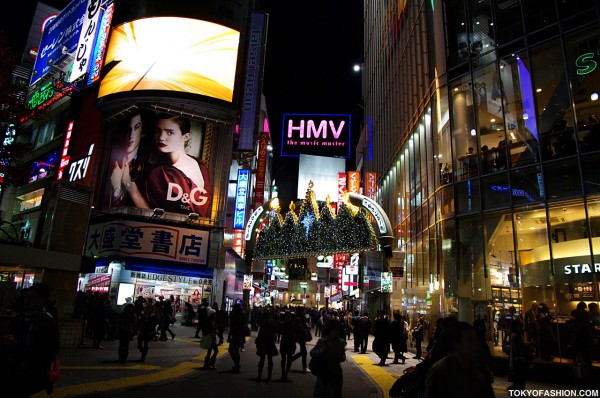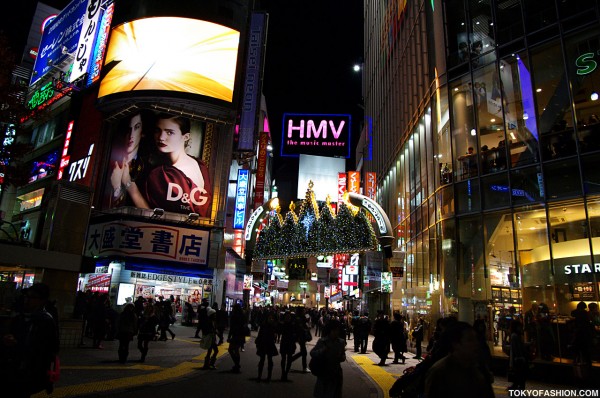 We're on the other side of Shibuya Crossing now, looking up Center Street.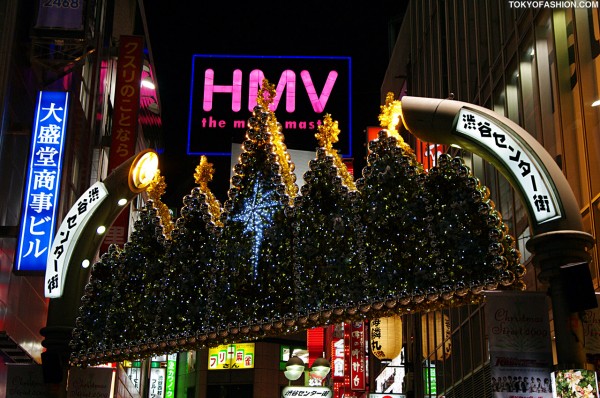 This is a close-up photo of the holiday decorations over the entrance to Center Street, with the HMV sign in the background.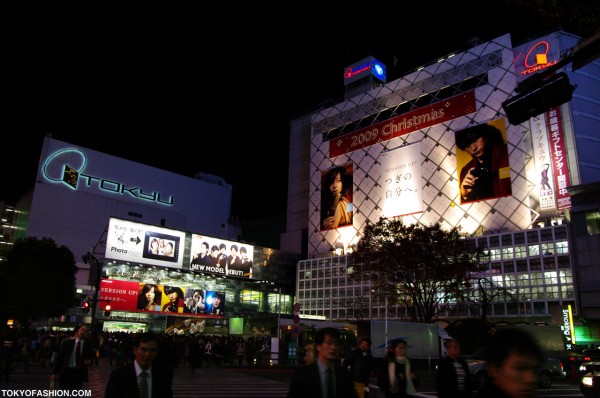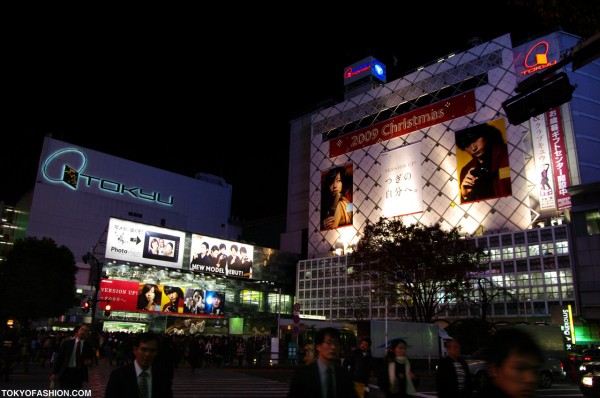 Now, we've turned around 180 degrees and are looking back across the road we just crossed toward Shibuya Station and Tokyu department store, with all of its billboards and a big "Christmas 2009" sign.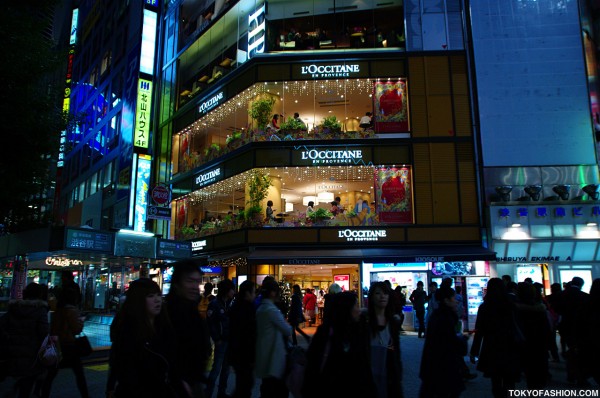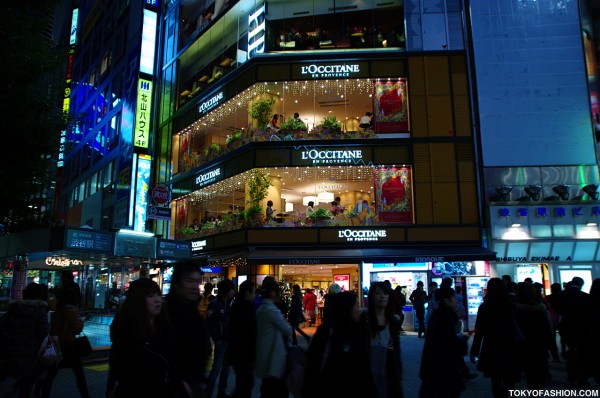 Turning about 90 degrees to the right, we see the Shibuya L'Occitane Cafe decorated for Christmas. You pass this cafe on your way from the station to Shibuya 109.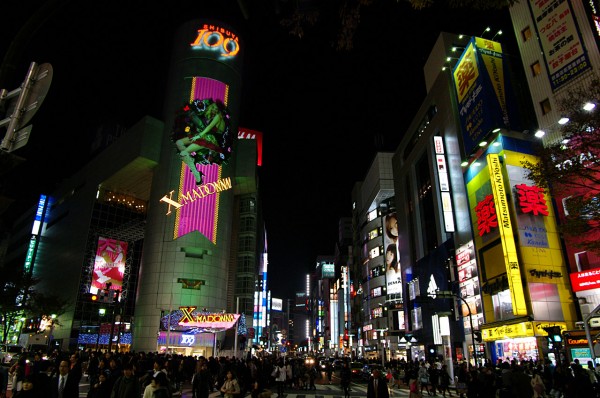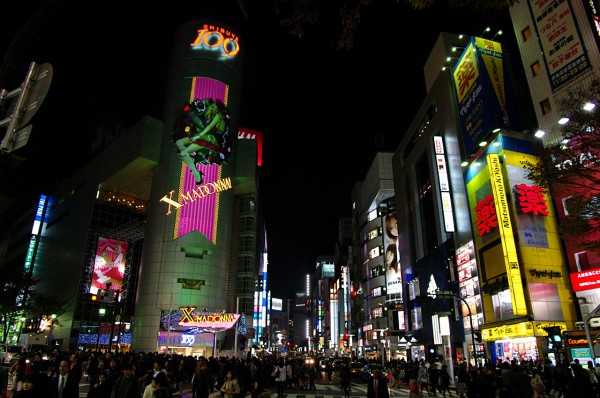 Ahead of us is Shibuya 109 with lots of people crossing the road. On the side of the building we see their 109 Christmas campaign – XMadonna.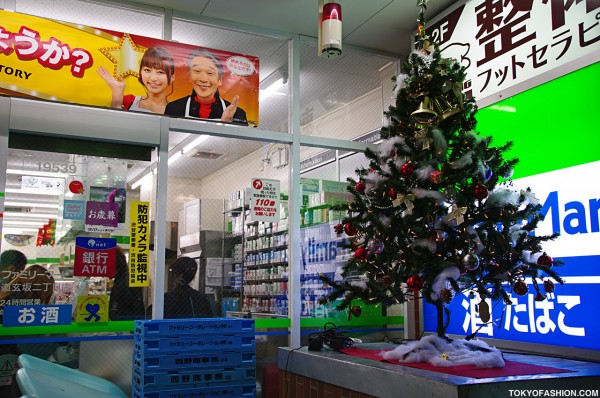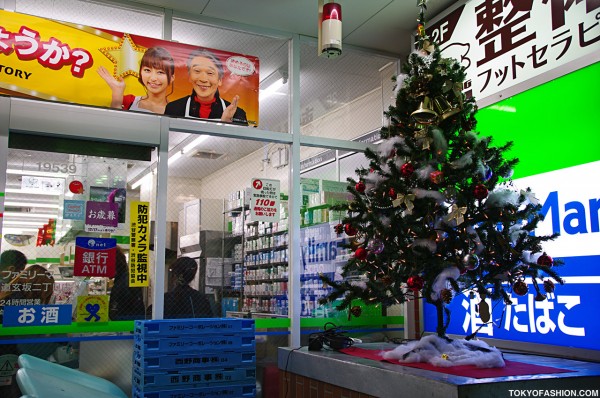 Now we're walking up the street to the left of Shibuya 109, toward the back entance to Shibuya Mark City. We spotted a cute little Christmas tree outside of a Family Mart convenience store.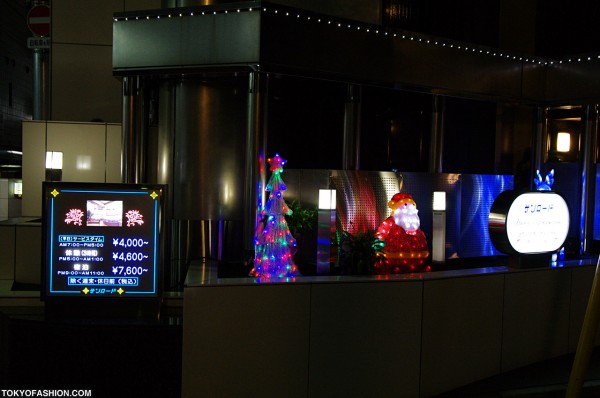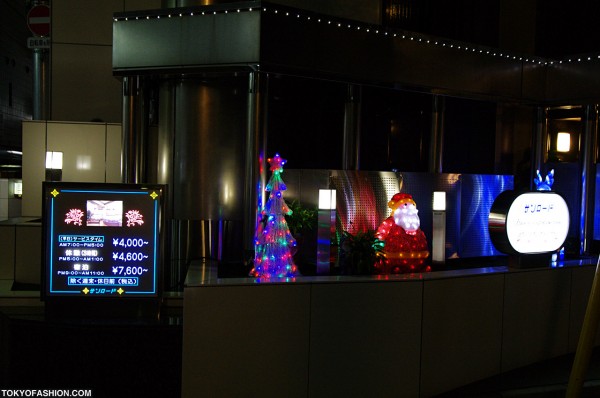 Cutting back toward Center Street, we see that a lot of the love hotels in the Dogenzaka area are decorated for Christmas. Christmas night is big business for love hotels in Japan! But, we don't want to take too many pictures here, as most people coming and going don't want to be seen. Let's keep moving!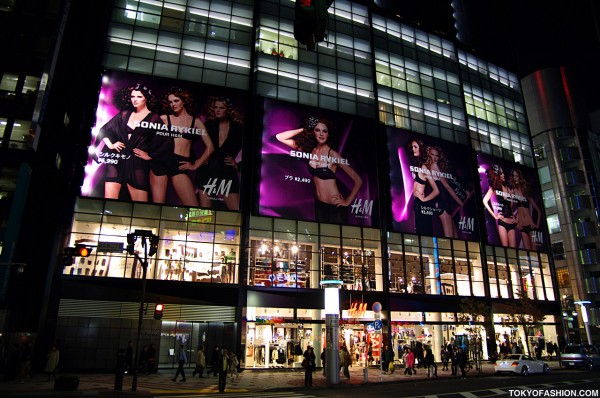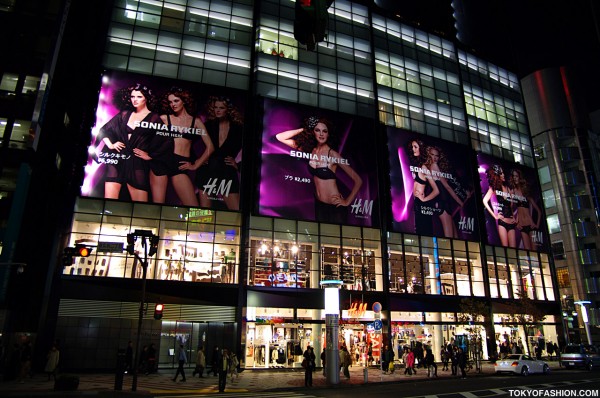 After passing several popular clubs (Shibuya O-East, O-West, Womb, Club Asia, etc.), we find ourselves standing in front of the massive recently opened H&M Shibuya. They aren't really decorated for Christmas (yet?), but they've hung large billboards for the Sonia Rykiel lingerie collection. Nothing says Christmas like sexy designer lingerie, right?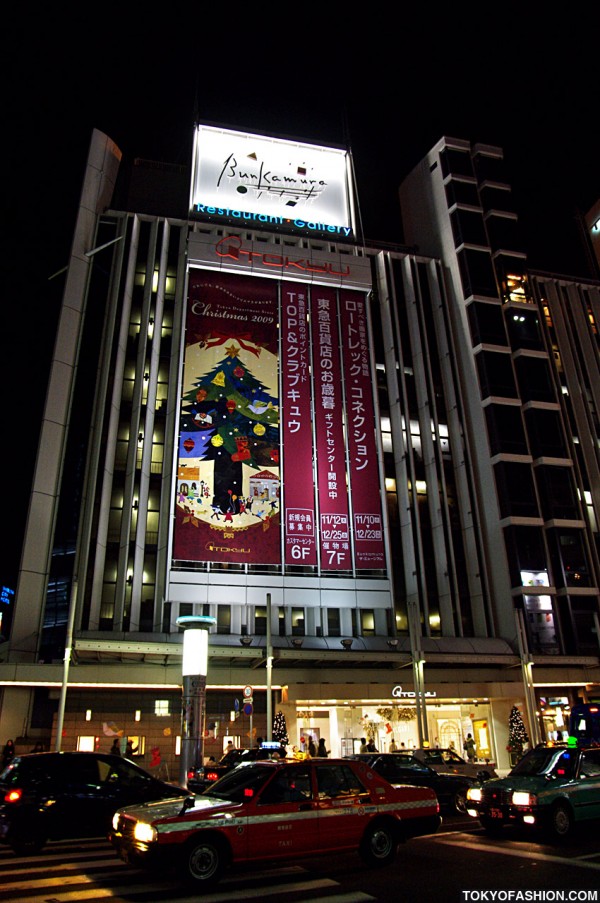 Across from H&M, we see another Tokyu department store with Christmas trees at the entrance and a giant Christmas campaign sign on the side of the building.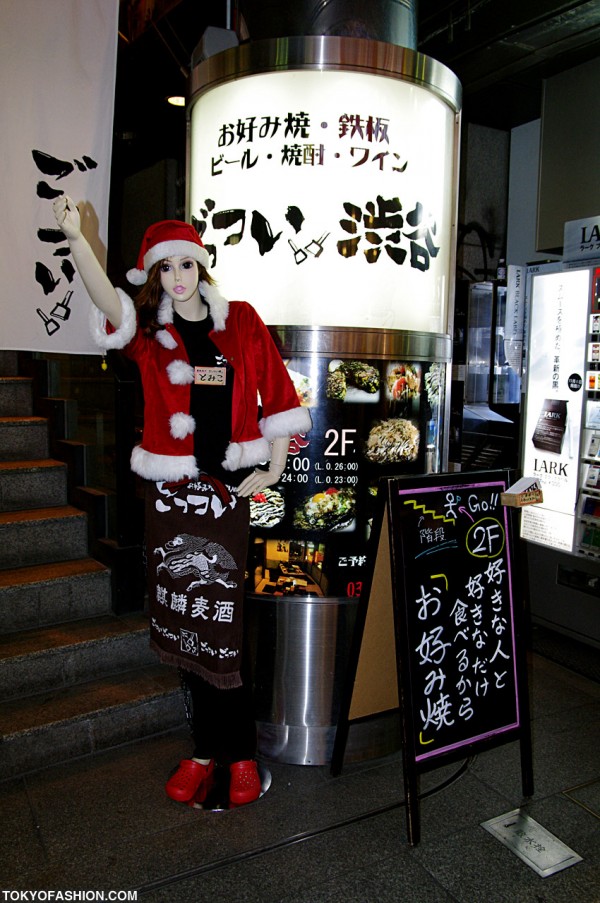 Still heading in the direction of Center Gai, we pass a restaurant with a cute mannequin out front dressed in Christmas fashion – and possibly giving passers-by some sort of WWII German military salute? (Just kidding, I'm sure it's just waving to us as we pass.)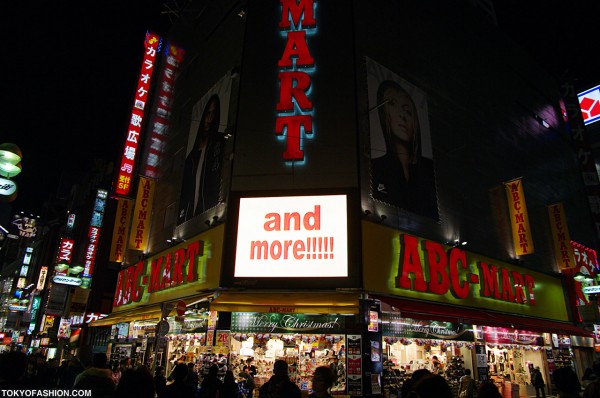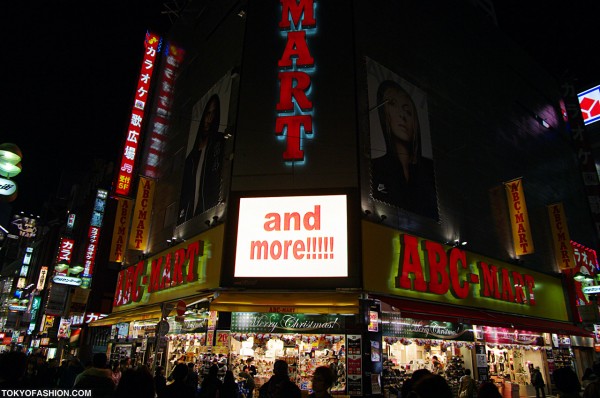 Back on Center Street, we're checking out the large ABC Mart shoe store. They've got your "Merry Christmas" AND MORE!!!!!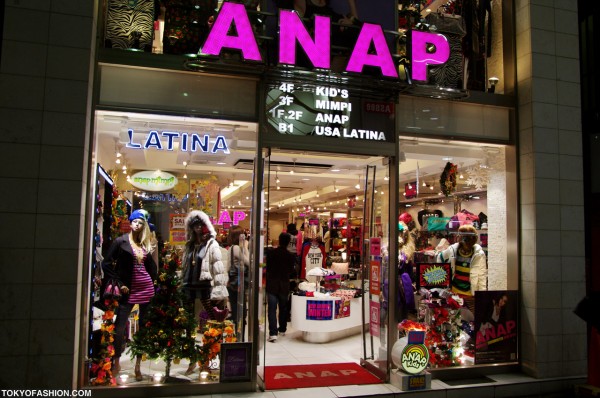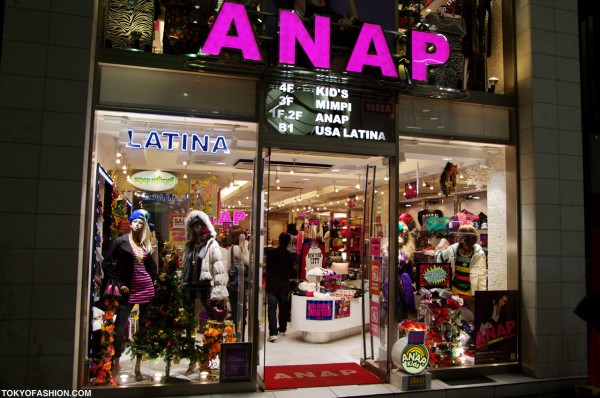 Now we're wandering around the Center Gai (Center Street) area of Shibuya. There is a Christmas tree in the window of the ANAP Latina women's clothing store. ANAP – and their various other related fashion brands – is very popular with Shibuya girls.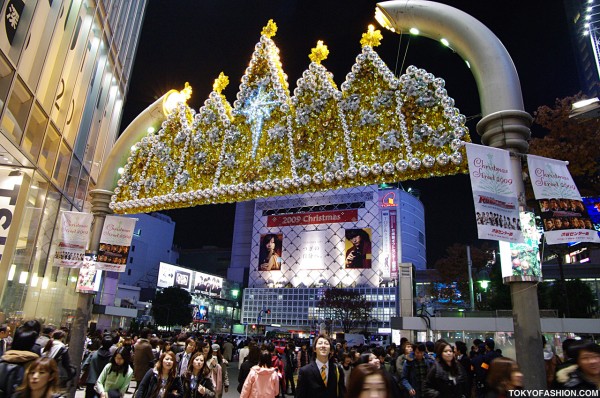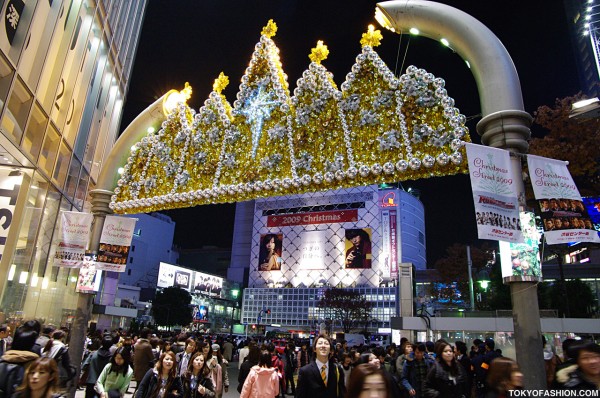 Hey, that's the same Center Street decoration as we've seen before. This time we're looking at the back of it. The view behind it is of Shibuya Station.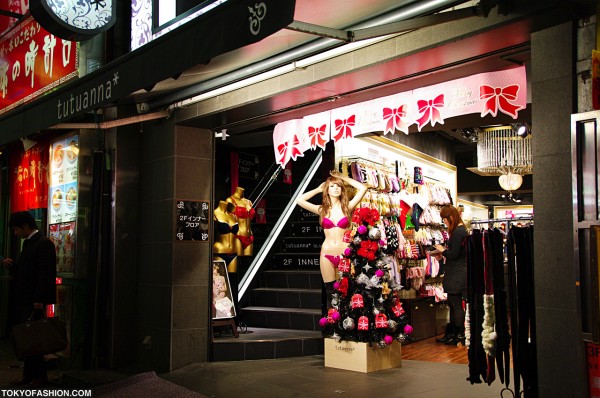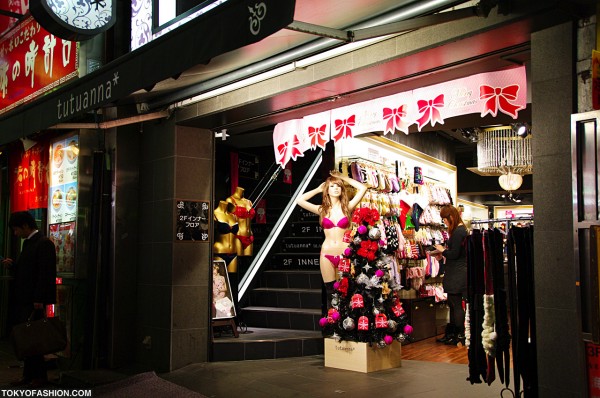 There's a Christmas tree in the Tutuanna stockings and lingerie shop on Center Street.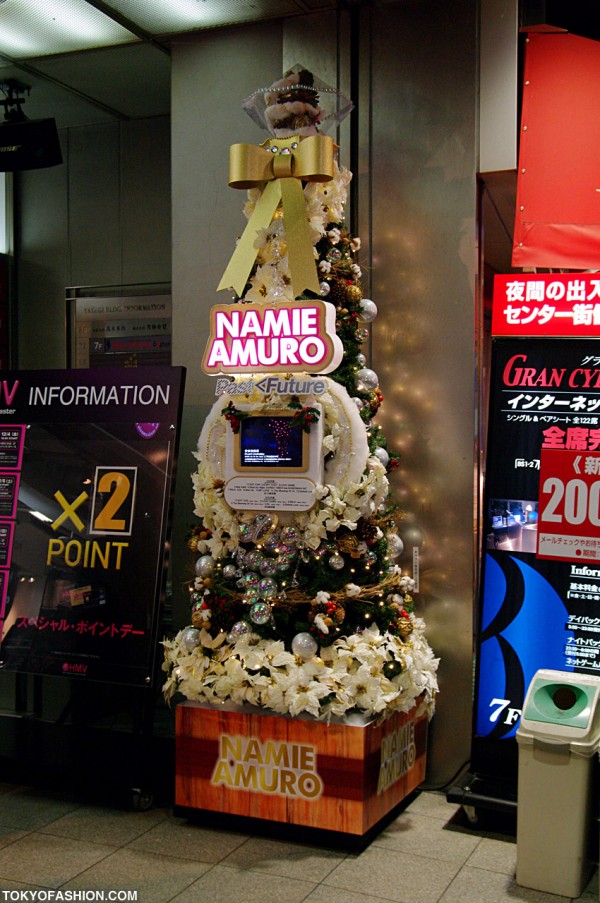 A Namie Amuro Christmas tree out in front of HMV Shibuya – complete with video screens!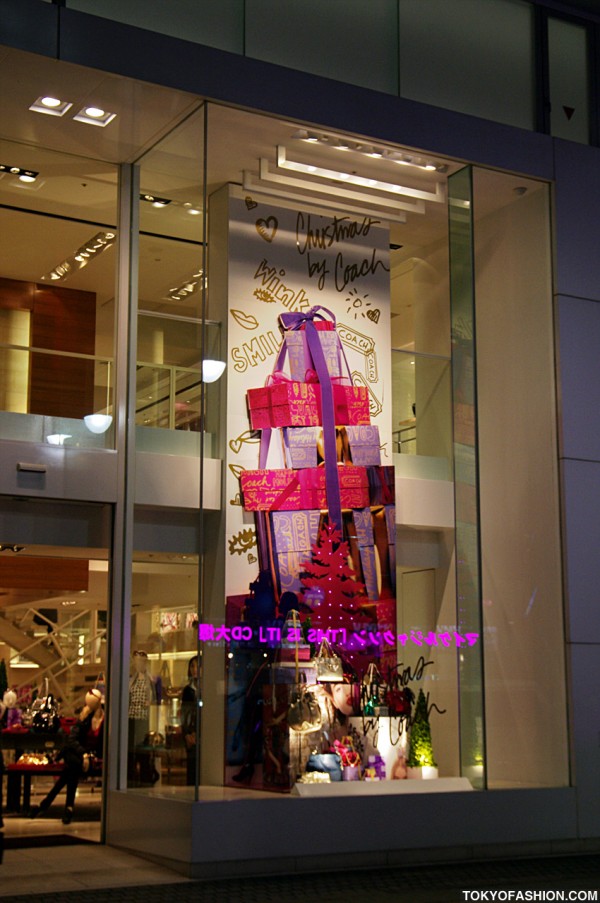 The window of the Coach Shibuya store across from HMV (the pink letters in the reflection are from HMV) is decorated for Christmas.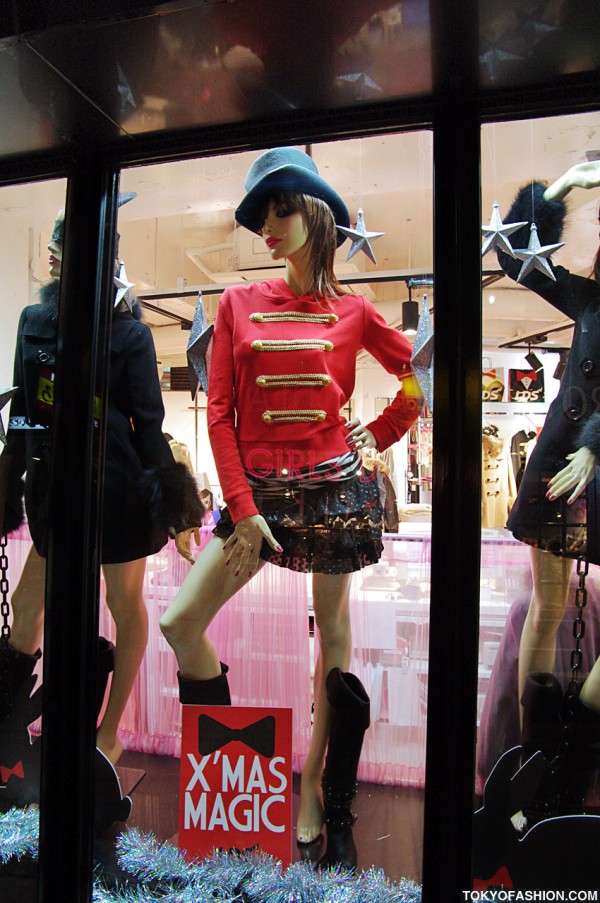 Walking up the hill (away from Shibuya Station) from HMV/Coach, we stop for a couple of pictures on Spain Zaka (aka Spain Slope). This is a close-up of the window of the Girls Door shop. I always love the Napoleon look jacket, even though it's a little overexposed right now.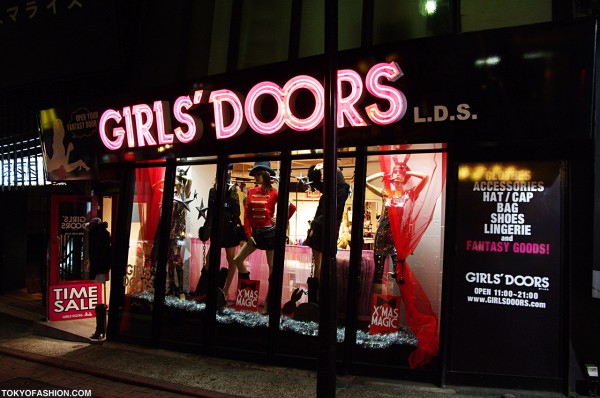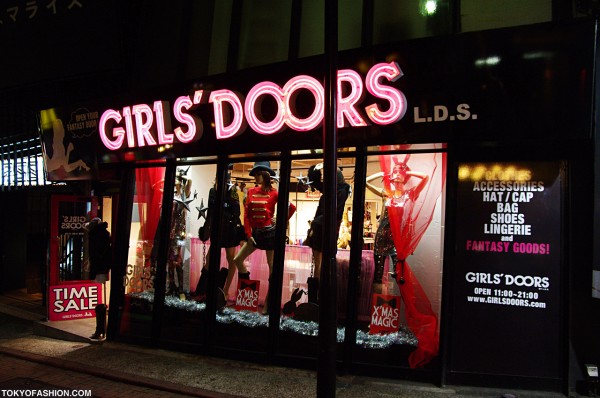 A wide shot of the Christmas window display at the Girls Door shop on Spain Zaka.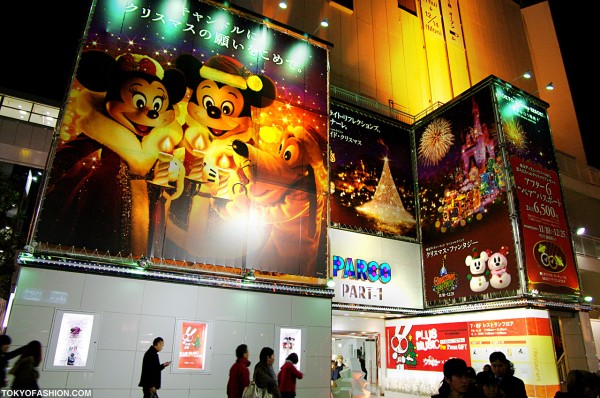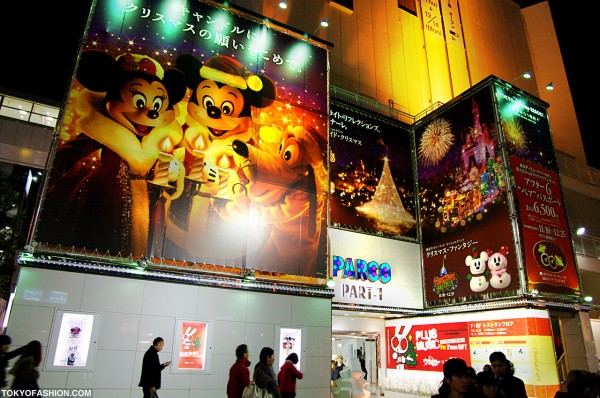 At the top of Spain Zaka, across from Cinema Rise (one of the coolest theaters in Shibuya), Parco Shibuya Part 1 is covered in huge Disney Christmas billboards.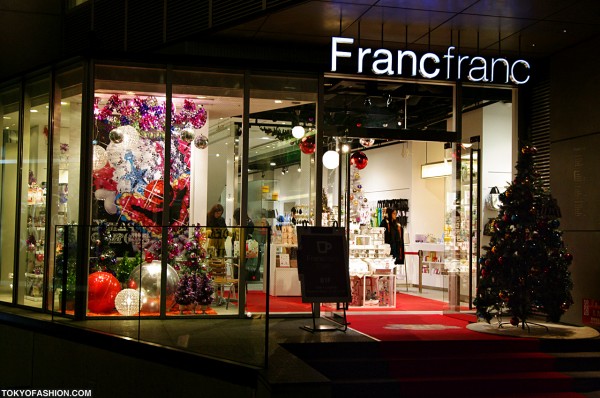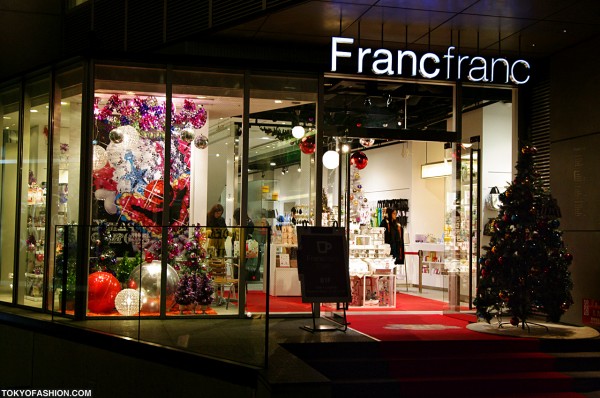 Turning left at the top of Spain Zaka, we pass Parco Part 3 for a quick photo of the FrancFranc interior goods store with a nice Christmas Tree out front.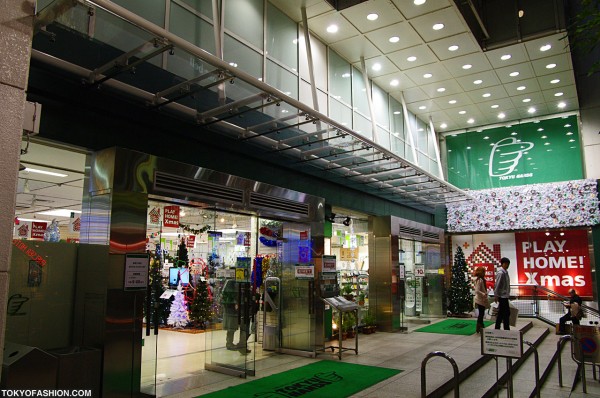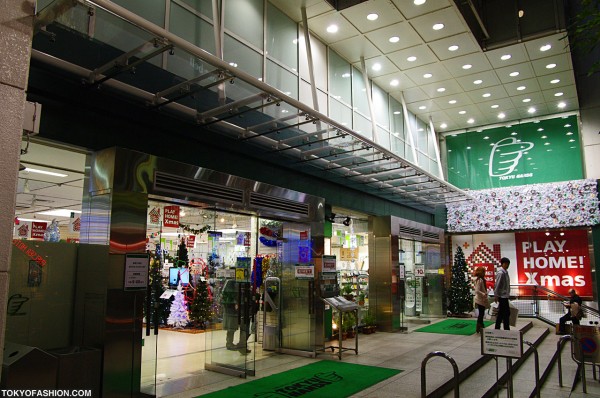 Around the corner from FrancFranc is the legendary Tokyu Hands Shibuya. If you need something for your home in Japan, you can find it here – as long as you're willing to climb about 10,000 flights of stairs. Inside the front doors of the store, we can see that the first floor is filled with Christmas trees and other holiday items you can purchase to decorate your Japanese apartment.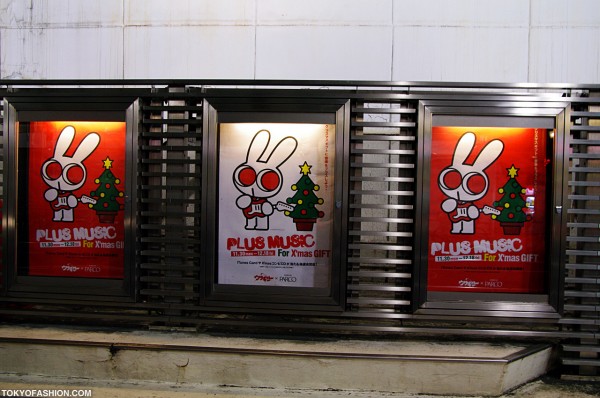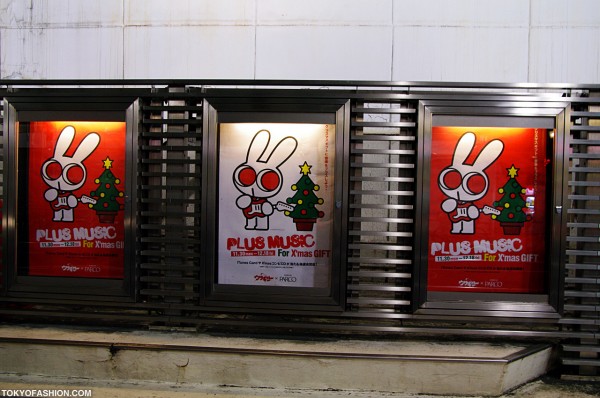 Signs outside of Parco for some sort of Plus Music Christmas campaign – complete with cute bunnies.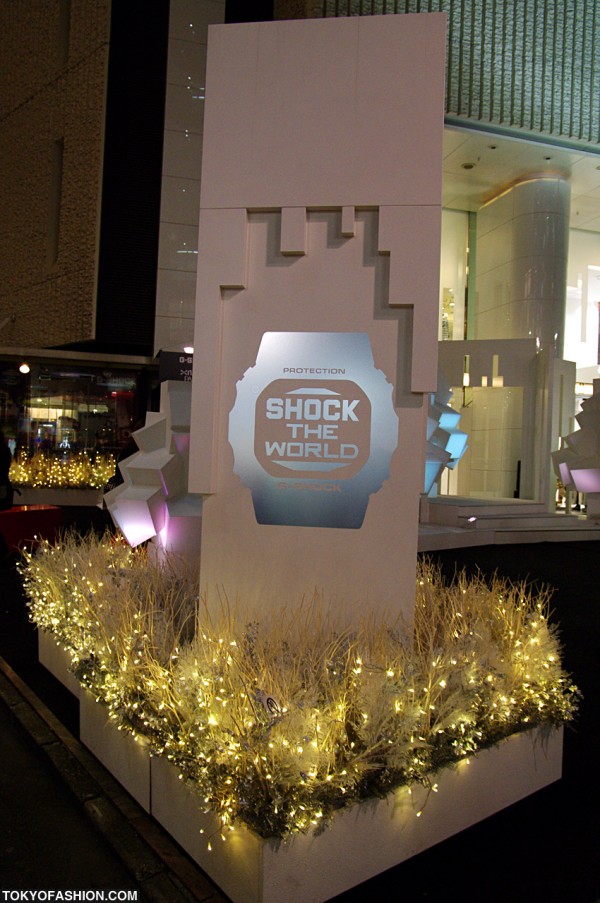 A "Shock the World" sign related to some kind of Casio G-Shock promotion outside of Parco. This is related to the Masaru Ozaki Christmas Trees installation that we covered previously.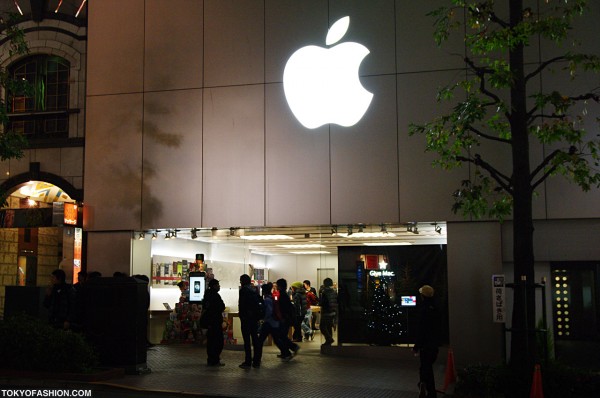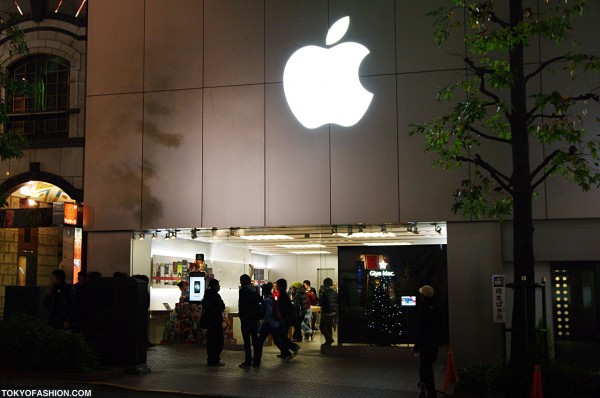 Walking down the hill from Parco Part 1, standing in front of Opening Ceremony, we can look directly across the street and see the Shibuya Apple Store with their "Give Mac" message in one window and a Christmas Tree covered in iPhone apps in the other.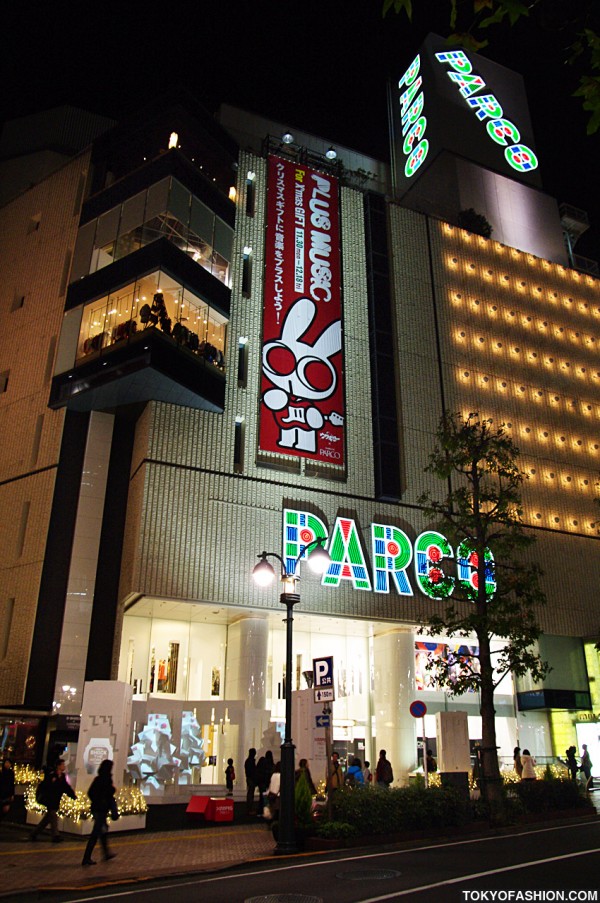 Having crossed the street, we take a photo back at the Parco digital Christmas trees, and another giant billboard for that cute "Plus Music" rabbit.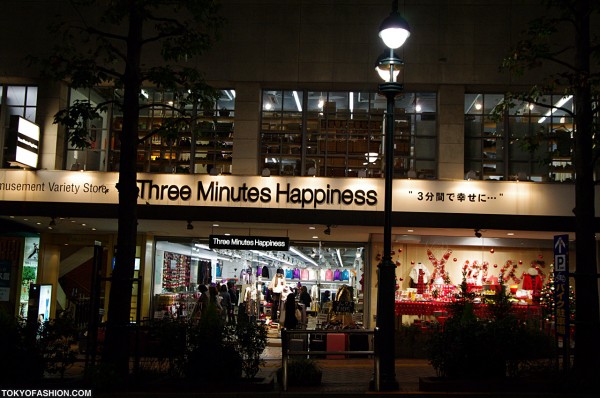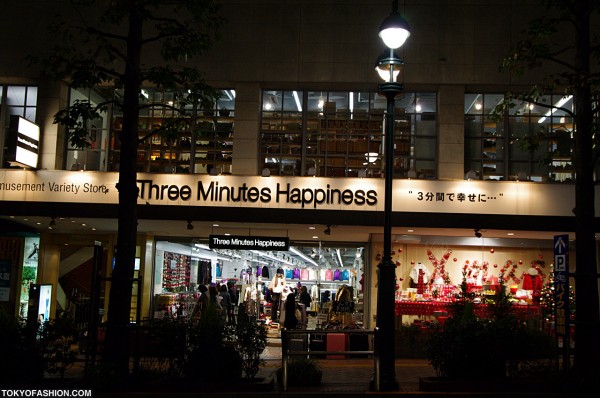 Walking back up the hill and turning onto Koen Dori, we can see that the awesomely-named Three Minute Happiness store has a Christmas display in their front window.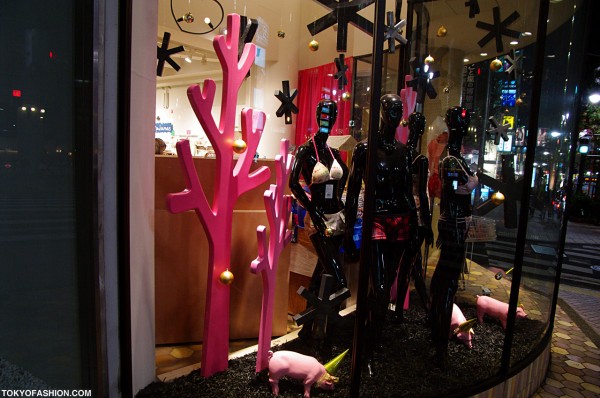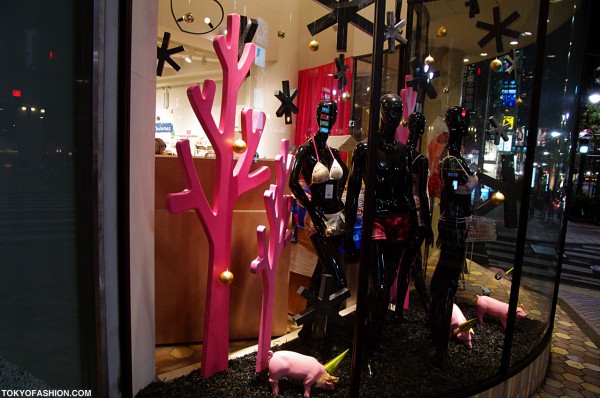 Further up Shibuya Koen Dori in the direction of Yoyogi Park, we stumble upon a cute holiday window display at the Bourg Marche lingerie shop.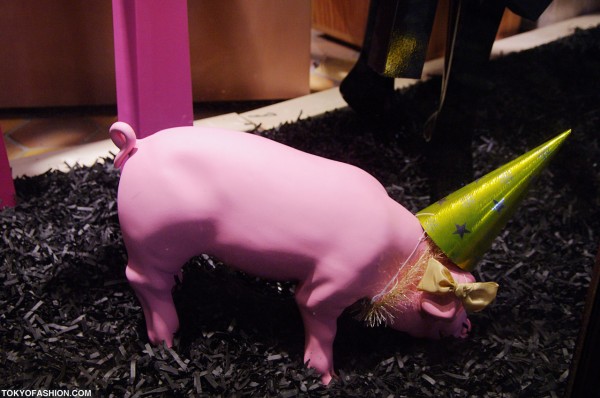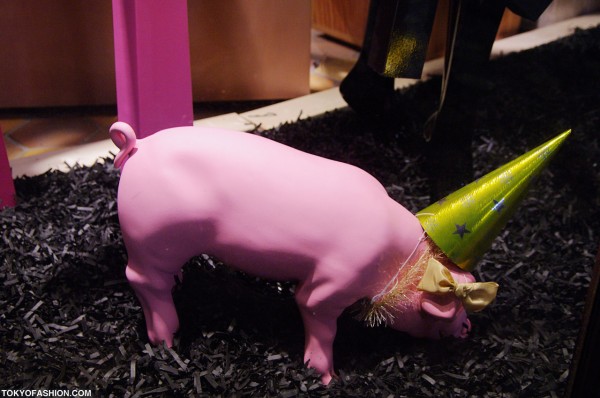 Here's a close-up shot of one of the pigs-in-party-hats at Bourg Marche Shibuya.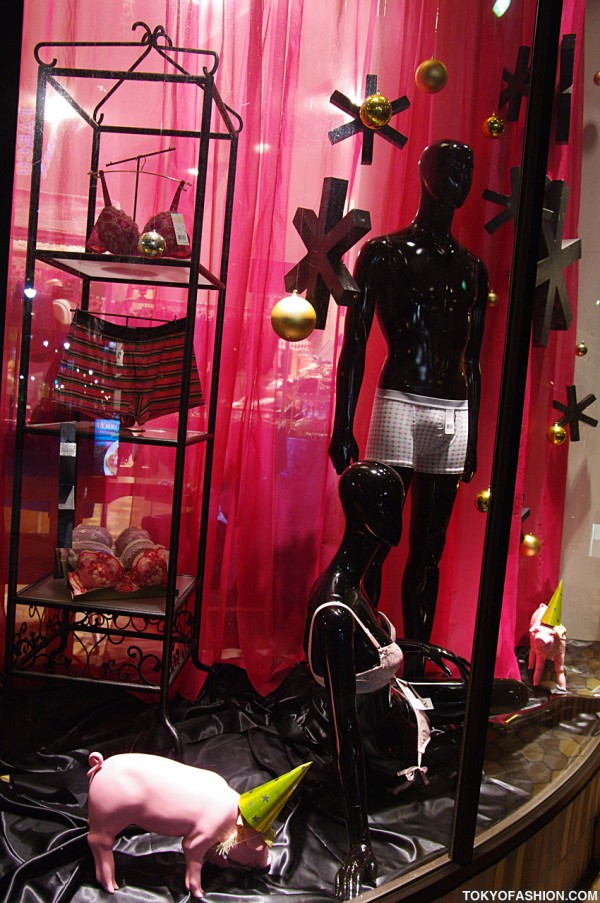 Underwear isn't just for girls. The guys get their own Bourg Marche window, complete with another hatted pig!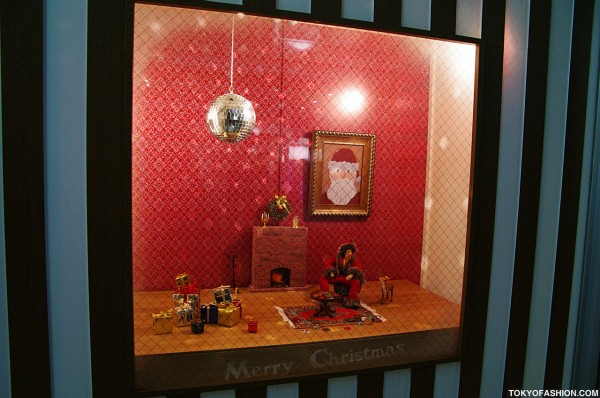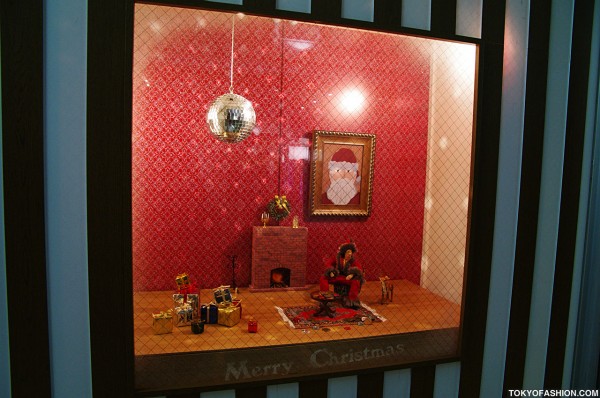 Veerying off into the back streets between Koen Dori and Fire Dori, we take a closer look at the strange Rag Tag holiday window. It seems to feature a guy in a recliner with a Santa painting on the wall, a small deer next to his chair, lots of presents, and a disco ball. Okay.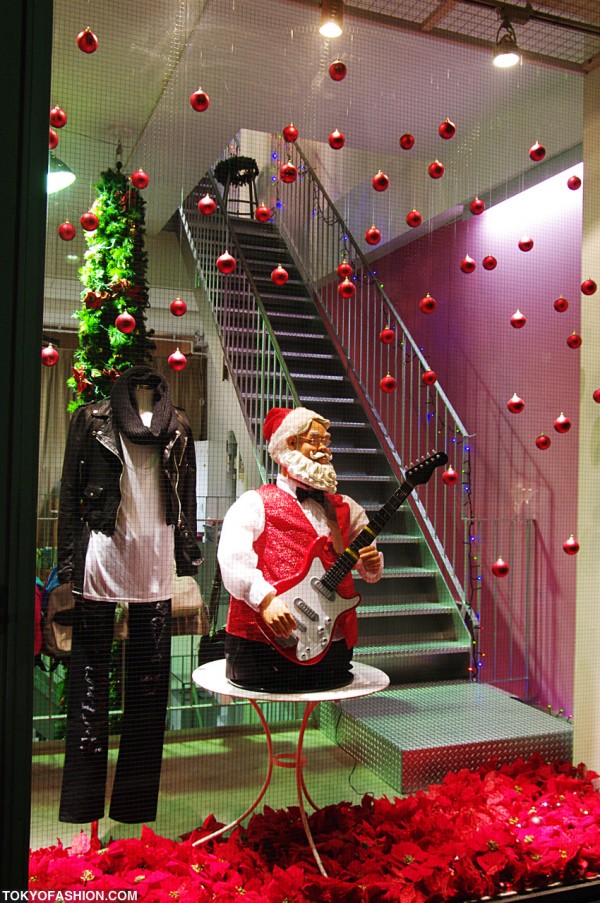 Continuing our wander around the streets just off Koen Dori, we find perhaps the most excellent window of the evening. It's Santa with a guitar at the clothing store Midwest. Well, actually it's only Santa's top half sitting on a table, playing guitar. Not sure what happened to his legs.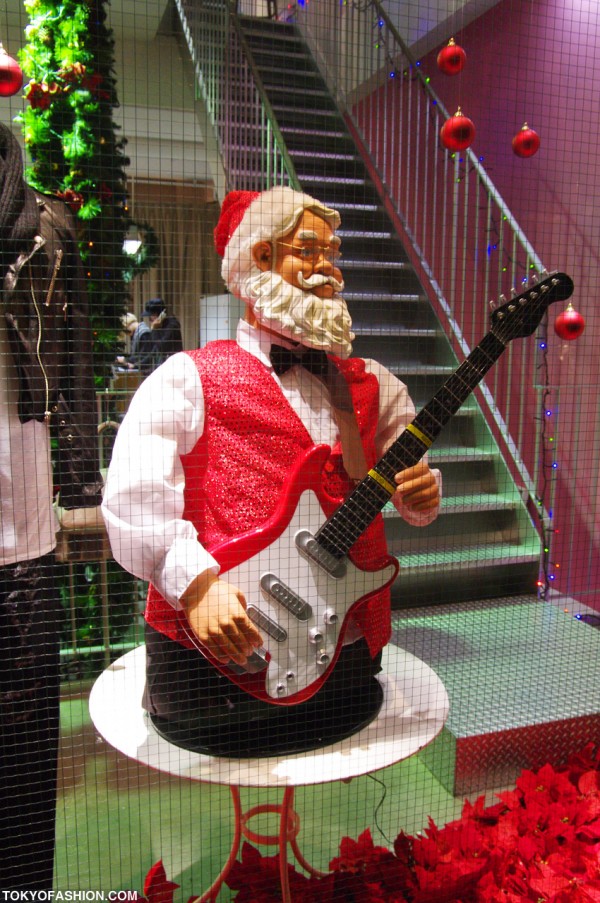 Here's a close-up of the half-a-Santa with guitar.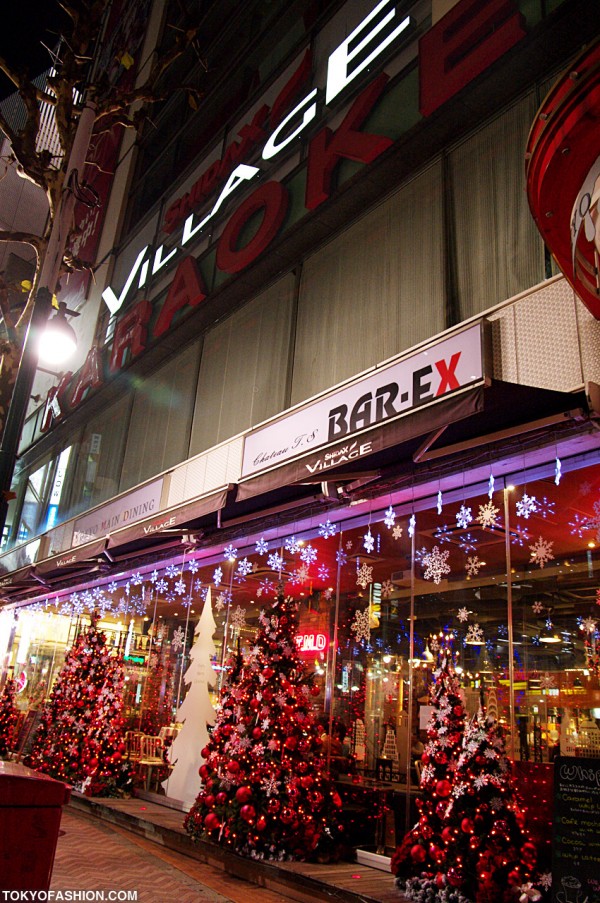 We're now at the bottom of the hill, on Fire Dori, heading back toward Shibuya Stationi. The giant Shidax Village Karaoke building is decorated with lights and lots of Christmas trees out front.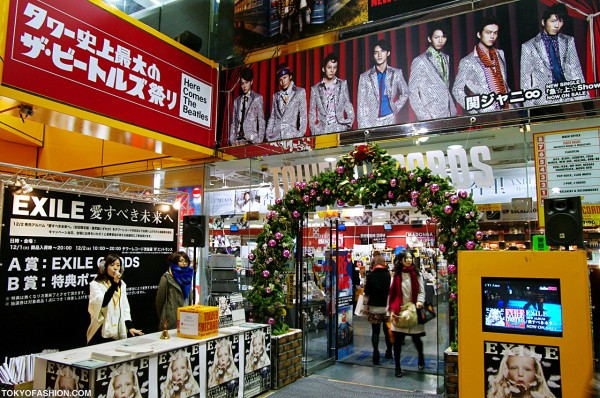 It wouldn't be Shibuya without Tower Records Shibuya. Not too decorated for the holidays, but they've put a big wreath over each of the doors. Lots of Exile promotion going on tonight.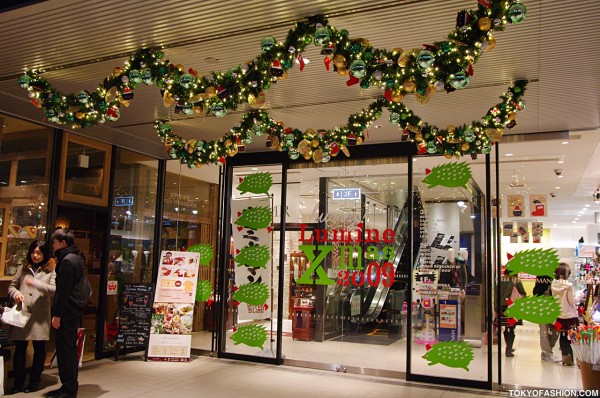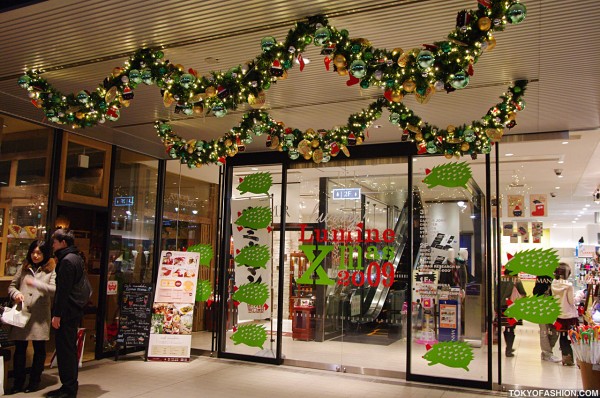 Cute green hedgehogs appear to be the theme of the Christmas 2009 promotion at the new Lumine Men mall, just past Tower.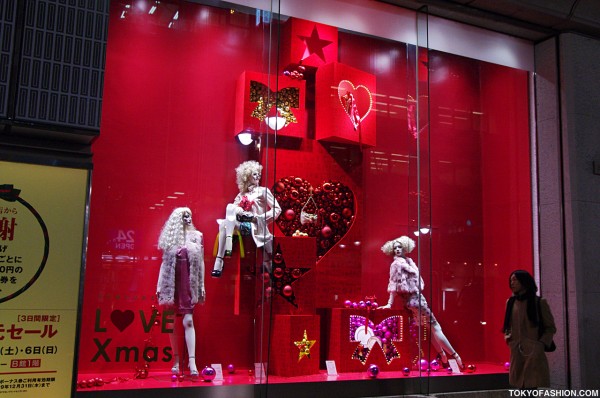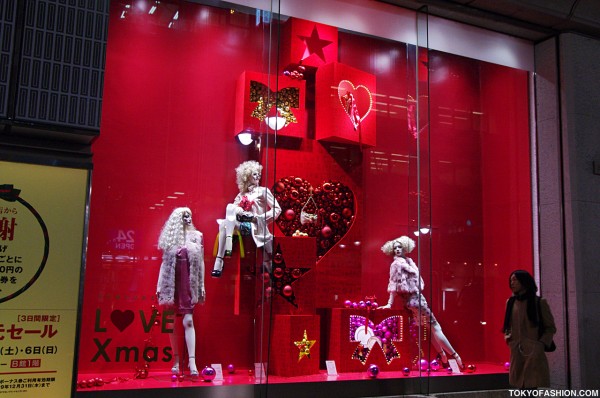 A very red "Love Xmas" window at one of the Tokyu department stores.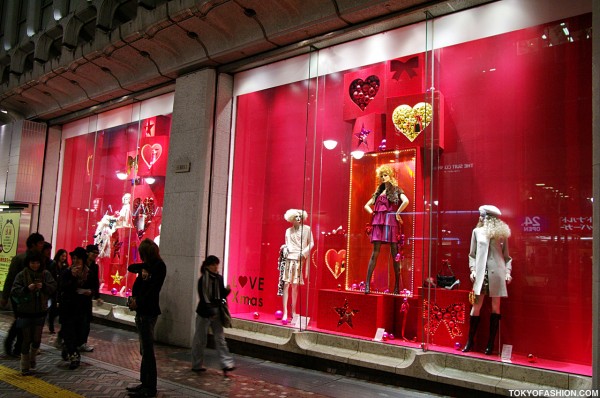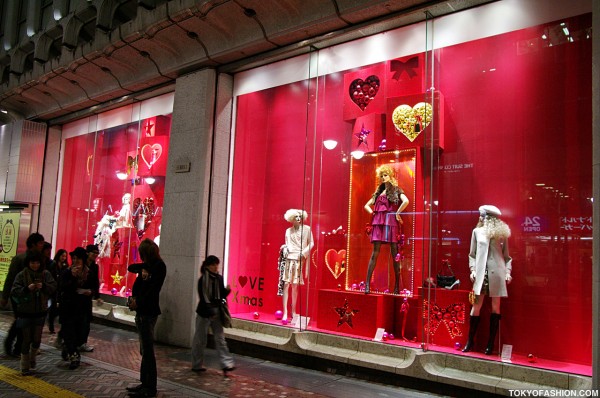 A scout for some Shibuya business trying to get the attention of passers-by in front of holiday window displays.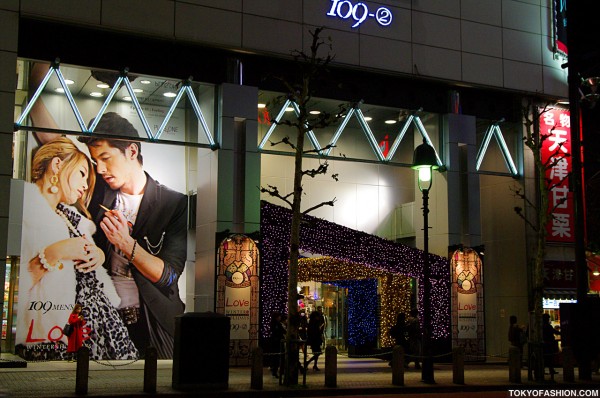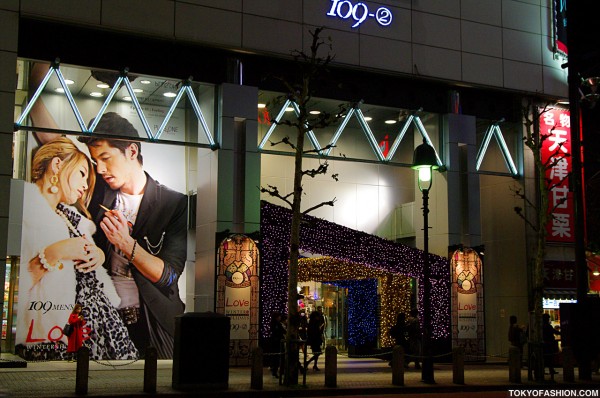 The giant Christmas campaign billboard – and lots of Christmas lights – at Shibuya 109-2, the men's version of the original Shibuya 109.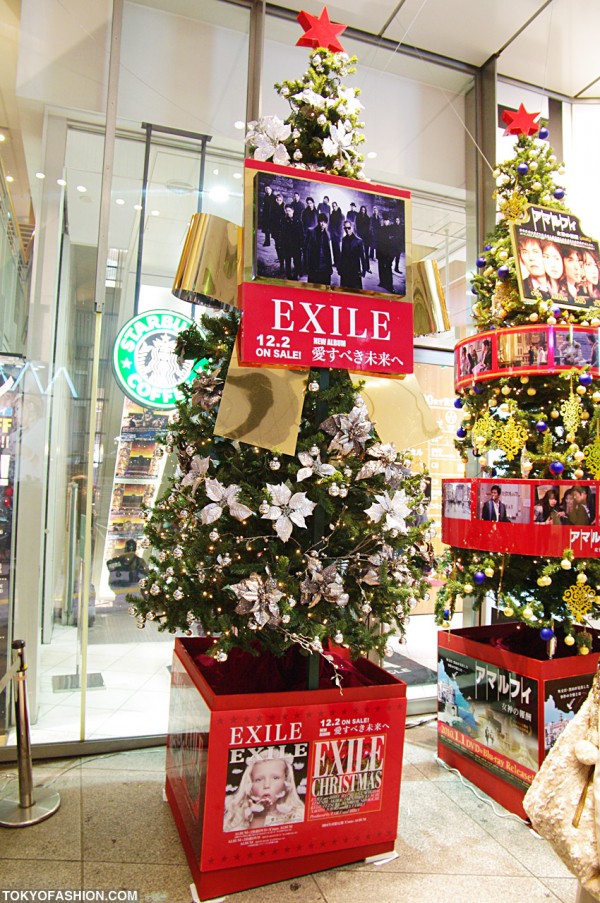 Now we've made it back to Shibuya crossing. Tsutaya has advertising Christmas trees out front, including this Exile tree.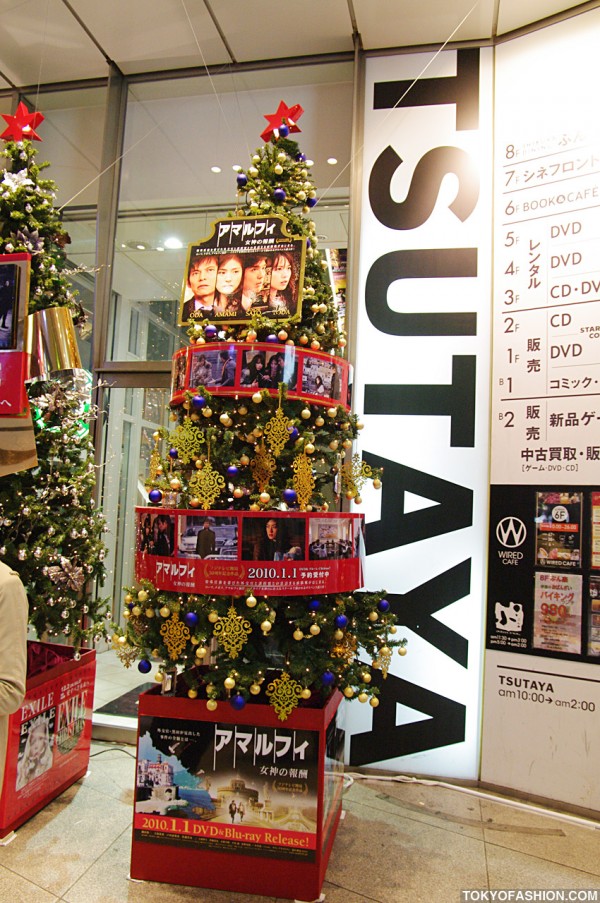 Another promotional Christmas tree. This time, the tree is advertising the Japanese movie "Amalfi", which has a Christmas theme. In the movie, a Japanese girl gets kidnapped around Christmas time. Cheery stuff!
Our walk now takes us in a different direction. We head for the back of Shibuya Station, take a left at Meiji Dori, and start walking toward Harajuku. Don't worry, we're still in Shibuya – but the line between Harajuku and Shibuya is a bit blurry, so must be careful.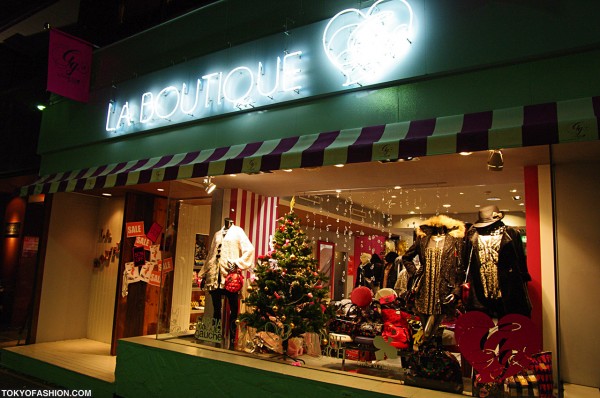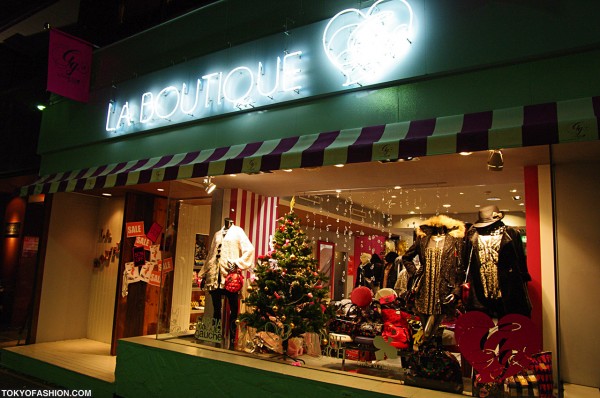 The first picture we take on Meiji Dori is a view of the holiday window display of the La Boutique handbag and accessories store owned by the Japanese brand Crystal Ball (previous Garcia Marquez Gauche).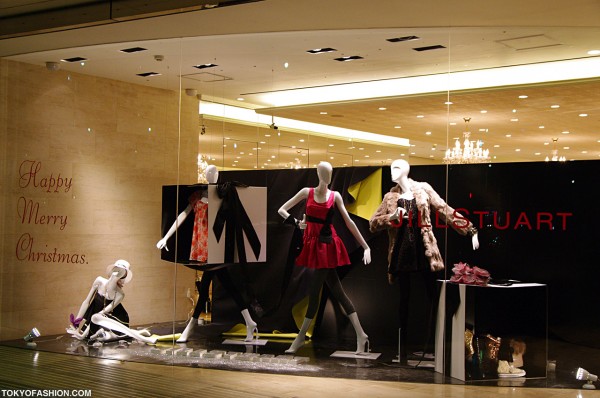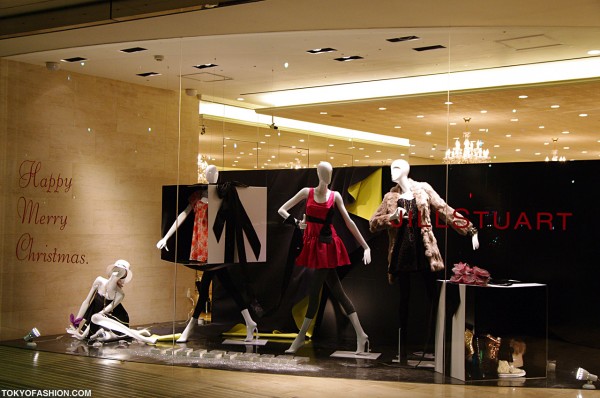 A cute window display at the Jill Stuart Shibuya store – "Happy Merry Christmas!"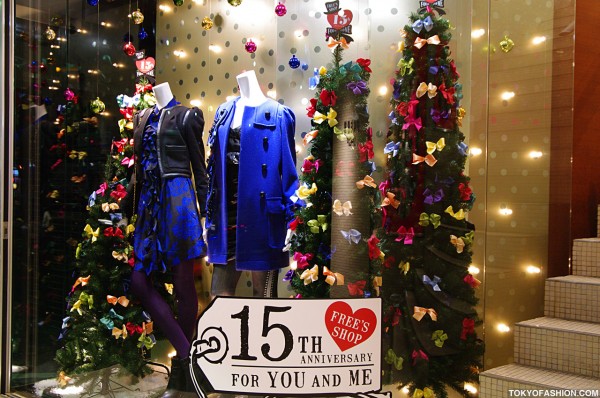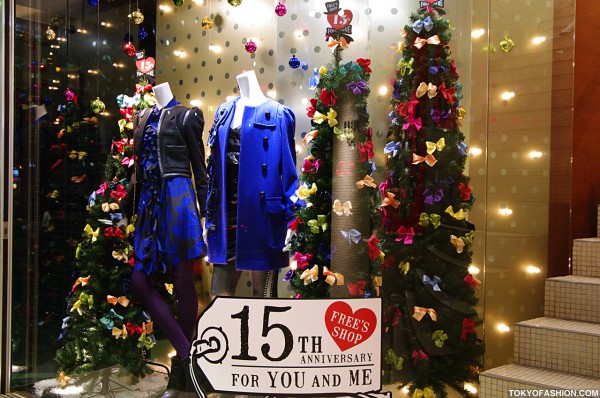 Free's Shop Shibuya is celebrating their 15th anniversary – and celebrating the holidays with well-decorated Christmas trees in their front window.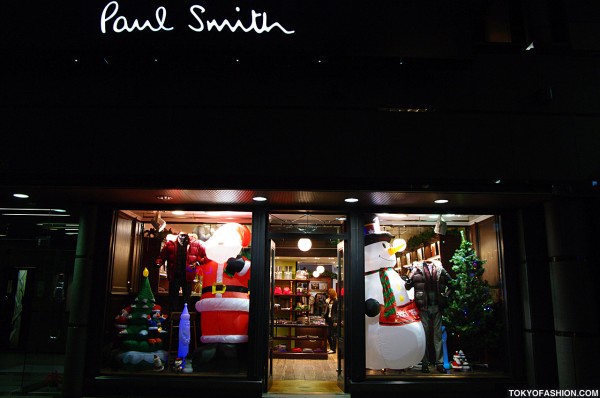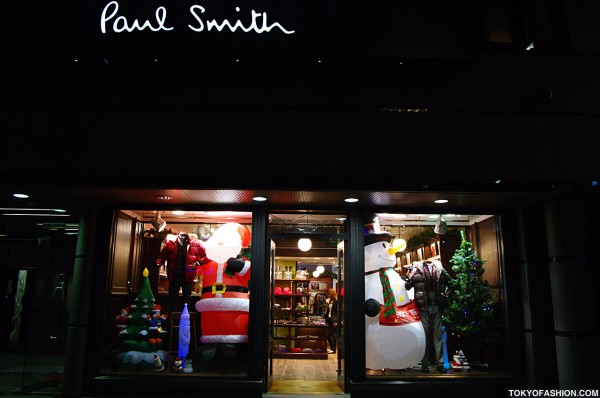 Further down Meiji Dori – and getting dangerously close to Harajuku – we snap a quick photo of an inflatable snowman and matching Santa Claus in the Paul Smith boutique window.
If we go any further than this down Meiji, we'll be entering Harajuku – and this photo walk is Shibuya only. So, let's cross the road and try to catch any other shops we missed on the other side.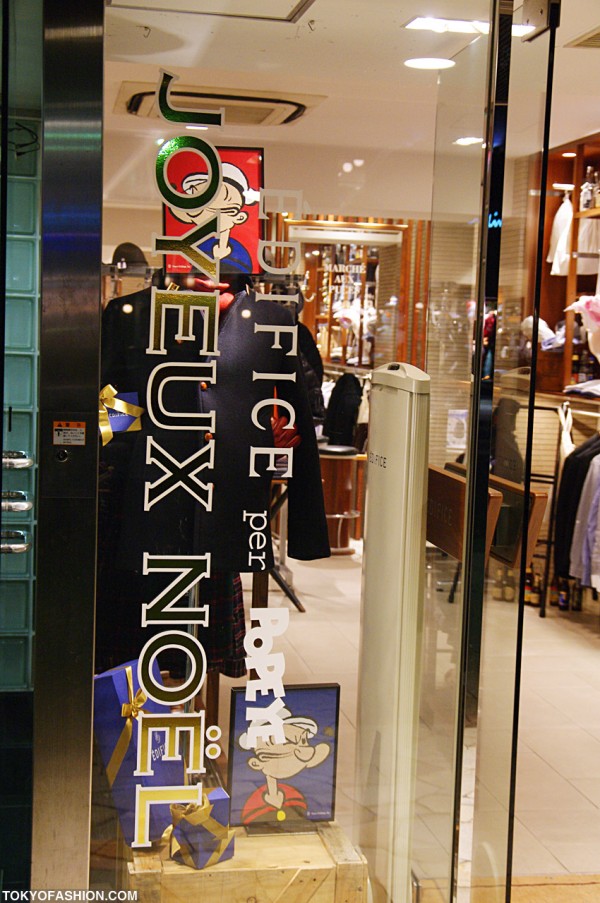 The Edifice shop on the other side of Meiji Dori from Paul Smith has a Christmas campaign featuring Popeye. Not sure when Popeye learned French, but this year in Tokyo he's wishing us a "Joyeux Noel" instead of a "Merry Christmas".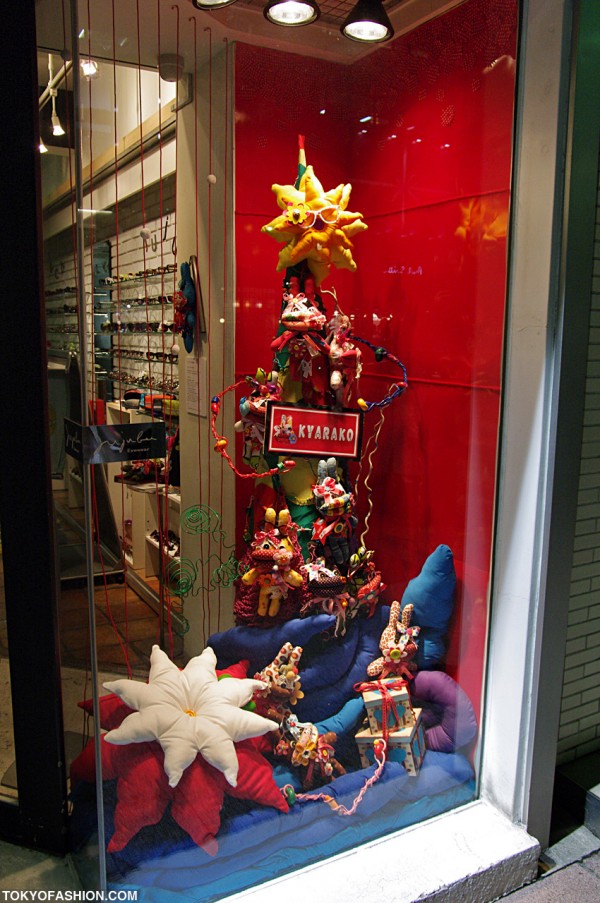 A cuddleable Christmas tree made out of cute Japanese Kyarako characters at the JuJuBee glasses shop.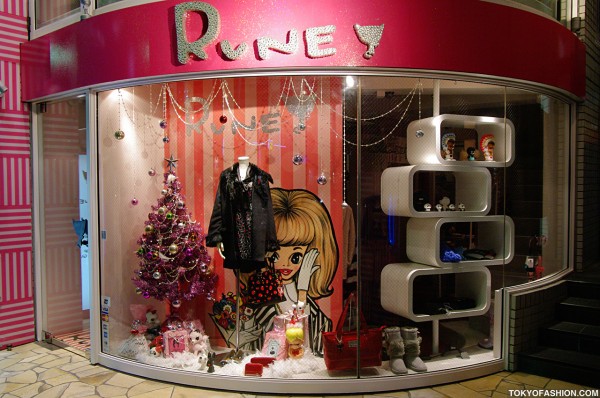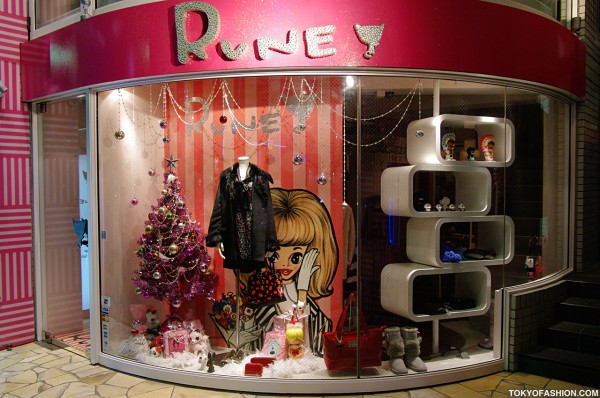 The Rune Christmas tree is what color? What else – pink! Cute, but…just as we are taking this photo, the lights go out. Uh-oh! That means that it's around 8pm and the shops are closing. Just about time to wrap this walk up and head home!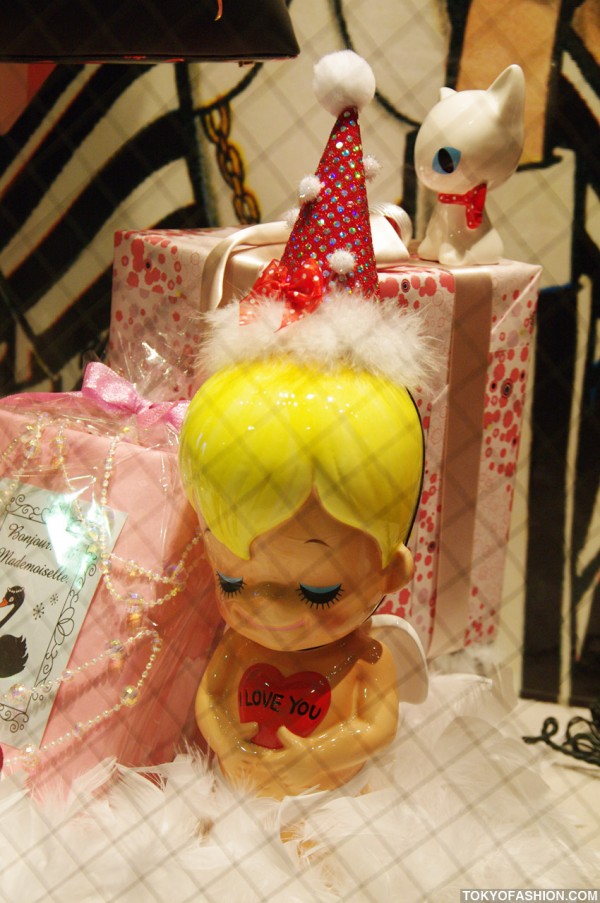 Before we quit, how about a close-up of a little Rune holiday angel figure with an "I Love You" heart on it as our final photo for the night?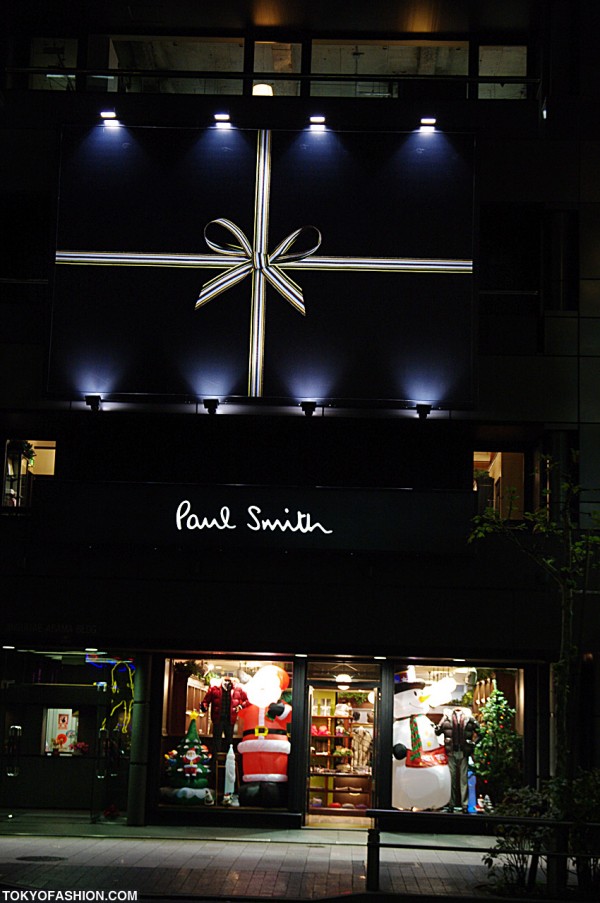 Walking back toward Harajuku, we can't help but sneak in one last picture. From the other side of the street, we didn't notice that Paul Smith's Shibuya shop had a huge bow on the side. It's too cool to pass up, so here is the actual last photo of the night.
That's it – the end of the walk, the end of the night, the end of our Shibuya Christmas 2009 pictures. We hope you've enjoyed the tour. Sorry if some of the pictures weren't as great as they could have been, but we promise to try harder on our next walk. What will the next Tokyo Christmas 2009 photo walk be? We're not sure yet, but maybe Harajuku. Check back soon to find out! Also, please leave a comment to let us know what you think and what you'd like to see more (or less) of in our Tokyo holiday pictures.
Once again, click any of the photos above to enlarge them – the bigger versions look much better!