Harajuku Christmas Pictures 2010 – Takeshita Dori, LaForet Harajuku & Meiji Dori
It's almost Christmas, which means it's time for another Tokyo Holiday Photo Walk! Harajuku is a lot of things to a lot of people. To us, it's home. TokyoFashion.com's headquarters are located just a few minutes from Harajuku Station. When we set out to do a Christmas Photo Walk around our own neighborhood, it's not easy. There are just too many things that we'd like to show you. So, we've decided to split Harajuku into two different holiday posts. This first Harajuku Christmas walk will cover Takeshita Dori and Meiji Dori – two of the most famous shopping streets in Tokyo.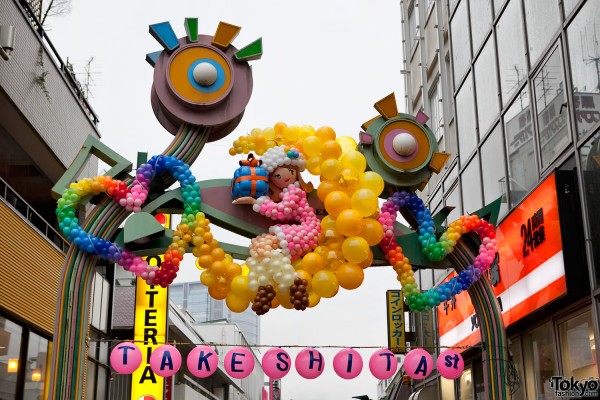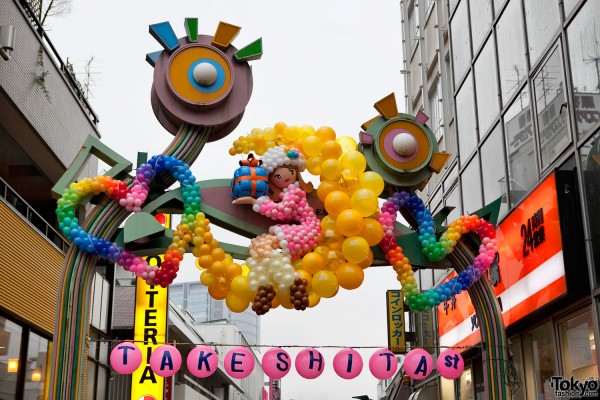 Like Tokyo's fashion trends themselves, Harajuku is in a state of constant change. Some of the recent changes have included the invasion of international fast fashion mega-stores (H&M, Forever 21, Zara, Gap, etc.) and the weak economy overwhelming some of the beloved independent brands and shops (Banana Fish, Sexy Dynamite, and many select shops). While some of that is sad indeed, Harajuku continues to adapt and thrive.
On any given weekend, Harajuku Station is so packed that you have to wait fifteen minutes behind 25 uniformed junior high school kids just to get through the ticket gate. Takeshita Dori is so crowded on Sundays that it might take an hour – a fun hour at that – to walk a couple hundred meters. The courtyard in front of LaForet is wall-to-wall people, many of them clutching more than one shopping bag. Generation after generation, something about Harajuku's mystique brings young Japanese people here to shop, to see, and be seen. Trends die off and others are born. Harajuku is like no other place on Earth. That's the way we love it.
For the first Harajuku Christmas Photo Walk of 2010, we'll start at the Harajuku Station, work our way down Takeshita Dori, then head down Meiji Dori towards Shibuya. Once we see the invisible line that turns Harajuku into Shibuya, we'll double back on the other side of the street and head for home. It may not sound like a lot, but your legs will be tired by the time we're done – guaranteed! As usual, you can click on any of these photos to see them in high resolution. Okay, let's get started…3..2..1..Harajuku!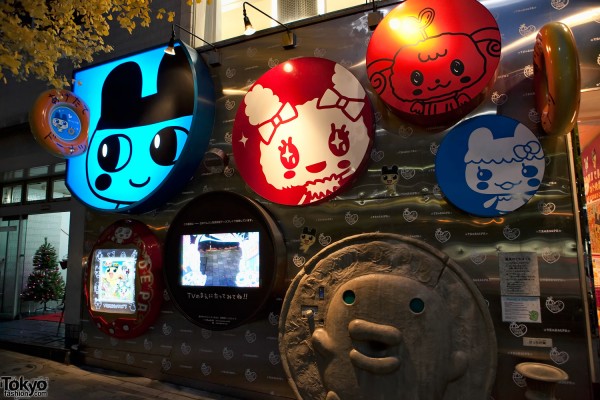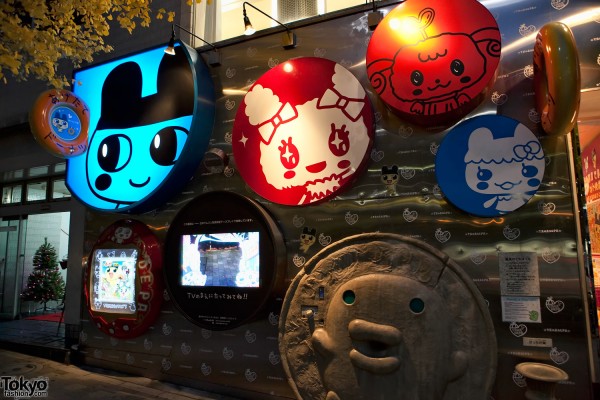 We'll start this photo walk at Harajuku Station, which is directly behind us. We're standing in front of the Tamagotchi Donut shop (Tama Depa) with Takeshita Dori to our right. If you have a few minutes, you can sample their tasty donuts in a variety of flavors. Our personal favorite is cinnamon! Sorry, Kira! (He hates cinnamon!) Right now we're on a mission, so no donuts for us.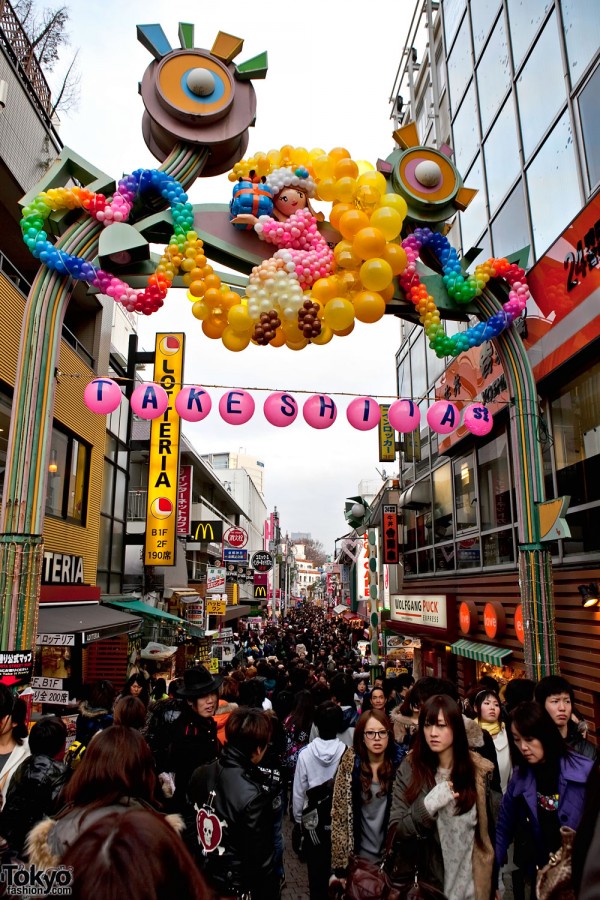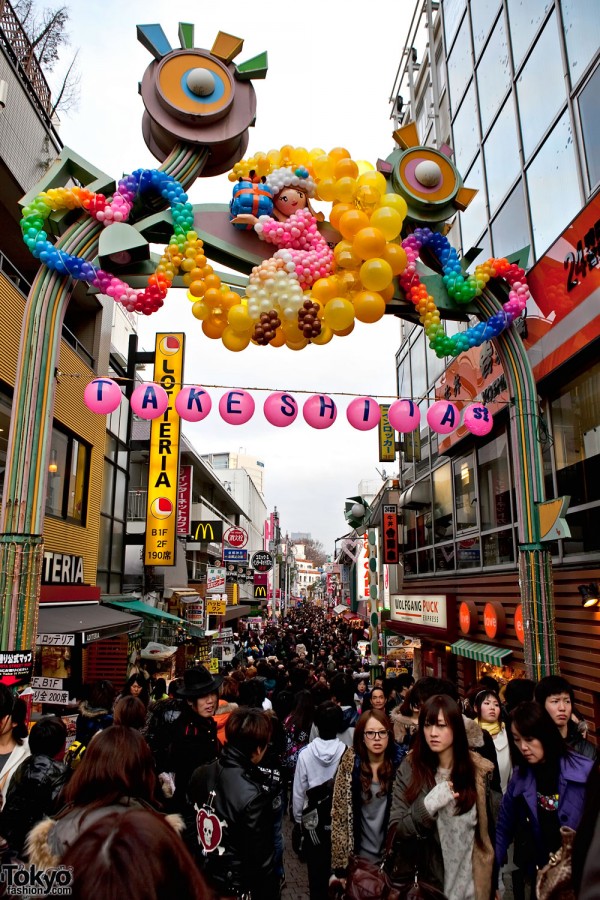 Here's the famous entrance to Takeshita Dori – the street of dreams for Japanese high schoolers and fans of the cute. For the holidays, they've added a bubble-woman bearing a gift between two hearts. As always, Takeshita Dori is insanely crowded. We'll brave the throngs of shoppers and sightseers!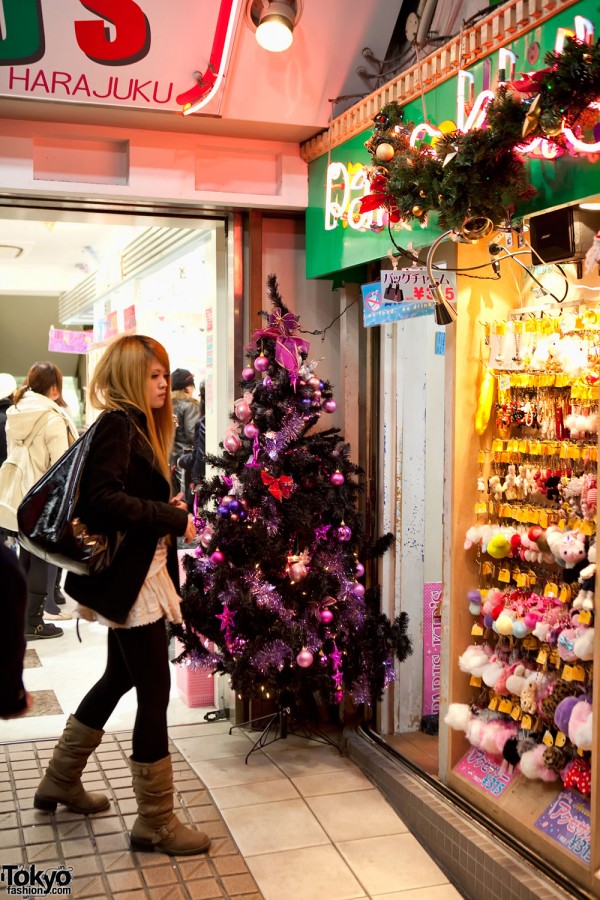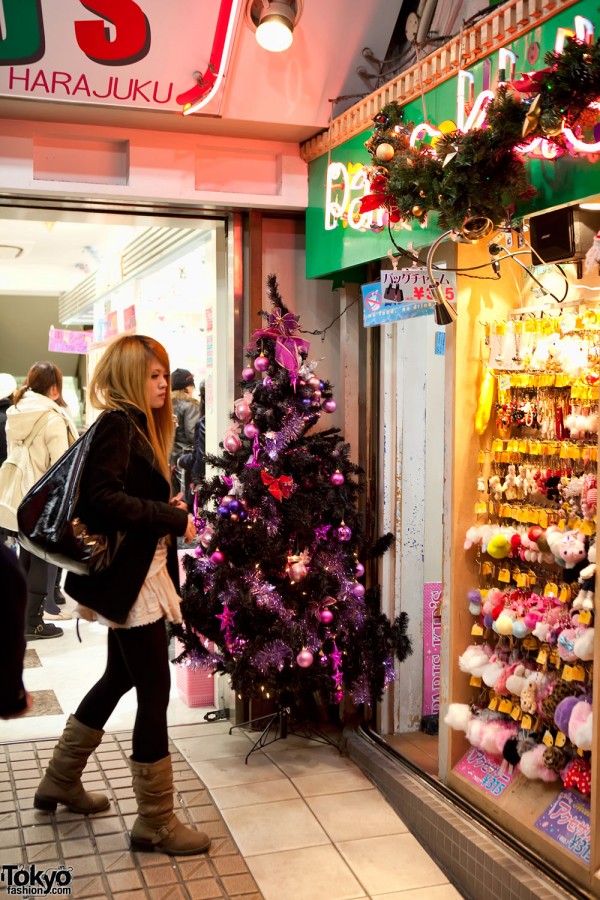 Paris Kids has a very nice tree – and lots of accessories. Takeshita is accessory heaven!

SBY Happy Room, just off of Takeshita, is in full Holiday Mode, and so pink!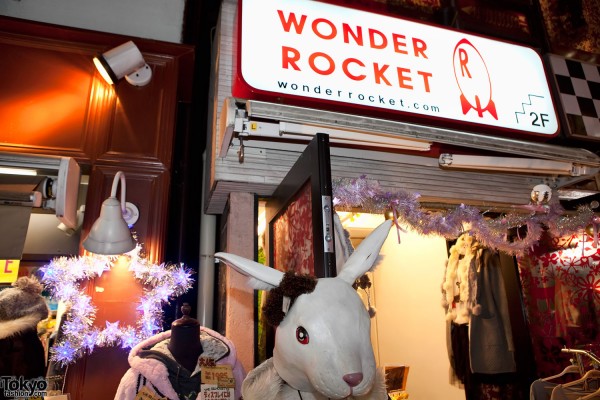 Lately it seems that Wonder Rocket/Momo has taken over Takeshita. Not sure how many shops they have now on Takeshita, but I'd say it must be at least a thousand. Or less!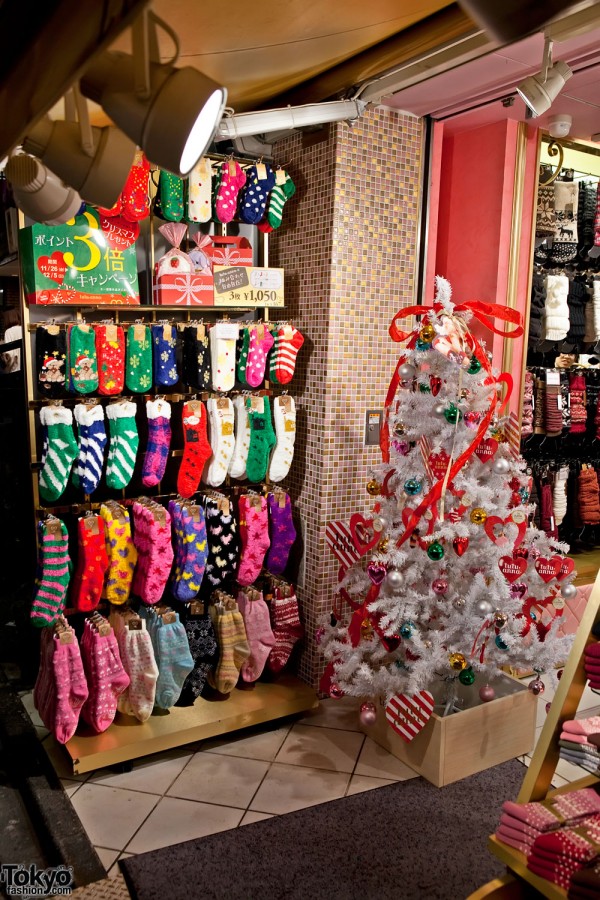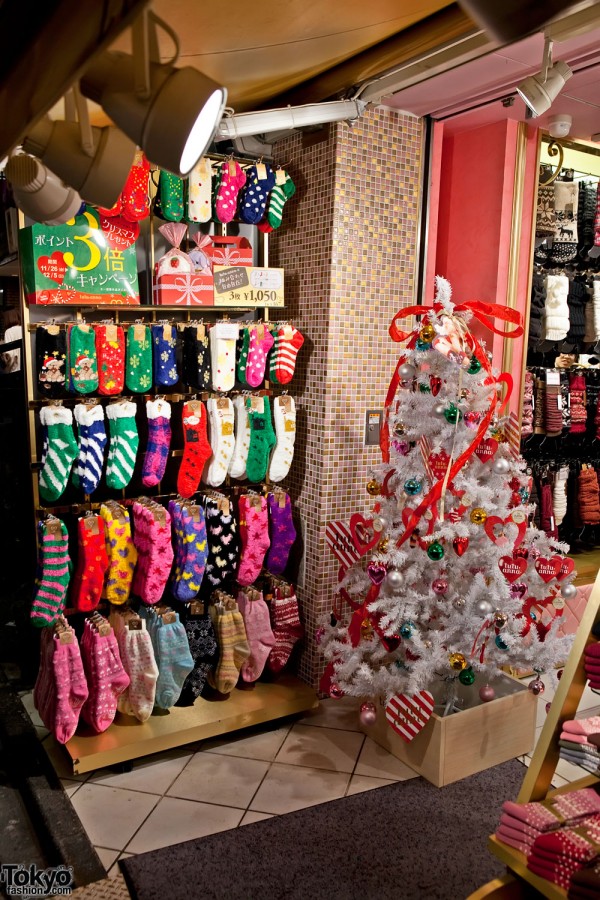 Tutuanna Christmas socks!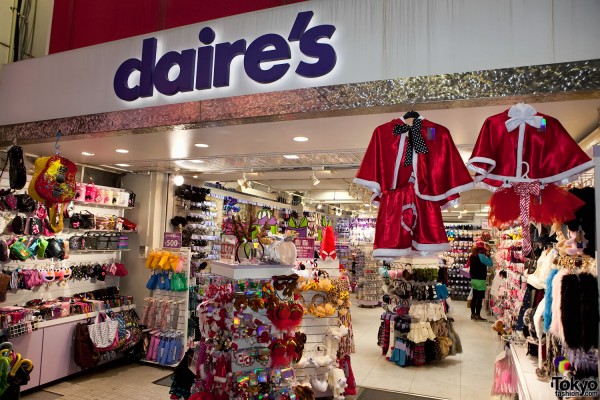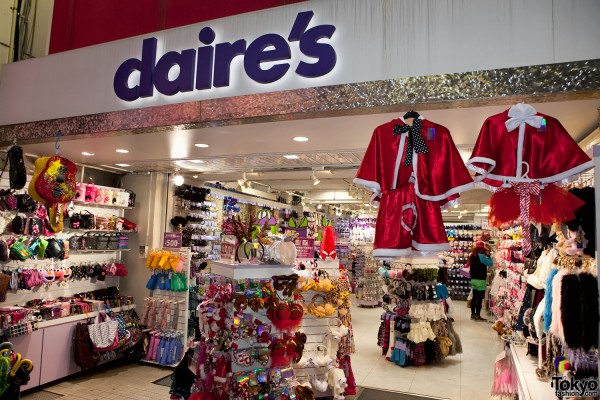 Did I mention the huge number of accessories available on Takeshita? Where there are accessories, there are Claire's. Is that proper English?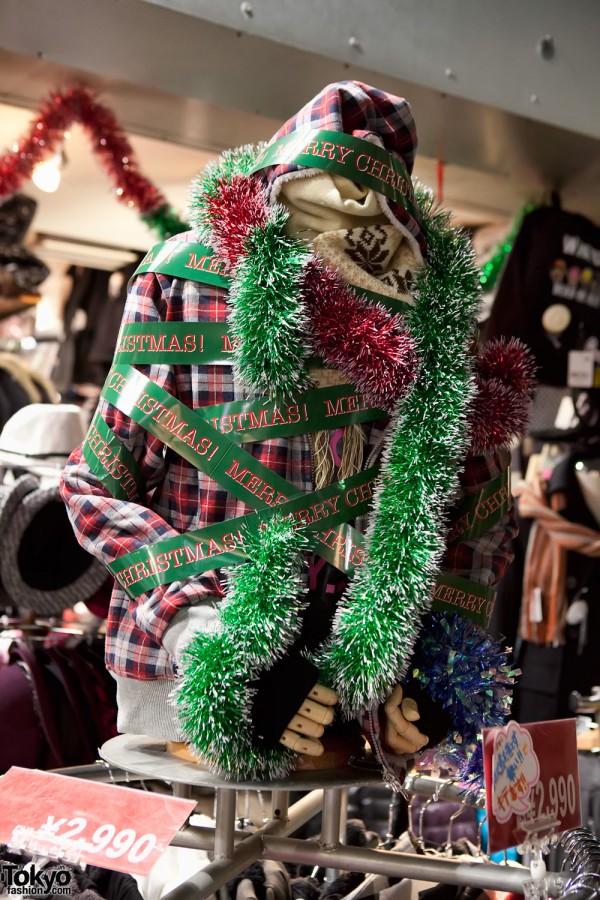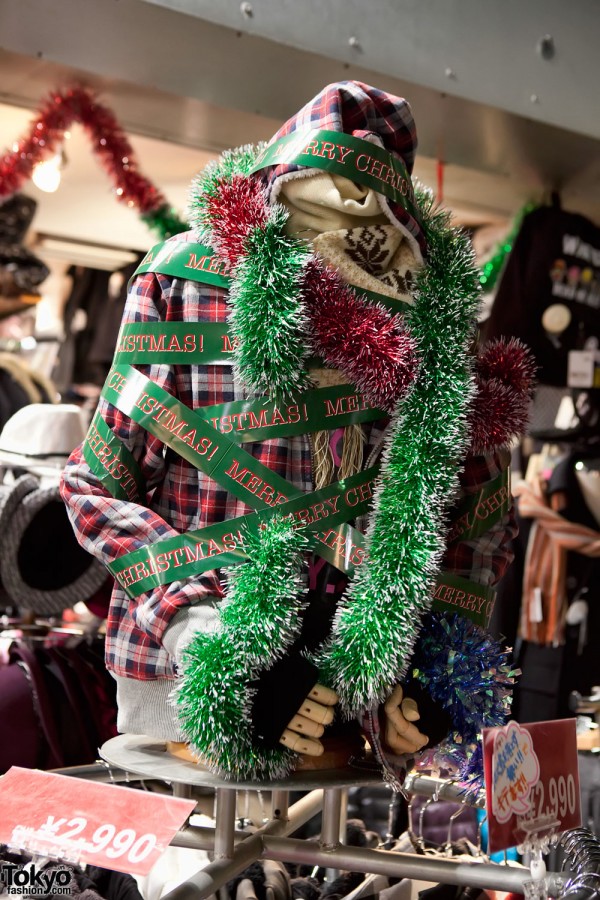 If you need a hooded plaid shirt wrapped in Christmas ribbon, this might be your place.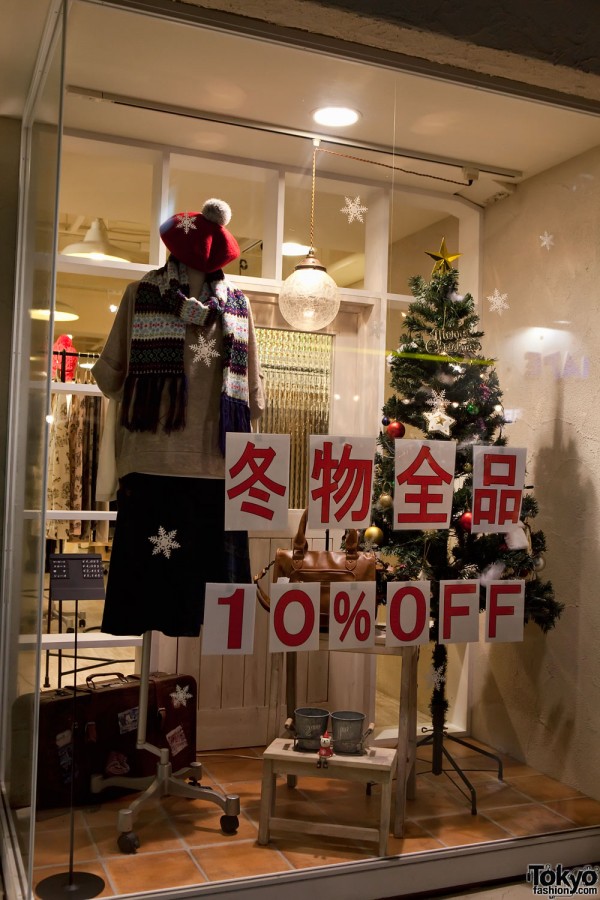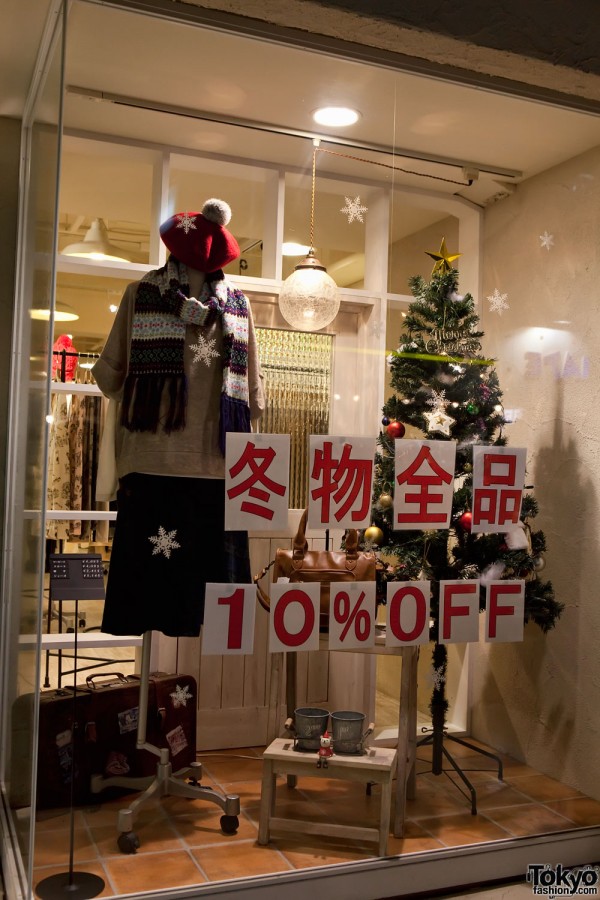 10% off? That's it? You can do better than that, I know you can!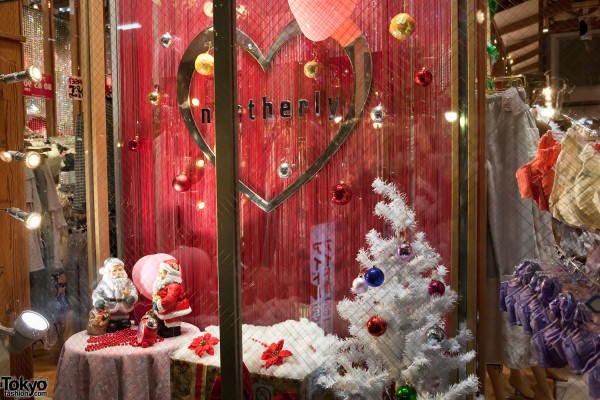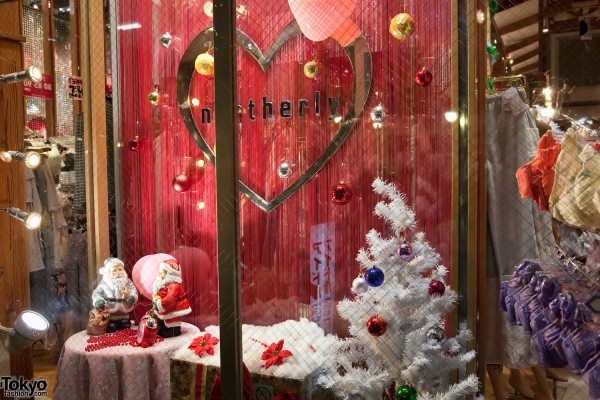 Underwear, Santa Claus, and hearts in the window of Northerly.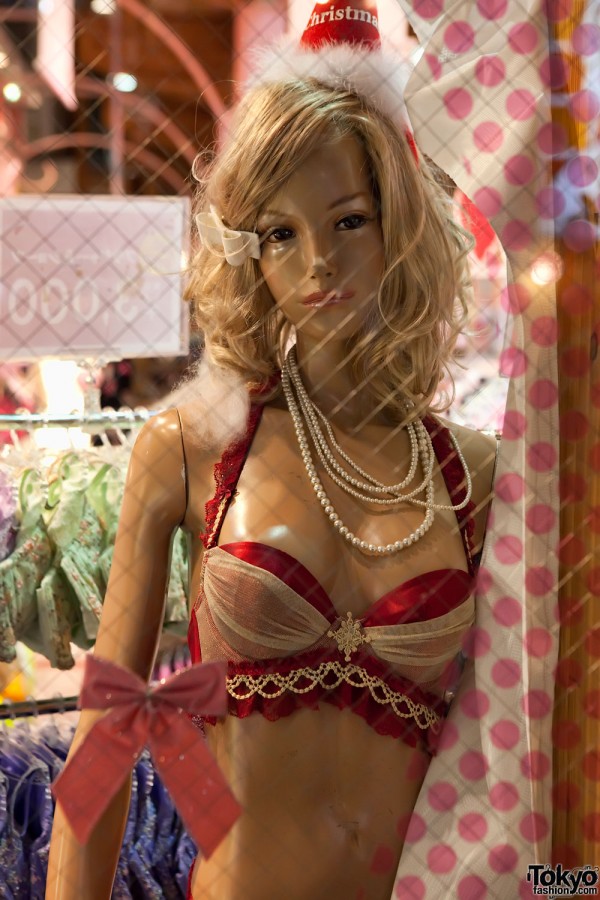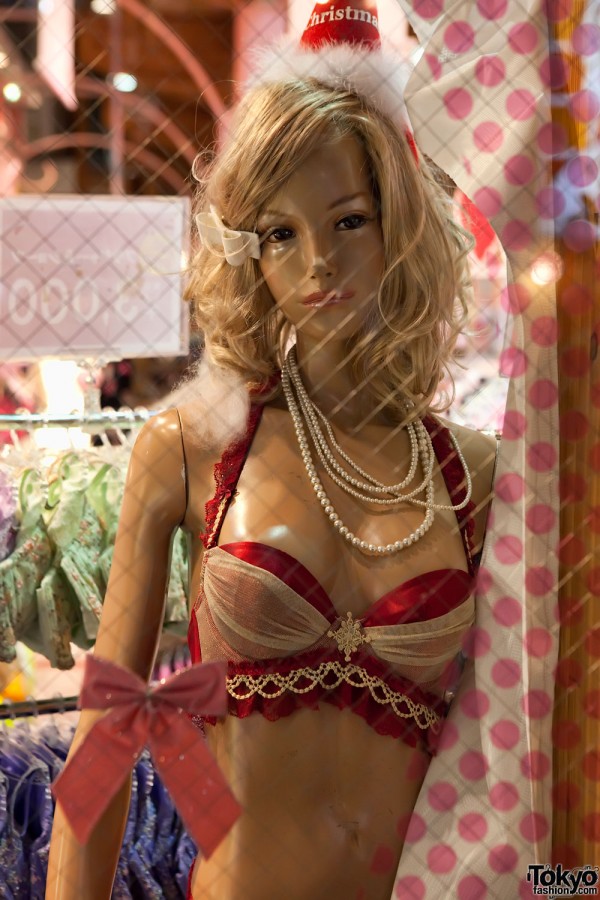 I like this photo – cute, naughty, Christmas-y!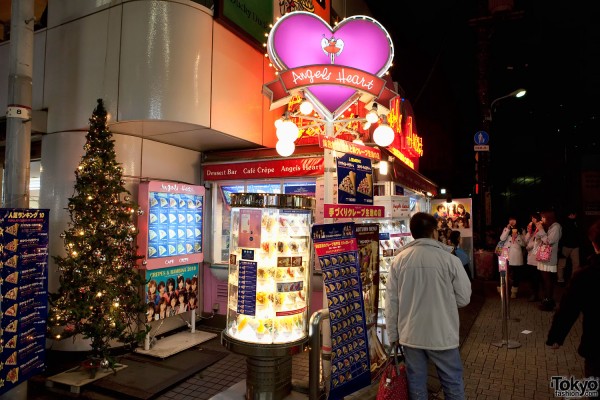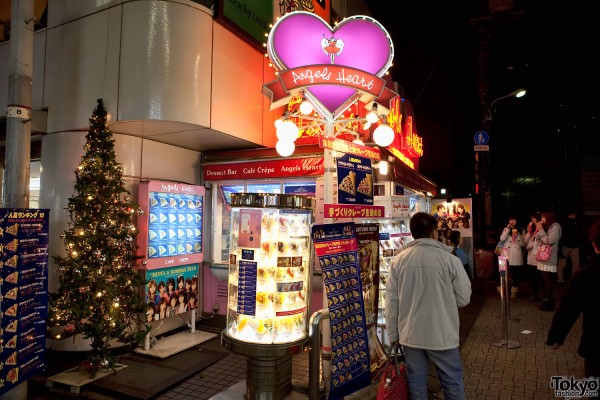 Angels Heart Crepes on Takeshita. There are many. many crepe shops, so we'll stop and eat at each one tonight! Oh, we won't? Okay, well then click on the photo to see three girls in the background eating, even if we can't eat.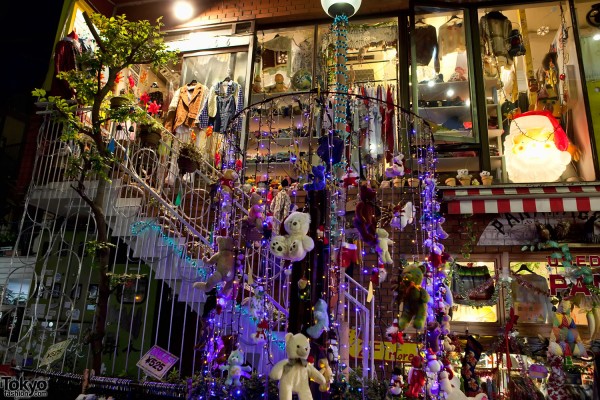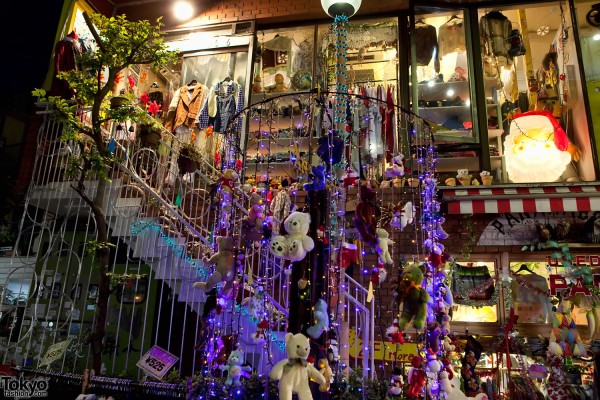 A Harajuku resale/vintage shop that carries clothing and all of the stuffed bears you'll ever need.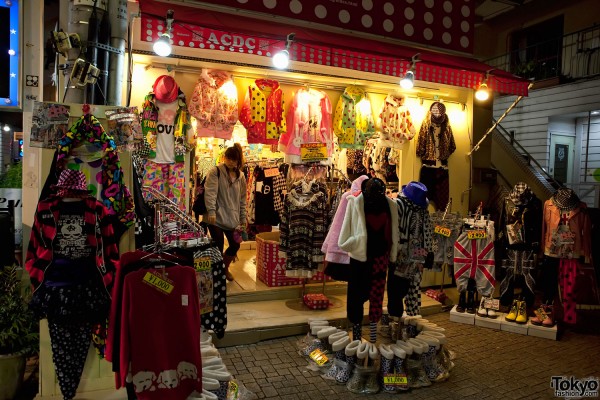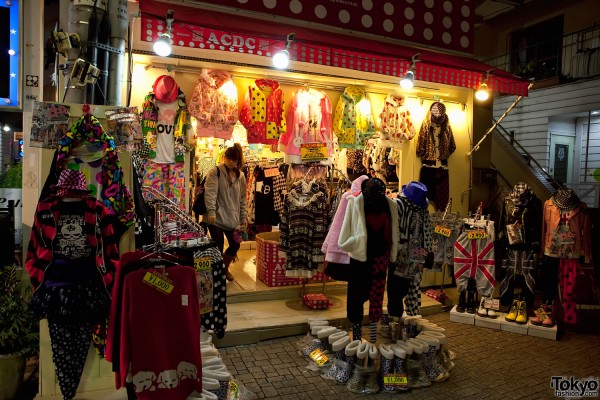 ACDC Harajuku – not really that much Christmas going on here, but the shop is so colorful that I wanted to photograph it.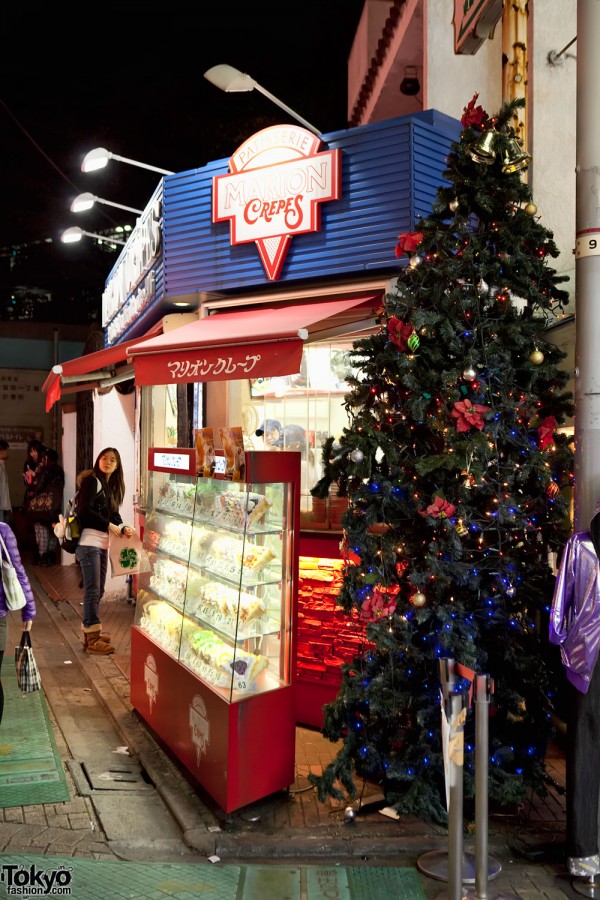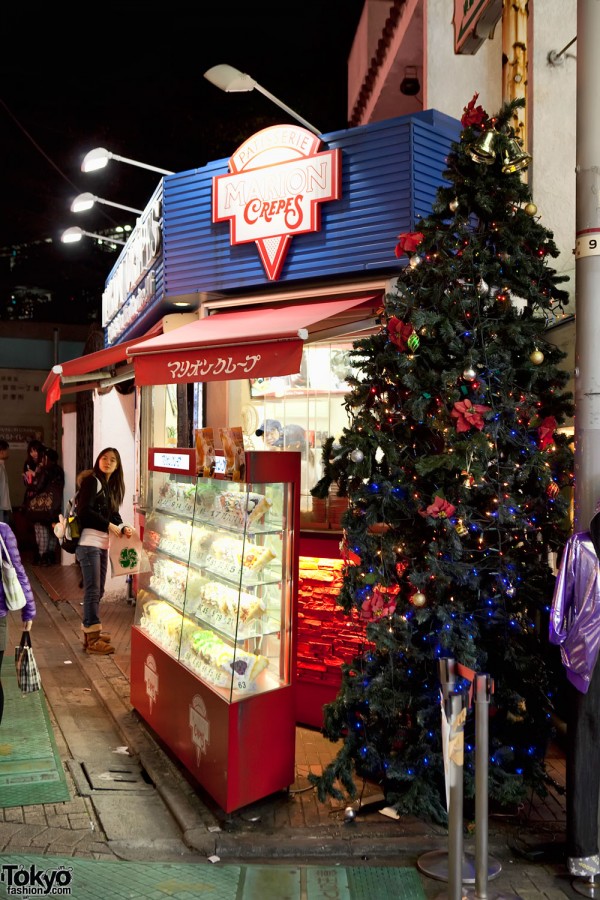 Marion Crepes has a Christmas Tree, too!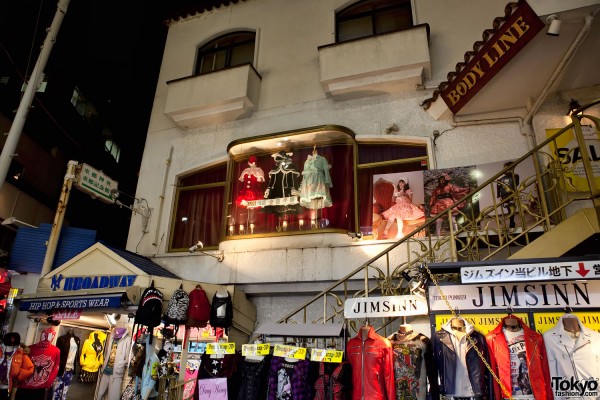 This photo shows you how awesome Takeshita is. On the left is a hip hop clothing store (Broadway), in the middle is a lolita clothing store (Body Line), and on the right is a punk clothing store (Jim Sinn).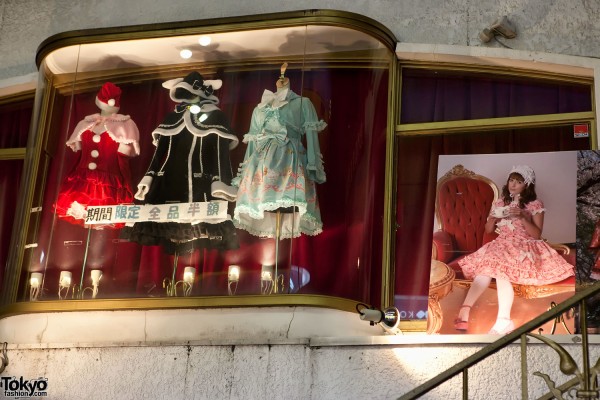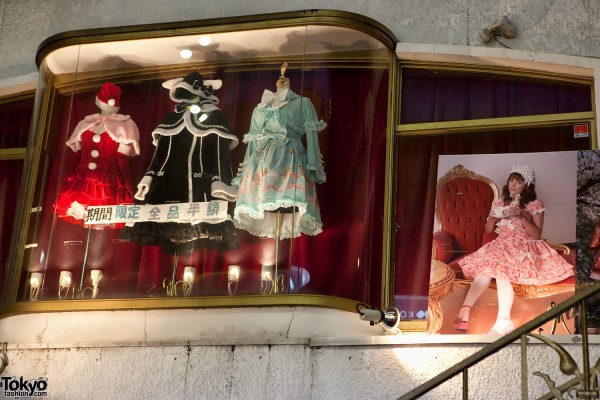 Looking for lolita Christmas fashion? Check Body Line on Takeshita!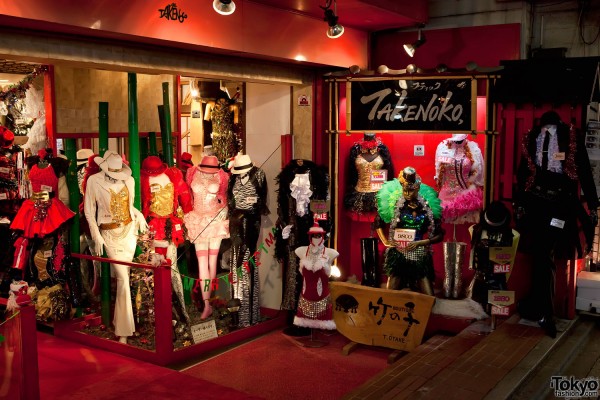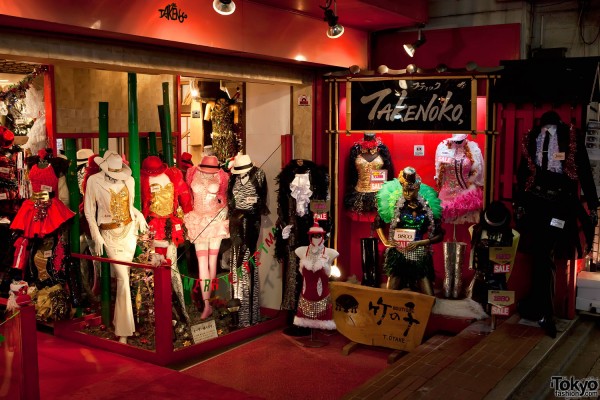 The famous Takenoko shop!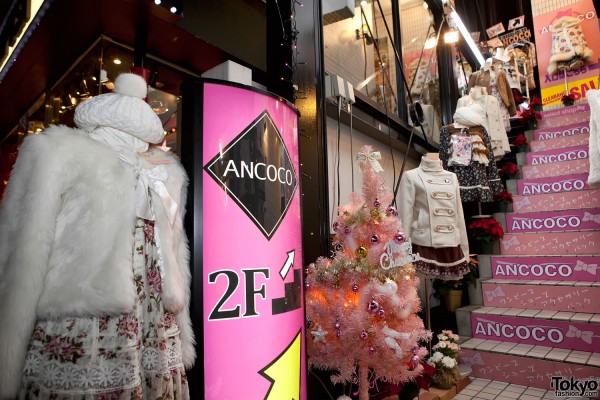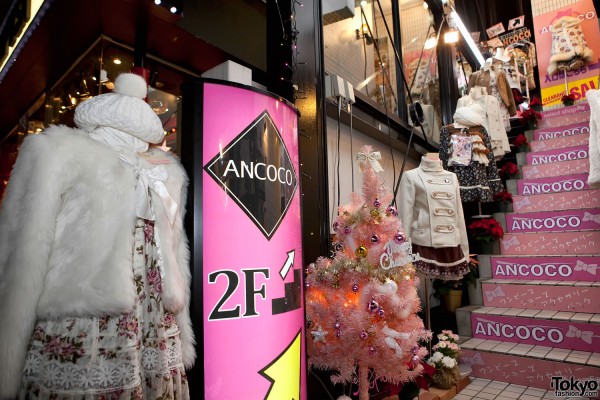 Stairway to (pink) heaven!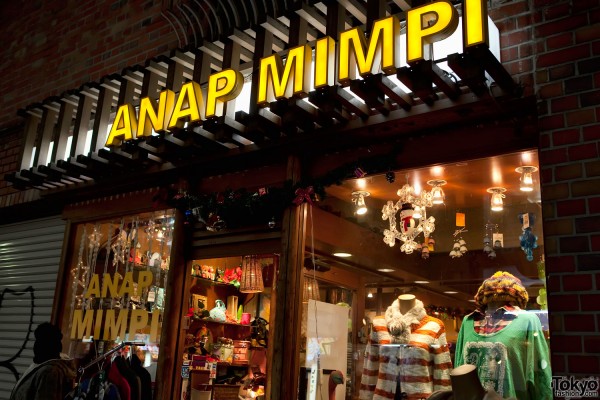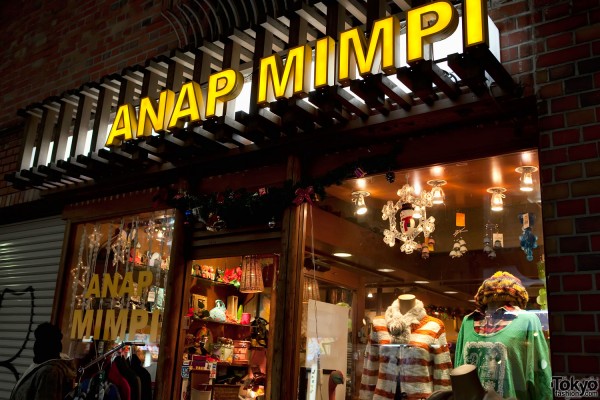 What is a Mimpi? Apparently, it's an ANAP sub-brand. Anyways, ANAP is decorated for Christmas every year!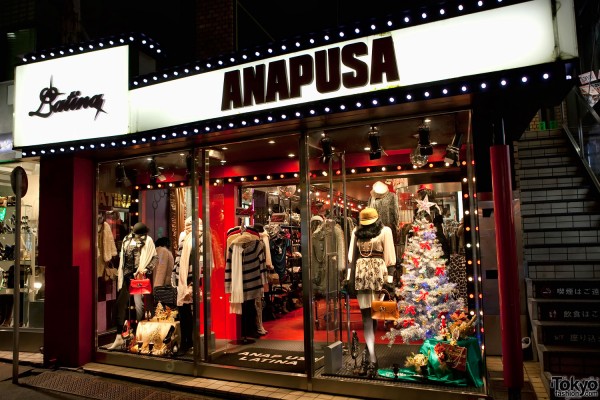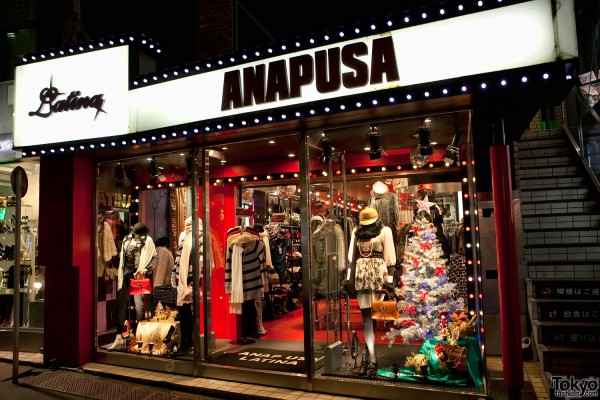 Another ANAP shop – this one with a pretty Christmas Tree in the window.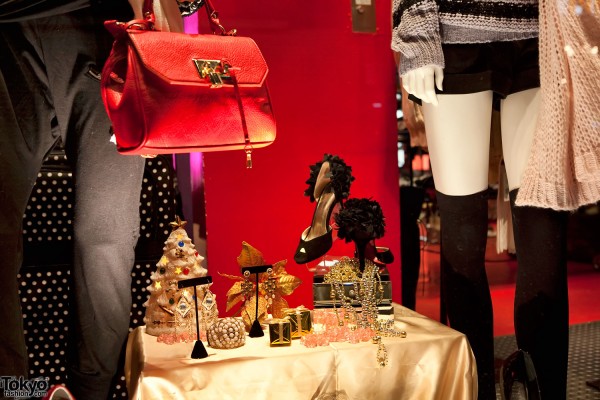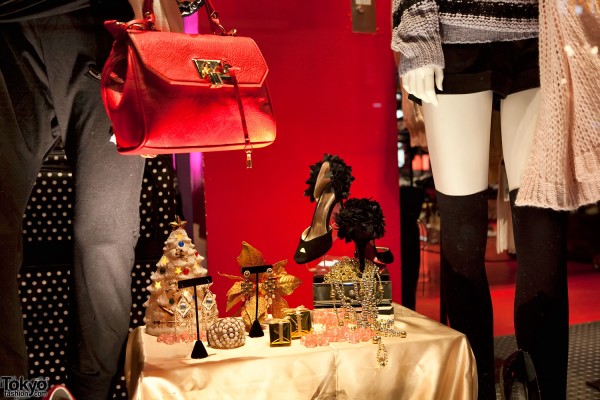 ANAP Christmas accessories.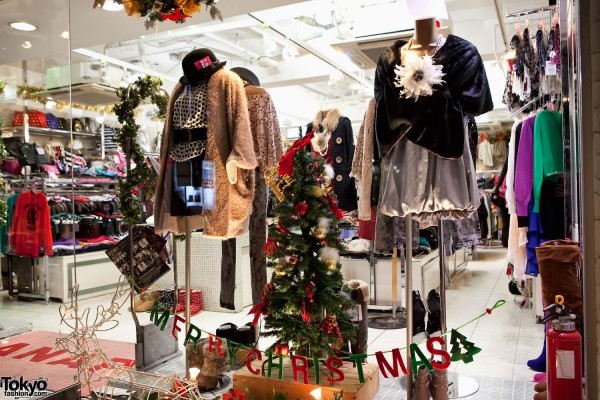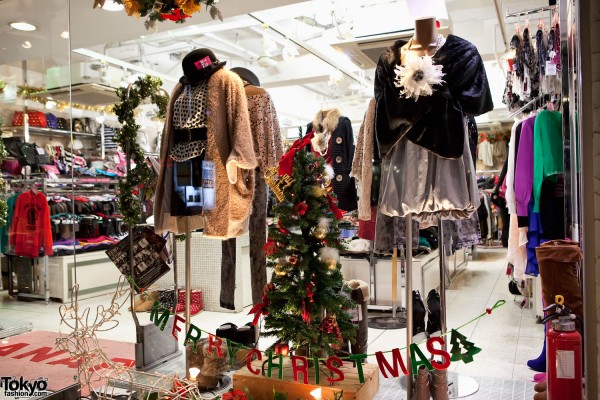 ANAP has a bunch of stores on this one little street right off of Takeshita. Here's yet another of their holiday shop windows.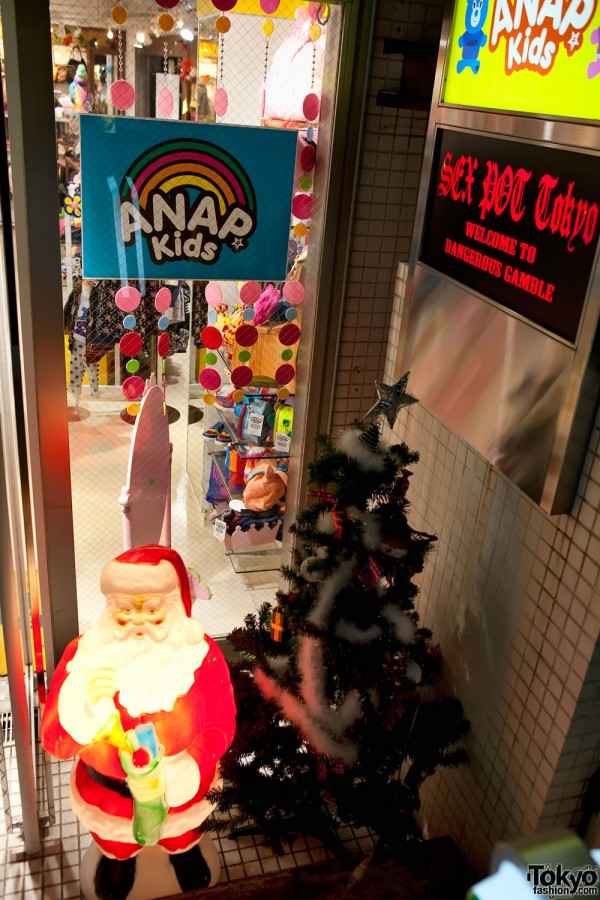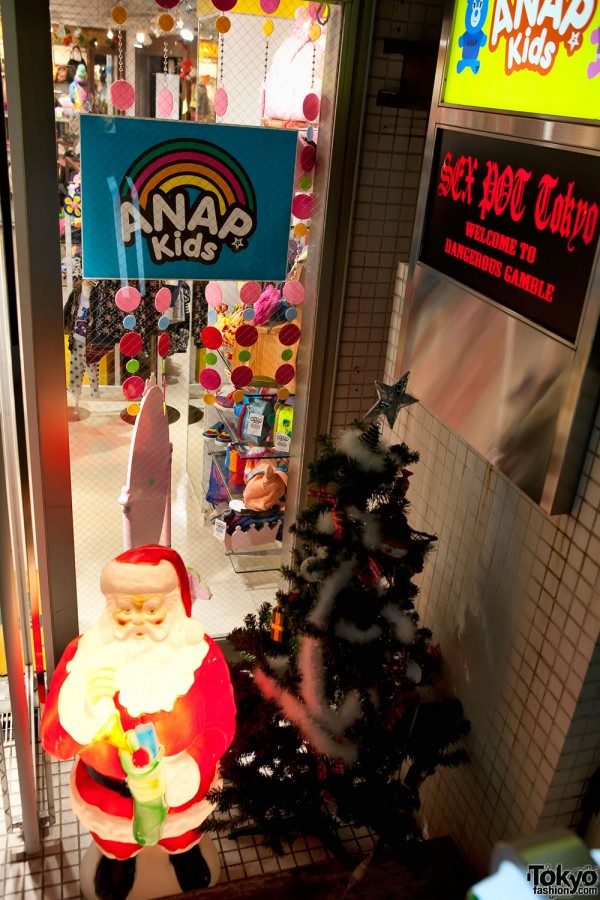 ANAP Kids vs. Sex Pot Revenge vs. Santa!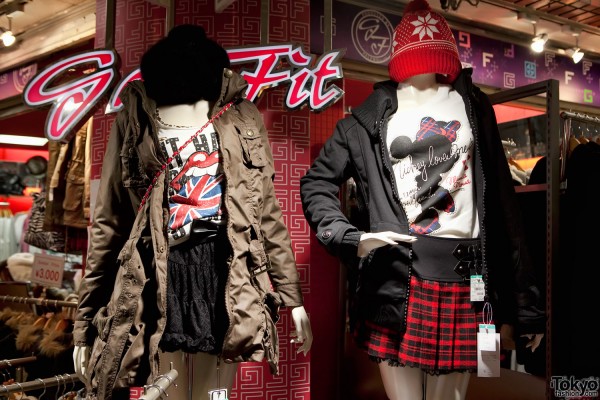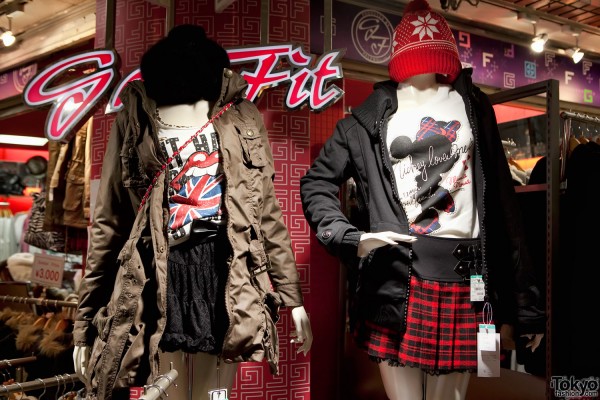 Gal Fit Harajuku. This shop is a good gauge of youth fashion trends in Tokyo.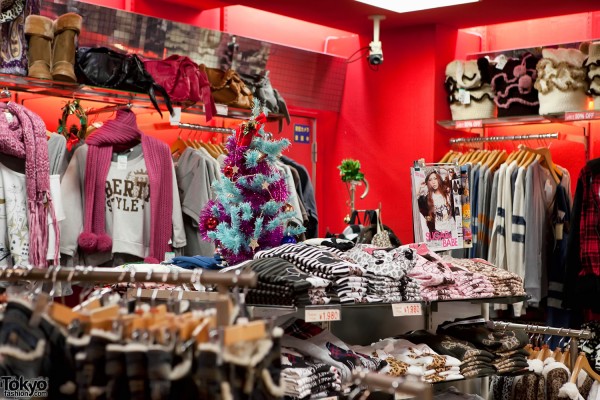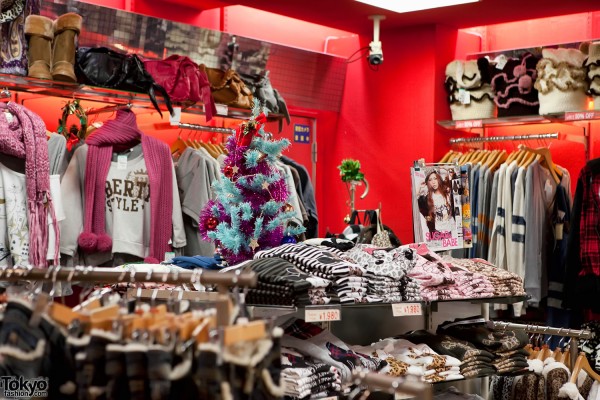 A tiny Christmas Tree inside of Gal Fit – and some Mickey Mouse shirts for US$20 each.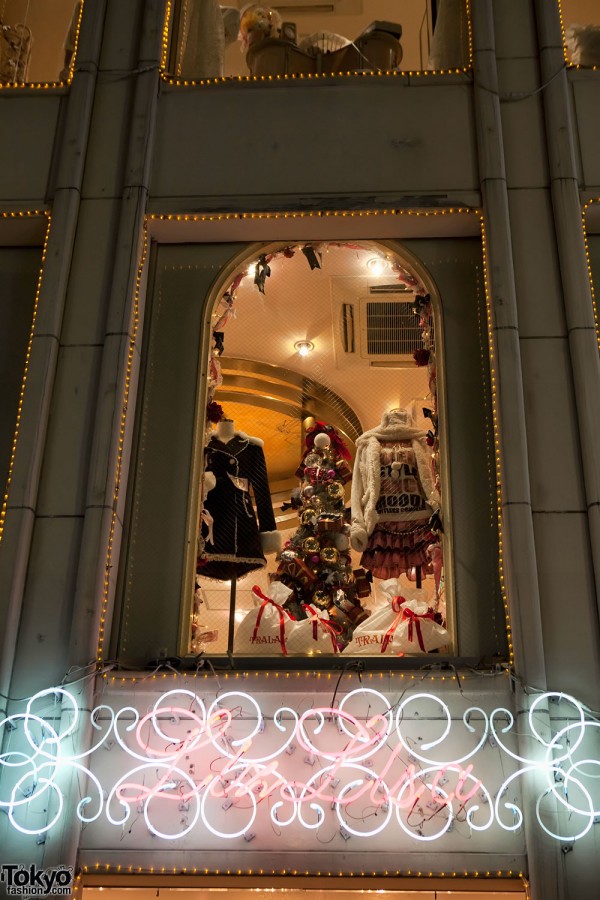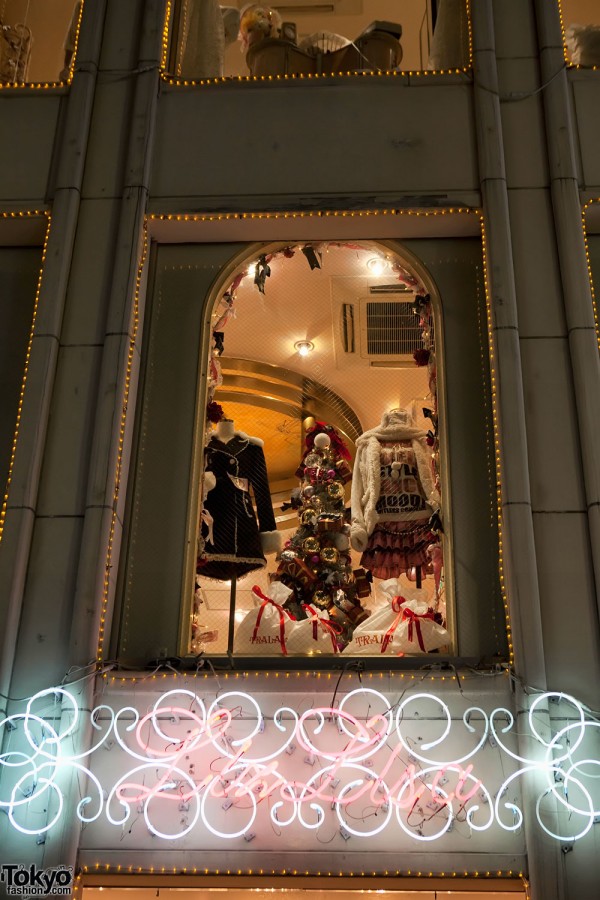 The upstairs window of the Liz Lisa shop on Takeshita.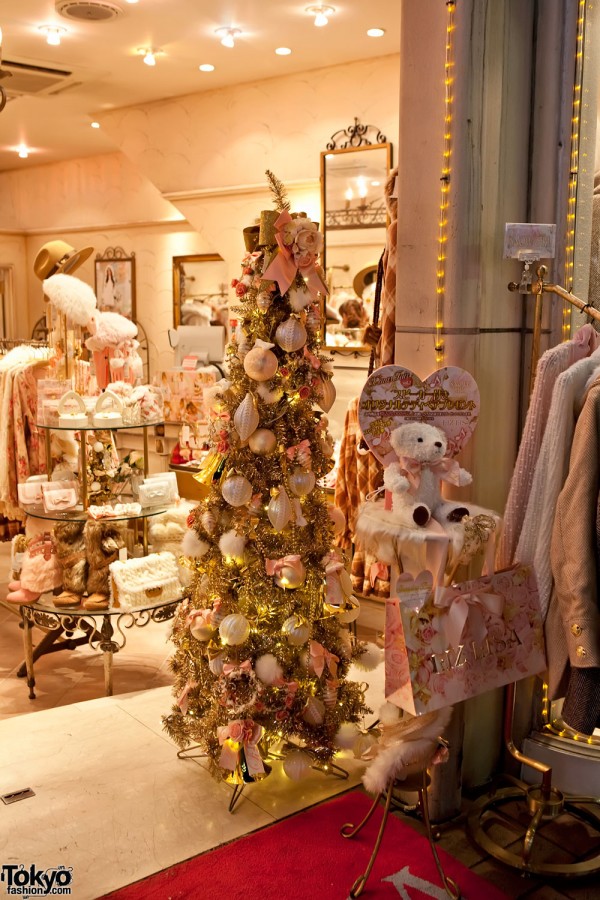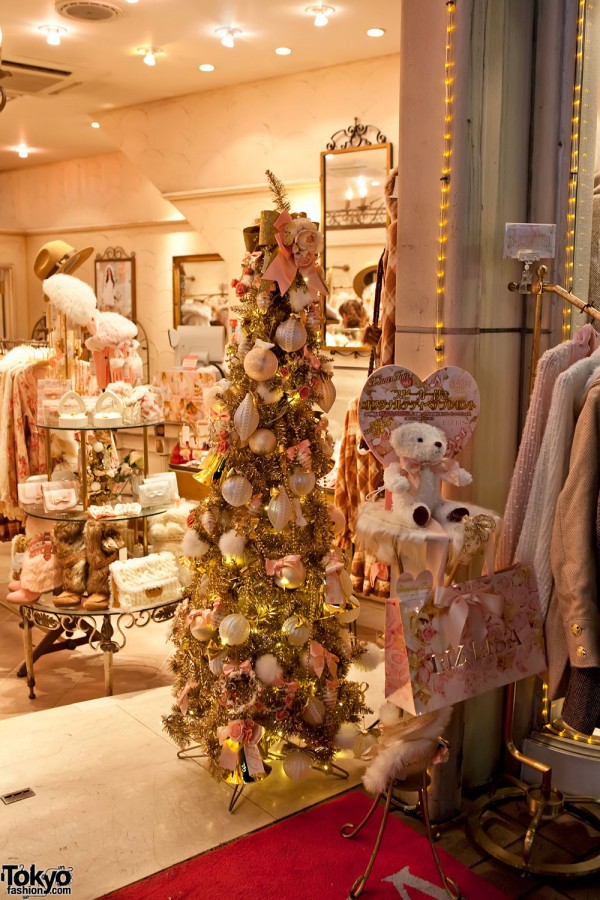 Liz Lisa pink Christmas tree, pink teddy, pink everything!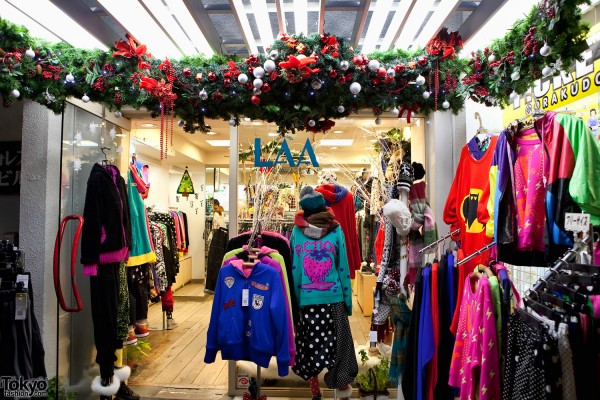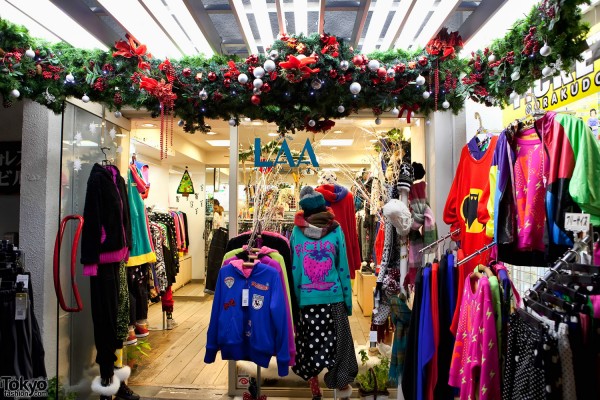 The window says "LAA Pants Shop", yet I see a lot of tops. BTW, "pants" in Japanese usually means underwear. How's that for Christmas trivia?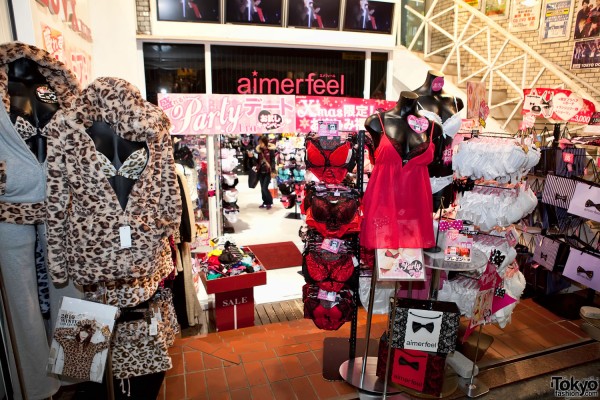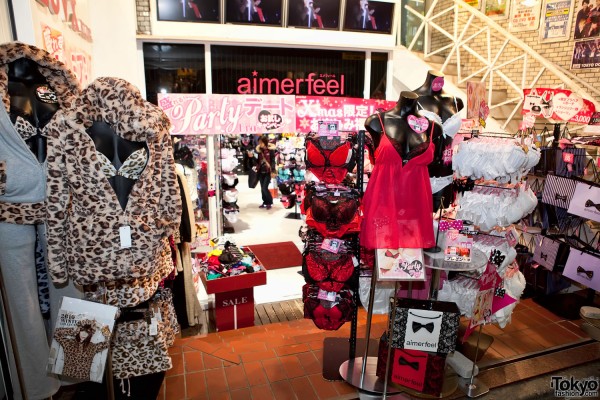 Leopard-print roomwear at Aimerfeel Harajuku.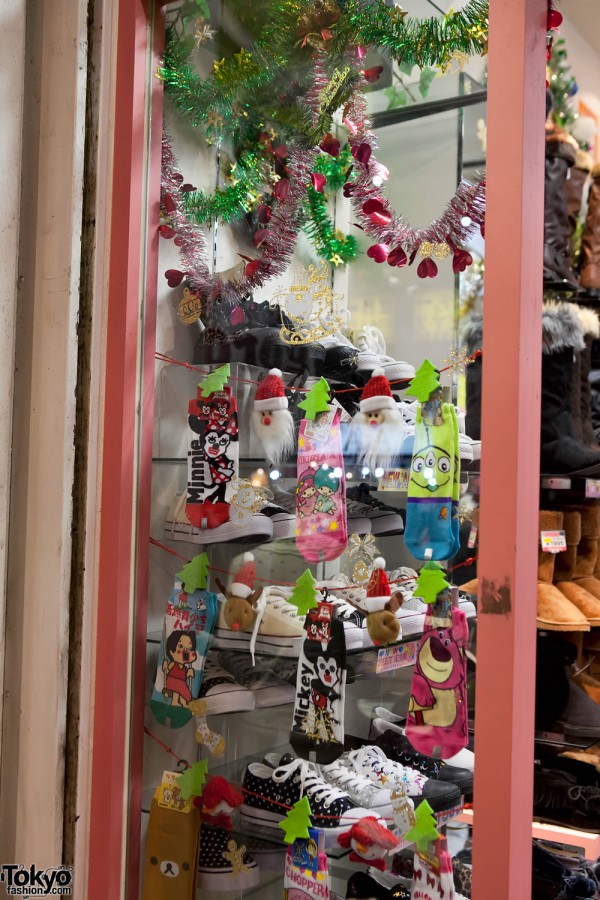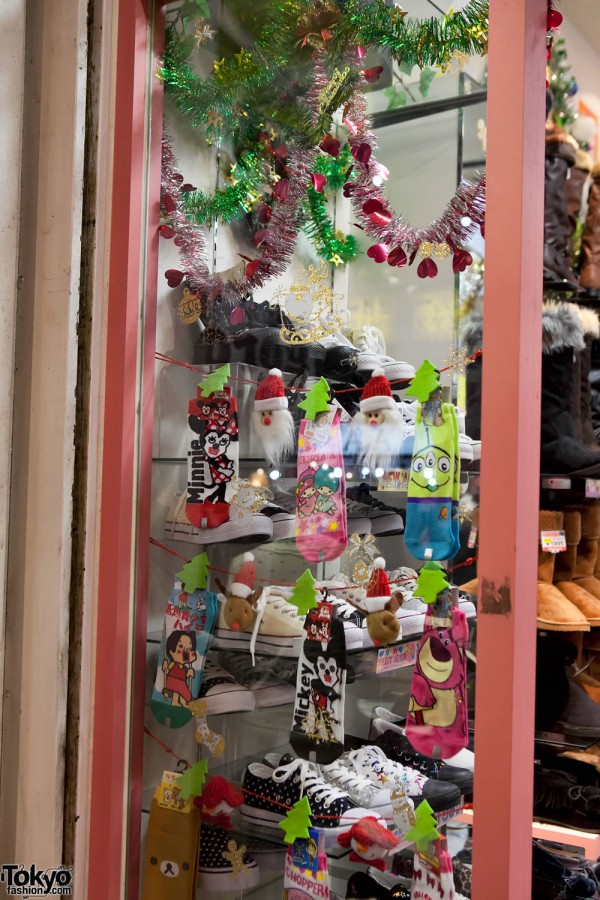 Funny socks, cute shoes, and Christmas decorations. It must be another Takeshita Dori shop window!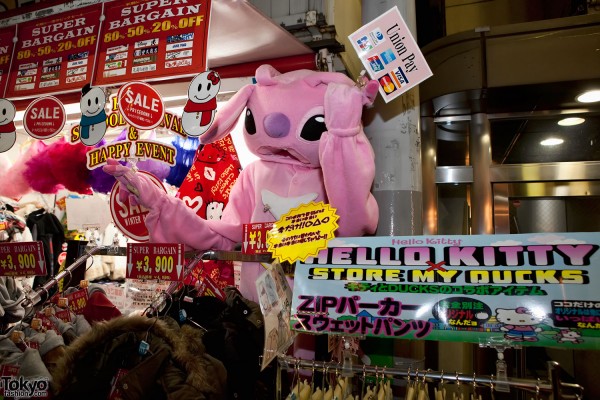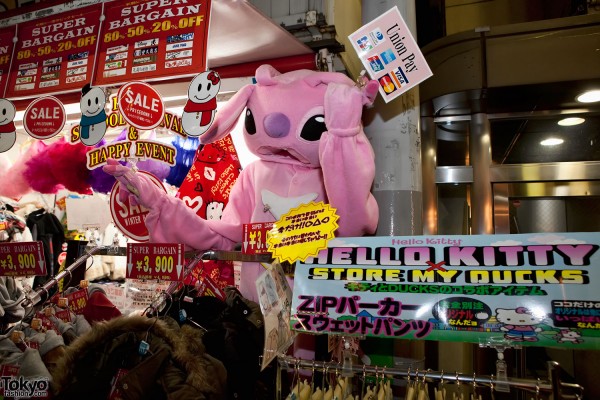 Hello Kitty x Store My Ducks. Is there a better shop name in the world than "Store My Ducks"? Not that I know of.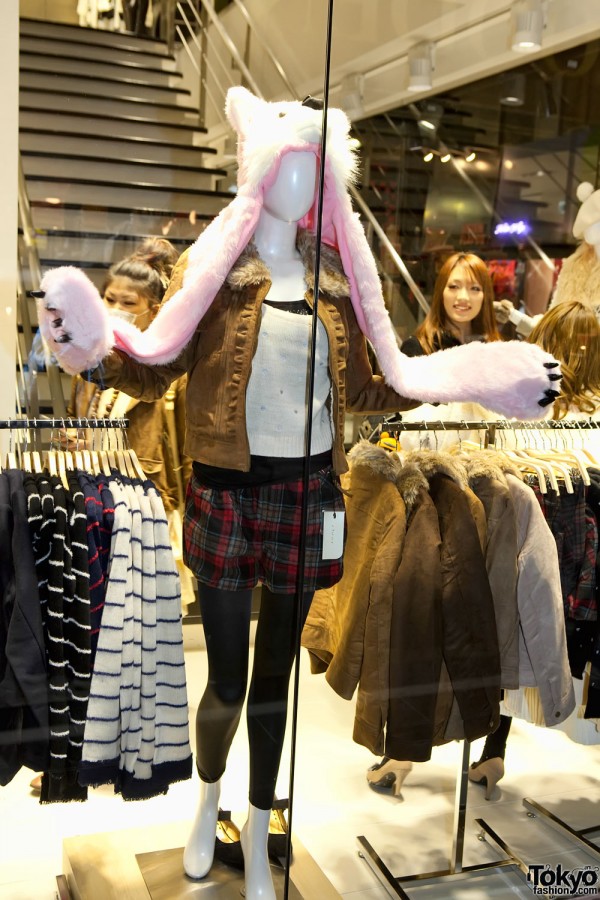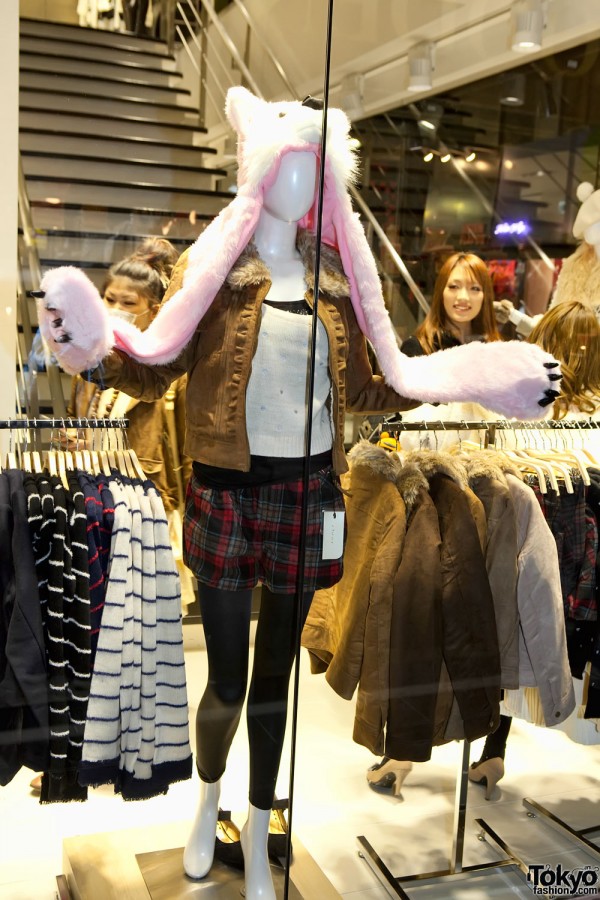 A really funny hat/gloves kind of thing in the window of the big new Momo shop.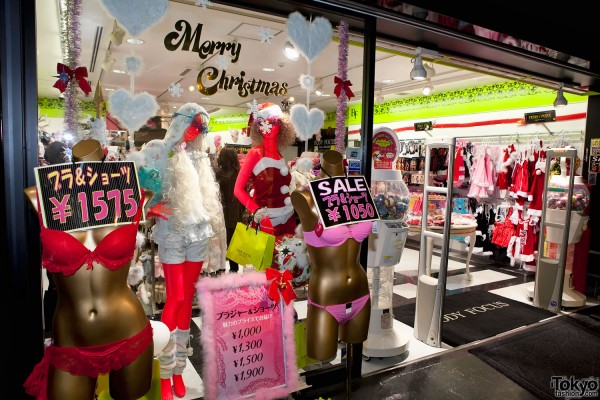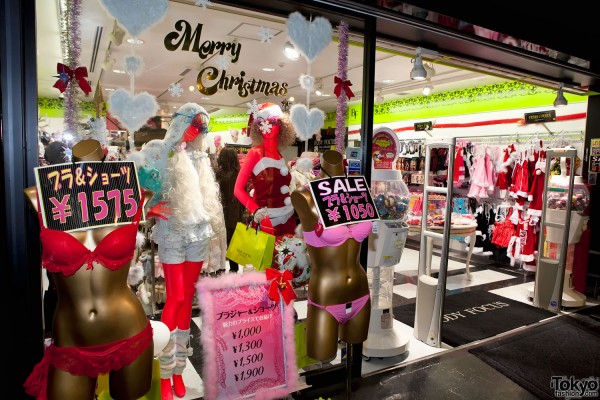 Christmas lingerie and Christmas cosplay at Body Focus Harajuku.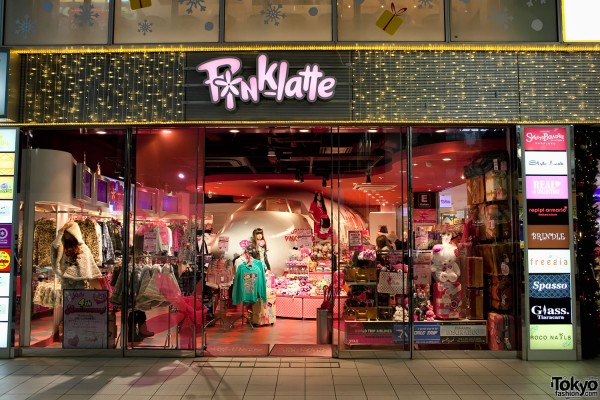 The always awesome Pink Latte shop – with their airplane & lots of pink.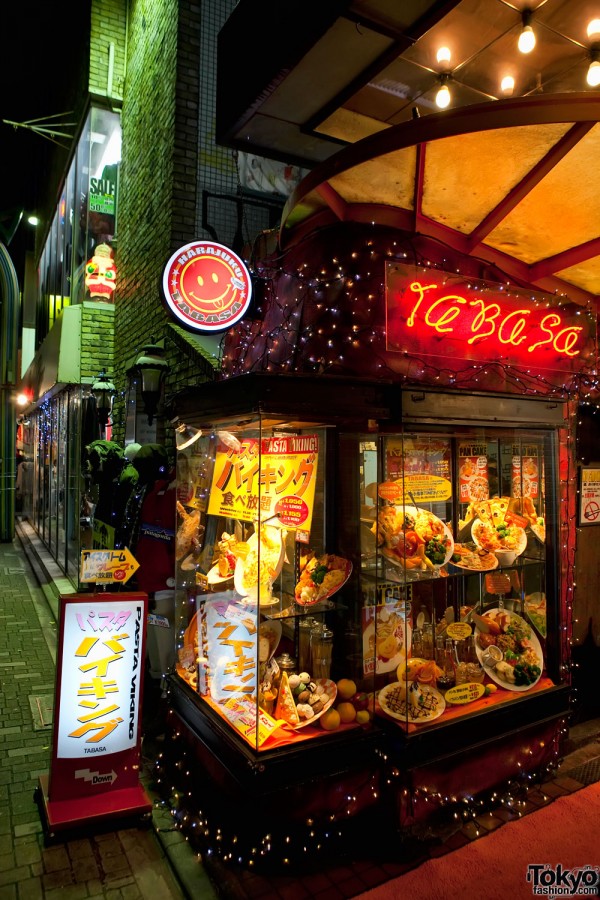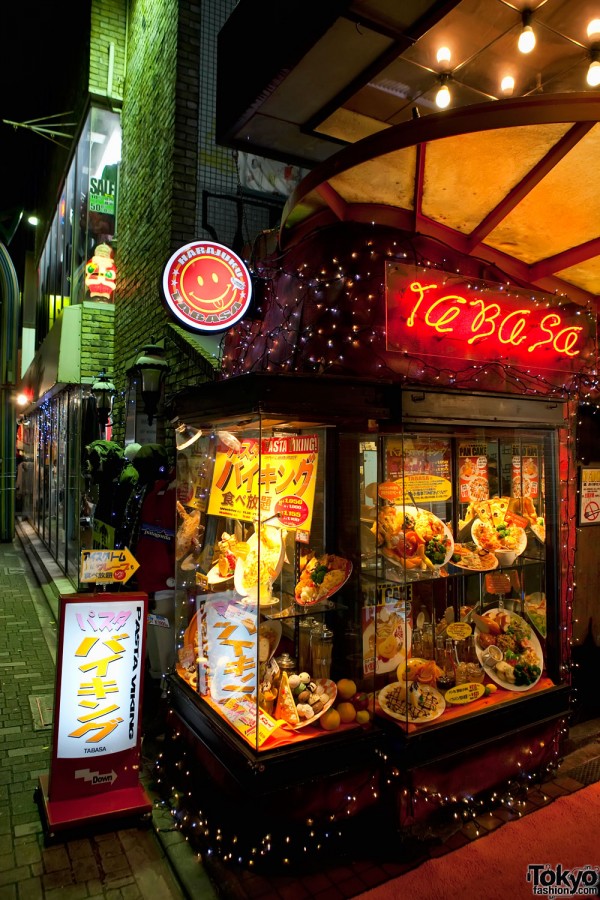 Hungry? How about a "pasta viking"?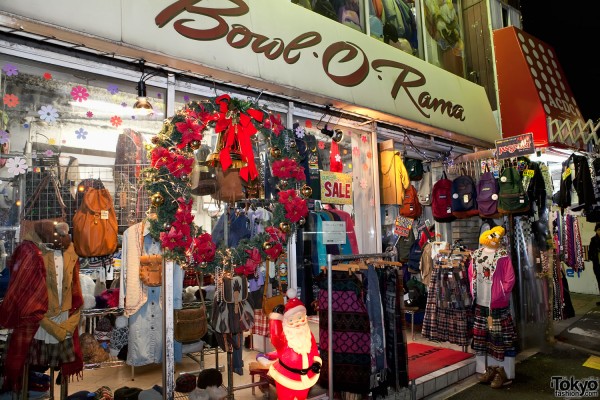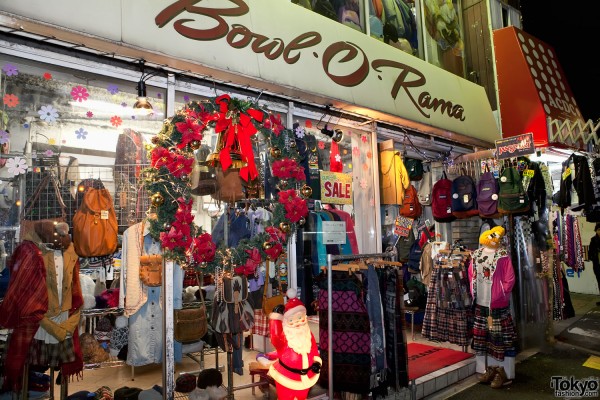 Now we've reached the bottom of Takeshita Dori, where it meets Meiji Dori. On this corner is the well-known Bowl-o-Rama shop and another ACDC location. On other corner is an empty lot where they are likely going to build a huge skyscraper of some kind.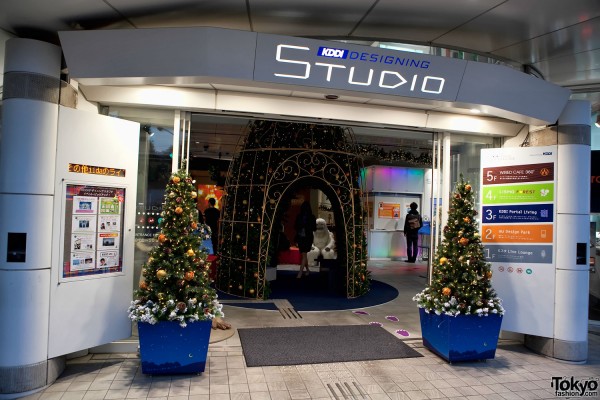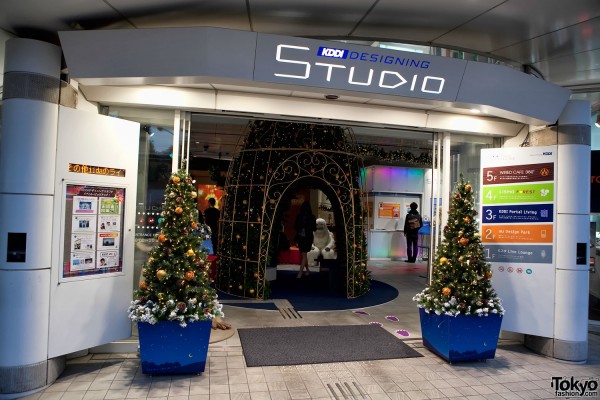 Now that we've reached Meiji Dori, we are going to take a leisurely stroll in the direction of Shibuya. We've decided to cross to the other side of the street so that we can check out the KDDI Designing Studio, seen in this photo.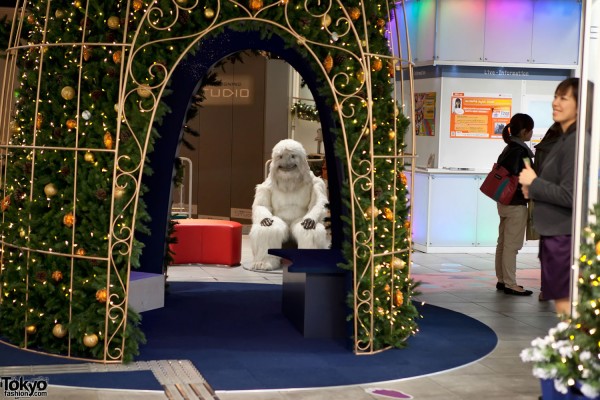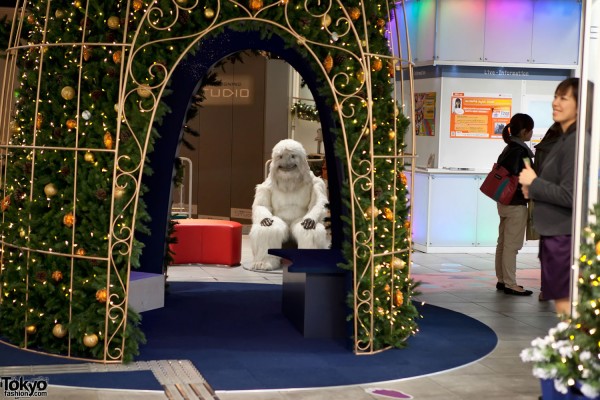 What is that? Looks like the abominable snowman – smiling? Better go inside and check!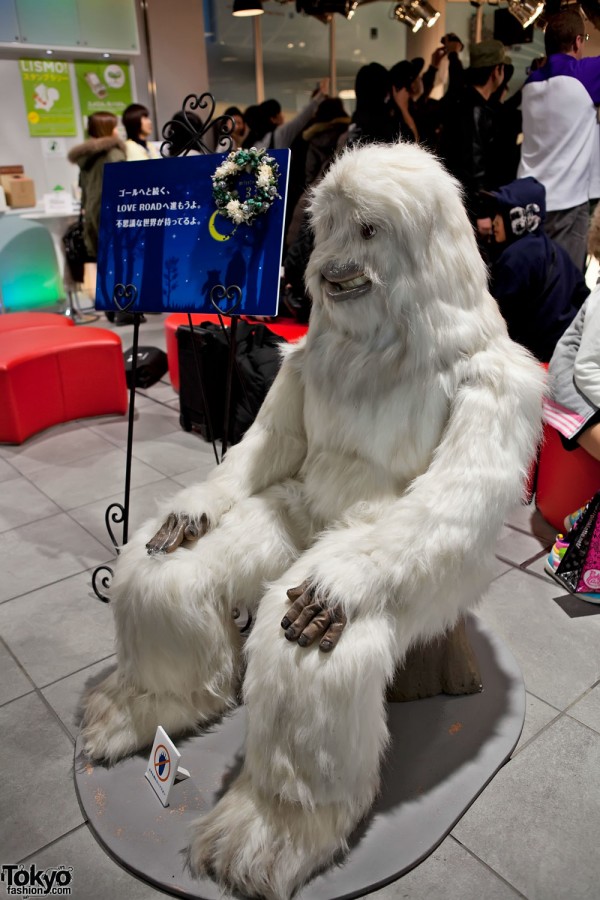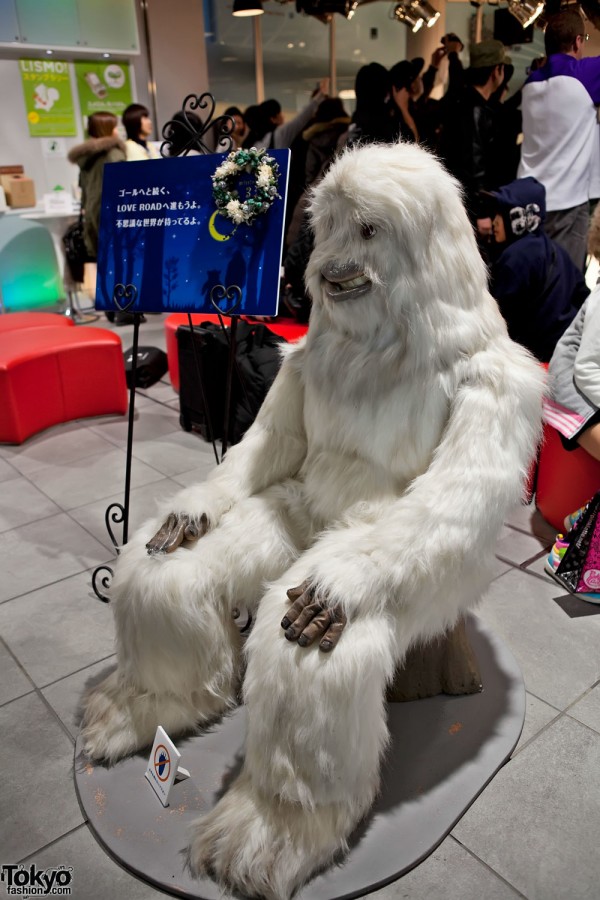 To celebrate the holidays, KDDI has captured some kind of wild snow beasts from the mountains of Japan. You can take pictures of them, but the sign says "don't touch"!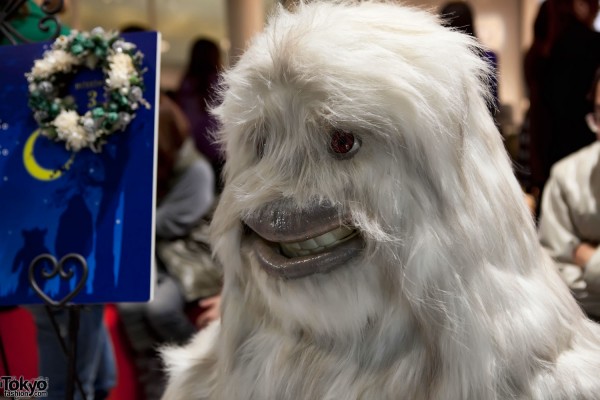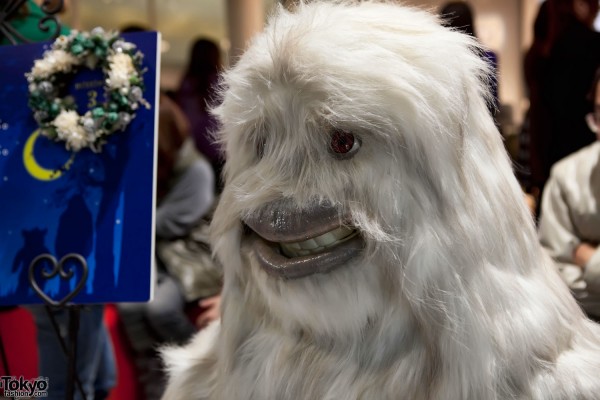 Not sure – is this scary or cute?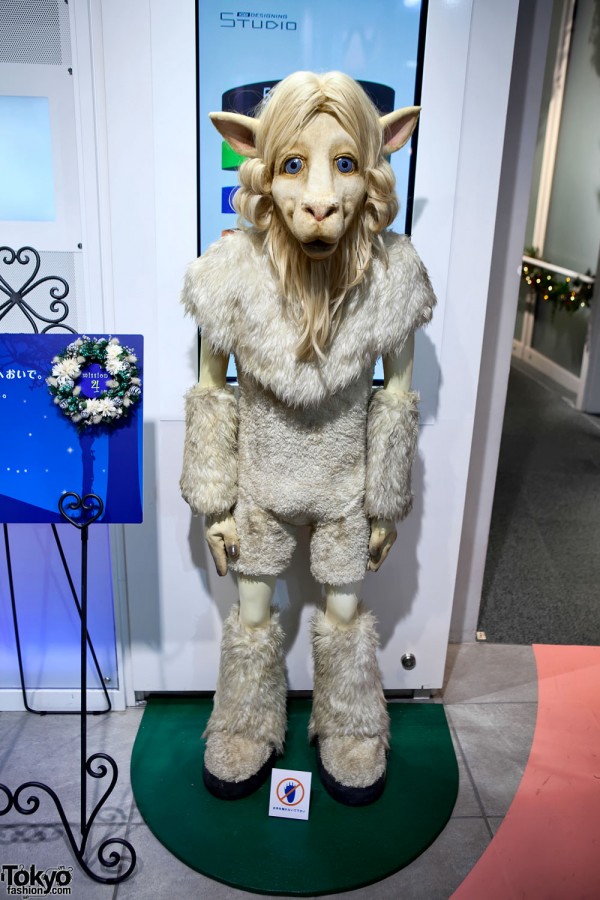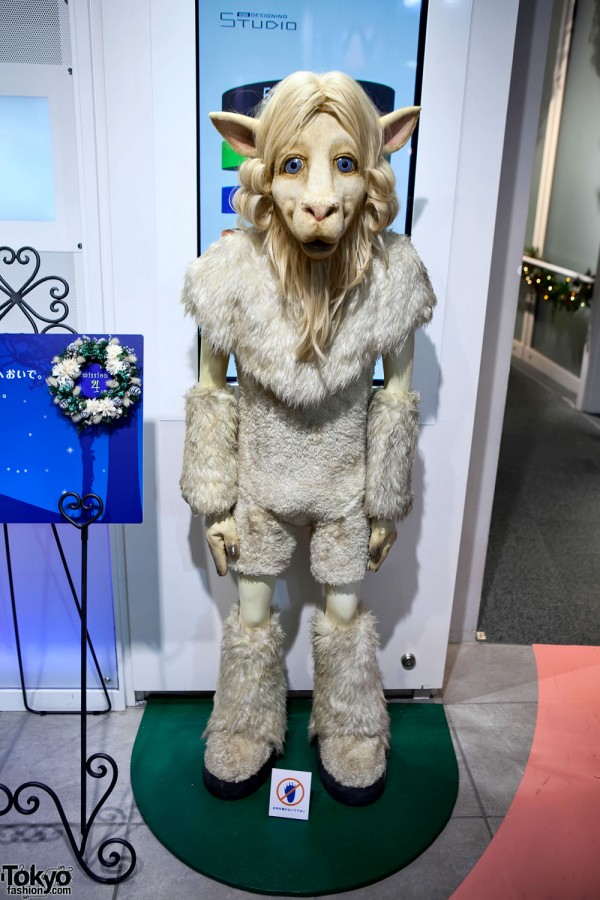 Another KDDI snow creature. Officially, they seem to call them "Wild Things", but isn't that already a book?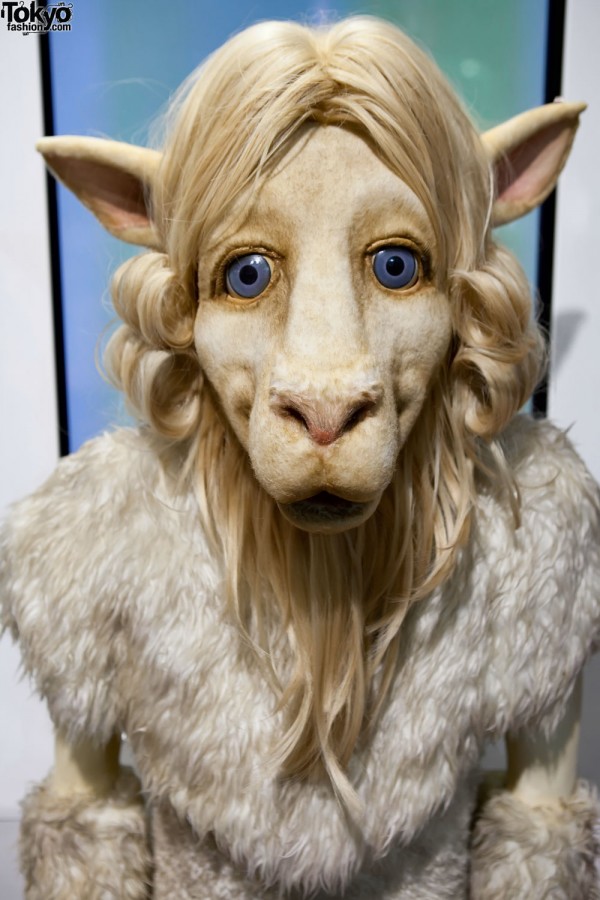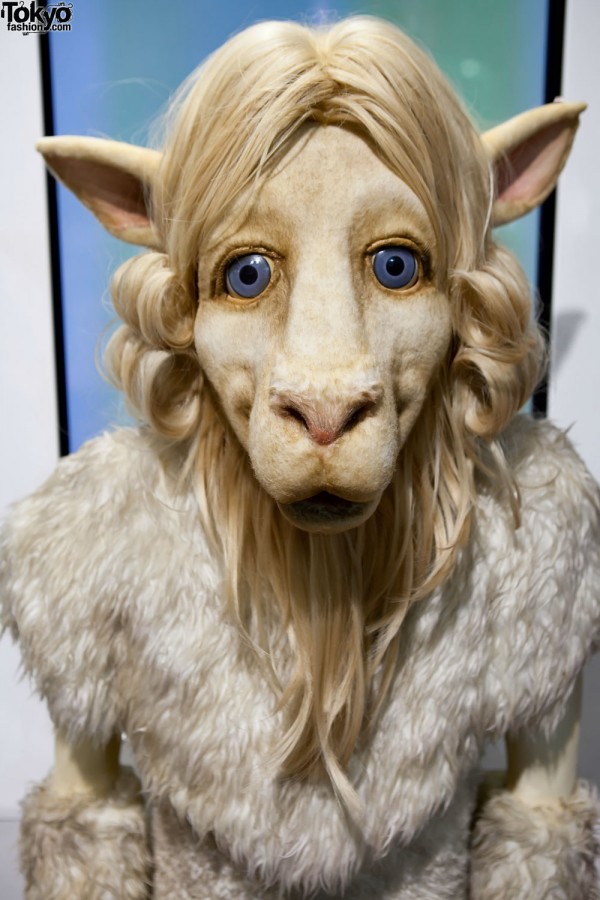 What beautiful blue eyes you have.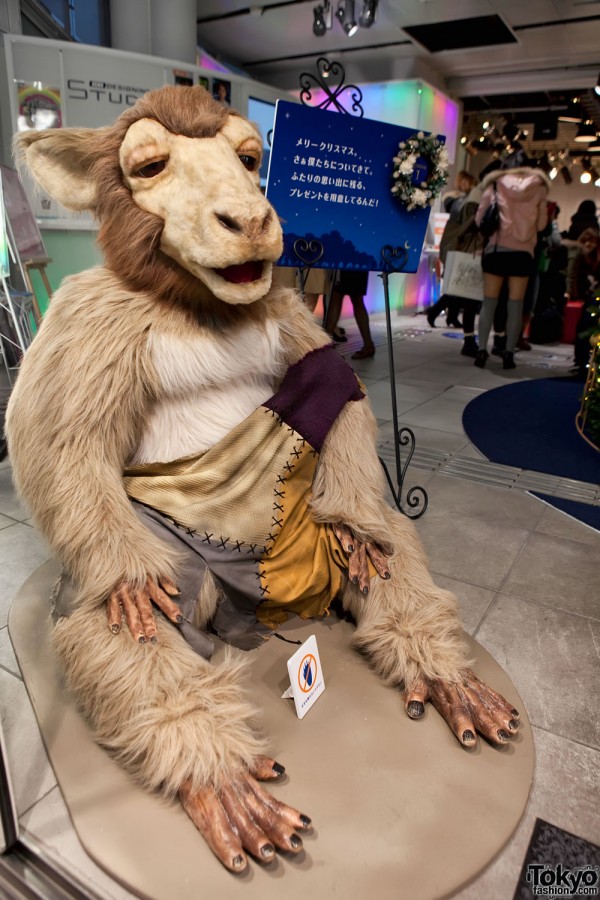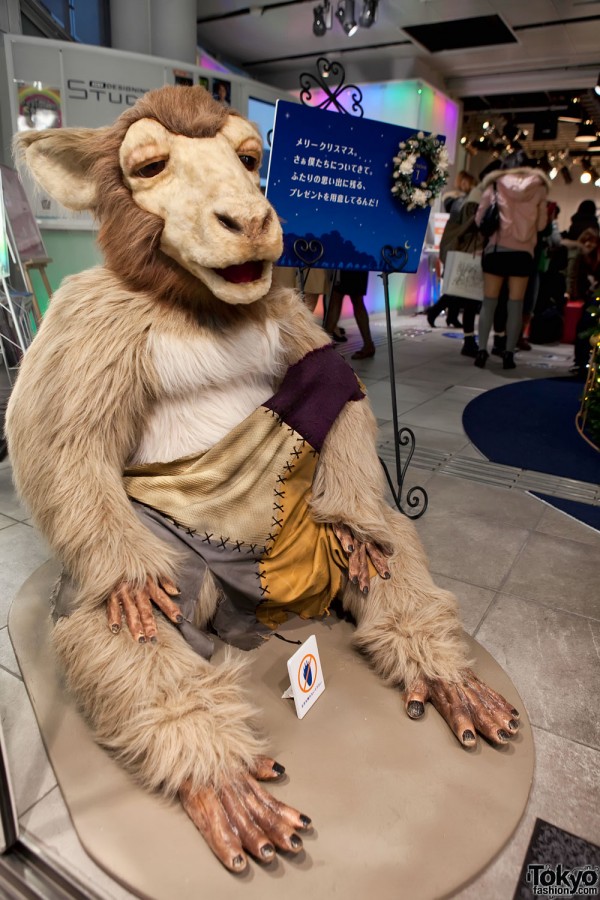 This one is wearing a patchwork outfit of some kind. It's pretty nice fashion for a guy who needs a pedicure so badly.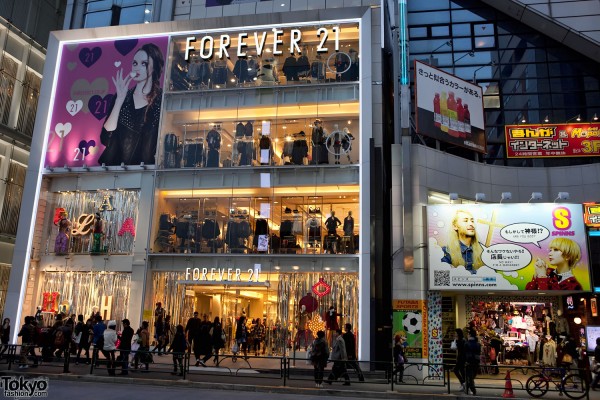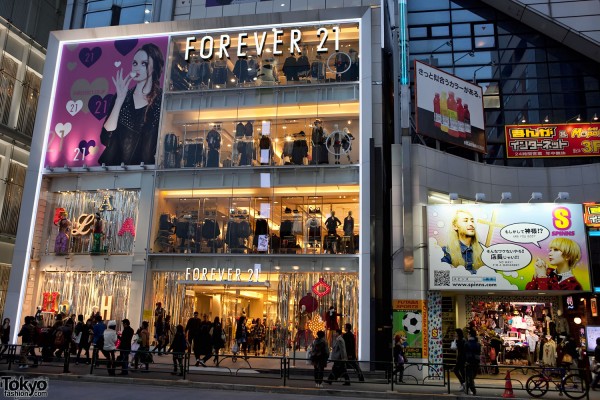 Enough wild things. Now that we're outside and moving down the street, we can shoot a photo across the road. You can see the Harajuku Forever 21 and the new Spinns Harajuku store.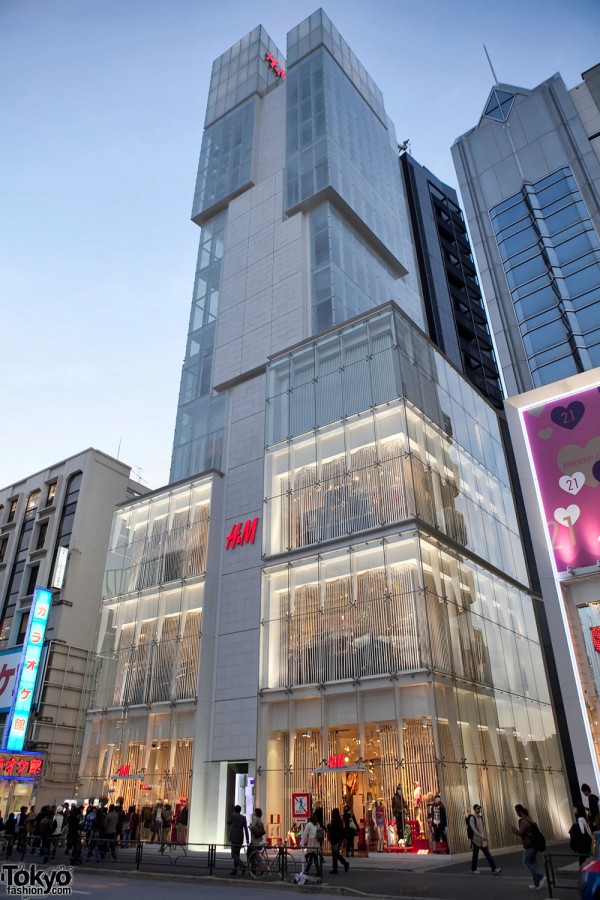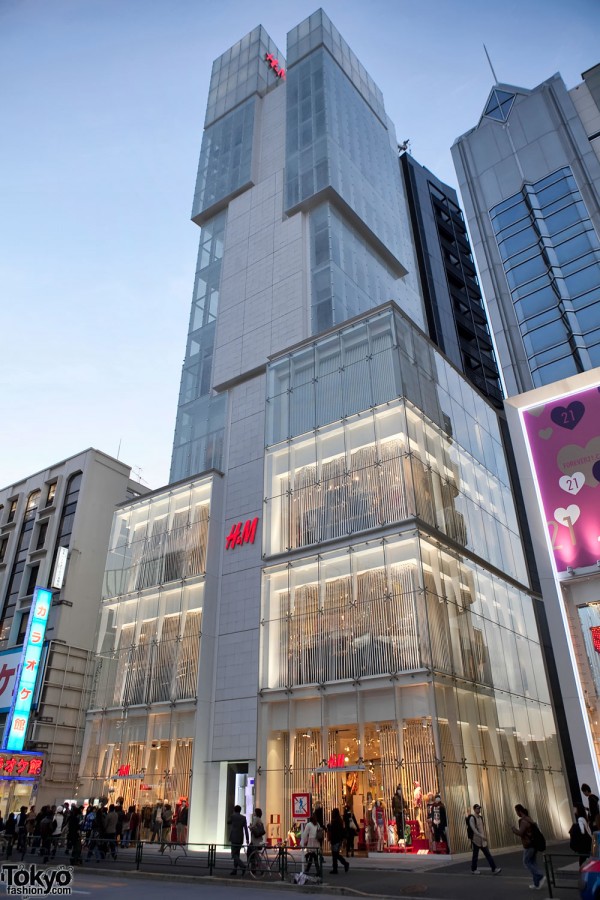 Also on the other side of the street, the H&M Harajuku "Ice Cubes" building is cool architecture.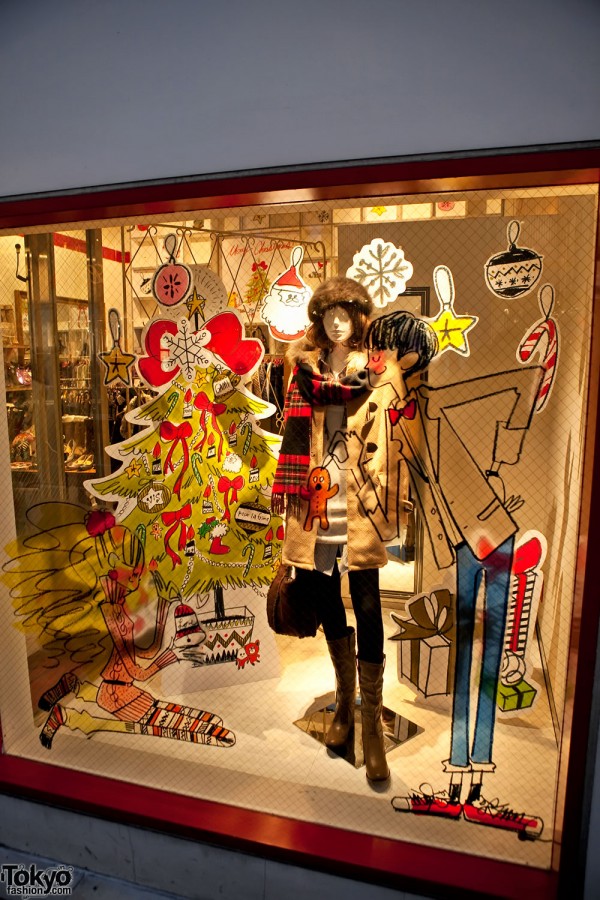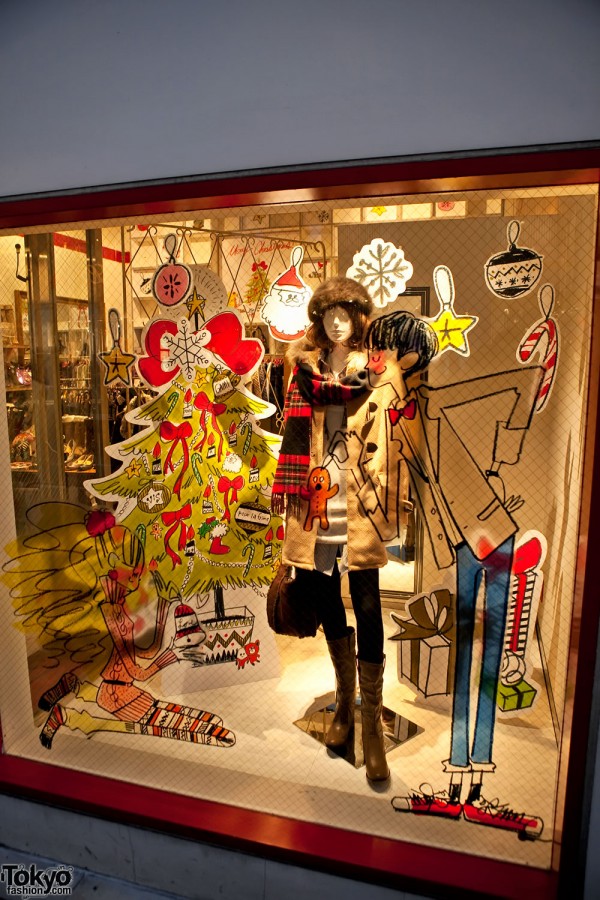 Back on our side of the road there are some cute Christmas windows. This could be Jayro White, or another random shop. Where are my notes when I need them? Oh, I didn't take any? Ooops.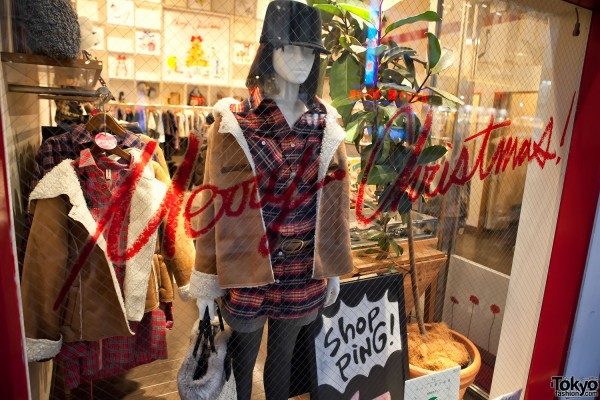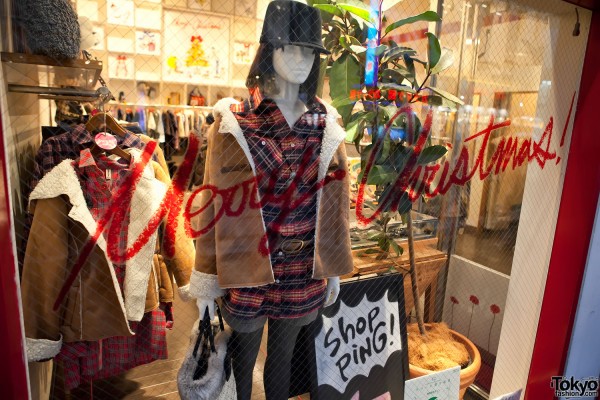 Merry Christmas Shop Ping!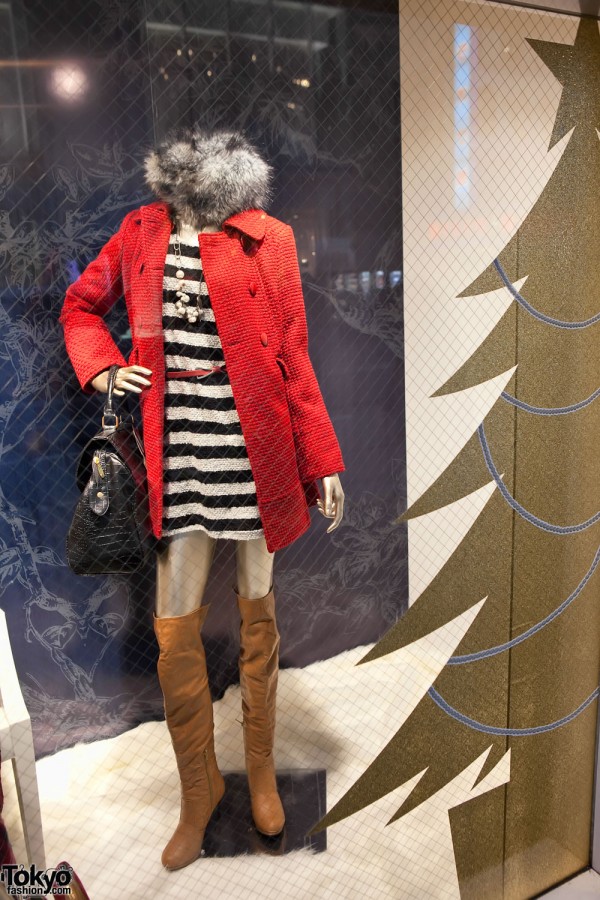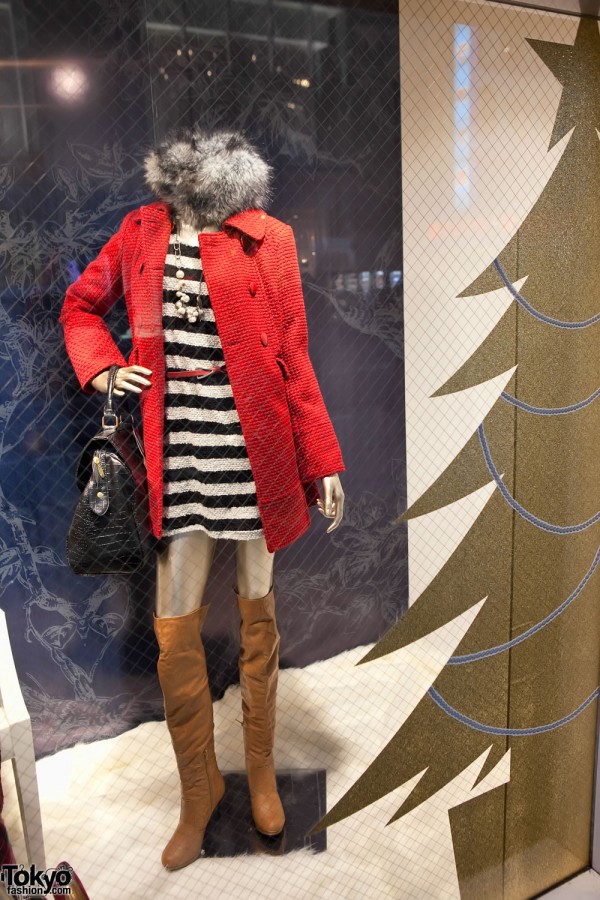 Half a Christmas Tree is better than none – especially when it's gold.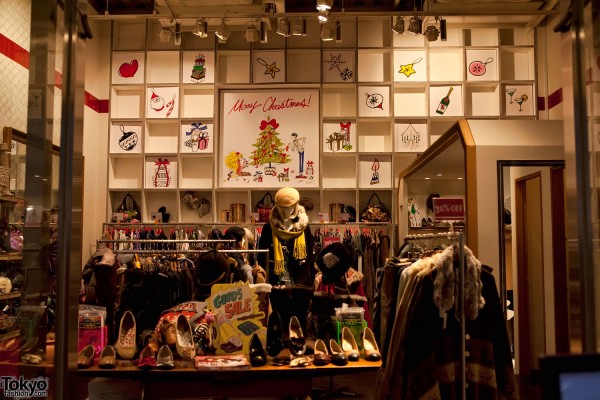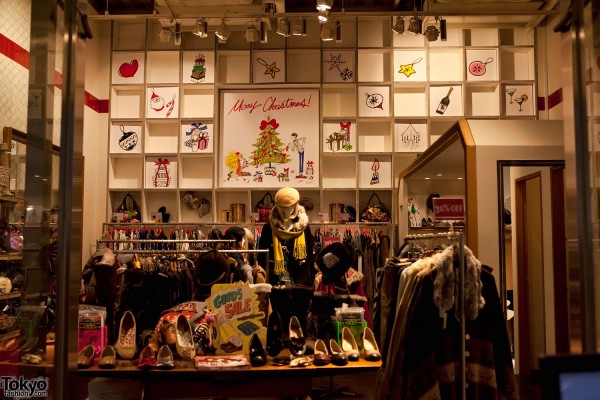 The inside of a Harajuku shop decorated up for Christmas.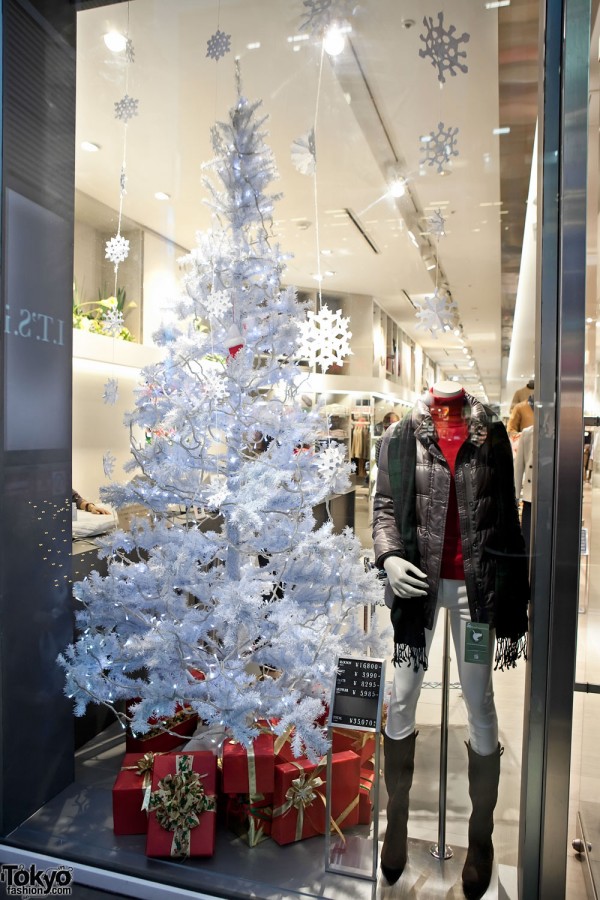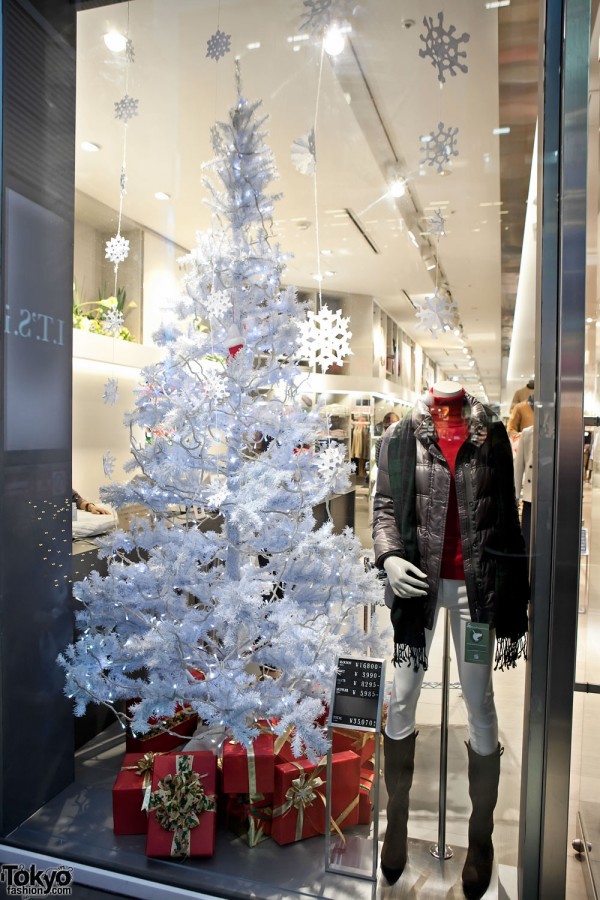 A Christmas tree in the window of the new It's International store across from LaForet.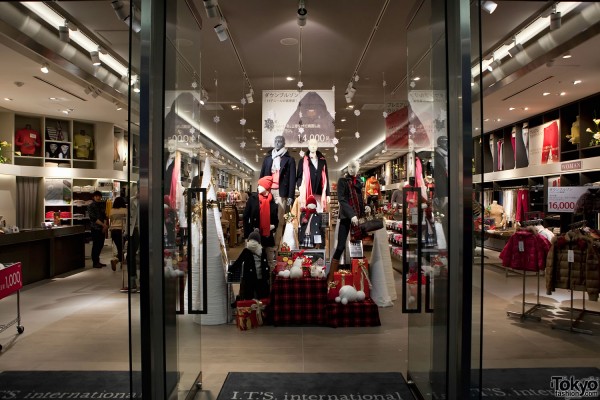 This is the It's International store, which opened this year. I guess it was supposed to be a competitor to Uniqlo, or something.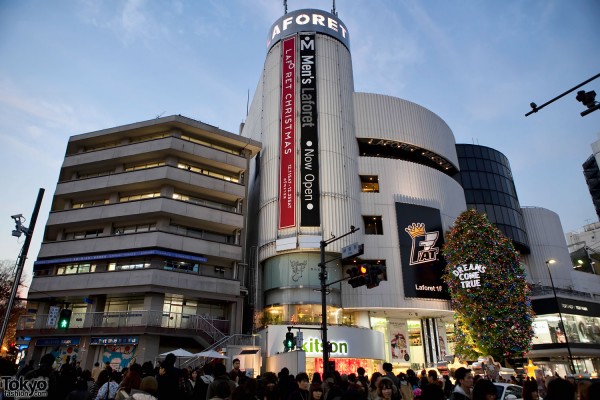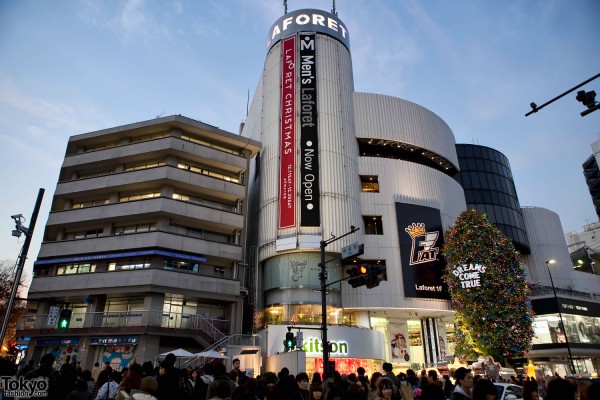 Shooting across the street again, we can see the famous LaForet Harajuku department store. This year, the LaForet Christmas tree says "Dreams Come True". It seems to be a cross promotion with the JPop band by the same name. Even if you don't know the band, it still sounds cool.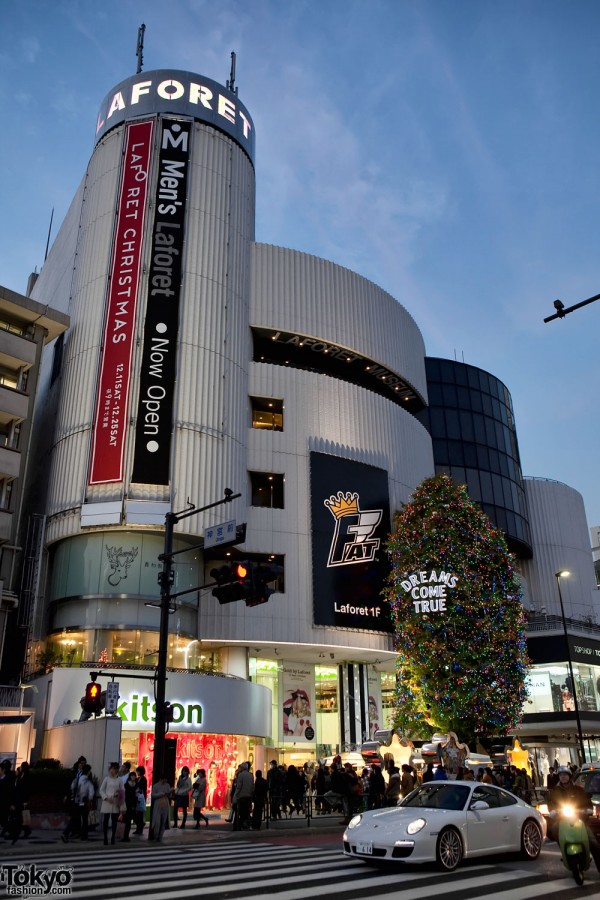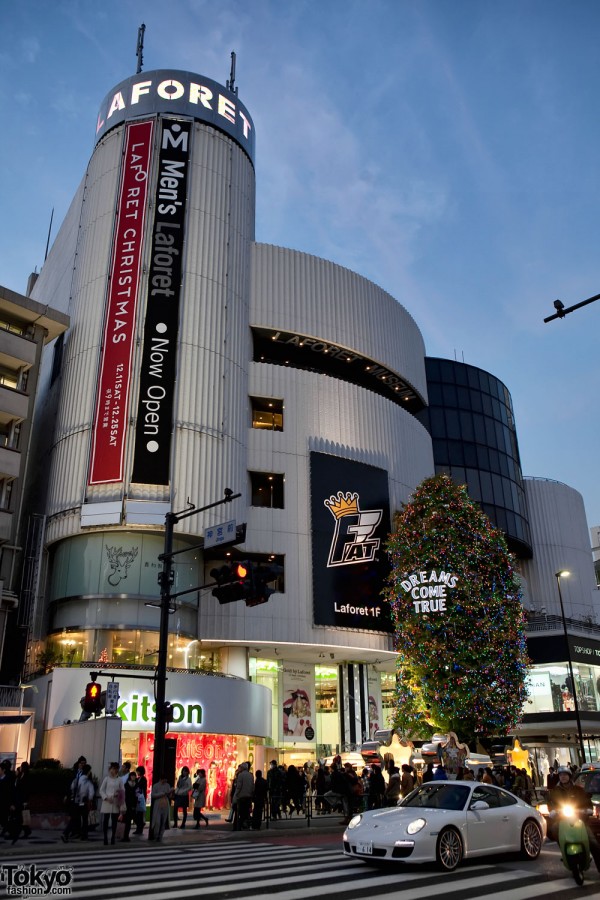 Another photo of the LaForet Harajuku Christmas tree – and a white Porsche.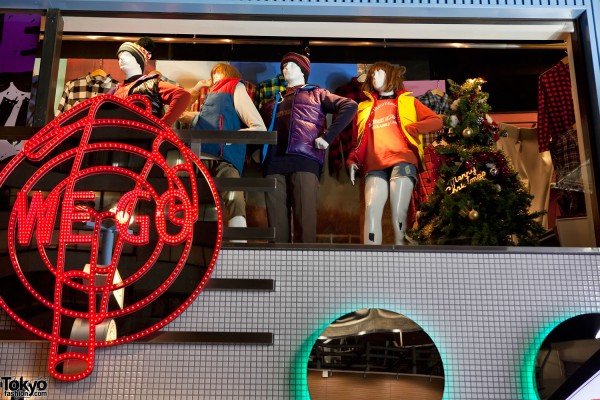 Now we've crossed Omotesando Dori moving toward Shibuya – still on Meiji Dori. We'll show you lots of pictures of the Omotesando Dori illumination in our Omotesando photo walk. This is the Harajuku WEGO store window.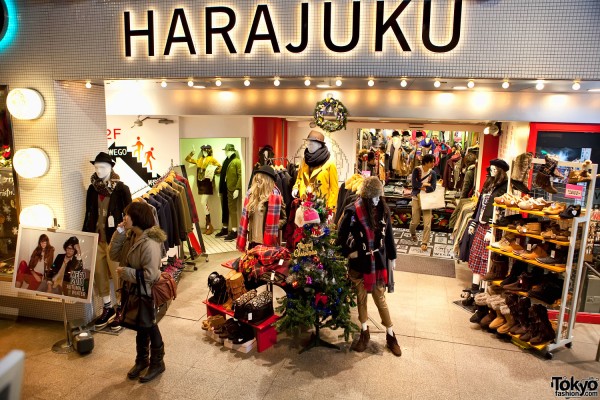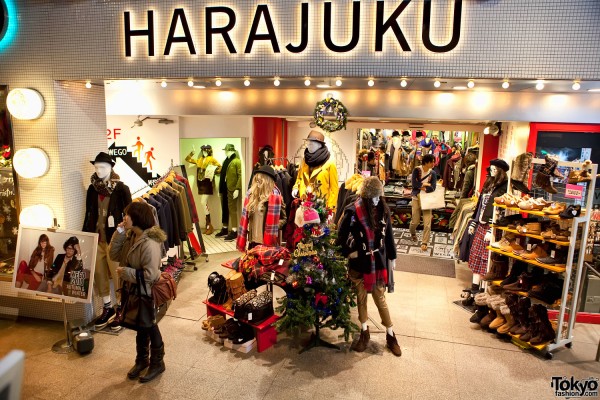 And downstairs at WEGO Harajuku. This is one of the most famous resale shops in Tokyo.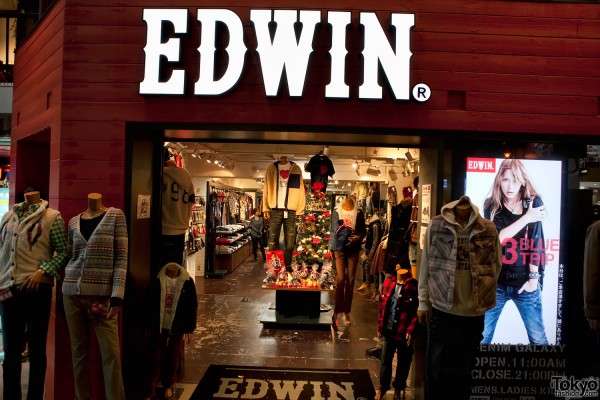 Edwin Jeans Harajuku shop – with a Christmas tree inside.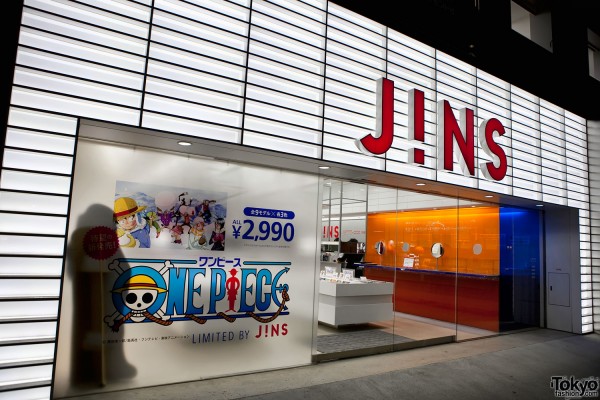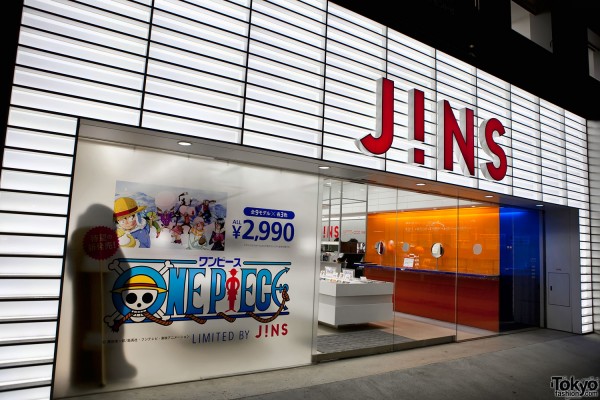 Jins Harajuku. You might have to blow up the picture to see that the One Piece promotion features a holiday scene.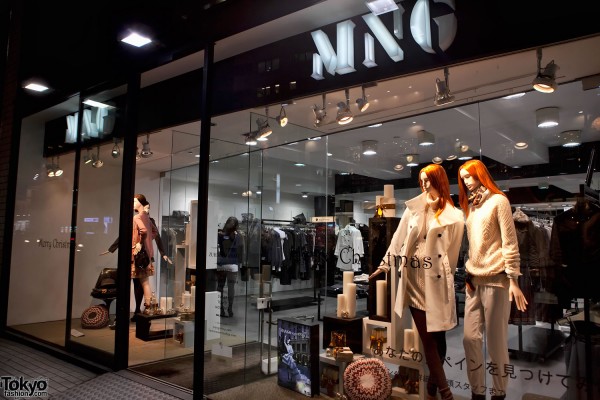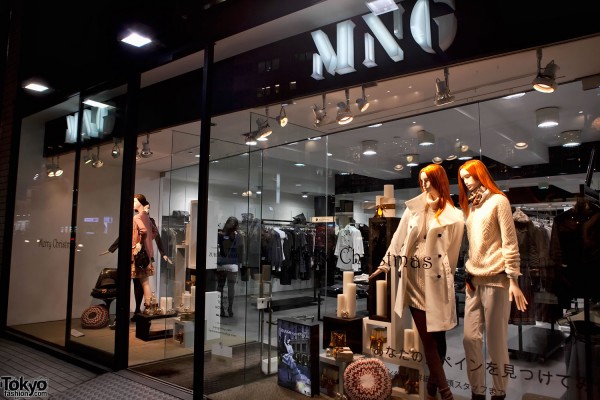 Mango Harajuku Christmas window.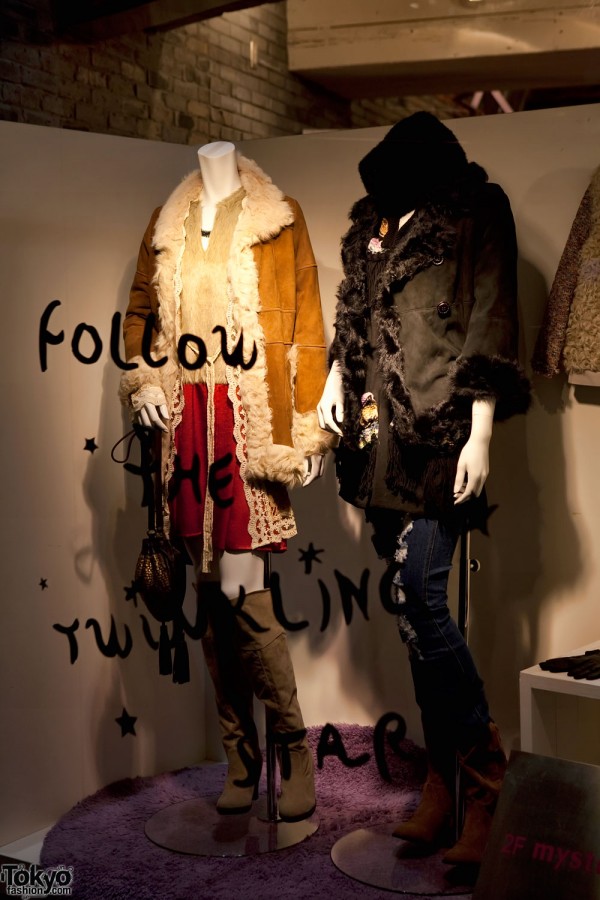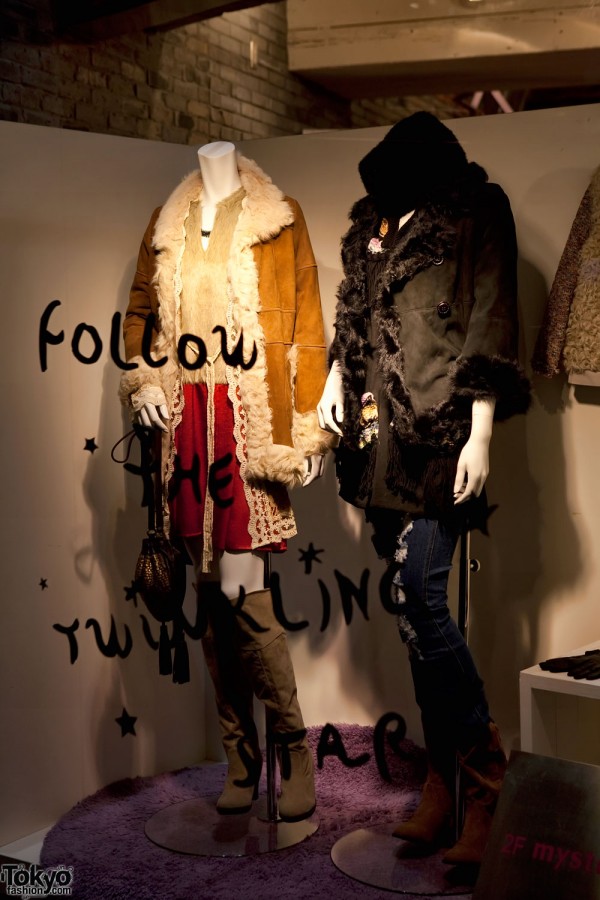 Follow the Twinkling Star at Mystic Harajuku – and get yourself a nice shearling coat. :-)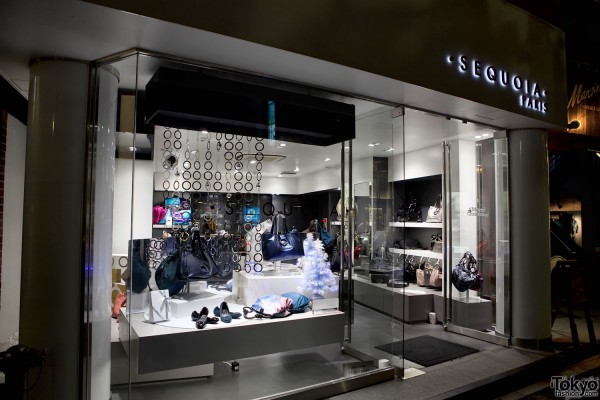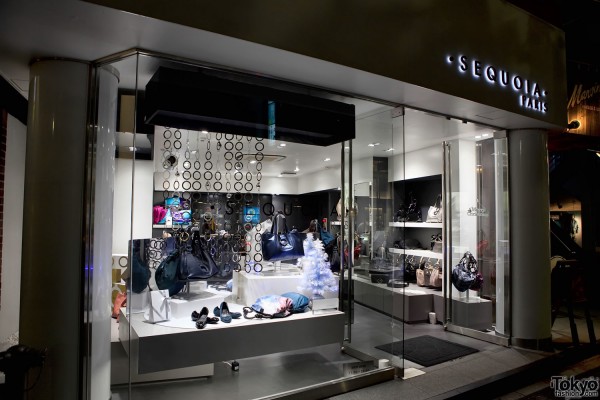 A little white Christmas tree in the window of Sequoia Paris.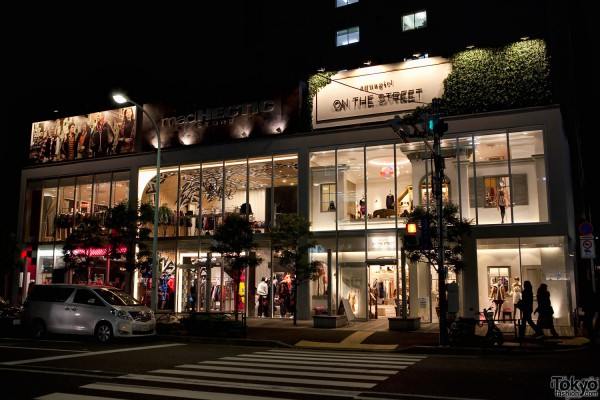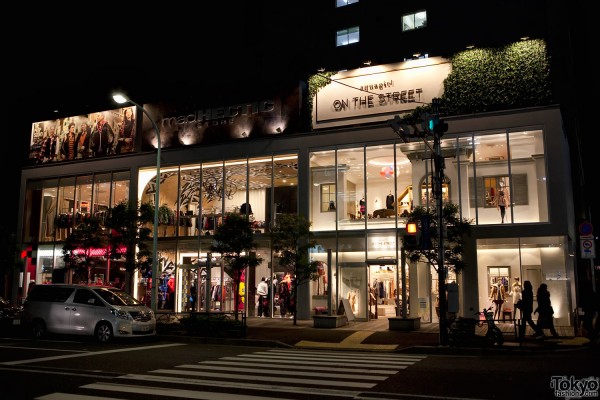 Pointing our camera across the road, we snap the Mad Hectic and "On The Street by Aquagirl" shops which opened earlier this year.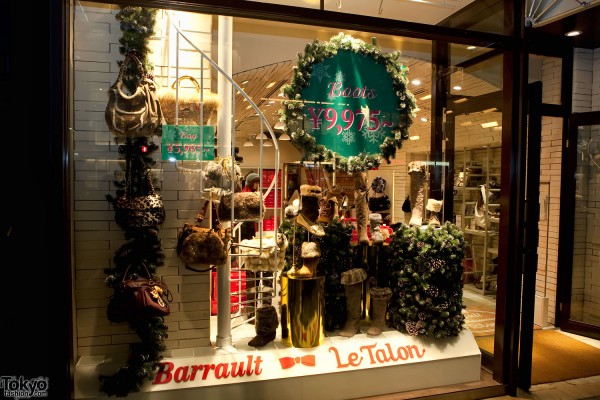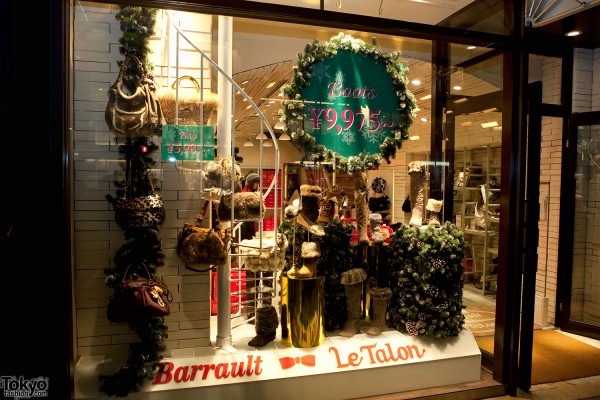 Furry boots and bags for Christmas, anyone?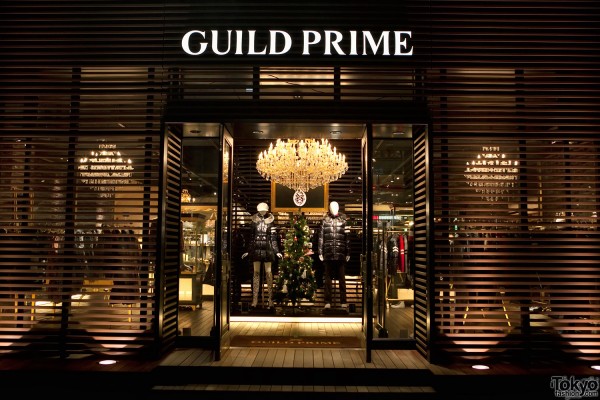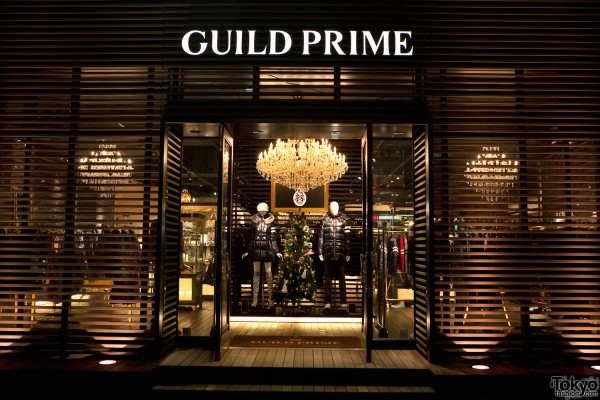 Guild Prime – part of the amazing Loveless Aoyama family of boutiques.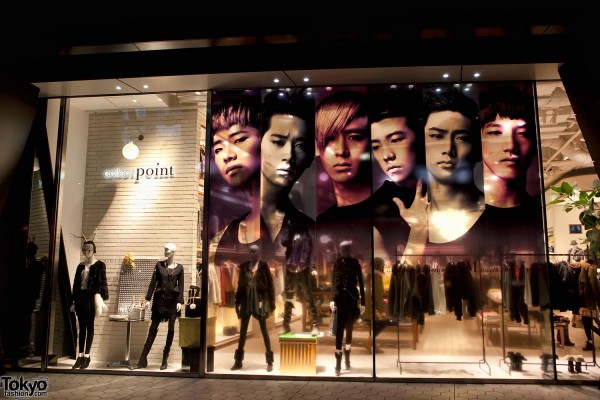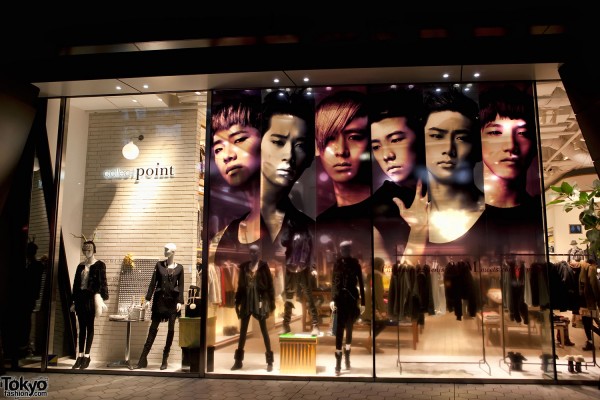 Collect Point Harajuku with the KPop band 2PM in the window.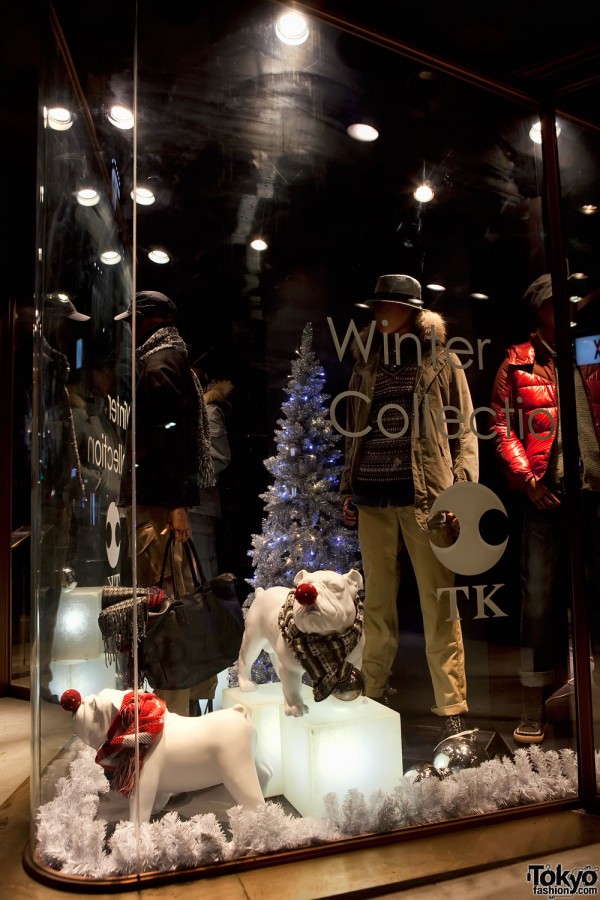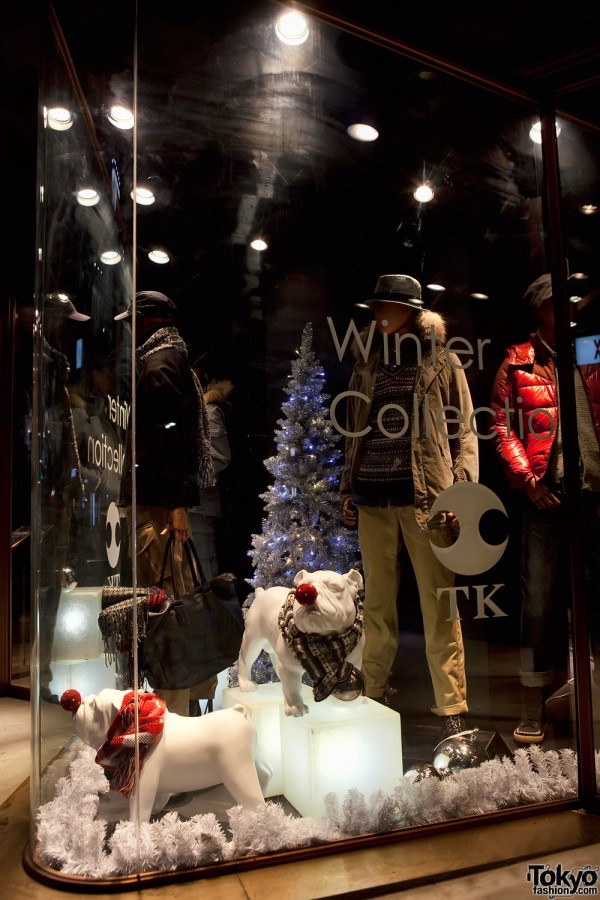 TK by Takeo Kikuchi.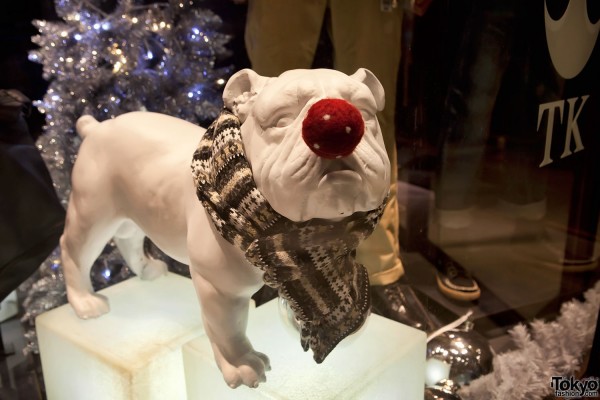 So cute! It's a bulldog posing as Rudolph The Red-Nosed Reindeer in the window of TK Harajuku.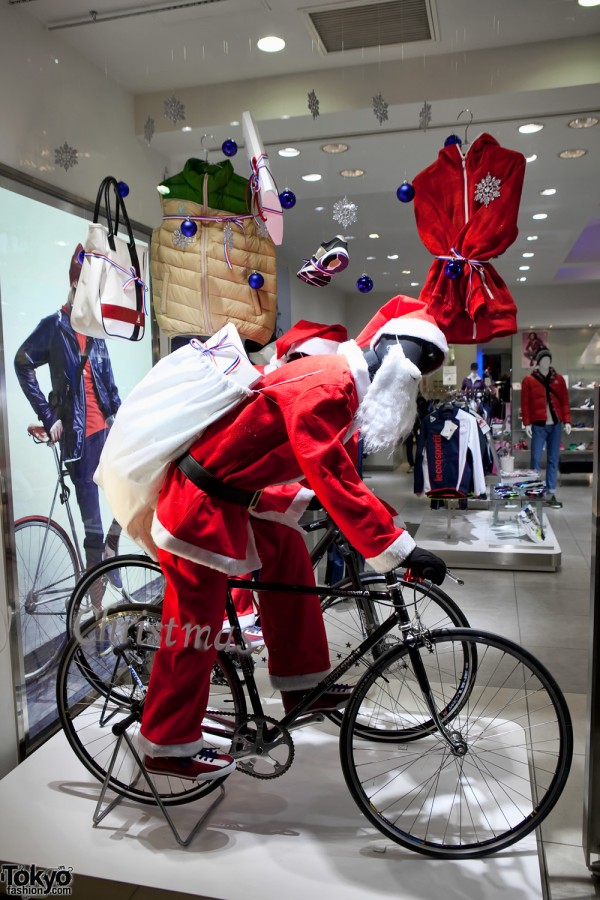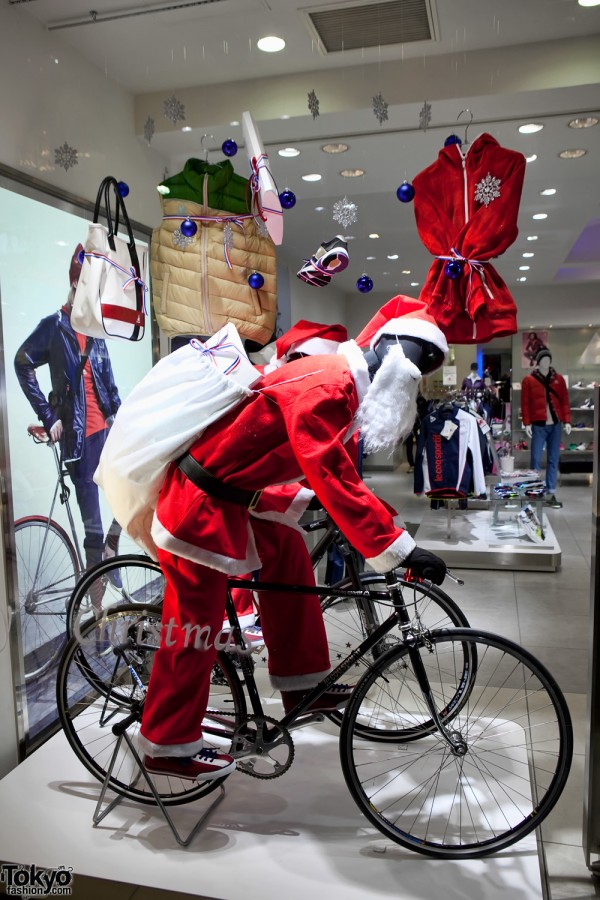 Japanese Santa is trying to lose a few pounds this year by riding his bike instead of using the reindeer.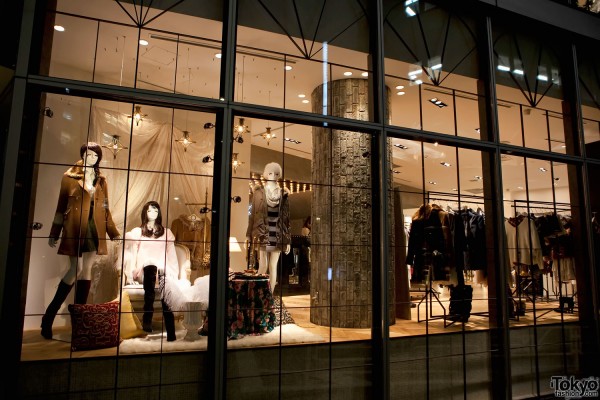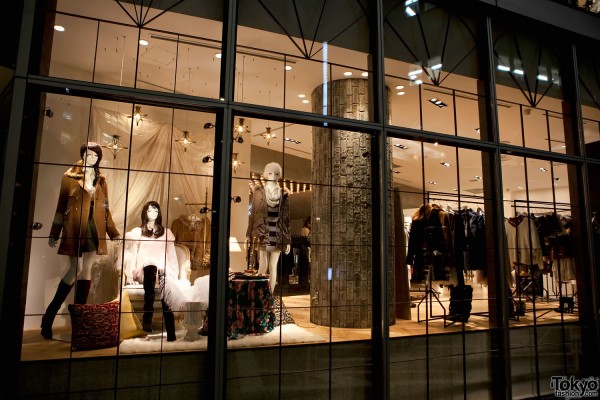 A cool shop window.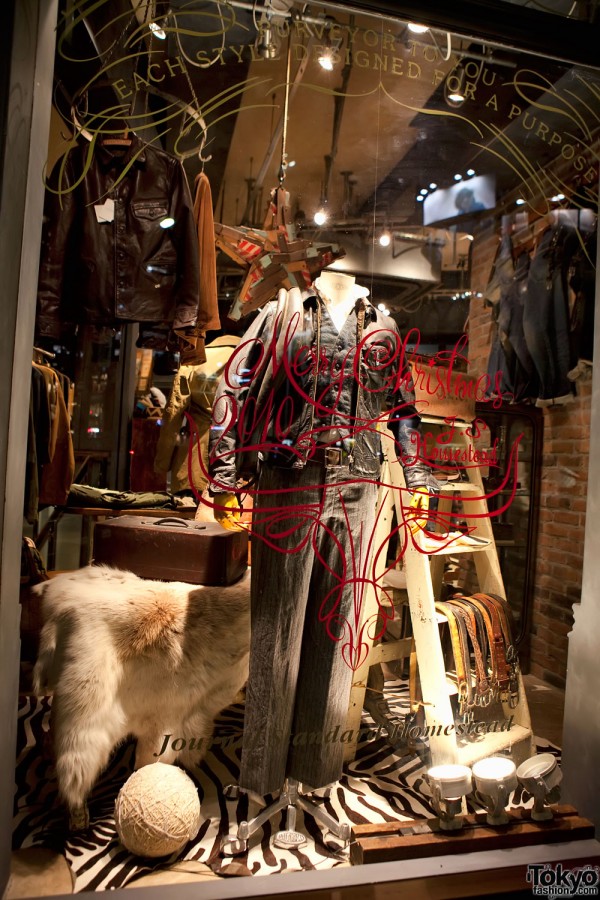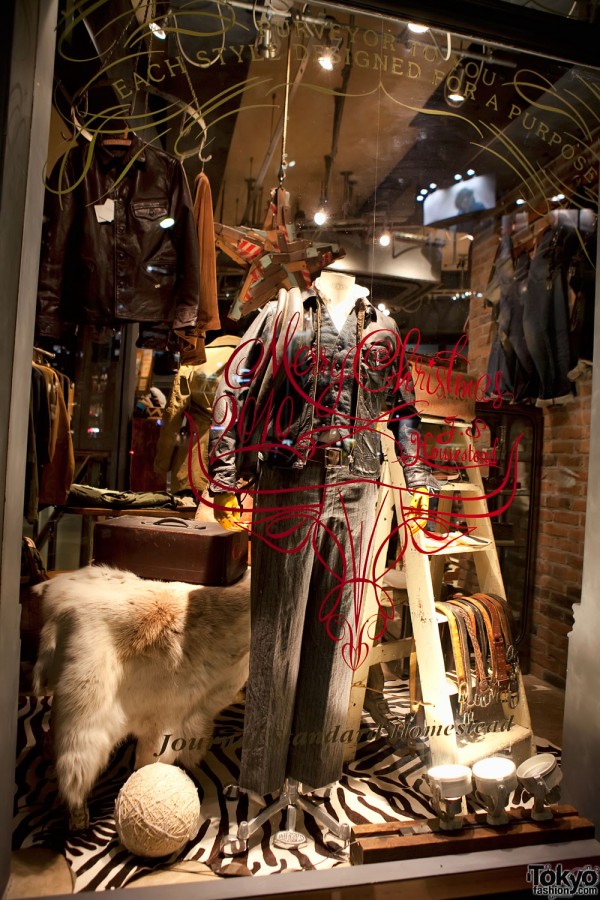 Merry Christmas from Journal Standard Homestead. And, we've reached a magic invisible line that doesn't actually exist which divides Harajuku from Shibuya. That means it's time to cross the street and head back toward LaForet on the other side.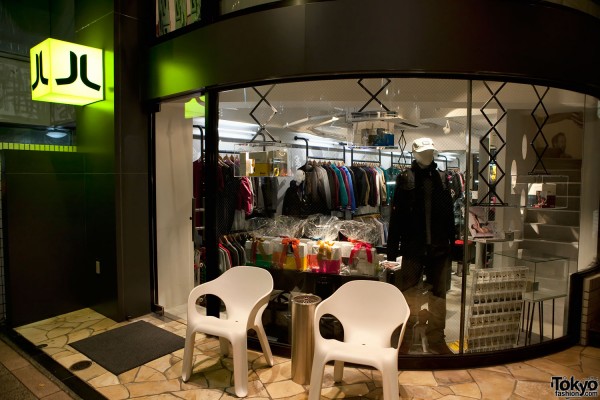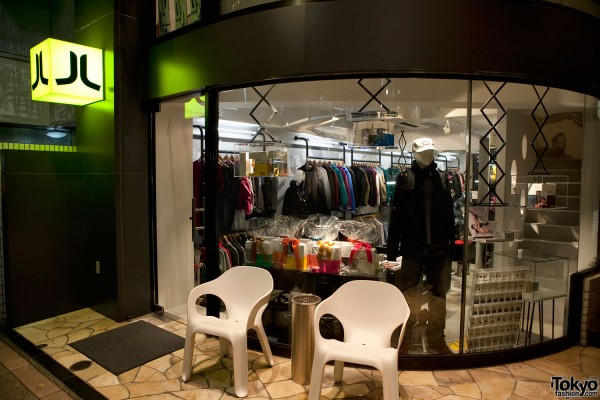 WESC Christmas presents. The We Are The Superlative Conspiracy shop opened this year. They've got clothing and other stuff, but what I really want for Christmas is a pair of those Bloody Beatroots headphones! Hint. Hint.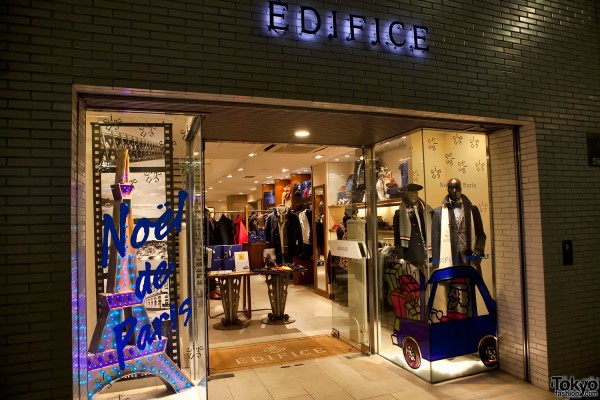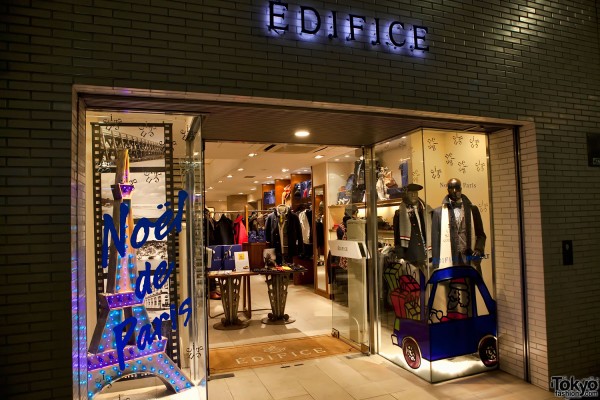 Edifice Harajuku presents The Eiffel Tower in "Noel de Paris".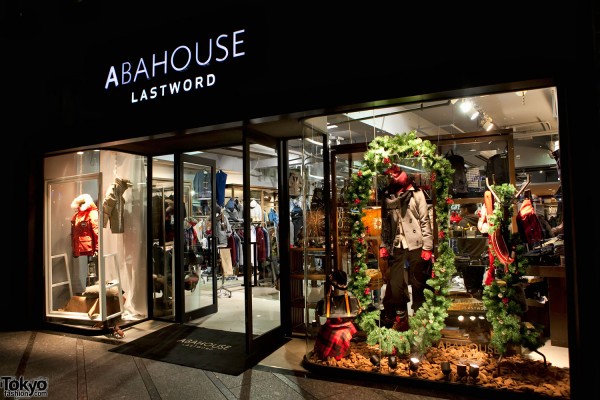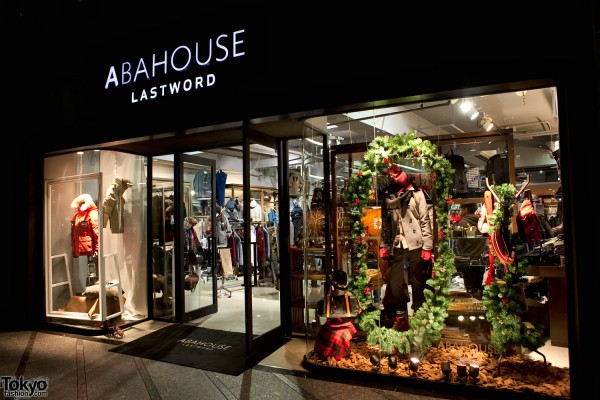 Abahouse. Last Word. Large wreath. More words.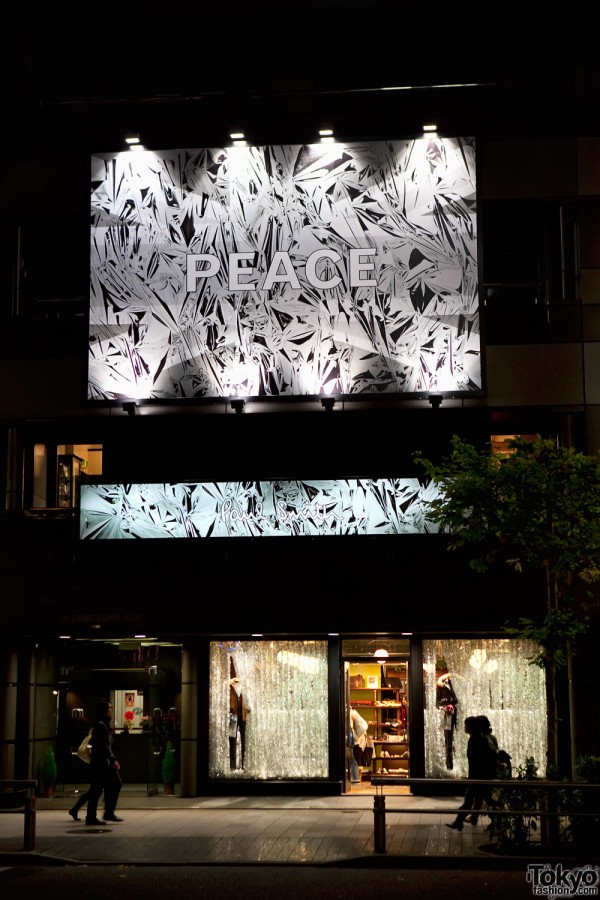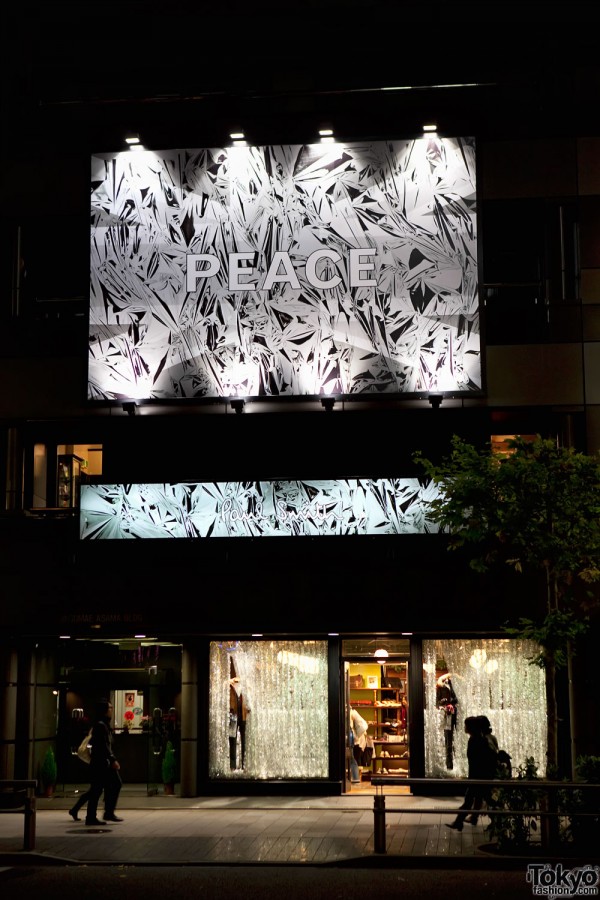 Okay, we're now taking pictures of back across the street where we walked earlier. The Paul Smith shop just looks better from a distance. Check out the huge holiday "PEACE" artwork. Nice.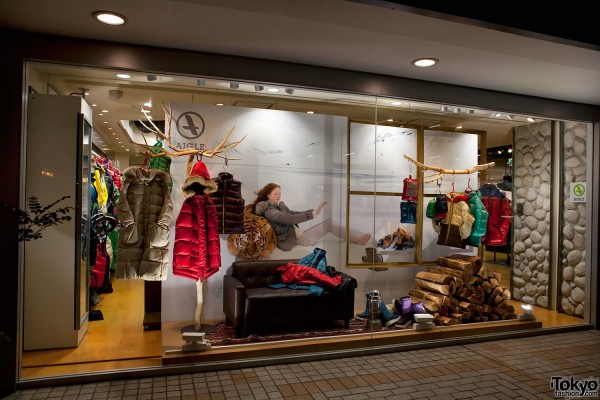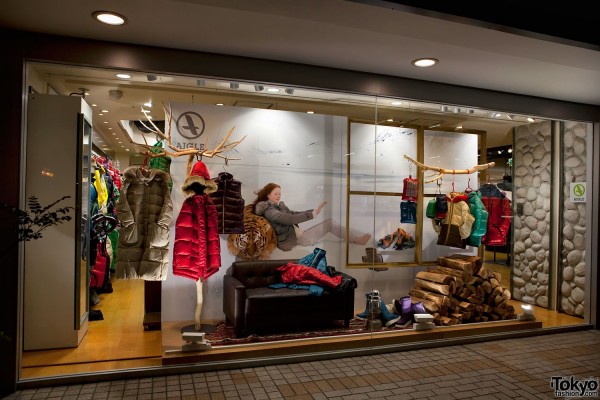 Aigle. This window display would be so much more cool with a real fire. But that might be dangerous. How about a real tiger instead?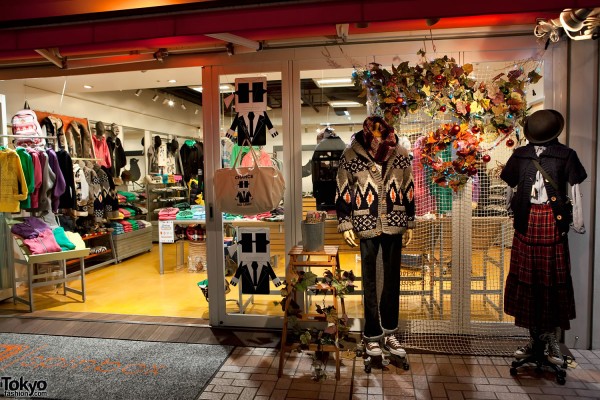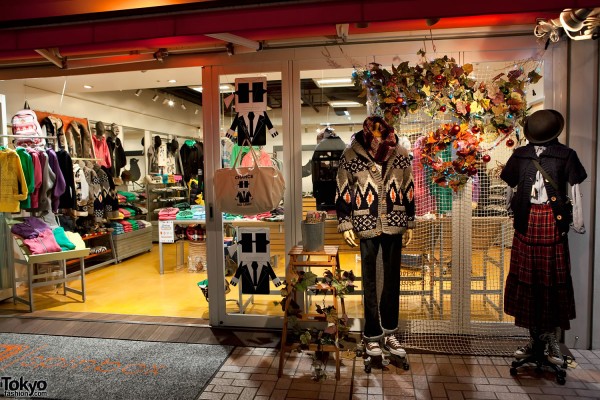 Chance. No Limit. Cute clothes. Etc.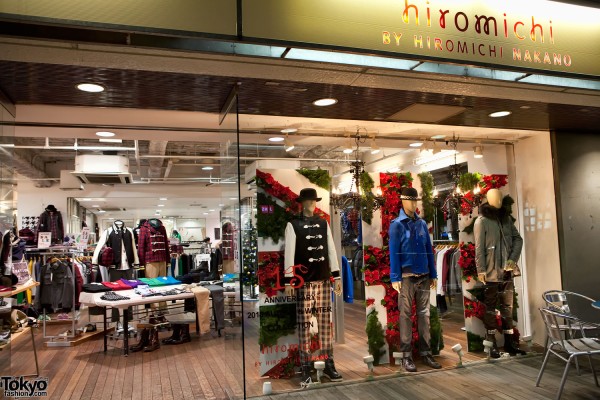 Hiromichi by Hiromichi Nakano Christmas window and 15th anniversary.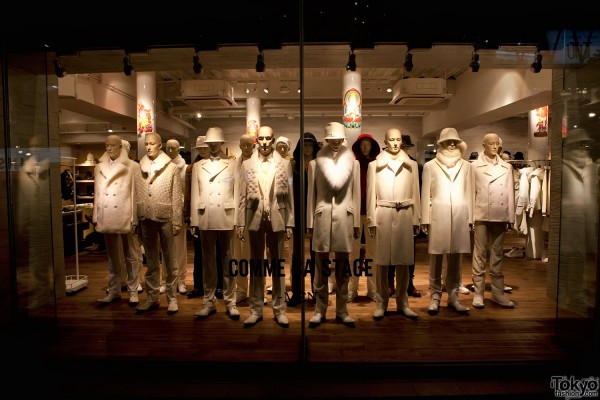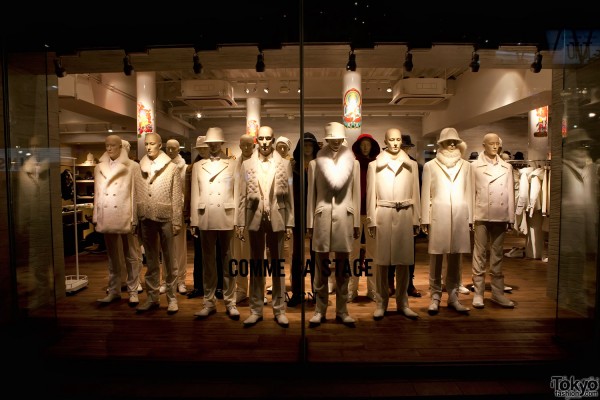 An awesome window display at the new Comme Ca Harajuku flagship store. I think maybe these outfits were all white originally, but the lighting is yellow-ish. If "age" is just a number, then "color correction" is just a word (or two).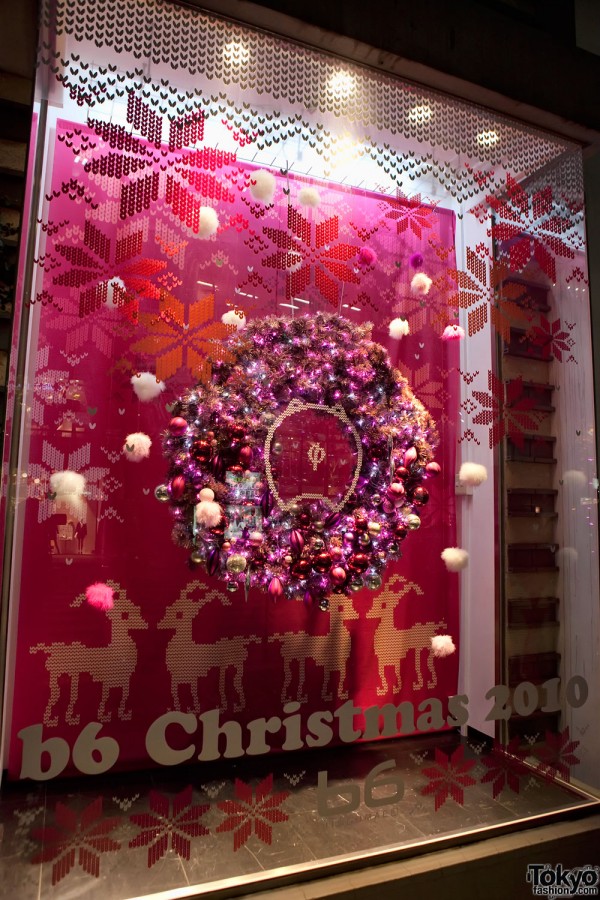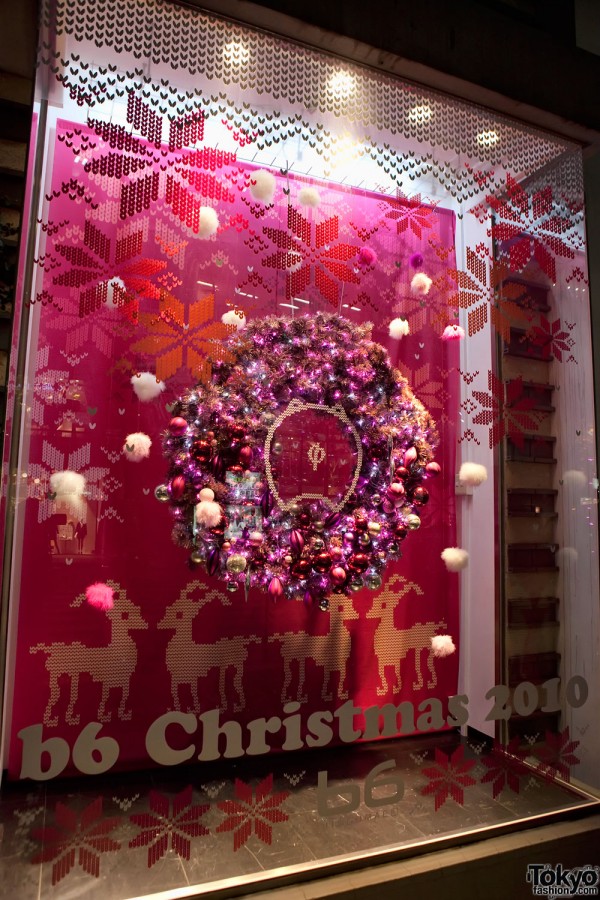 Passing a huge pink wreath at the B6 shopping complex as we continue to move toward Omotesando Dori.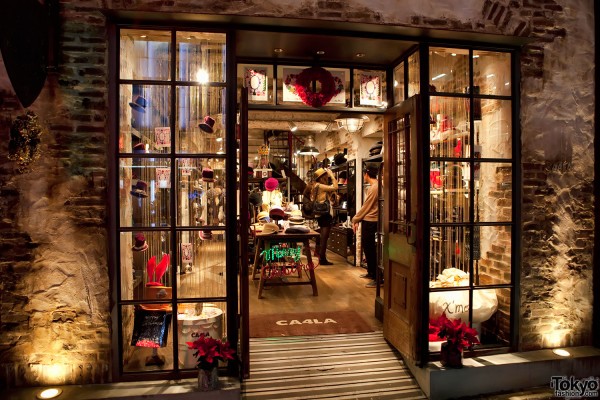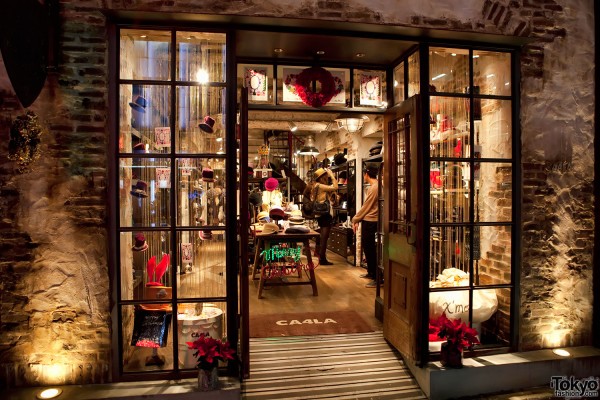 The first of two Harajuku hat shops almost right next door to each other on Meiji Dori. This is CA4LA with a nice lighted "Merry Christmas" sign inside of the shop.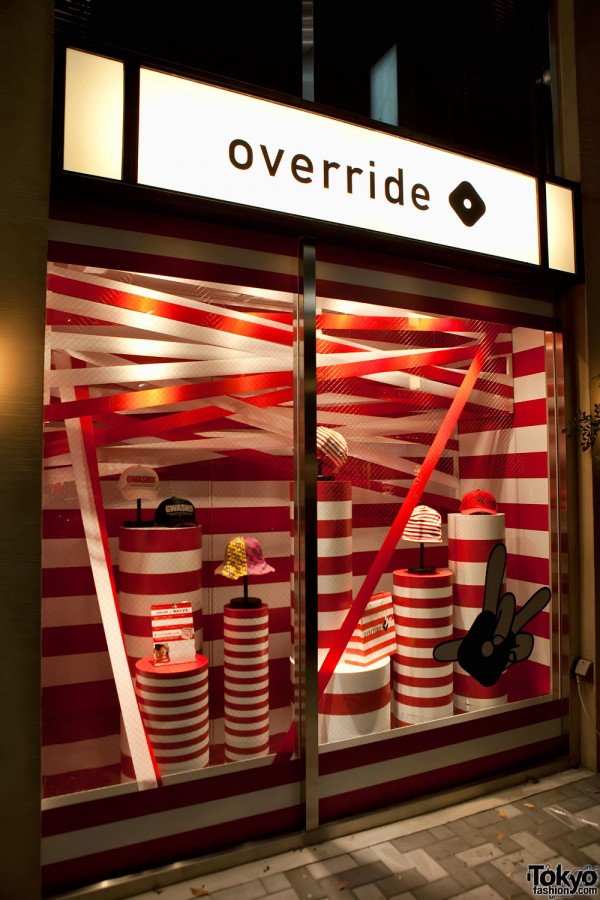 The second hat shop we're passing is Override Harajuku. Override doesn't have a holiday display, but one of the hats in the window has the following text printed on it, "GWASHI!! – a mimetic word when I catch a thing by hand is the etymology". That's about 1,000 times better than Christmas, right?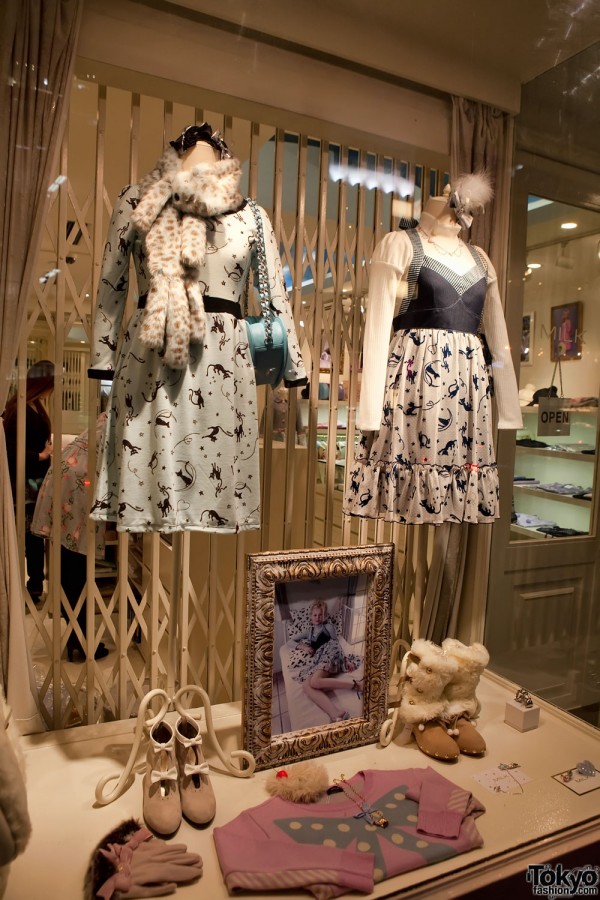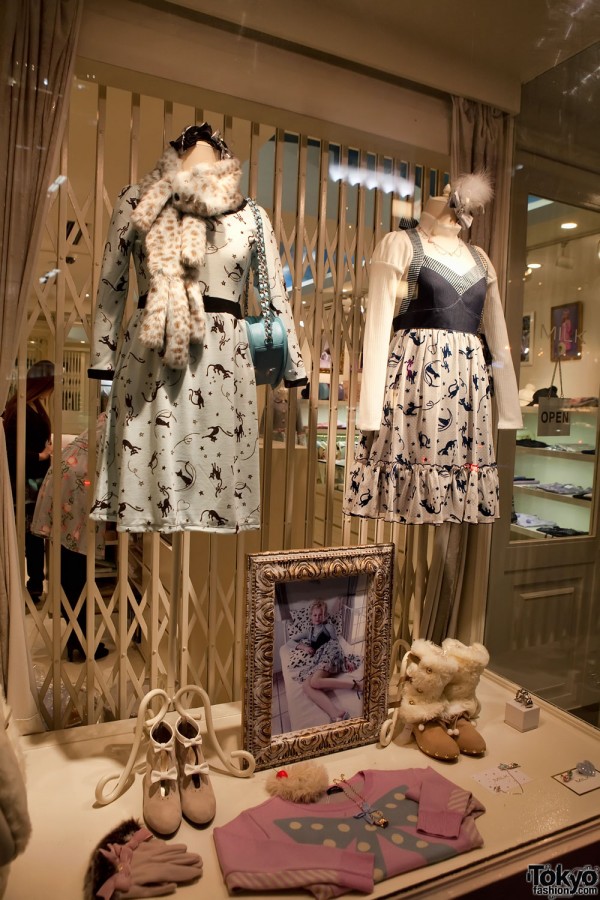 Milk Harajuku. Usually, their windows are very pink. Tonight, not so much.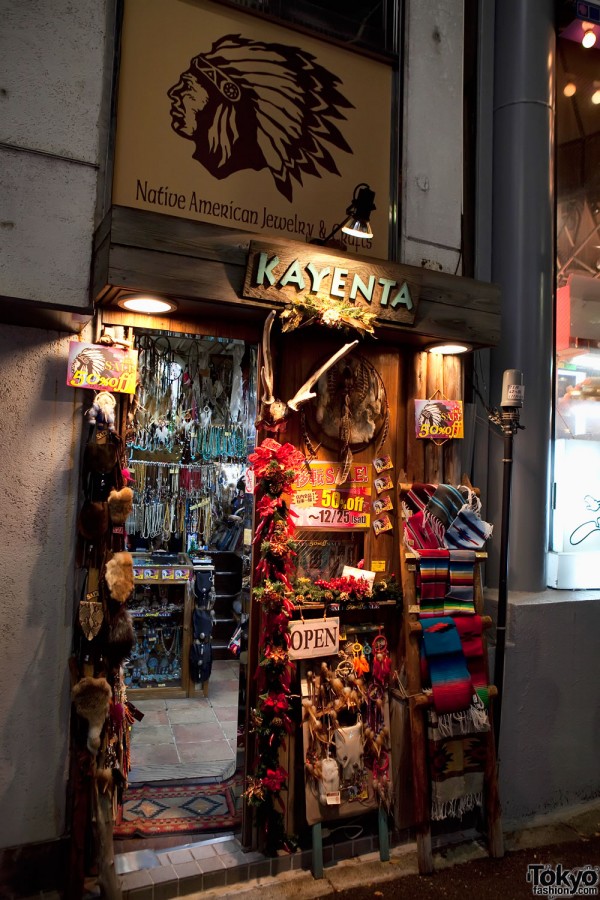 If you suddenly have an urge to buy Native America jewelry and crafts in the center of Harajuku, Kayenta is there for you.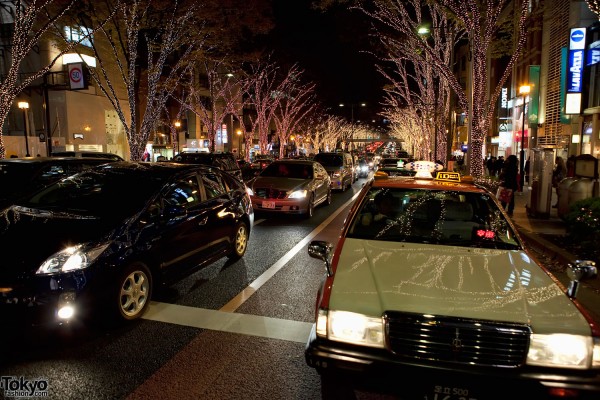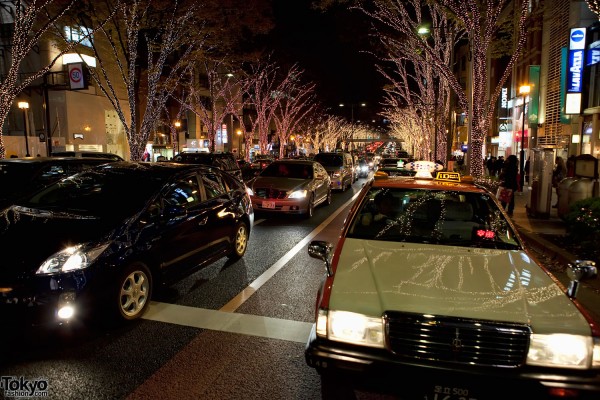 After a lot of walking, we've reached Omotesando Dori again! It's darker now, so that Omotesando illumination looks really nice. That taxi looks pretty nice too, but that would be cheating. Or would it? We'll keep walking – not much more to go for tonight.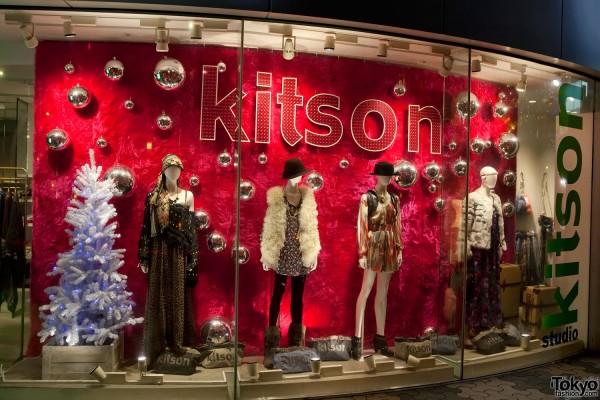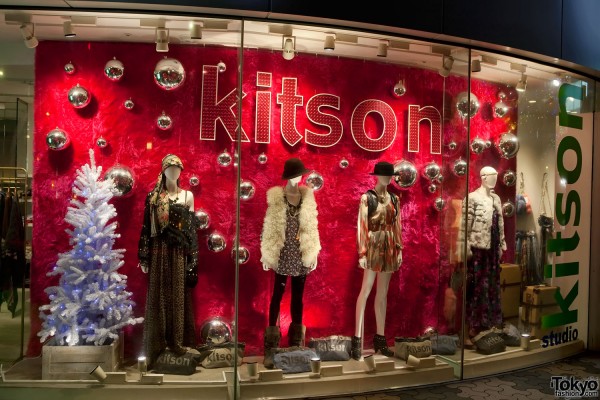 The Kitson Studio Christmas window in the front of LaForet Harajuku is pretty.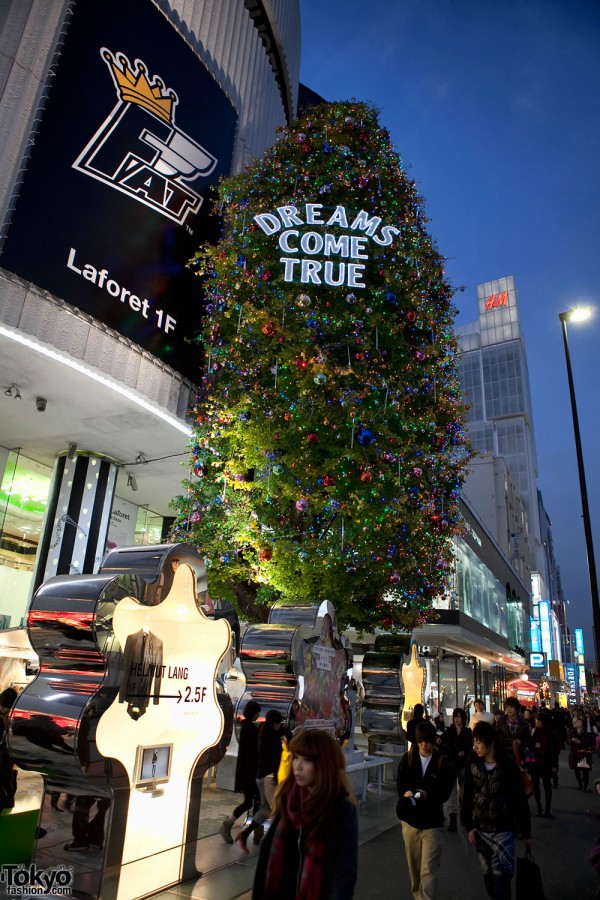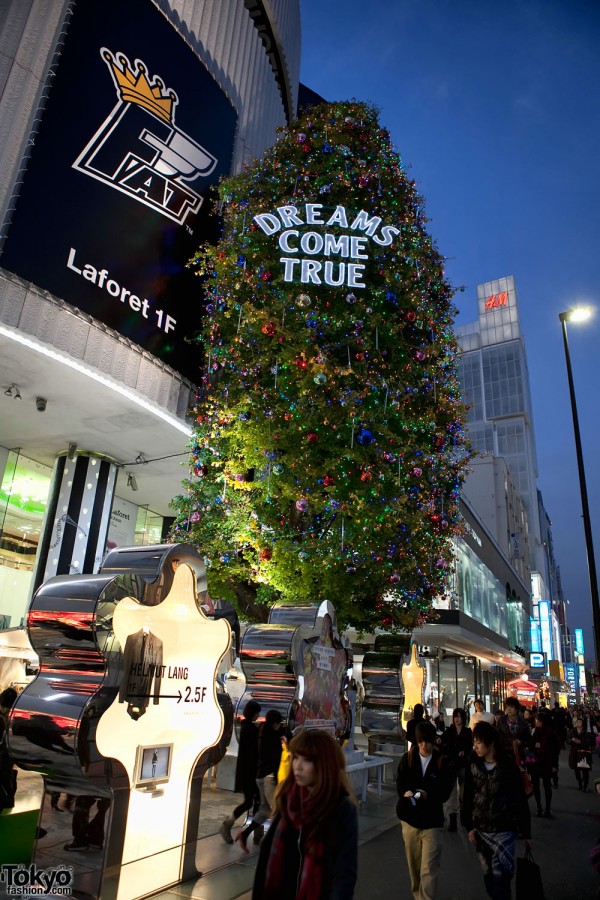 Now we're passing right by LaForet – here's another shot of the tree with H&M in the background and random shoppers in the foreground.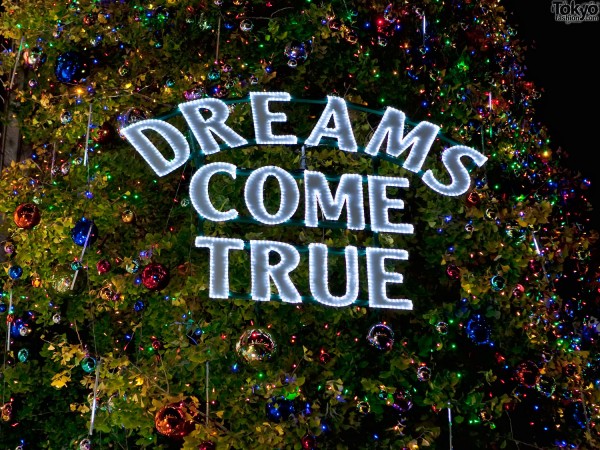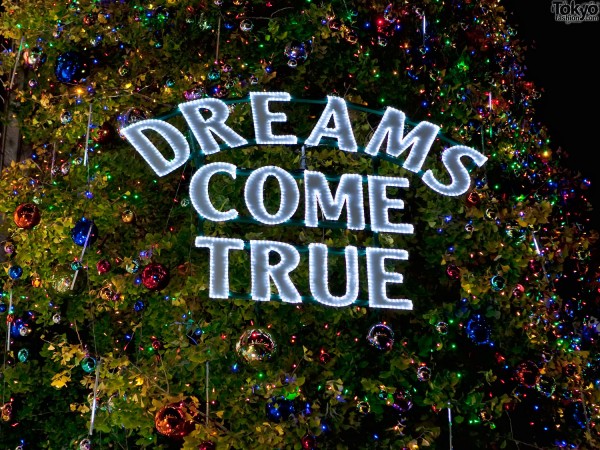 Dreams Come True in Harajuku. It helps if your dreams involve shopping.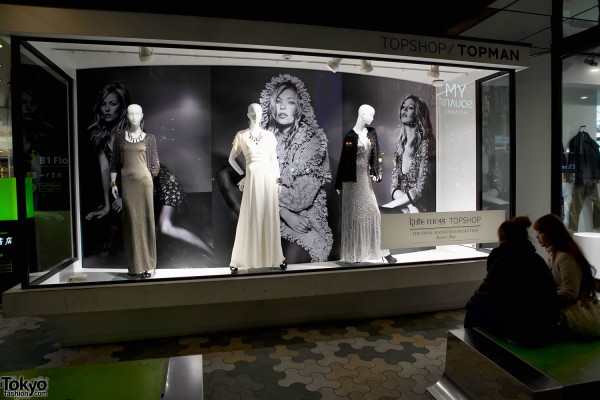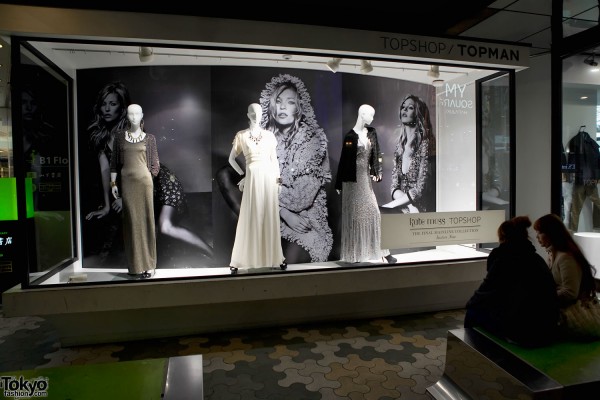 We love Kate Moss! So sad – the final Topshop Collection.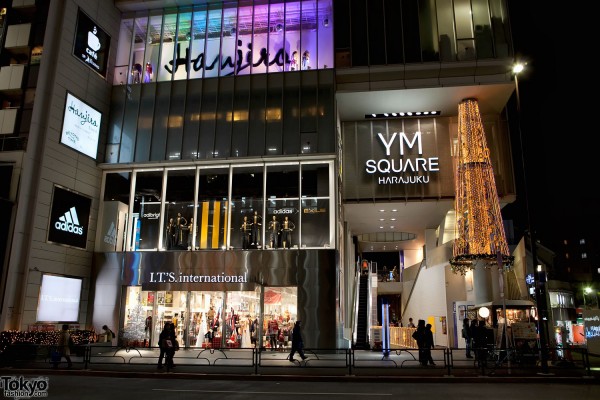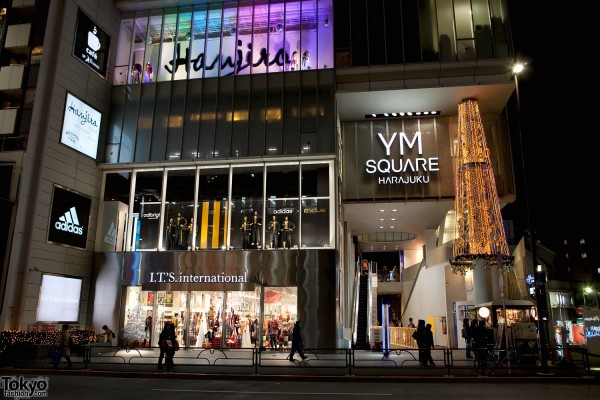 Aiming our camera across the road to the side of the street we walked along earlier tonight, we see the huge YM Square light tree – and the awesome Hanjiro Harajuku resale shop.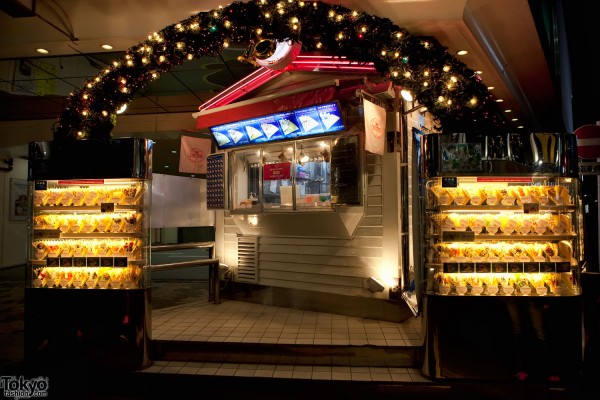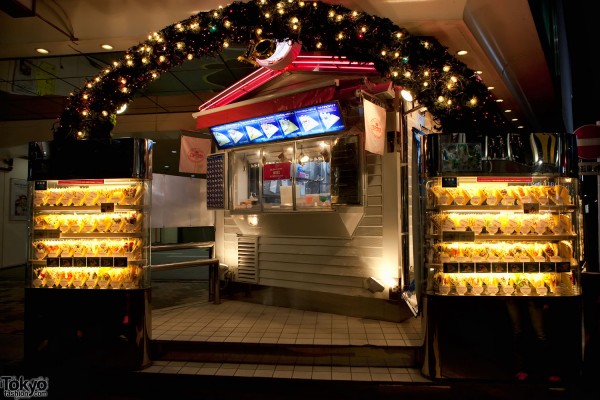 A Harajuku crepe shop all decorated for Christmas. Cute – and tasty.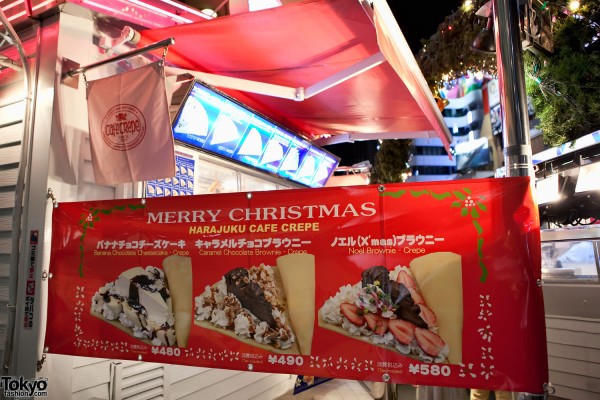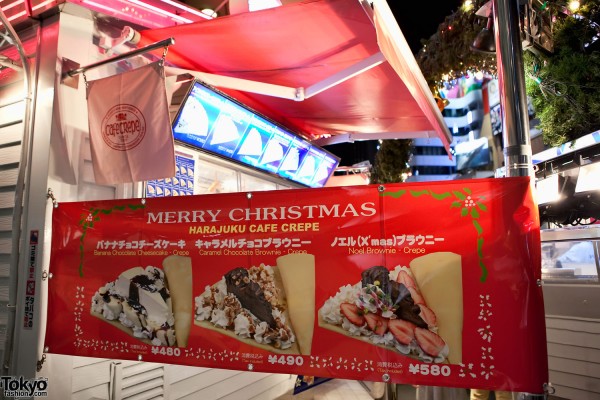 Three different Harajuku Christmas crepes – Banana Chocolate Cheesecake, Caramel Chocolate Brownie, or Noel Brownie. Which one (or two) will you have?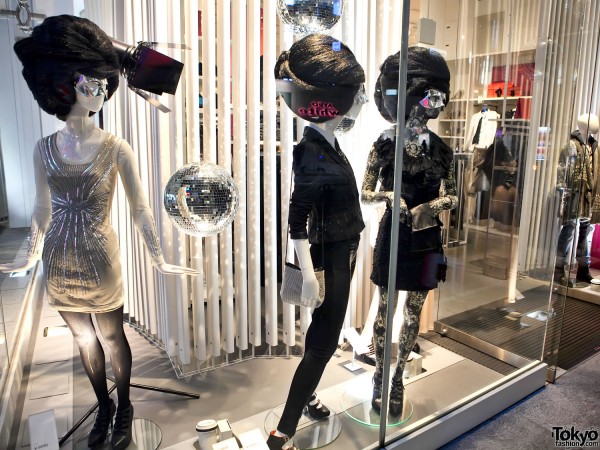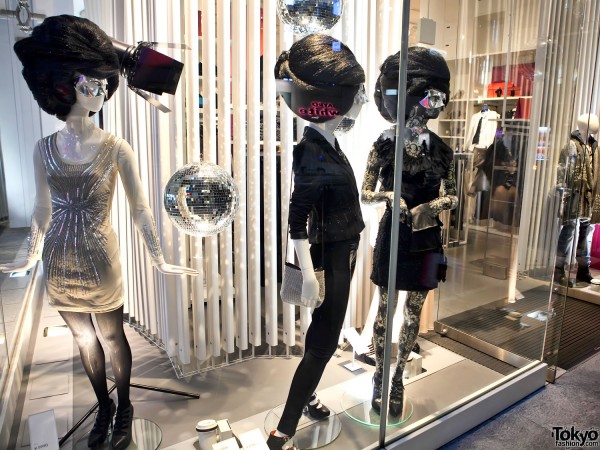 I love the beehive hairstyles in the window of H&M. If this ever becomes a trend in Harajuku, there aren't enough memory cards to hold all of the photos I'll take!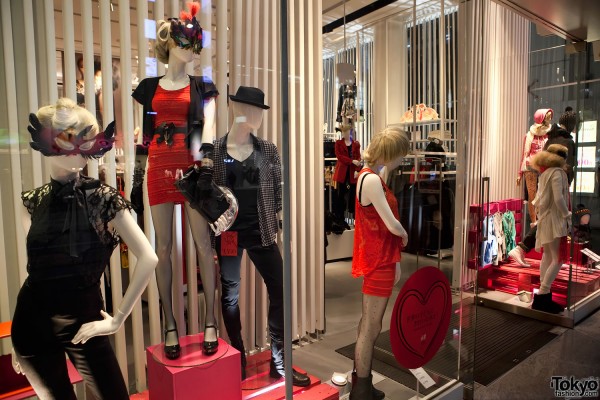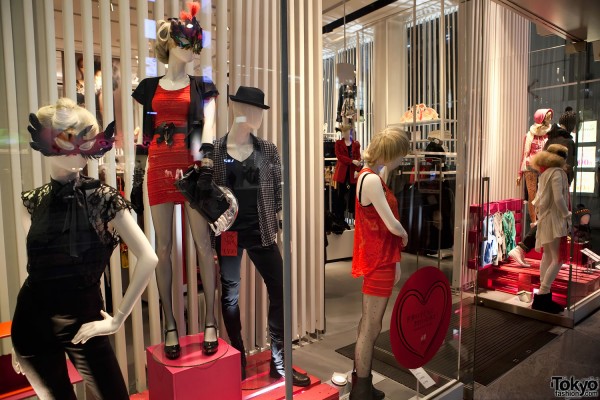 The closest H&M comes to Christmas decorations tonight – a masquerade-themed window.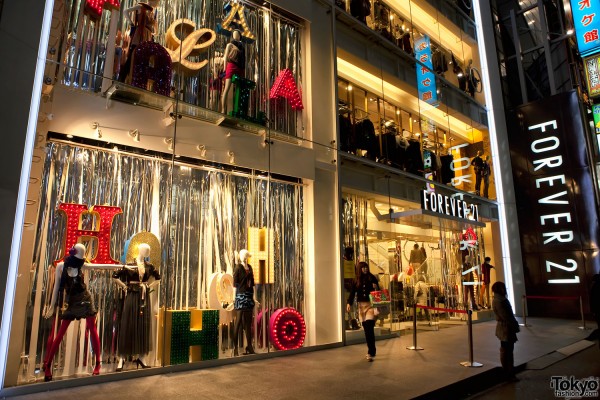 It's getting late now, as you can tell by the fact that there are exactly two people out in front of the Forever 21 Harajuku.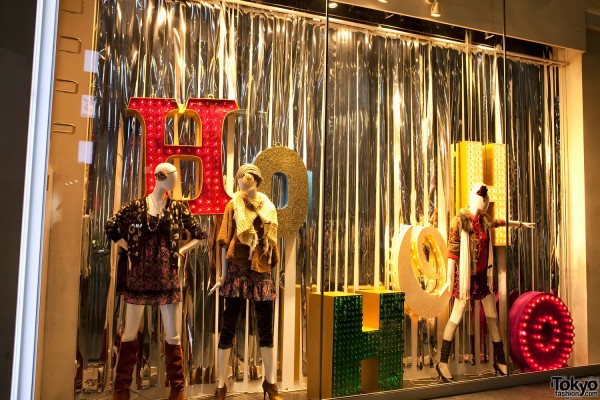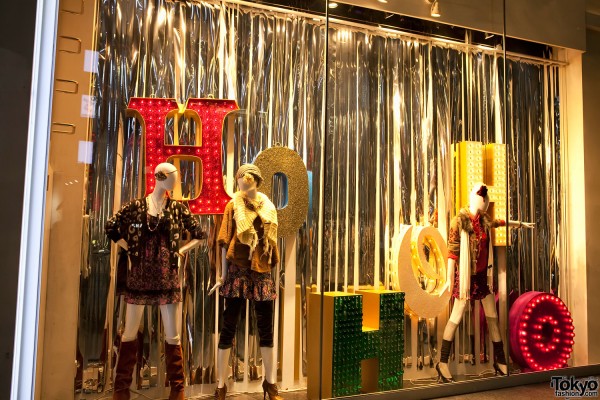 HO HO HO at Forever 21 Harajuku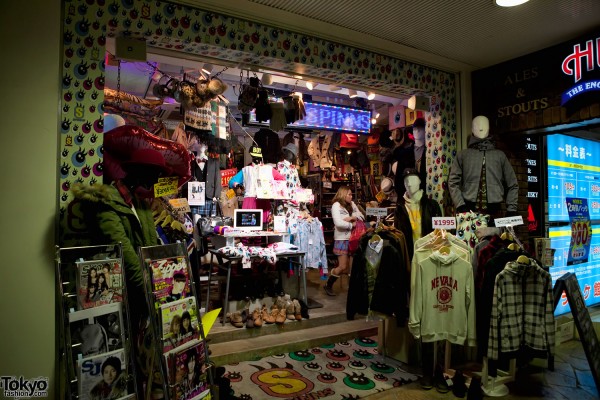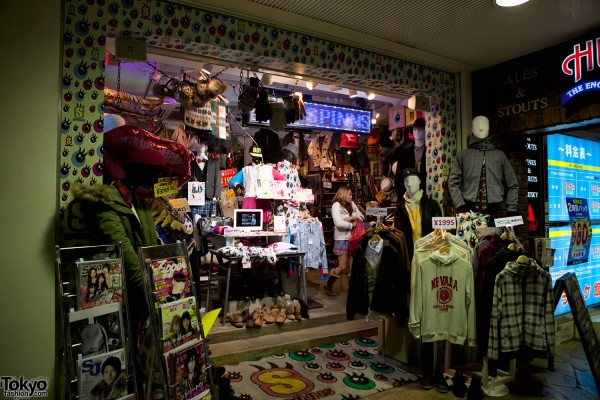 We are now almost back to Takeshita Dori. We're going to end this walk at the new Spinns Harajuku shop, right next to F21. If you haven't visited the new Spinns yet, you're missing out. This is a cool and unique shop!
Thank you for coming along on our Harajuku Christmas Photo Walk. All of the shops are closing, so we're going to call it a night. We'll be back with more of Harajuku soon. Don't forget that you can click on any of the pictures to blow them up to high resolution. Also, make sure you check out our other Tokyo Christmas photo walks – including Shinjuku, Shibuya, and Roppongi!
Happy Holidays everyone and see you soon!