Harajuku Christmas Pictures 2011 – Takeshita Dori, Cat Street, LaForet & More!
Christmas is almost here! That means it's time for our annual – and always late – Tokyo Holiday Pictures! This year, because of all of the cool X-mas events we covered (like the Kyary Pamyu Pamyu Christmas and Grimoire Dolly Kei Christmas), we didn't have time to photograph too many areas of Tokyo. However, we did hit all of the "close to home" areas – including Harajuku (home base), Shibuya, and Omotesando. We also took some pictures in Shinjuku, but mostly of the awesome Isetan windows.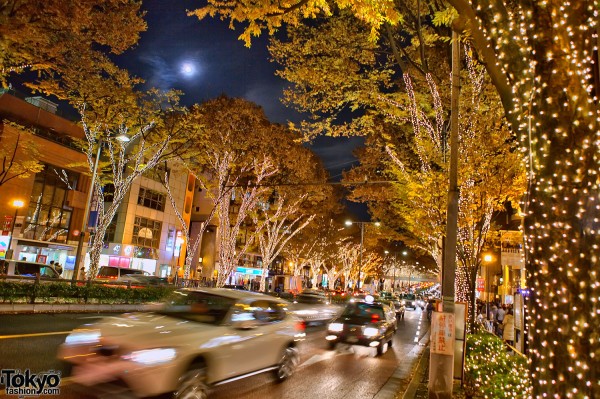 The clock is ticking toward Christmas, so let's get started! Our first batch of Tokyo Christmas pictures features the shops, cafes, salons, crepe shops, streets, and sights of Harajuku. In past years, we broke our Harajuku Christmas pics up into two or three different reports. This year, we're testing a new way to post photos that enables us to add hundreds of pictures all in this one post. If you have any problem viewing the Harajuku Christmas pictures, please let us know! As always, you can click on any of the pictures to see them in beautiful high resolution.
Some of the places in Harajuku you may recognize in the photos below include Takeshita Dori, Harajuku Dori, Cat Street, Meiji Dori, 6%DOKIDOKI, Spinns Harajuku, Nadia, Tokyo Bopper, Candy Stripper, Forever 21, Panama Boy, G2?, H&M, Panama Boy, Nile Perch, h.Naoto, Supreme, Sex Pot Revenge, the LaForet Harajuku Christmas Tree, some of the Omotesando Illumination (although that will be covered in the upcoming Omotesando post), Hysteric Glamour, and more (over 350 pictures in all).
We have broken the pictures down into three groups – Takeshita Dori, Cat Street and Meiji Dori, and All Other Areas. If you have questions about the shops in any of the pictures, just let us know in the comments and we'll figure it out for you. Enjoy the Harajuku Christmas pictures and Happy Holidays from Japan!
Update: Our 2011 Christmas in Harajuku and Christmas in Shibuya videos are now posted as well!
Harajuku Christmas – Takeshita Dori
Harajuku Christmas – Cat Street
Harajuku Christmas – Meiji Dori, LaForet & Everywhere Else
Click any of the Harajuku Christmas pictures to enlarge them.
Happy Holidays!!!!
Check back soon for more Christmas pictures from other areas of Tokyo, including Shibuya and Omotesando!