"Table of Dreams" Christmas Exhibition Featuring Kyary Pamyu Pamyu – Pictures & Video
Harajuku sensation Kyary Pamyu Pamyu and Sebastian Masuda from Japanese fashion brand 6%DOKIDOKI have been working together for most of this year. Their kawaii collaborations include the incredibly popular music video for "Pon Pon Pon", a Shibuya "Girls in the Room" exhibition, and Kyary's debut in America at Rune Boutique. Now that the end of 2011 is near, Kyary and Sebastian have come together once again – this time, to spread Christmas cheer to fans of Harajuku all over the world!
The "Table of Dreams" exhibition at the Time Out Cafe Gallery in Ebisu features a Christmas collaboration installation by Kyary and Sebastian. The installation – with a theme of "Christmas With Friends" – is an amazing mix of holiday cheer, Harajuku kawaii, and brilliant insanity that could only come from the creative mind of Sebastian Masuda (who is a visual artist as well as a fashion designer). Some of the colorful original sets created for Kyary's famous music videos "Pon Pon Pon" and "Tsukema Tsukeru" are also making their first public appearance in this exhibition. If you've ever dreamt of living in the world that exists inside of Kyary's head (as seen in her videos), this is as close as you can get!
The "Table of Dreams" exhibition at Time Out Cafe Gallery is more than just fun, though. It's part of a bigger vision by the Japanese non-profit organization by the same name (Table of Dreams) to make the world a better place. The organization's goal is to build richer human relationships through the sharing of food. In Japan, that could mean late night gatherings at izakaya, groups of friends gathering for a meal under the cherry blossoms during hanami, or a family sitting down together for a quiet dinner. During the year-end holidays, many lasting memories are created through friends and family sharing a meal – and that's the goal of Table of Dreams.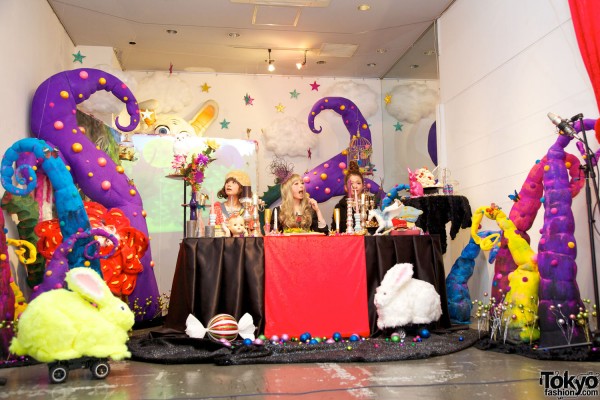 On December 20th, both Kyary and Sebastian appeared in person at Time Out Cafe Gallery as part of the "Table of Dreams" exhibition. The appearance included the showing of a short animated film, a holiday performance by Kyary (not singing, but performing inside of the installation), and a talk show during which Kyary and Sebastian discussed their various projects together.
Thanks to the nice people at Time Out Cafe, we were able to attend the event and bring back both pictures and video to share with you. We hope that Kyary and Sebastian and their "Table of Dreams" will brighten up your winter holidays and help make your Christmas (or whatever holiday you might celebrate) a great one!
The last day to enter Kyary and Sebastian's kawaii world is Christmas Eve (12/24), so get over to the "Table of Dreams" exhibition soon if you don't want to miss it!
Table of Dreams Featuring Kyary Pamyu Pamyu Pictures
Click any of the Table of Dreams pictures to enlarge them.
Table of Dreams Featuring Kyary Pamyu Pamyu Video
If you'd like to see the entire "Table of Dreams" appearance by Kyary and Sebastian, you can view it on UStream at this link. There are no subtitles to the Japanese audio, but you can see Kyary's full performance.
An extra-fun thing that made us smile during the live performance is that one of the "friends" with whom Kyary sat down to eat Christmas dinner at her "Table of Dreams" was none other than "Rii" of "Rii & Maho" fame. We see both Rii & Maho around Harajuku regularly and they are really fun/cute girls. It was a big surprise for us to see Rii sitting right next to Kyary! Yuka and Vani from 6%DOKIDOKI also came out to pose with Kyary Pamyu Pamyu at her Table of Dreams.
Here are all of the details on Table of Dreams:
What: Table of Dreams exhibition featuring Kyary Pamyu Pamyu
Where: Time Out Cafe Gallery in Ebisu, Tokyo
When: Dec 19-24, 2011 / Noon-9pm daily
Address: 3-16-6 2F, Higashi, Shibuya-ku, Tokyo, Japan
Access: Short walk from Ebisu Station. Time Out Cafe is in the same building as the Liquidroom.
Map: Time Out Gallery map
Websites: Kyary, 6%DOKIDOKI, Time Out Cafe Gallery, Table of Dreams
Photos by Kira. Video by Kaila.
***
About the photographer:
Born in Japan, educated in Japan and the US, Kira shoots exclusively with Canon DSLRs. Photography assignments include fashion, bands, sporting events, and portraiture for various companies and bands throughout Japan & the world. His portfolio can be viewed at Artist-Photo.
About the filmmaker:
Kaila is currently a Japanese language student in Bunka Fashion College's sister school — Bunka Institute of Language. She loves taking photographs, getting lost in her own world and discovering new places with her fisheye, making accessories out of boredom and blogging whatever goes in her Japan life.