6%DOKIDOKI x Kyary Pamyu Pamyu "Girls In The Room" at Parco Shibuya
Kyary Pamyu Pamyu is the undisputed "It Girl" of current Harajuku kawaii culture. 6%DOKIDOKI has been a major presence in the Harajuku kawaii fashion scene for more than 15 years. So, when Japanese department store Parco wanted to bring a taste of Harajuku to Shibuya as part of the "Parco Part Three 30th Anniversary" celebration, these two titans of cute were at the top of their list.
After all the fun they had working together on the "PONPONPON" video, Kyary & Sebastian from 6%DOKIDOKI thought the Parco project sounded liked a fantastic idea. The resulting three-way collaboration included music, fashion, art, books, Bearbricks, a 6%DOKIDOKI Popup Shop, vintage 1980s toys, and even Kyary herself spending time in a display window on the outside of Parco Shibuya!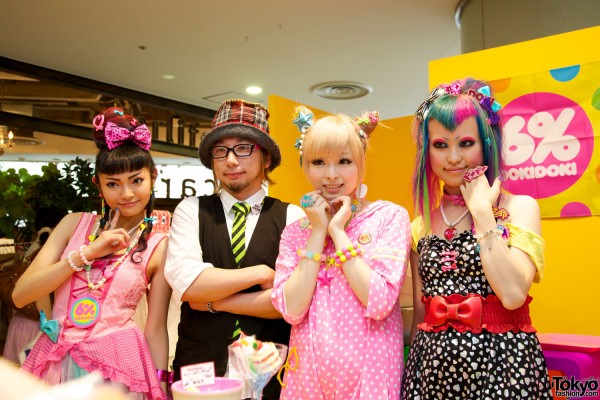 6%DOKIDOKI founder Sebastian Masuda is more than just a fashion designer. He's also an artist who has produced numerous visual art shows over the last decade. One of his ongoing installation series is called "Girls In The Room". Elements of this series were part of the Popples exhibition last year, as well as being featured in Kyary's "PONPONPON" music video. As part of the Parco Part Three 30th Anniversary, Sebastian created an all new "Girls in the Room" work.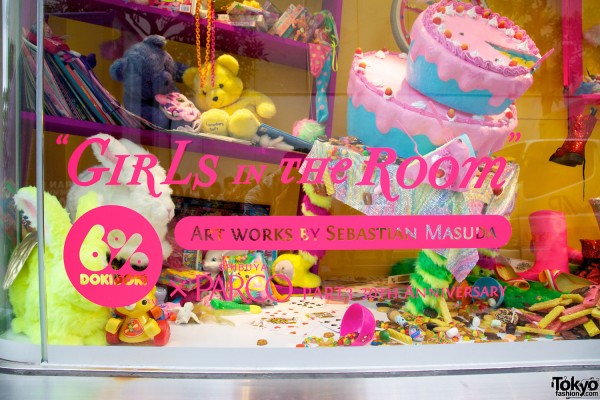 The new "Girls In The Room" piece – featuring vintage toys, colorful sweets, plush animals, character goods, and more random cute pink things than we could count – was installed in the large display window outside of Parco Shibuya. The installation is a fantasy world Harajuku girls might inhabit in their dreams. Enter Kyary Pamyu Pamyu – a Harajuku girl who did more than just dream of living in Sebastian's pink "Girls In The Room" wonderland!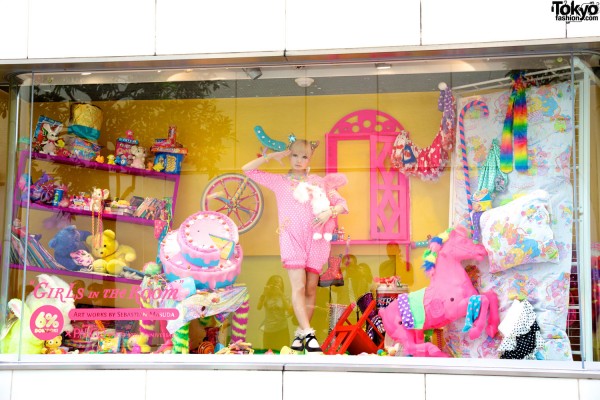 To say that passersby were surprised to see Kyary – a popular magazine model, author, and rising music star – moving around inside of Sebastian's "Girls In The Room" window display at Parco would be an understatement! While the space for this installation wasn't big enough for Kyary to spend too much time in the display, her adventures in the window were fun, funny, and – as is always the case when Kyary is involved – ridiculously cute.
In addition to the live window display, Kyary also made an appearance – with the amazing Vani and Yuka – at the 6%DOKIDOKI popup shop right inside the door of Parco Part 3. She signed copies of her new book "Oh My God! Harajuku Girl", took pictures with fans of her new CD "Moshi Moshi Harajuku", showed her love for the new 6%DOKIDOKI Bearbrick on display at the Parco Factory, participated a talk show with Sebastian from 6%DOKIDOKI outside of Parco Part 1, and turned lots of heads while wandering around Parco.
Thanks to our friends at 6%DOKIDOKI, we were lucky to be invited to shoot photos and video of all of the fun goings-on at the Parco Anniversary celebration. We're still editing the video, but please enjoy these fun pictures of Yuka, Vani, Sebastian, and of course Kyary! Remember, you can click on any of the pictures to see them in high resolution!
Click on any of the picture to see high resolution versions.
Check back soon for our video from the 6%DOKIDOKI x Kyary Pamyu Pamyu x Parco event – featuring interviews with Sebastian and Kyary, plus excerpts from the talk show held at Parco.
Update: Here's a short video from the event featuring interviews with Kyary and Sebastian!

For more info on 6%DOKIDOKI, Kyary Pamyu Pamyu & Parco, check these links:
All photographs by Kira.