Harajuku Fashion Walk is an event we've been covering since the very first walk back in 2010. The first Harajuku Fashion Walk of 2012 – and the 8th one overall – took place last weekend. Harajuku Fashion Walk #8 featured plenty of the colorful and original only-in-Harajuku fashion for which the event is known. In addition to the expected group of Japanese participants, this edition of HFW drew a few more international participants than previous walks. No matter where Harajuku Fashion Walkers come from, once they reach Harajuku their goals are the same: have fun and make new friends!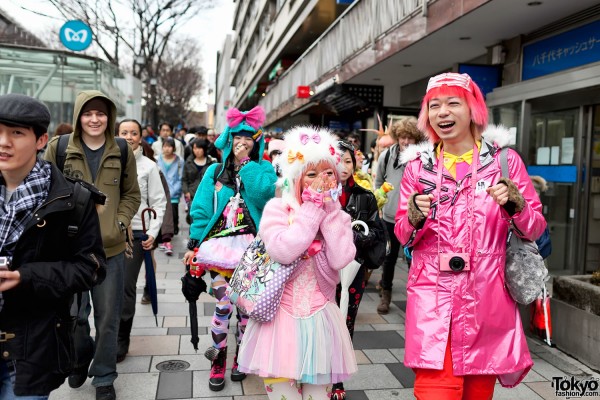 While Harajuku Fashion Walk is mostly well-known for the participants' super-colorful outfits, the goal of the event is to support all types of alternative fashion in Harajuku. In addition to Super Lovers, 6%DOKIDOKI, and plenty of pink hair, Harajuku Fashion Walk #8 also featured several dark gothic looks, various types of lolita, interesting handmade creations, and various other styles.
Harajuku Fashion Walk #8 kicked off in the early afternoon at Harajuku Station. Once everyone arrived, the walkers made their way down Omotesando Dori past LaForet Harajuku in the direction of the 6%DOKIDOKI shop. From there, the walkers turned up Harajuku Dori past Hyper Core toward Cat Street. A quick stop for photos and rest, then the walk made its way back toward the famous Harajuku Bridge (Jingu Bashi) for a quick group photo. After the walk ended, the 50 or so participants headed for the after-party to relax and have fun.
We were on hand to take photos and video of Harajuku Fashion Walk #8 for those of you who couldn't make it. The HFW events take place several times a year. If the pictures and video look like fun to you, definitely check the official website for information on future walks. If you can make it to Tokyo, you're invited to participate! Enjoy our Harajuku Fashion Walk pictures and video, and remember that you can click on any of the photos to see them in high resolution.
Harajuku Fashion Walk #8 Video
Harajuku Fashion Walk #8 Pictures
Click any of the Harajuku Fashion Walk pictures to enlarge them.
For more information on Harajuku Fashion Walk, check out the Official Website or Official Twitter.
Photos by Kira. Video by Kaila.
***
About the photographer:
Born in Japan, educated in Japan and the US, Kira shoots exclusively with Canon DSLRs. Photography assignments include fashion, bands, sporting events, and portraiture for various companies and bands throughout Japan & the world. His portfolio can be viewed at Artist-Photo.
About the filmmaker:
Kaila is currently a Japanese language student in Bunka Fashion College's sister school — Bunka Institute of Language. She loves taking photographs, getting lost in her own world and discovering new places with her fisheye, making accessories out of boredom and blogging whatever goes in her Japan life.