Harajuku Fashion Walk Pictures – Spring 2011
Harajuku Fashion Walk is an event that brings together members of many of Tokyo's fashion subcultures, including Lolita, Fairy-kei, Mori, Dolly, Gothic, and Decora. While the fashion on display at HFW may be diverse, everyone comes out for similar reasons – to see, to be seen, to make friends, and – most of all – to have fun.
The Spring 2011 edition of Harajuku Fashion Walk drew approximately 100 dressed-up girls and guys to Tokyo's capitol of youth culture. After meeting near the mouth of Takeshita Dori, fashion walk participants paraded around Harajuku en masse. This large group of eclectically dressed and exceptionally cheerful young people walking around Harajuku together surprised and delighted tourists and locals alike.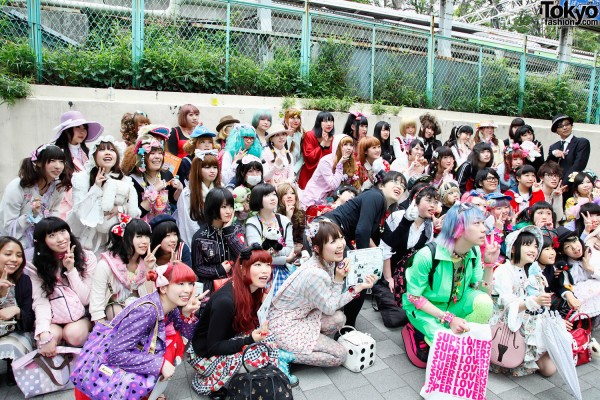 Harajuku Fashion Walk's manifesto states that its goals are to: create a public space for current and future generations to share "free fashion" (fashion free from set rules); encourage an environment that is supportive of people for who they are no matter what they wear; join together so that everyone can feel confident dressing up in outfits that may require a lot of courage if worn alone; and to share the power of Harajuku with others (via the internet and other methods) so that they might become involved as well.
It's been over ten years since the famous Harajuku Hokoten (Pedestrian Paradise) was shut down by the city, tearing a huge bit of "street" out of the area's "street fashion" scene. Harajuku Fashion Walk organizers hope that someday their event will be seen as a positive influence on the area, like the Hokoten was during its heyday. In the meantime, the event is already bringing more young people to the area to share their own versions of "free fashion" – and that alone makes it a success.
We had two photographers on the scene at the most recent HFW. It's hard to properly show 100 people walking together on hugely crowded streets in photographs, but hopefully these pictures will give you an idea of what was going on. Remember that you can click on any of the pictures to see them in high resolution!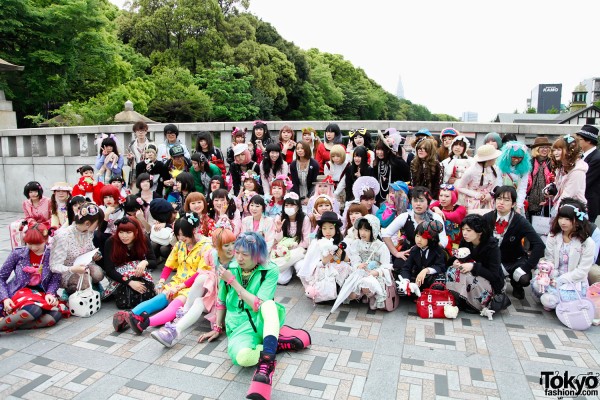 Click any of the Harajuku Fashion Walk pictures to see high resolution images.
We will try to keep you updated on future Harajuku Fashion Walk events as the information becomes available to us. In the meantime, if you can read Japanese, you can check out the official Harajuku Fashion Walk blog and follow HFW on Twitter.