Harajuku Fashion Walk – A Short Documentary Movie Featuring Interviews & Kawaii Street Styles
Harajuku Fashion Walk is a fun and colorful Japanese street fashion event which we've been covering since the very first one. Originally conceived as a one-time super kawaii street party by Sebastian Masuda (the founder of 6%DOKIDOKI & Kyary Pamyu Pamyu's art director), the event was subsequently taken over by group of Harajuku kids and turned into a bi-monthly event. Every two months, 50-100 colorfully-dressed young people meet up in Harajuku and parade through the streets together, making friends – and lots of smiles – along the way. Harajuku Fashion Walk is produced for Harajuku Kids (including you "Harajuku kids" all over the world) by Harajuku Kids.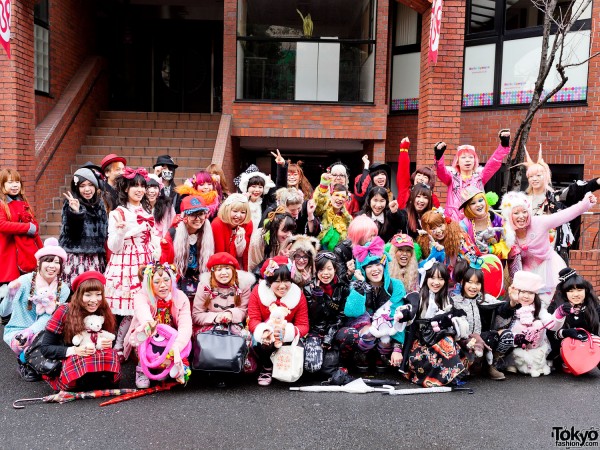 During the years that we've been covering Harajuku Fashion Walk, we've become friends with the event's organizers. The core group of "Harajuku Kids" spend a lot of their own time and money to make sure that the Harajuku Fashion Walk and other related events go off without a hitch. And they do it all because they share a deep love of Harajuku street culture.
We thought it would be fun to have Kumamiki, Junnyan, and the rest of the Harajuku Fashion Walk crew sit down and tell us how the Walk started, why each of them got involved, and what Harajuku means to them in their personal lives. Luckily, our friends from 1KFilms loved the idea and volunteered to produce a short documentary movie about Harajuku Fashion Walk. Please check out the film below, and let us know what you think!
Harajuku Fashion Walk – A Short Documentary Movie

Please subscribe to the official TokyoFashion YouTube Channel!
For more information on the Harajuku Fashion Walk, you can check out their official blog. We would like to send out a big thank you to all of our friends from Harajuku Fashion Walk for taking the time to work with us on this film. The next time you're in Harajuku, please consider walking with them!
Note: If you're from the foreign media and you would like to get in touch with the Harajuku Fashion Walk organizers, feel free to email us and we'll be happy to pass along your message to them.
Video by 1K Films.
***
1K Films is a full production independent video company working in both the US & Japan. For more info, check out the 1K Films website.