Harajuku Fukubukuro Pictures 2012 – With LaForet, Spinns, 6%DOKDIOKI, Takeshita Dori, Cat Street, Ura-Hara, Street Snaps & More
New Years is a really great time to be in Japan. Yes, most Japanese people leave the big cities to visit with their families and friends in their home towns. Yes, the first few hours of the year are usually spent at a beautiful shrine with thousands of other people also celebrating the hopeful beginning of a brand new year. And yes, there is plenty of tasty traditional food to be had during the various New Year's celebrations. But when we talk about a "great time", we aren't talking about any of those awesome things. No, we're talking about one thing, and one thing only – SHOPPING!
New Year's Day is the traditional kickoff of the Japanese Fukubukuro season and the start of huge New Year's sales all over Japan. In Tokyo, the fukubukuro shopping frenzy starts at 9 a.m. at LaForet Harajuku and spreads like wildfire across the entire city. Whenever we mention to friends that we'll be going out during the early morning hours of the first day of fukubukuro sales, the reply is always the same – "Ganbatte!" (Good luck, you'll need it!) Japan is a peaceful country, so you aren't likely to see any fist fights. But when it comes to the most sought after and limited fukubukuro, but you can safely bet that people will be doing everything they can to get their hands on them before the bags are all gone.
For those of you not yet familiar with fukubukuro, the English translation is usually "Lucky Bags", but sometimes "Mystery Bags", "Happy Bags", or something along those lines. The bags (or boxes, suitcases, cans, etc.) are full of goods from a shop or brand. The value of the items in the bag is several times greater than the price that the bag is being sold for. To give you an example, our friends at Harajuku's 6%DOKIDOKI are selling two different fukubukuro this year – large and small. The small 6%DOKIDOKI lucky bag costs 10,500 yen. The value of the items inside of the bag is guaranteed to be over 30,000 yen. So, if you spend approximately US$100, you'll get at least US$300 worth of 6%DOKIDOKI goods.
Sounds great, right? So, what's the catch? The only catch is that you don't know what's inside of the bag until after you buy it! Thus the alternate English translation "Mystery Bag".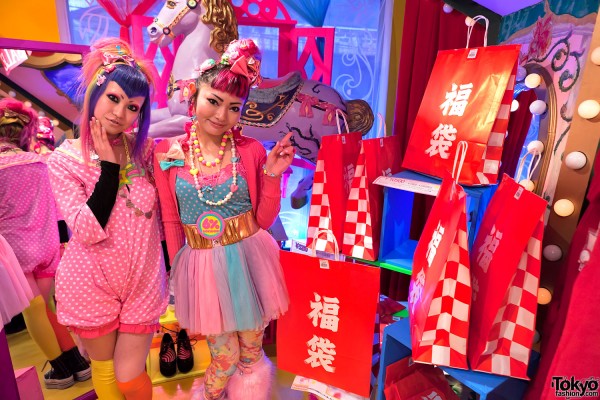 Fukubukuro are a great bargain if you love the brand/shop that you're buying them from – and if you are flexible in your expectations. These days, most shops will create bags with items of a specific size, which will be marked on the outside of the bag. That way, at least you know the items – whatever they are – will fit you. One recent trend has been for some brands to actually list all of the items in the bag in advance so that you can decide whether or not to buy it based on the contents. That's not very exciting, but it is safer. In the old days, fukubukuro were used by stores to get rid of their remaining previous year's inventories (often at a loss) so that they could start the new year fresh. That still happens, but some shops have begun creating special limited items just for their fukubukuro – or packing them with current trend items – to encourage more customers to buy them.
We know that not everyone is lucky enough to be in Japan for the New Year's sales, so every year we try to document some of the fun and shopping madness to share with the outside world. This year, we hit two main areas on our annual fukubukuro pilgrimage – Harajuku and Shibuya. Harajuku's most famous department store LaForet starts its fukubukuro sale at a sleep-defying 9am on New Year's day. Suffice to say, we didn't have too much time to catch a nap between our Shibuya New Year's street partying, and the opening of LaForet. Every year, there is a line outside of LaForet that starts the night before and extends up Omotesando Dori toward Harajuku Station. The police actually close one lane of the street to accommodate the hoards of Harajuku shoppers.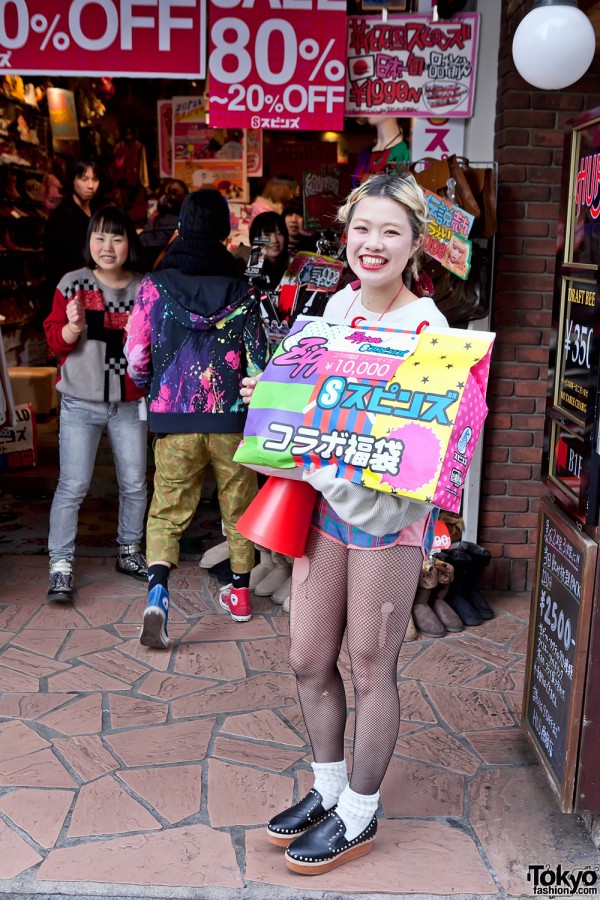 This year, along with LaForet, Spinns Harajuku also opened their doors at 9 a.m. Our friend (and a familiar face to fans of Harajuku street fashion) Mikki was working the Spinns line, making sure that people who lined up before the shop opened were in good spirits. Besides hitting LaForet, Spinns, and of course 6%DOKIDOKI, we also did a couple of runs down Takeshita Dori, Cat Street (including Ura-Hara), Meiji Dori, and various other areas. In addition to just photographing the various lucky bags that shops were selling, we also took street snaps of some of the Harajuku shoppers.
We have 150 pictures of Harajuku fukubukuro goodness to share with you. And this is just the start! We've also published a second 2012 report featuring video and pictures of Shibuya 109 fukubukruo and the rest of Shibuya – with even more street snaps. In the meantime, check out all of the Harajuku pictures below. You can click on any of the image to see them in high resolution!
Click on any of the Harajuku fukubukuro pictures to enlarge them.
Also check out our Shibuya fukubukuro pictures and have a Happy New Year!