Harajuku Halloween Party "Pop N Cute #4" Pictures & Video
Everyday may be Halloween in Harajuku, but that doesn't stop the Harajuku Kids from celebrating the real Hallows' Eve. This weekend, the Harajuku Fashion Walk crew gathered for their second annual Pop N Cute Halloween Party at club Milky Way in Shibuya. After attending last year's spooky holiday event, we had no doubt that this was going to be a good time not to be missed!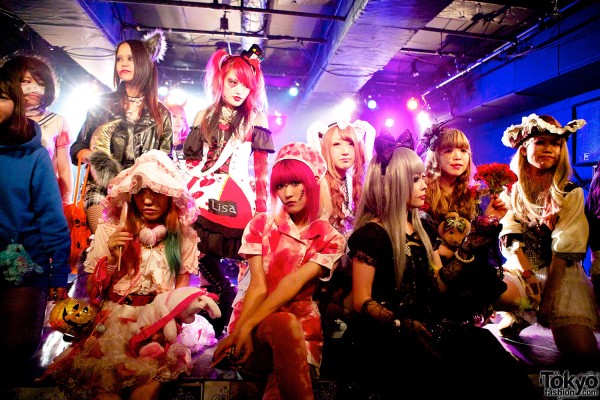 This year's Pop N Cute Halloween Party featured plenty of Harajuku fashion, music, sweets, art, popup shops (Party Baby, Broken Doll, etc), and more. The event lineup went something like this:
Morpho live
Pyxis (Harajuku fashion group) fashion show
Mix Market live
Gerokuro Halloween performance
Halloween Sweets & DJs (Choco & Kumamiki)
Harajuku Fashion Walk fashion show (with Shojono Tomo "My Little Pony" costumes)
Broken Doll live
In between the acts, people made new friends and enjoyed an evening of Harajuku Halloween madness together. We've brought back pictures and video from the Pop N Cute Halloween Party to share with those of you that couldn't make it. And this is only the first half of our coverage. Check out part two as well for snaps of the awesome costumes & fashion attendees were wearing!
Enjoy the pics & video, and Happy Halloween everyone!
Pop N Cute Harajuku Halloween Party Video
Don't forget to Follow TokyoFashion.com on YouTube.
Pop N Cute Halloween Harajuku Party Pictures
Click on any of the Pop N Cute Halloween party pics to enlarge them!
As always, we thank all of the super-friendly people at the party who made the night so fun – and who allowed us to photograph and video them. We hope that all of you will have a chance to attend one of the upcoming Pop N Cute Harajuku-themed parties soon!
For more information on the Pop N Cute, check the following links:
Photos by Kira. Video by Kaila.
***
About the photographer:
Born in Japan, educated in Japan and the US, Kira shoots exclusively with Canon DSLRs. Photography assignments include fashion, bands, sporting events, and portraiture for various companies and bands throughout Japan & the world. His portfolio can be viewed at Artist-Photo.
About the filmmaker:
Kaila is a graduate of Bunka Fashion College's sister school — Bunka Institute of Language. She loves taking photographs, getting lost in her own world and discovering new places with her fisheye, making accessories out of boredom and blogging whatever goes in her Japan life.