Heavy Pop Halloween Party in Tokyo – Fashion, Fun, Pictures!
What's a Harajuku kid who really loves Halloween to do after October 31st has come and gone? How about throwing a Halloween-themed post-Halloween? That's exactly what Ray Ochiai – the mad genius behind the Heavy Pop parties – did last week in Tokyo. The Heavy Pop Halloween Party, held in the first week of November, was packed with people celebrating the holiday that was. The fashion on display ranged from full-on Halloween costumes and cosplay to Harajuku streetwear. Even though we'd already had a lot of Halloween fun this year, we weren't going to miss this one last party!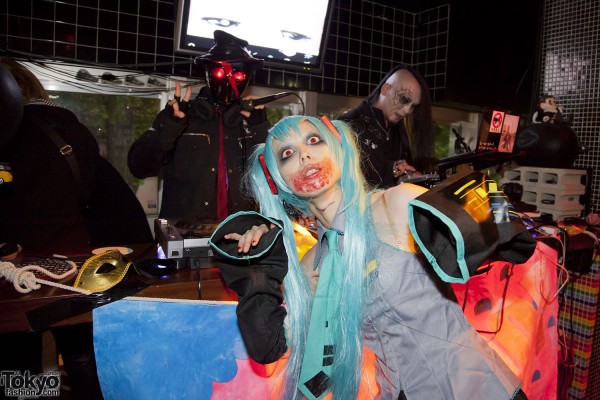 The Heavy Pop Halloween party featured a special performance by Raveman from the Japanese band Aural Vampire, lots of DJs from the Harajuku street fashion scene (Choco from SPANK!, Kumamiki, Junnyan, etc.), live shows by Broken Doll & zwecklos, idols, dancers, live painters, drag queens, popup shops (90884, Party Baby, MEtA, Broken Doll, Dollis, etc.) and lots more. Many of the girls from the Harajuku fashion circle Pyxis were on hand, as was one of the most kawaii girls in Tokyo – Kera Magazine model Kurebayashi!
As has been the case with every Heavy Pop party we have covered, the Halloween Party was a big success! Partygoers had a great time dancing away the evening, making new friends, and enjoying the fashionably-fun atmosphere. We know that not everyone could make it to the party in person, so Daishi brought along his camera and captured plenty of images of the Heavy Pop Halloween Party to share with you.
Please enjoy our Heavy Pop Halloween pictures & hope you can make it in person next year!
Click any of Heavy Pop party snaps to enlarge them!
Here is the full Heavy Pop Halloween lineup (sorry for any name mis-translations):
DJs
DJ RAVEMAN (Aural Vampire)
Kaz-B
Junnyan
DJ Chihiro
DJ tAk
Chibiko Senshi…machico
ChokoNuts (w/ Choco from SPANK!)
Kifujin
Kumamiki
†bloodolly†
Live
HALLOWEEN SPECIAL SHOW
Die Schwarze Frau [yukiro]
Thriller by Risutemin
Idol Stage
VJ
Live Painting
Floor Dancer
Kimera
Risutemin (Neo,Min,Temimi,Ameya)
Kifujun
SHOP
90884 (Kurebayashi)
party baby (Kumamiki)
MEtA (mimeko)
BrokenDoll (KENSUKE&Maro)
Dollis (Kiyo?Seira)
hi-chan
Kyotou DOLLS (Ray)
Sorushie-re (Kyanna)
Yukeran
machico
strawberry&chocolate (Maririnz)
Ichigo Usagi Byou (Uri&Shioka)
Dokuzetsuotomeshousha (Anburera)
weiß&schwarz KURAU (KURAU)
Pyxis Girls
EMO
Nyoi-n Mei
Yuriemon
WISH
763
Lisa 13
Organizer
For more info on Heavy Pop, check out their official website or follow them on Twitter.
All photos by Daishi.
***
Daishi Hamada is a Japanese photographer and musician who specializes in band photography in Tokyo. You can find out more about him and see more of his work at his official website.