HIBI, Orleans, Chimerical & HEIHEI – MGK Fashion Exhibition in Harajuku
In spring of this year, we covered the debut exhibition of indie Japanese fashion coalition MGK. Autumn is quickly approaching in Tokyo, and MGK is back with their second Harajuku fashion exhibition. This time around, founding MGK brands Hibi, Orleans, and Chimerical have been joined by a new brand, HEIHEI. All four of the MGK brand designers are students at Tokyo's famous Bunka Fashion College. We are always excited to watch young ambitious Tokyo designers experimenting with their early collections, so we weren't going to miss this show!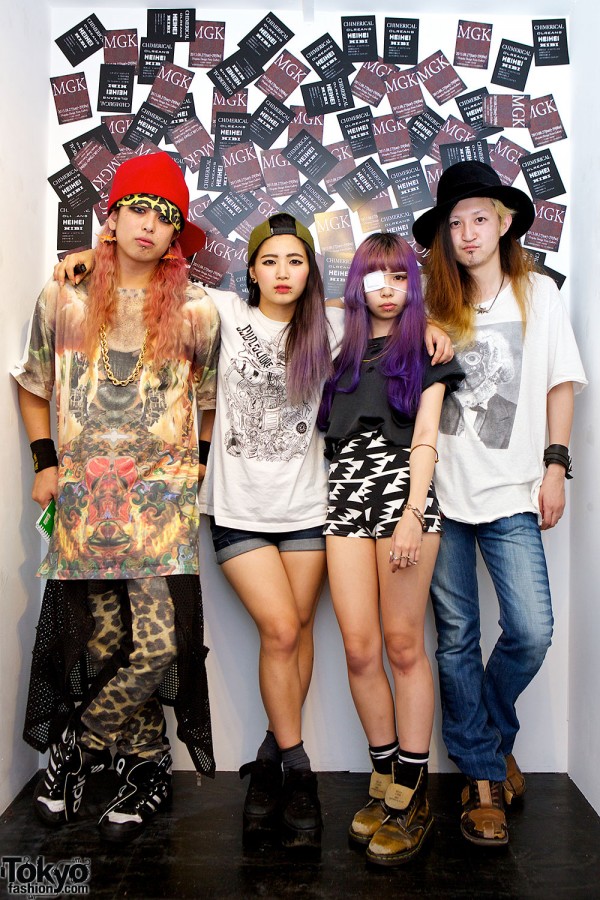 The new brand that debuted at this MGK exhibition was created Shouhei Kato, who you might recognize from the numerous Harajuku street snaps that we've published. Shouhei's personal style is influential on the streets of Tokyo and his first HEIHEI collection shows that he has a strong vision for his brand. Adding to the excitement about the new label, Harajuku style icon Hirari Ikeda is the model for the first HEIHEI lookbook. We definitely think that Shouhei is a designer to watch in the future!
In addition to photographing all of the collections, we also made a short video at the exhibition. Hopefully the video gives you a little more idea about the clothing in motion, as well as showing you that while these young designers are very serious about their fashion, they are also having fun with their creations – and their friends! Enjoy the MGK pictures and video and keep your eyes on these young designers. They will help create the future of Japanese fashion!
Hibi, Orleans, Chimerical & HEIHEI Harajuku Exhibition Video

Don't forget to Follow TokyoFashion.com on YouTube.
Hibi Harajuku Fashion Exhibition Photos
Designer: Yeji
Brand Concept: Clothes are designed from colours and textiles that represent the influences of every day thoughts and emotions flowing from human relationships.
Collection Concept: The flow of time is represented in colors and human expression.
Website: Facebook, Instagram

Orleans Harajuku Fashion Exhibition Photos
Designer: Nodannu
Brand Concept: Gentle Punk
Collection Concept: Loose fit
Website: Twitter

Chimerical Harajuku Exhibition Photos
Designer: Patsuko
Brand Concept: Imaginary Creatures
Collection Concept: Monster
Website: Twitter, Facebook

HEIHEI Harajuku Fashion Exhibition Photos
Designer: Shouhei Katoh
Brand Concept: Pop and Grotesque
Collection Concept: Loose
Website: HeiHei Online Shop, Twitter, Shouhei Kato

Hirari Ikeda for HEIHEI
Thank you to all of the MGK designers for inviting us to check out their work. We're happy to support young upcoming designers in Tokyo and we hope to see a lot more from these four brands in the near future!
Photos by Kira.
***
About the photographer:
Born in Japan, educated in Japan and the US, Kira shoots exclusively with Canon DSLRs. Photography assignments include fashion, bands, sporting events, and portraiture for various companies and bands throughout Japan & the world. His portfolio can be viewed at Artist-Photo.