HIBI, ORLEANS, and CHIMERICAL – Three New Japanese Fashion Brands Debut in Harajuku
Tokyo is famous worldwide for its creative street fashion. DIY, resale, and major brands have a strong presence in the fashion scene here, but some of the most awe-inspiring pieces we see on the street come from young Japanese designers working to make a name for themselves. This ever-changing pool of edgy indie creators includes recent graduates of Tokyo's major fashion schools (Bunka, Vantan, Musashino, etc.). Their careers are incubated by a network of shops scattered about Tokyo's hip neighborhoods – including well-known boutiques in Harajuku, Koenji, and Shibuya. Last week in Harajuku, three new Japanese fashion brands were born into this creative, competitive, and exciting world.
The MGK exhibition at Design Festa Gallery in Harajuku presented the debut collections of HIBI by Yeji Jo, CHIMERICAL by Patsuko, and ORLEANS by Dannu. All three of the designers are currently students at Bunka Fashion College, Japan's most prestigious fashion school. The young designers are also familiar faces in the Tokyo street fashion scene. Yeji Jo, who we have street snapped previously, invited us to check out the exhibition and agreed to answer a few questions about her brand HIBI.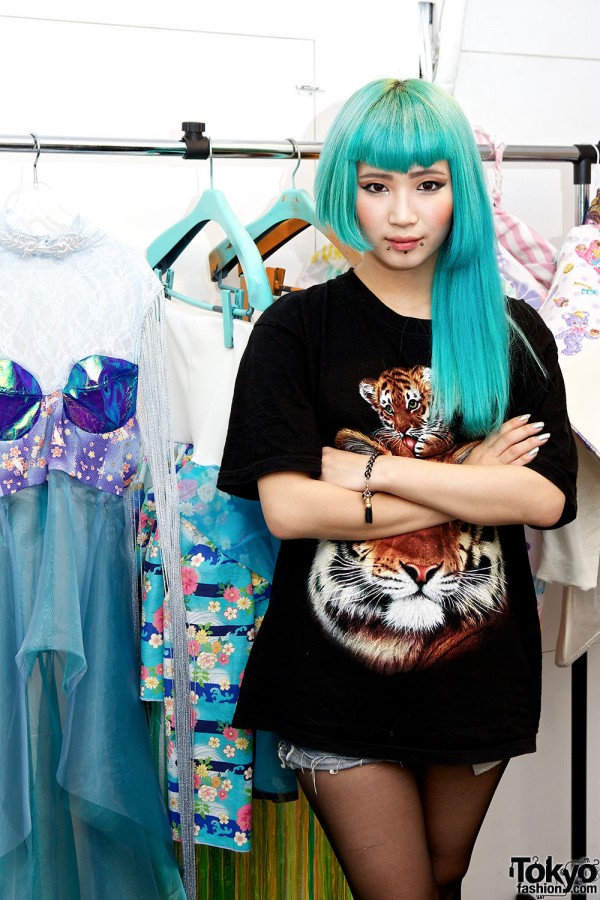 Enjoy our interview with Yeji & check out the pictures of the debut collections of HIBI, CHIMERICAL & ORLEANS.
TF: What is the MGK and what's the group's purpose?
Yeji: MGK means kaleidoscope. It has three members: Dannu, Patsuko, and Yeji. Its brands consist of ORLEANS, CHIMERICAL, and HIBI. This group was created to gather beginner designers and new brands together to hold exhibitions and parties. We plan to continue increasing our members and searching for capable designers, to gather a lot of disparate pieces together and make a beautiful kaleidoscope.
TF: What is the concept of your fashion brand HIBI?
Yeji: In Korea, the word HIBI means "sadness and happiness," while in Japan it means "day by day." Every day, you know. I design things from all sorts of different emotions, every day. And I would like that to become part of the daily lives of many different people, to make them feel both sadness and happiness.
TF: Who is a designer that inspired you?
Yeji: I really like Jeremy Scott's pop designs.
TF: What is your background – how did you get into fashion design?
Yeji: I was born in the Korean port town of Busan, and was raised there until I was 18. I learned design at 17, and went to Busan's NORANO Design Academy for half a year, and right after that I came to Japan (2011). Then, I entered the Bunka Fashion College. Currently I am still studying, but I already feel a little bit sad because I only have a year left.
TF: What inspired the graphic elements of the debut HIBI collection?
Yeji: I got inspiration from the face of Xzibit, and "DUMB ASS BITCH" is his catch phrase. Although being serious is important for design, I think that having a sense of humor is even more important. I think that clothes that you can have fun with while you wear them are really wonderful.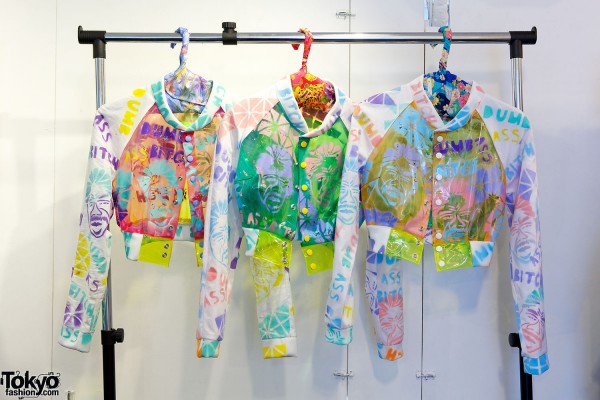 TF: Some of the items look like they have been spray-painted. Are you influenced by street culture/graffiti"
Yeji. Yes, that's spray paint. I also considered silk screens or digital prints, but I was influenced by the graphics of the street culture and chose the spray.
TF: How did you choose the (non-traditional) materials used in this collection?
Yeji: This collection was a mix of vinyl and Japanese print materials. I think that uniting things that don't go well at all together is a very important part of a creator's work.
TF: What is your dream/goal as a fashion designer?
Yeji: Just like the word HIBI, I would like to keep designing while both being grateful for, and never taking for granted, those small every day feelings and events. I want to use HIBI to brighten up every day, for everybody.
TF: What are you plans after graduating from Bunka Fashion College (next year)?
Yeji: I will stay in Japan and continue HIBI.
TF: Any final words?
Yeji: This summer, MGK will return again to see everyone, even more audacious than before! We hope you'll enjoy it! Cheers!!!!!!!!!!!
TF: Thank you Yeji!
HIBI by Yeji Jo
CHIMERICAL by Patsuko
ORLEANS by Dannu
For more info on MGK & each of the designers, check these links:
Photos by Kira.
***
About the photographer:
Born in Japan, educated in Japan and the US, Kira shoots exclusively with Canon DSLRs. Photography assignments include fashion, bands, sporting events, and portraiture for various companies and bands throughout Japan & the world. His portfolio can be viewed at Artist-Photo.