H&M Shinjuku Opening Day Pictures & Video
On Saturday morning, November 14 2009, the fourth H&M store in Tokyo opened its doors in Shinjuku. TokyoFashion.com covered the grand openings of both H&M Harajuku and H&M Shibuya, so we weren't going to miss this opening – even if it was a bit rainy and cold.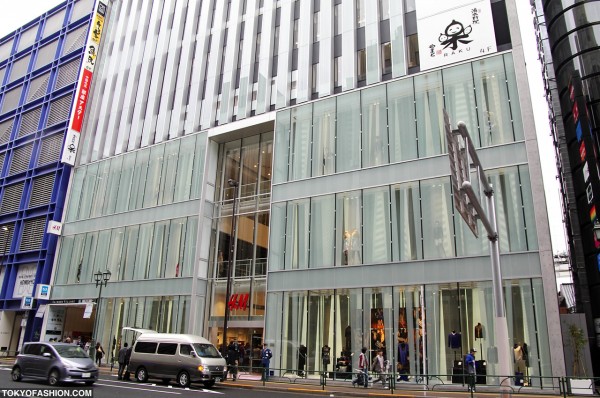 As with the H&M Harajuku opening last year, the Shinjuku store opening was timed with the release of a special designer collaboration. This time around, the collection released on opening day was Jimmy Choo for H&M. So besides the excitement of the grand opening of a massive new store in the heart of Shinjuku, people also had a chance to get their hands on limited edition Jimmy Choo shoes and clothing.
Do you suppose that a grand opening timed with the Jimmy Choo release might mean there was a line before the store opened? Well, you suppose correctly! People started lining up sometime around midnight – twelve hours in advance. We walked the entire line, and we estimate that there were more than 500 people waiting to get in when the doors finally opened at noon.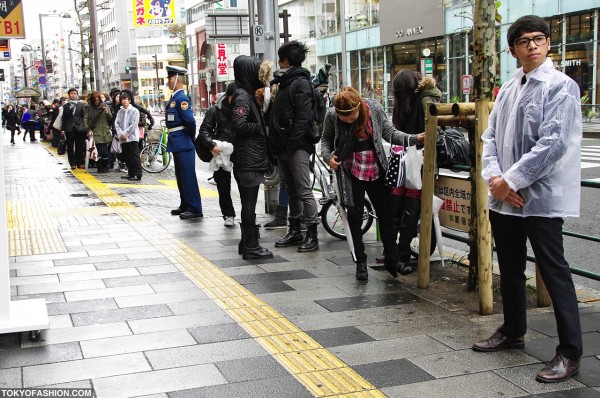 This new H&M location differs slightly from the other Tokyo stores in what they stock. H&M Shinjuku has a wider selection of menswear. Also, they carry the H&M children's clothing collection and the H&M underwear line. The store is four floors including the B1F (basement) floor. Total floor space is said to be almost 30,000 square feet. The building itself isn't as impressive from the outside as the massive glass Ginza and Harajuku locations, but it's nice enough and on par with the Shibuya location.
So, now you know everything you ever wanted to know about H&M Shinjuku. Maybe you'd like to see some pictures from the opening? We walked the entire line – which ran from Meiji Dori all the way down the block and around the corner to one of the Shinjuku Sanchome metro station entrances – taking pics of some of the nice people, H&M staff, and security. As usual with H&M Japan, this opening was well organized and everyone involved was very friendly and helpful. Enjoy the pictures and video. You can enlarge any of the photos by clicking on them.
Jimmy Choo for H&M billboard in Shinjuku: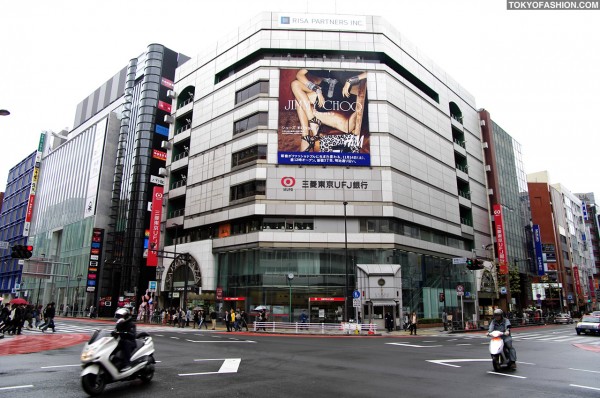 Wristband handout at the front of the line: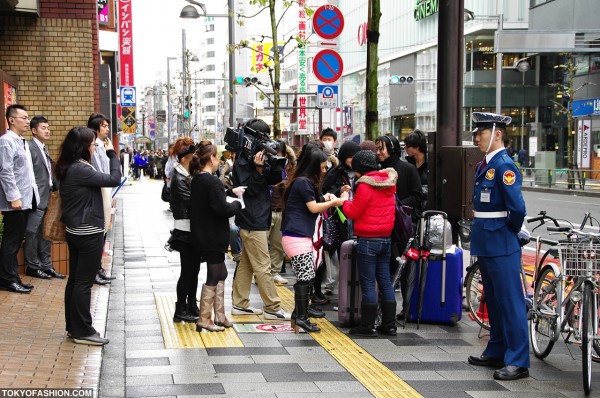 H&M Shinjuku line on a rainy cold Tokyo morning: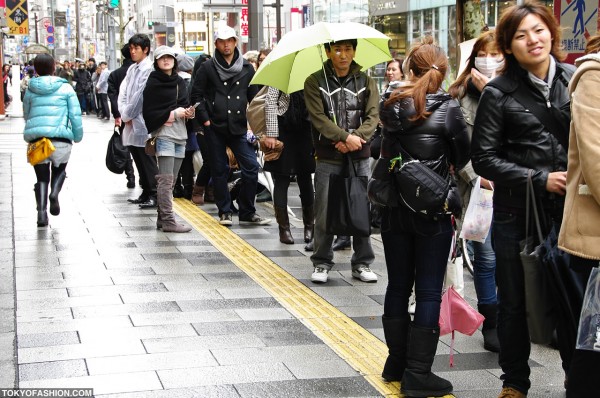 H&M line fashion: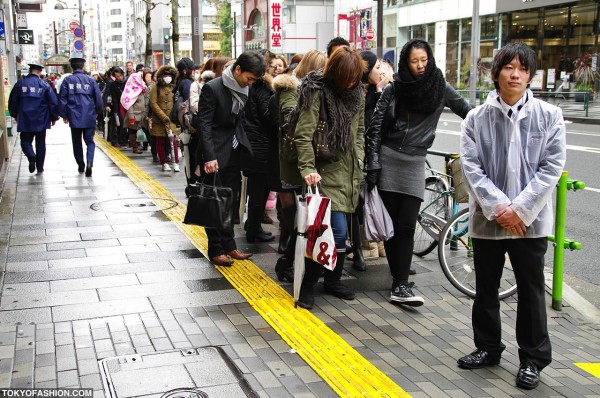 Plenty of friendly security guards minding the line: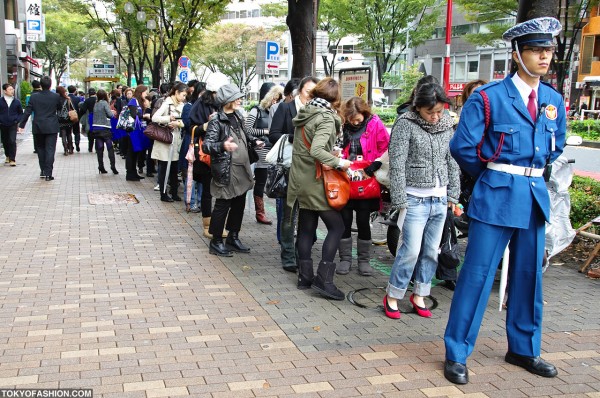 H&M staff girls handing out freebies to those in line: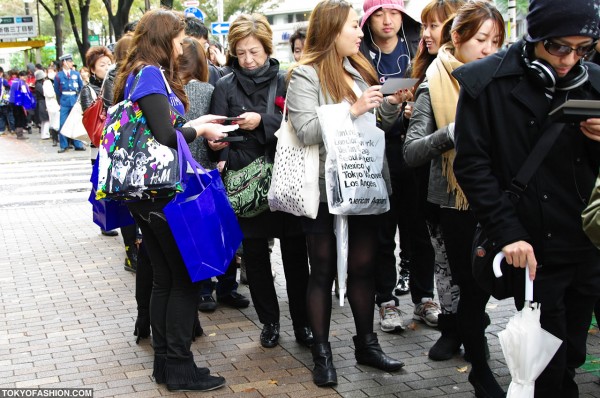 A cute & friendly H&M staff girl with Jimmy Choo bags: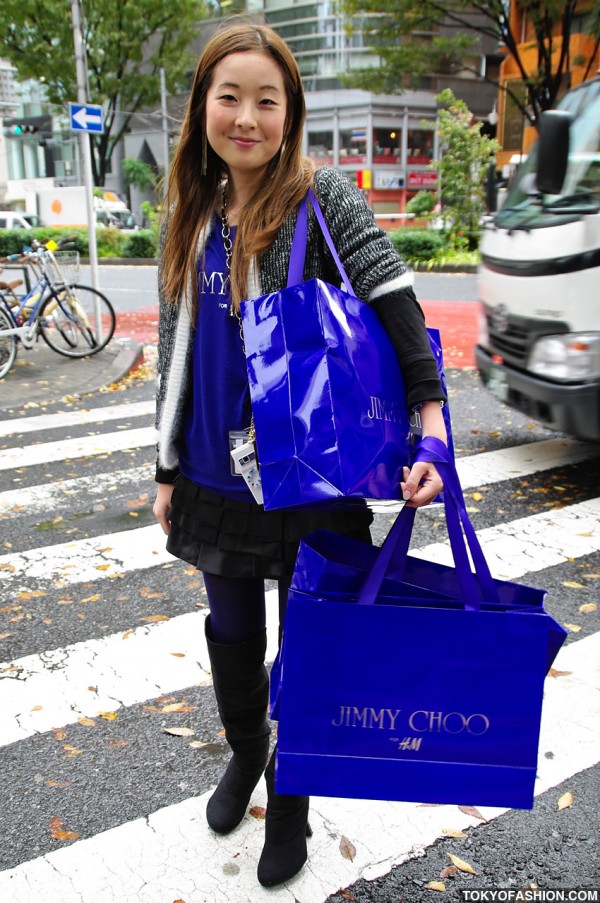 Two friendly H&M girls with their Jimmy Choo bags: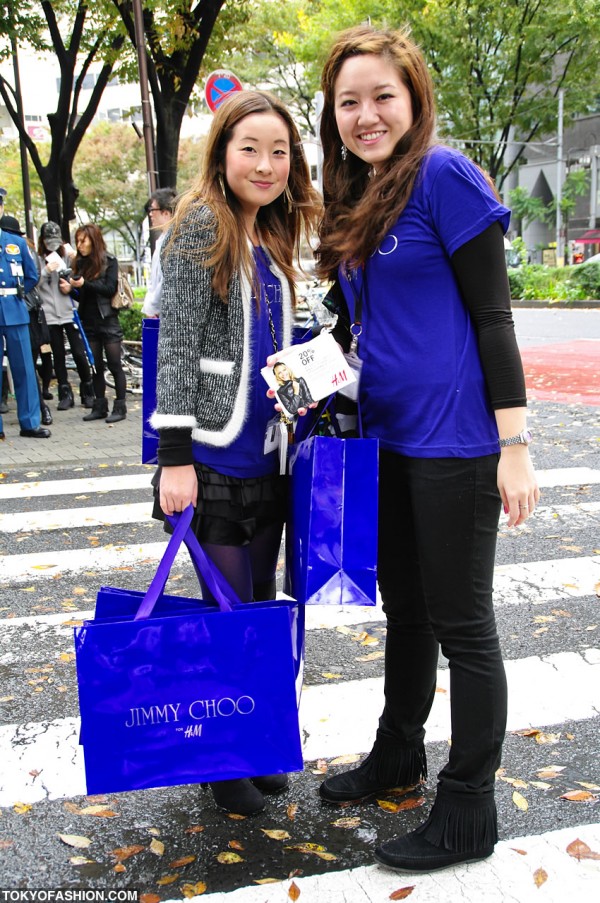 And the line goes on: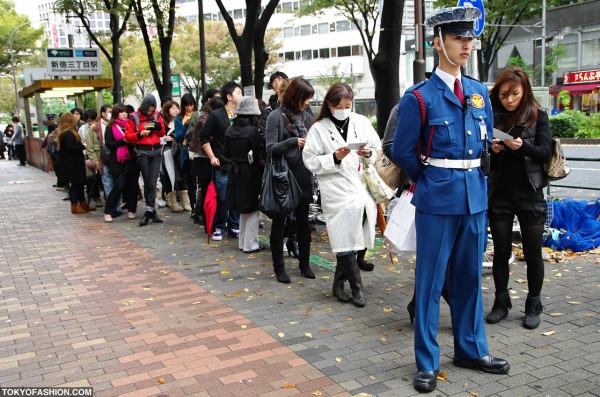 Two fast moving H&M girls & a serious looking line guard: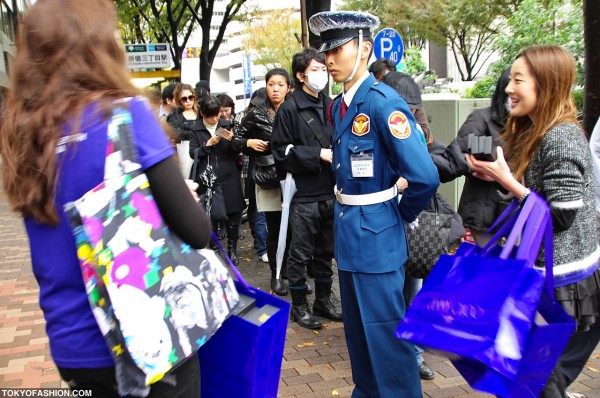 Friendly people in line showing off their H&M freebies: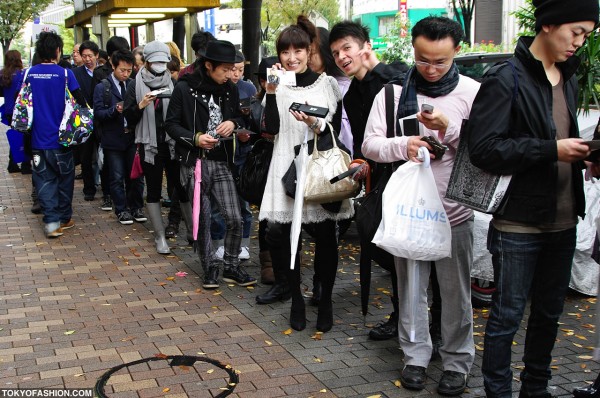 H&M staff wearing Jimmy Choo for H&M shirts with the date "November 14th" printed on the back: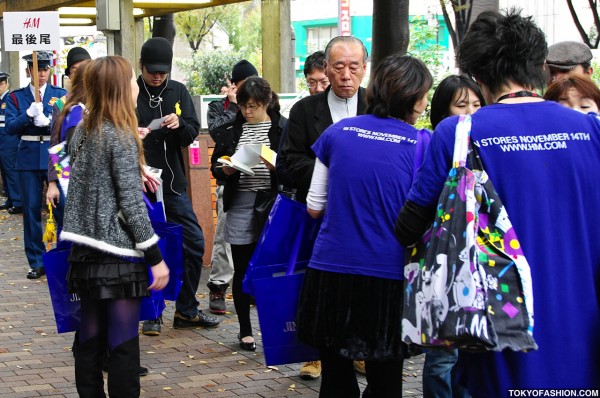 A security guard holding the "End of Line" sign: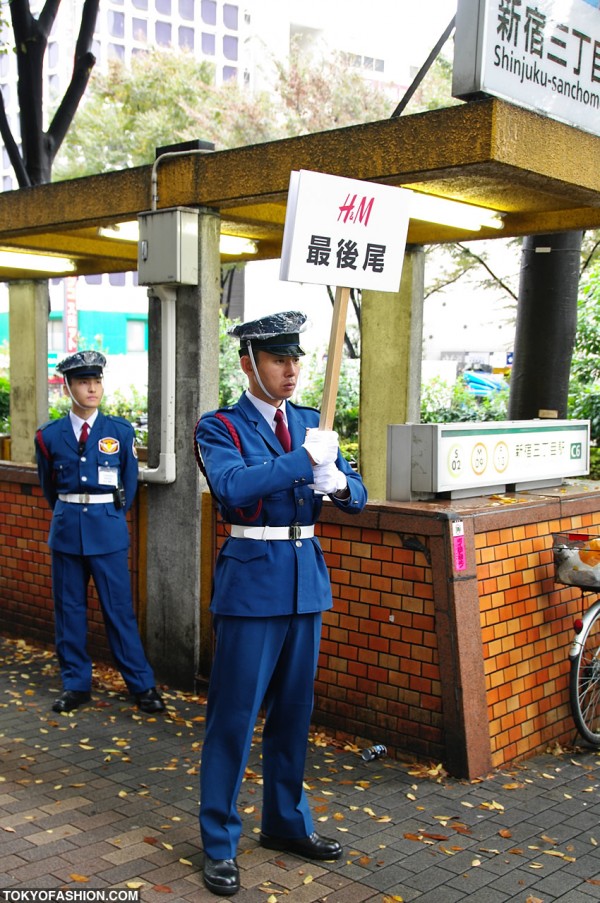 The red carpet is ready at the entrance to H&M Shinjuku. Check out the staff upstairs too: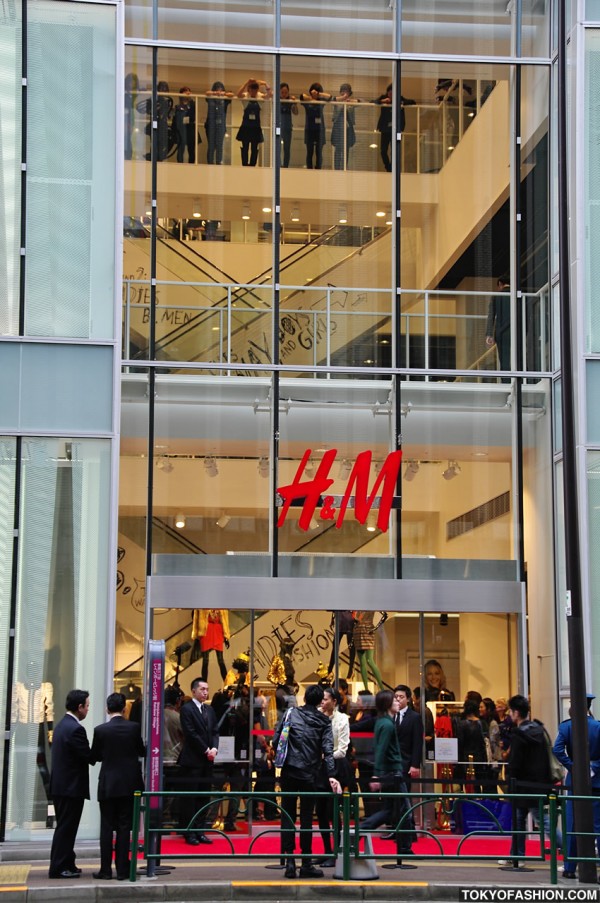 H&M Staff looking down on the entrance from above: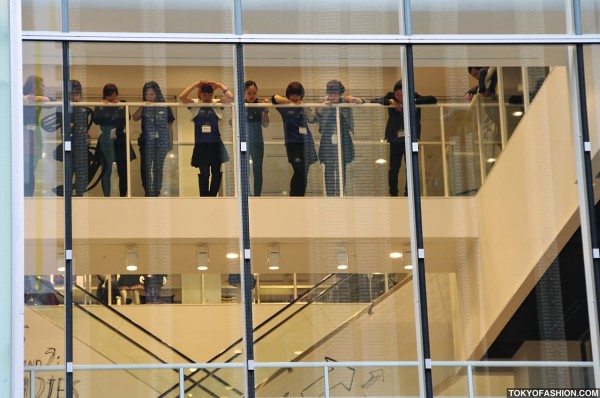 Moments before the official opening:

The red ribbon is cut, the doors fly open, the cameras flash: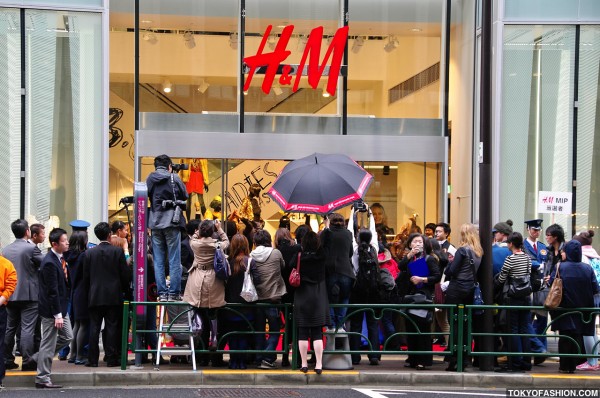 The first customers are welcomed into the store with cheers from the H&M staff: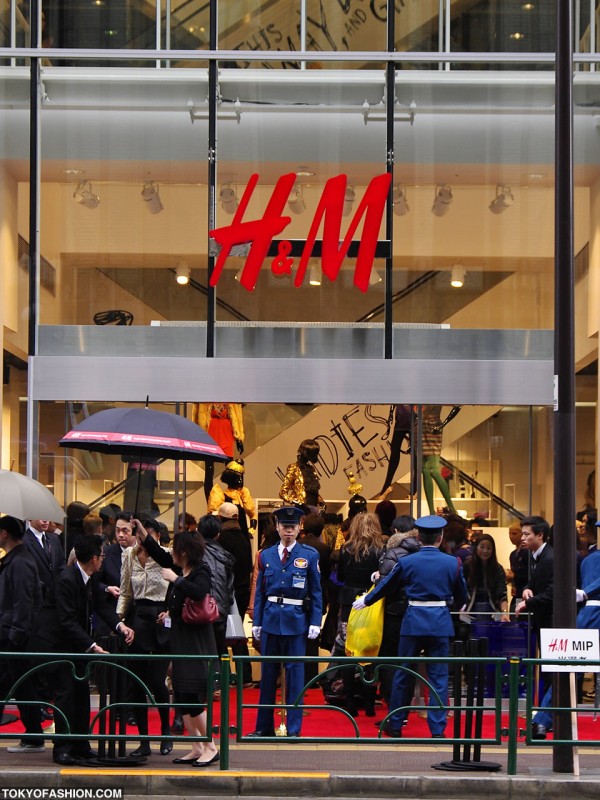 Video of the moment that the doors opened at H&M Shinjuku:

If you want to check out the store for yourself, here's all the important info:
What: H&M Shinjuku
Where: Directly across from Isetan on Meiji Dori in Shinjuku
Address: 3-5-4 Shinjuku, Shinjuku-ku, Tokyo, Japan 160-0022
Phone: 03-3226-9950
Hours: 11am-9pm
Map: H&M Shinjuku Map