Hyper Core Harajuku – Punk-inspired Japanese Fashion & Art
There are many cool indie shops and fashion brands that exist only in Harajuku. These are the stores that give Harajuku its personality by catering mostly to the adventurous Japanese kids you see in FRUiTS Magazine, here on TokyoFashion, and in other Harajuku street fashion magazines. These small businesses are often run by a single creative person – someone who started the brand, creates the designs him/herself, and even works in the store.
We would like to introduce you to one of these "Made in Harajuku" indies today – the Harajuku-meets-punk shop and brand Hyper Core Harajuku!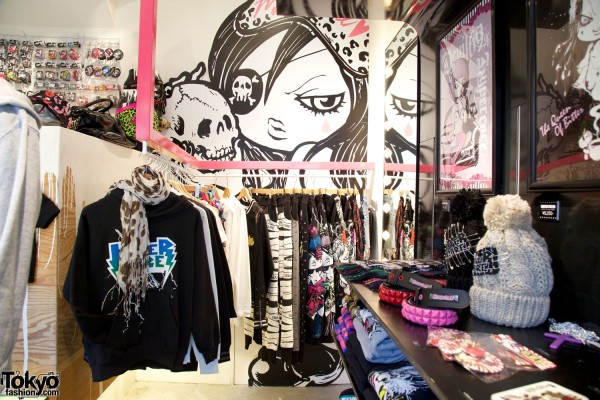 Hyper Core was founded by the Japanese artist Hisacy. Most of the designs the brand produces are based on his original illustrations. Before starting Hyper Core, Hisacy's job as an illustrator included work for Japanese magazines, album covers, apparel designs, and other clients – much of it music-related. Since launching Hyper Core, Hisacy has continued to work with various Japanese bands (including a popular collaboration line with the visual kei band DaizyStripper). The visuals of the brand reflect his interest in punk/underground music and style.
When we visited the Hisacy in Harajuku to talk with him to about his brand, he was creating a street mural outside of a crepe cafe near the Hyper Core shop. The Mocco crepe cafe is a popular hangout for the brightly dressed Harajuku Fashion Walk kids. (In fact, HFW cofounder Kumamiki showed up while we were interviewing Hisacy.) While Hisacy was live painting, we shot video and talked to him a bit about art and Harajuku. Check out the video here:
Hyper Core Harajuku Hisacy Video – Live Painting & Interview

Please subscribe to the official TokyoFashion YouTube Channel!
We also sat down with Hisacy to get a little background on the Hyper Core brand and shop. He answered our questions and invited us into his Harajuku shop to photograph the goods (including t-shirts, hoodies, jackets, leggings, bags, jewelry, accessories, and more), the original artwork on the shop walls, and even his Gremlins figure collection (which is on display in the store). Here's our short Q&A with Hyper Core Hisacy:
Q. What's the name of your brand?
A. The brand is called HYPER CORE. The shop is called HYPER CORE HARAJUKU.
Q. When was Hyper Core founded?
A. The HYPER CORE HARAJUKU shop opened in September of 2010.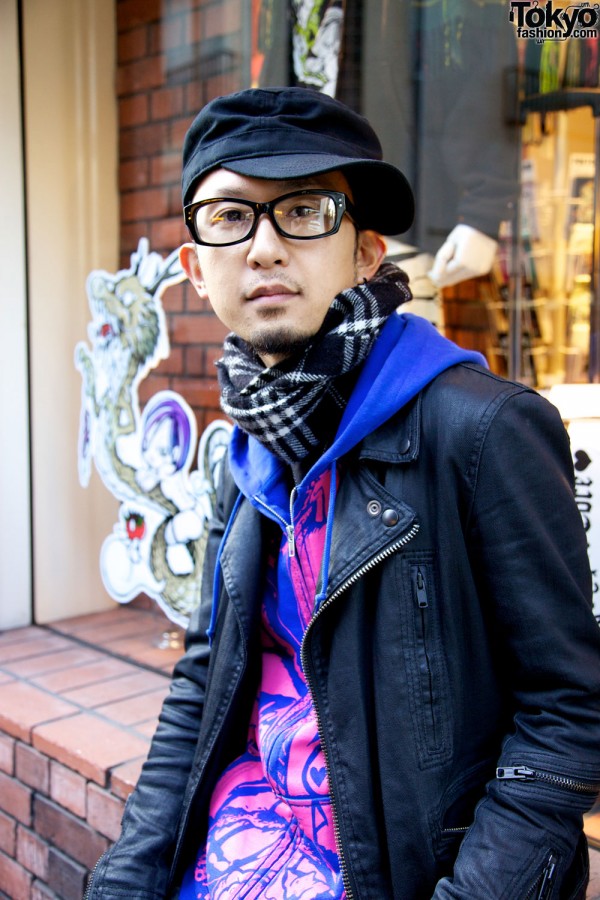 Q. Who is the Hyper Core's main designer?
A. Hisacy is the director of the brand and the head designer.
Q. What is Hyper Core's brand concept?
A. This brand was created by Hisacy who was working as an illustrator. Hisacy's creation is a mixture of items based on punk rock style which is combined with various cultures (art, music, movies, Harajuku in 1990s, street, etc. ) that he is deeply involved in. The brand's main items are, for example, T-shirts with illustration prints. We try to make the brand's items by hand as much as possible. The designer is an artist and strongly believes that originality is essential.
Q. As far as the Hyper Core shop in Harajuku, do you carry any other brands?
A. Currently, we carry HYPER CORE items only.
Q. Where can people interested in your brand find you online?
A. HYPER CORE has a website and Hisacy is also active on Twitter.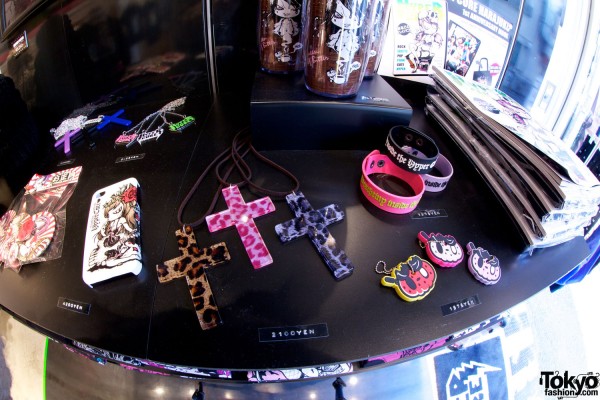 Q. Do you have an final comment or extra info to share?
A. The designer, Hisacy, is at the Hyper Core shop front on Saturdays, Sundays, and public holidays. Please come in and say "Hello" if you're in Harajuku!
A big thank you to Hisacy for answering our questions, and for letting us take photos and video of his shop and his artwork! Check out all of the pictures from inside of Hyper Core Harajuku below. Click on any of the images to see them in high resolution.
Hyper Core Harajuku Pictures
Click any of the Hyper Core Harajuku pictures to enlarge them!
The next time you're in Harajuku, stop in and say hello to the nice people at Hyper Core:
What: Hyper Core Harajuku
Where: Harajuku, near the intersection of Meiji Dori and Takeshita Dori. Next to the famous Dog Harajuku boutique.
Address: 3-23-2, Jingu-mae, Shibuya-ku, Tokyo, Japan 150-0001
Hours: 12:00-19:00 daily
Phone: 03-3796-8180
Website: HyperCore.jp
Photos by Kira. Video by 1K Films.
***
About the photographers:
Born in Japan, educated in Japan and the US, Kira shoots exclusively with Canon DSLRs. Photography assignments include fashion, bands, sporting events, and portraiture for various companies and bands throughout Japan & the world. His portfolio can be viewed at Artist-Photo.
1K Films is a full production independent video company working in both the US & Japan. For more info, check out the 1K Films website.