iPhone 3GS Tokyo Launch Photos
Today was the launch of the new Apple iPhone 3GS in Tokyo and even though it's only sort of fashion related, we decided to stop by the Omotesando Softbank store and take a few pictures for TF readers. The Omotesando store is the main Softbank store in Tokyo, and usually in all of Japan, for new product launches, so we expected there to be a huge line like their was for the original iPhone 3G when it launched last year.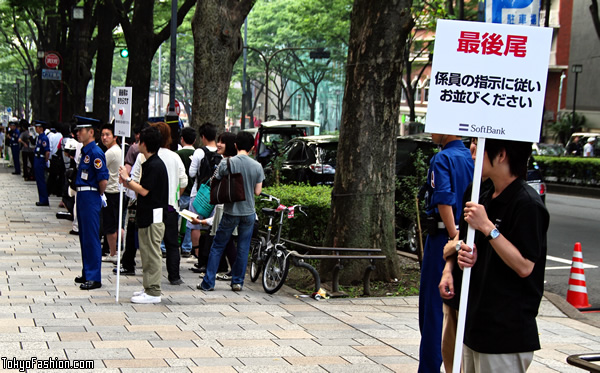 There was a line, but it wasn't exactly huge – certainly not as big as the original iPhone 3G Japan launch line. Also, quite a few of the people in the line this time appeared to be there to promote their own iPhone apps, blogs and other products to the media swarm that showed up. The reason for the shorter line is probably because you could pre-order the 3GS iPhone phone from Japanese Softbank shops and even from their website, so we aren't reading too much into it at this point. Since Softbank drastically lowered the price on iPhones, you see them everywhere in Tokyo, being carried by both men and women.
Here are the pictures from this morning, about 30 minutes before the doors officially opened. See the line for yourself and make up your own mind on how excited people were.
For more info on the iPhone in Japan, you can check the official Softbank Japan website.