Kate Moss Modeling For Japanese Fashion Brand LagunaMoon
Japanese fashion brand LagunaMoon – part of the MARK-STYLER group (Emoda, Murua, Mercuryduo, etc.) – will be celebrating its 5th anniversary this fall. As part of the celebration, the brand has announced that British supermodel Kate Moss will be the featured model in the LagunaMoon Autumn/Winter 2011 catalog. When the beyond-iconic Kate Moss models for anyone, it's noteworthy. But when she does it for a Japanese gyaru brand, that's huge news here in Tokyo.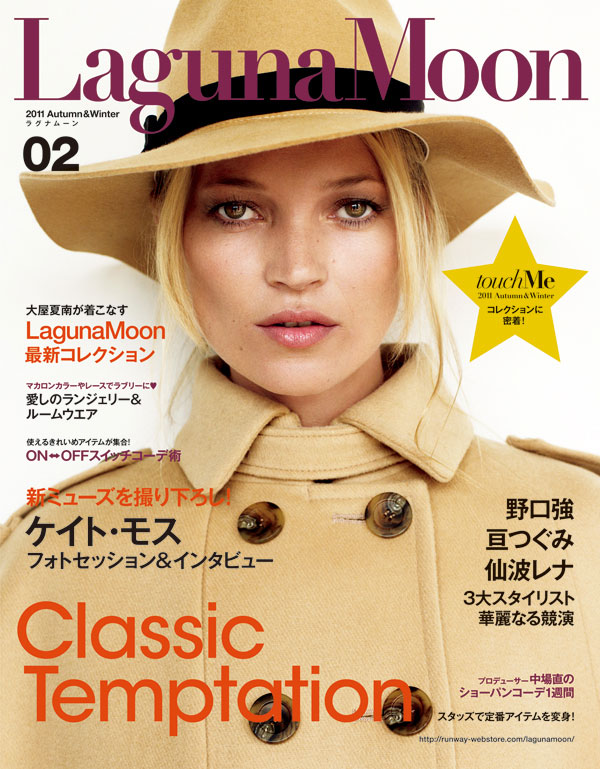 Here are the details on the LagunaMoon x Kate Moss collaboration directly from the brand (translated by TokyoFashion.com):
Behind LagunaMoon's Decision To Work With Kate Moss
Kate Moss' fashion sense, with her penchant for personalizing her daily wear by mixing accessories and vintage style, is watched by many and was one of the earliest inspirations for LagunaMoon. LagunaMoon wanted Kate Moss to be their icon for an audience yearning for her style.

We hope global fashion icon Kate Moss enjoys her time in the world of LagunaMoon.

The 2011 AUTUMN/WINTER catalog will celebrate LagunaMoon's five-year anniversary with a 50,000 copy limited edition run. Starting August 18, 2011, both LagunaMoon retail stores and the official mail-order site Runway Channel Web Store will offer the Kate Moss catalogs for free. Pre-orders are currently being accepted on the official LagunaMoon web store.
LagunaMoon Fashion Brand Profile
LagunaMoon specializes in styles mixing vintage tastes with delicate lacework and jewelry. Their brand concept is "Sweet & Sexy". The brand states that their clothing and accessories, "promote a style that speaks femininity through merging power with elegant charm".
LagunaMoon 2011 AUTUMN/WINTER Concept
This season's collection, "Classic Temptation", shows off the staying power and elegance of simple, traditional design and the captivating clash between ethnic and rock fashions. Matching beautiful, full-length dresses with tailored jackets and using more masculine items to accentuate femininity through mannish styling.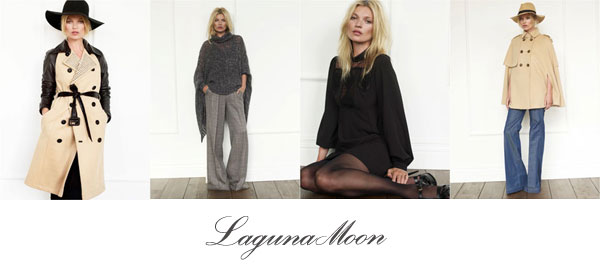 For more information on LagunaMoon x Kate Moss:
Photos courtesy of LagunaMoon.