Keio Tokyo Animated X-mas 2008 Windows
Another Tokyo Christmas / holiday update. This time, we'll take a look at the 2008 holiday window displays from the Keio Department Store in the Shinjuku area of Tokyo.
The Keio Department Store is located on the west side of Shinjuku Station. It's not just located on the west side of the station – it is the west side of the station. If you stand outside of the west entrance and look at the station, you'll be looking directly at Keio. Okakyu is also on the west side of the station, but it's more north, while Keio takes up most of the south half of the west side.
So, being inside (and outside) of the busiest train station in the world means that you are going to get a lot of foot traffic. So, you better have a nice window display for the holidays, right? No problem for the Keio promotional staff. This year's windows are animated using projections and cutouts. As you watch each window, it moves and changes colors. It's hard to explain, so take a look at these pictures…
Keio Animated X-mas Window: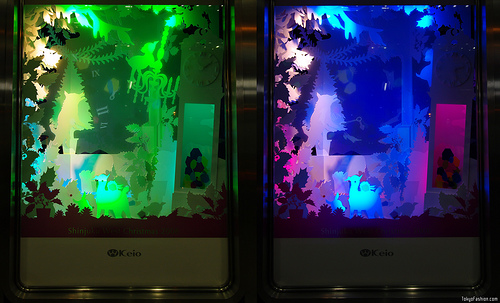 If you look at the photo above, it's two shots of the same window taken a few seconds apart. You might need to click on the image and blow it up at Flickr to see it better. So, in the second image, you can see the chandelier with the baby deer on it is moving away from the wolf. Also, there is a projection of a clock that moves around.
There are various moving cutout parts in each different window and changing colored lights, as well as the projections, to give each one a constantly moving feel. Here are a few more examples…
Forest Scene Window Display:

Birds Flying Around a Pond:

Large Window With Christmas Reindeer:

We wanted to get some video of these windows to along with the photos. Maybe next time, if the windows are still there the next time we are in Shinjuku.
More Tokyo Fashion holiday 2008 updates soon!