LaForet Harajuku Grand Bazar Winter 2012 Pictures, Video, & Street Snaps
Harajuku is world-famous both for its creative street fashion and its abundance of awesome places to shop. Those two things came together this weekend under the banner of the LaForet Harajuku "Grand Bazar"! Besides Fukubukuro, Grand Bazar (held twice a year – once in summer and again in the winter) is the biggest sale event in all of Harajuku. Shoppers line up overnight, the streets of Harajuku are extra-packed during the days of the sale, and prices at most of the shops in LaForet are slashed up to 80-90%.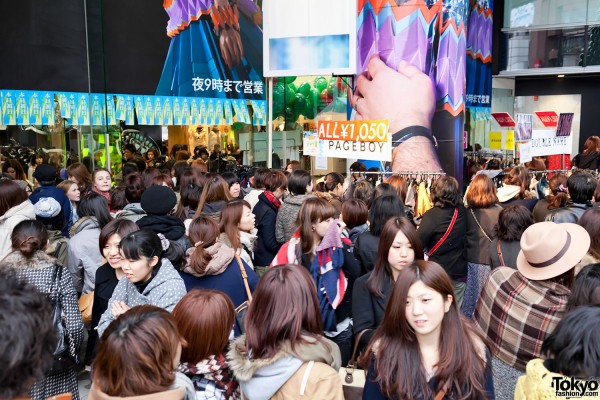 The Winter 2012 LaForet Harajuku Grand Bazar lasted five days, ending on January 23rd. In addition to the bargains within the LaForet building, tents and booths are set up in front for extra-special timed sales. There are so many shops at LaForet that the booths and tents change brands several times a day. You might find a Hysteric Glamour sale happening in the morning, while that night it might be Fur Fur in the timed sale booths.
With the huge crowds jostling for a chance at the super discounts and shop staff shouting from every booth on bull horns, it looks like anarchy. However, there is a system. The schedule of what will be on sale at any given time is posted in advance by LaForet, allowing brand fans the chance to swoop in just in time to (hopefully) find exactly what they're looking for at a ridiculously low prices.
We love Harajuku fashion and we love shopping, so we never miss LaForet Grand Bazar! Regular readers know that we've covered these sales many times, and we have fun every single time. For the Winter 2012 edition of Grand Bazar, we took photos and video on several different days, including the big opening day. This gives us a chance to show you the different brands that set up booths, and also allows us to show you the sales both during the day and at night.
In addition to the pictures of LaForet Harajuku itself, we also took lots of street snaps of Grand Bazar shoppers. We tried to snap a wide variety of street styles – from lolita to fairy kei to high fashion to gyaru to Japanese schoolgirls to gothic and even several girls from Harajuku Fashion Walk. LaForet Grand Bazar draws an extremely wide range of people from all over Tokyo (and beyond). We hope that our pictures – and video – give you a little taste of just how massive this sale is. Enjoy all of the pics and video. Remember, you can click any of the Grand Bazar photos to see them in high resolution!
LaForet Harajuku Grand Bazar Video
LaForet Harajuku Grand Bazar Pictures & Street Snaps
Click any of the LaForet Grand Bazar pictures to enlarge them.
For more information on LaForet Harajuku, you can check out the English version of their website here.