matohu 2011 S/S Collection
The 11th Japan Fashion Week in Tokyo is happening! Several times each day, TokyoFashion.com's contributors are reporting back from runway shows all over town.
On Tuesday, October 19th, Japanese label matohu showcased their 2011 Spring/Summer collection on the runway at Tokyo Midtown. This collection was full of colors that you might think of as when you think of "Spring" literally.
Though Hiroyuki Horihata and Makiko Sekiguchi graduated from different universities, they met when they took the men's design course at Tokyo's Bunka Fashion College. They then spent five years working as pattern makers for different brands. In 2003, they went to Britain together to work for London-based Turkish designer Bora Aksu's 2004-05 A/W collection. Up returning to Tokyo in March 2005, they founded matohu and quickly went to work creating collections that expressed their combined experiences living and studying in Japan and working abroad. They pull inspiration from Japanese culture and sensibilities to create clothes that are at both wearable and beautiful.
Please click the thumbnails below to check out the full sized versions of all of the pictures for yourself.
matohu 2011 Spring/Summer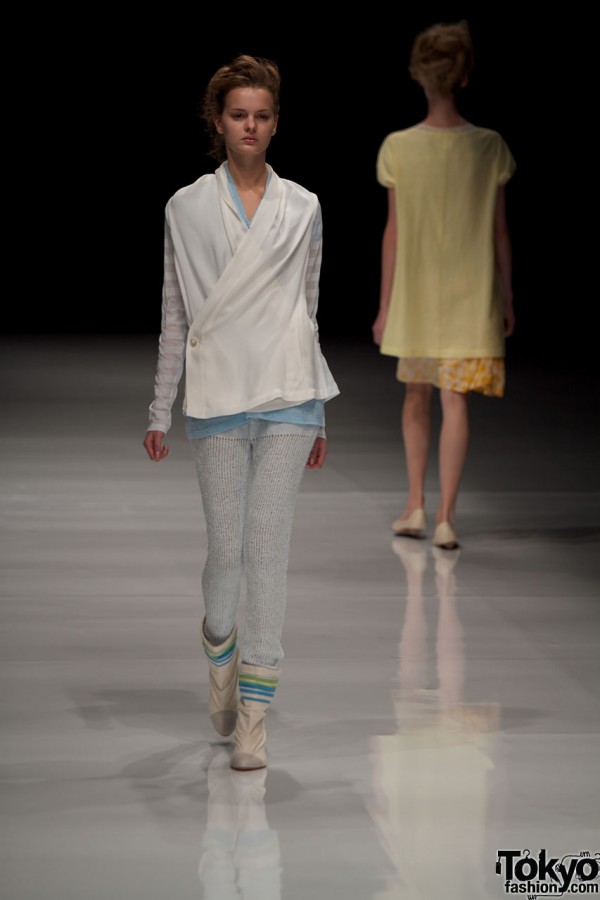 Click any of the pictures above to enlarge them.
External Link: matohu Official Website
About the photographer:
As long as he is behind his camera Will is a happy man. He has photographed everything from the slums of Bangkok to the catwalks of Tokyo. He is a contract photographer for Lonely Planet, his images and photo essays have appeared in Time Out, The Japan Times, Sportswear International and a variety of other newspapers, magazines and guidebooks around the world and his photo essays from Iraq for The Griffith Review even earned him a mention in the Australian book review of the year in 2006. In addition to his media related work, Will also shoots events, portraits, weddings and the occasional CD cover. Whatever he's working on, he always writes about his jobs and how he goes about them at Will Robb Photography.