Moshi Moshi Kawaii Harajuku – Cute Souvenirs, Japanese Fashion & Characters Goods
Yasumasa "Yone" Yonehara is one of the most well-known fashion photographers in all of Japan. Over the last two decades, he has also served as the editor for several influential Japanese fashion magazines. Recently, Yone added a new title to his already-impressive resume – "Shop Owner". Yone's new "Moshi Moshi Kawaii Harajuku" is located just off the famous Takeshita Dori in Tokyo's capitol of youth culture.
Yone describes Moshi Moshi Kawaii Harajuku as a "souvenir shop" for fans of Harajuku and Japanese kawaii culture. It would be hard to imagine someone with closer ties to Harajuku. From opening his Harajuku office almost 20 years ago to working extensively with today's queen-of-kawaii Kyary Pamyu Pamyu – and all of the years in between – Yone has been a major player in Harajuku's rise on the world stage.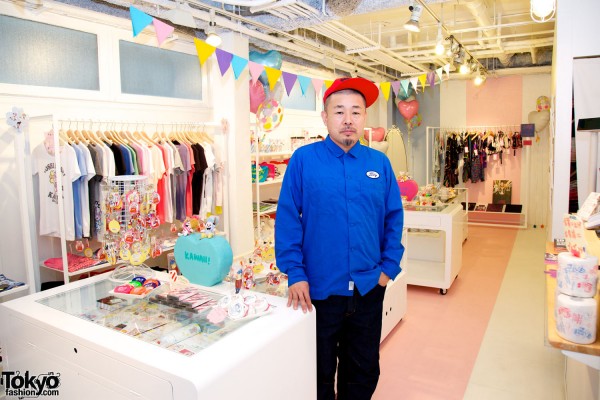 The Moshi Moshi Kawaii Harajuku shop features tons of cute Harajuku-inspired goods based on projects in which Yone has been involved. There are many items related to the current Kyary-led aomoji-kei boom, as well as products connected to the "Harajuku Kawaii" fashion shows of which Yone has been part. One of the walls of the store is an exhibition of Yone's photos of popular "Harajuku Kawaii" models, including Seto Ayumi.
Moshi Moshi Kawaii Harajuku is packed with cute goods and fashion pieces – from t-shirts, bags, hats, sneakers, and other clothing to toys, charms, and stickers. The store's original character goods were created by the Japanese mangaka (comic illustrator) Shashamin, who has worked with everyone from SMAP to Kaela Kimura. If you're hungry – or you need food gifts for your friends back home – Moshi Moshi Kawaii Harajuku even has their own packaged cute cookies!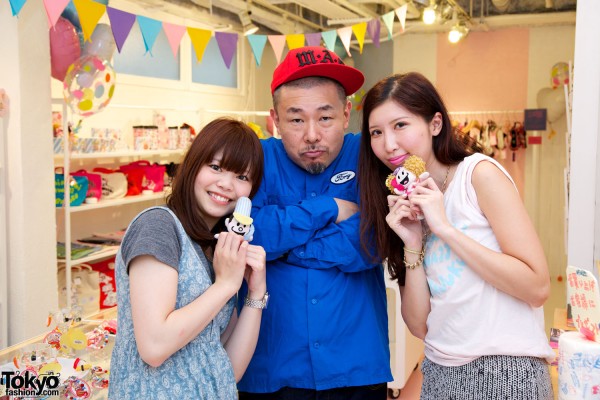 One corner of the store features the Japanese lingerie brand Neon Opera Tokyo. Another area of Moshi Moshi Kawaii Harajuku is set aside for various in-store events where Yone invites popular-in-Harajuku personalities (Momoiro Clover-Z, aomoji-kei models, etc.) to meet with fans.
Check out all of our Moshi Moshi Kawaii Harajuku pictures below – and don't forget to to stop in a check out the shop (and say hello to Yone) the next time you're in Harajuku!
Click any of the Moshi Moshi Kawaii pictures to enlarge them.
A big thank-you to Yone for taking the time to talk to us about the shop, and for allowing us to photograph all of his cute goods. We wish him success with Moshi Moshi Kawaii Harajuku. The next time you're in Harajuku, stop in and and see it for yourself.
Here is all of the important Moshi Moshi Kawaii Harajuku info:
What: Moshi Moshi Kawaii Harajuku produced by Yasumasa Yonehara
Where: Just off of Takeshita Dori, near the Nico Nico Douga Harajuku Studio
Address: Gosaku Building, 2nd floor, 1-16-11 Jingumae, Shibuya-Ku, Tokyo, Japan
Hours: 10:00 – 20:00
Online: Official Website
All photos by Kira.
***
About the photographer:
Born in Japan, educated in Japan and the US, Kira shoots exclusively with Canon DSLRs. Photography assignments include fashion, bands, sporting events, and portraiture for various companies and bands throughout Japan & the world. His portfolio can be viewed at Artist-Photo.