Nile Perch – Fairy Kei & Pastel-Lovers Paradise in Harajuku
Nile Perch hasn't always been a leading name in Japanese Fairy-kei fashion. More than 25 years ago it was a simple polo-shirt brand with a fish logo (the Nile Perch) inspired by Lacoste's famous crocodile insignia. It's the longevity and growth of Nile Perch which makes it different from other Fairy-kei labels such as 6%DokiDoki and the Tavuchi-led Spank!!!, Monascas Banana, and Ticket to Darling.
If we go even deeper into Fairy-kei, which has been a movement or scene in Tokyo for years now, we can see that there is no such thing as a unified Fairy-kei but multiple mini-scenes which make up Fairy-kei culture. 6%DokiDoki opts for vibrancy in colors and theme, Spank goes for second-hand pop and rock inspired 80s kitsch, and Nile Perch is a proponent of softer, kinder colors such as pinks and pastels. They might look similar to outsiders, but within the Fairy-kei community these brands are as different as Gucci and Takuya Angel.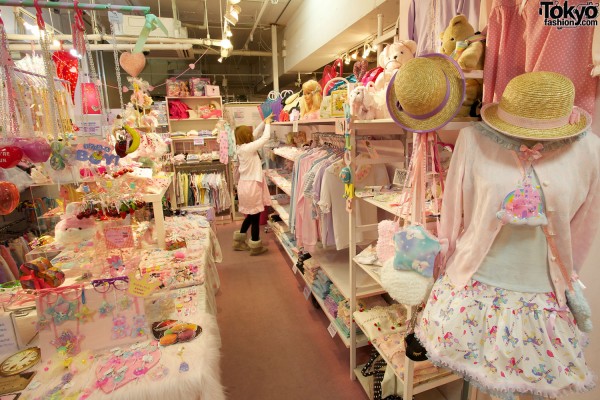 Nile Perch, which has had a main store in Harajuku for over 25 years, opened a smaller space in Laforet two years ago. Owned by Jinichi Higuchi and his wife, the brand has evolved from polo shirts, Nile Perch-logo vintage plates and vintage clothing to an undiluted Fairy-kei heaven where girls never grow up. Inspired by the owners' love of pastels and shades of pink seen in toys such as My Little Pony, Nile Perch – as we know it now – has developed from 80s style t-shirts and grew, little by little, into a fully-fledged Fairy-kei utopia.
Nile Perch also prides itself on having a Made-in-Japan attitude with lots of items such as cute cherry-design cardigans hand made by one mysterious old Japanese lady who knits, sews and embroiders all of the pieces. These items, which cost around 19,000 yen (230 dollars), are also made to order (online and in-store) with the choice of different colors, various ribbons and buttons etc. Also available (at around 10,000 yen or 120 dollars) are some rare vintage items such as original Care Bear and Strawberry Shortcake dresses.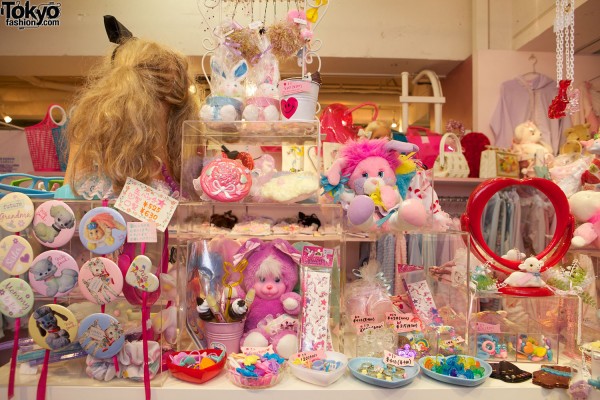 Nile Perch doesn't only specialize in clothing, though. It also has an impressive collection of 80s toys such as My Little Pony, Teddy Beddy Bears, Barbie dolls and Rushton toys – every little girl's dream. Recently Harajuku has witnessed a mini-boom centered round teddy bears, unicorns and Pegasus with Nile Perch seeing a lot of girls trying to find their ideal cuddly toy.
Staff member Mitsue Matsuhashi said, in a recent interview, that the Nile Perch customer isn't solely made up of teenagers. "Of course many of our customers are high-school girls but we also see women in their 20s and 30s and every now and then a few women in their 60s come in!" She explains that the most important points for Nile Perch girls are "lace, ribbon and pastel colors." They also listen to little girl's music such as Disney soundtracks, read Vivi, Kera and Zipper and tend to check out the Nile Perch Ameba blog and also various customers' websites too.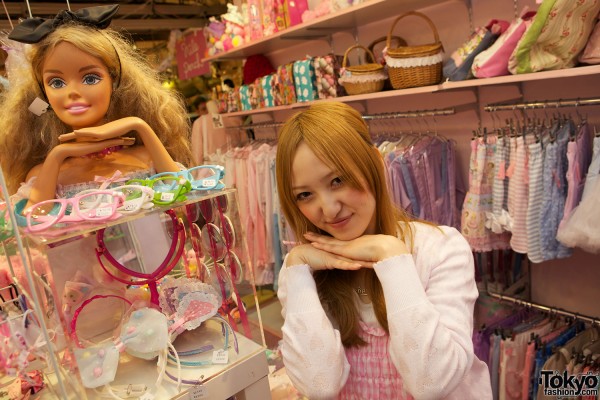 Click any of the Nile Perch pictures to enlarge them.
For more information on Fairy-kei in English check out the (now sadly defunct) Fairy Kei Every Day blog written by Kitty from Washington State. The blog also has an informative Fairy-kei checklist.
Nile Perch Info:
Address for Main Store (Harajuku): 3-24-6 Jingumae, Shibuya-ku, Tokyo 150-0001
Main Store Phone: 03-3408-1993
Address for LaForet Shop: 1-11-6 Jingumae, Laforet, B1 Harajuku, Shibuya-ku, Tokyo
LaForet Shop Phone: 03-3401-4009
Website: Official Brand Site
Blog: Official Brand Blog
Article text by Paul McInnes and all photos by Will Robb.
About the author:
Paul McInnes is a fashion and arts journalist based in Tokyo. He is the fashion editor (menswear) and contributing arts editor of The Japan Times. He is also the Tokyo editor of Sportswear International and contributes to publications such as High Fashion, Dazed Digital, JC Report and Japanese Streets. He has also been interviewed for TV including NHK's Tokyo Fashion Express and lifestyle magazines such as Metropolis and Kaleidoscope magazine.
About the photographer:
As long as he is behind his camera Will is a happy man. He has photographed everything from the slums of Bangkok to the catwalks of Tokyo. He is a contract photographer for Lonely Planet, his images and photo essays have appeared in Time Out, The Japan Times, Sportswear International and a variety of other newspapers, magazines and guidebooks around the world and his photo essays from Iraq for The Griffith Review even earned him a mention in the Australian book review of the year in 2006. In addition to his media related work, Will also shoots events, portraits, weddings and the occasional CD cover. Whatever he's working on, he always writes about his jobs and how he goes about them at Will Robb Photography.