Phenomenon 2012 S/S Collection
The 2012 S/S edition of Japan Fashion Week (aka Mercedes-Benz Fashion Week) in Tokyo is under way! Several times each day, TokyoFashion.com's contributors are reporting back from runway shows and events all over town. Be sure to check out all of our Mercedes-Benz Fashion Week Tokyo coverage.
On Saturday, October 22nd, Japanese label Phenomenon showcased their 2012 Spring/Summer collection on the runway at Tokyo Midtown as part of the Versus Tokyo event, curated by Yuichi Yoshii of The Contemporary Fix.
Phenomenon was founded in 2004 by Takeshi Osumi (aka BIG-O). The label is extremely popular among young Japanese men who are into streetwear. The clothes have a strong urban and American hip-hop influence with a Tokyo street sensibility and a Japanese attitude toward high quality manufacturing.
The theme of the Phenomenon 2012 S/S collection shown at Japan Fashion Week was "Nippon – Kodomo – Mirai" ("Japan – Child – Future"). The collection evoked schooldays memories with college/preppy/Ivy League elements, as well as some naval and biker influences. At the midpoint of the show, one of the models appeared in a shirt decorated front and back with colorful traditional Japanese artwork, possibly as a reminder that – despite the Western influences – this is a uniquely Japanese collection, and brand.
Please click the Phenomenon images below to blow them up to full size.
Phenomenon 2012 Spring/Summer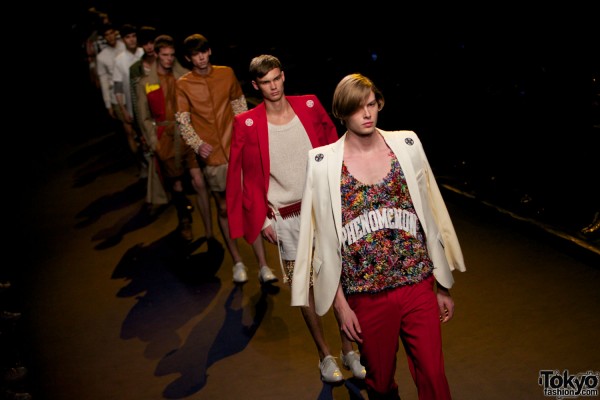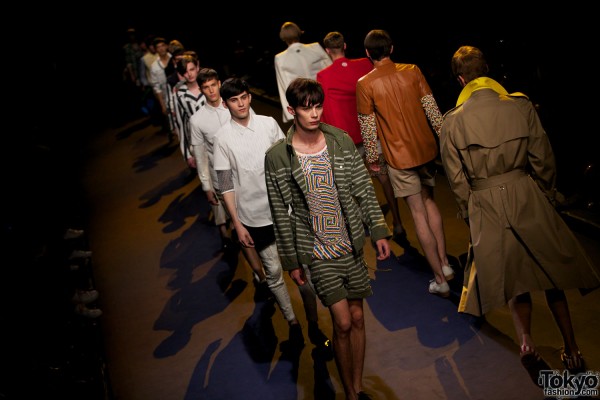 Click any of the Phenomenon pictures to enlarge them!
External Link: Phenomenon Official Website
***
About the photographer:
As long as he is behind his camera Will is a happy man. He has photographed everything from the slums of Bangkok to the catwalks of Tokyo. He is a contract photographer for Lonely Planet, his images and photo essays have appeared in Time Out, The Japan Times, Sportswear International and a variety of other newspapers, magazines and guidebooks around the world and his photo essays from Iraq for The Griffith Review even earned him a mention in the Australian book review of the year in 2006. In addition to his media related work, Will also shoots events, portraits, weddings and the occasional CD cover. Whatever he's working on, he always writes about his jobs and how he goes about them at Will Robb Photography.