A few weeks ago, I filed a hard-hitting report for Tokyo Fashion about a new wave of flashy and eye-catching summer yukata robes designed especially for gyaruo: dandified males who habitually stalk female prey in the streets of Shibuya, Tokyo.
Now, as summer continues its assault on Japan, it seems fair to also take a look at what the gyaru themselves are being offered by way of glammed-out yukata.
I've searched high and low (mostly low) for the most striking summer yukata I could find. And the winners, without question, came from Sweet Angel, a web shop closely affiliated with gyaru lifestyle bibles like nuts and Koakuma ageha magazine.

For those not in the know, yukata are light and casual summer kimono, often worn to keep cool during summer festivals. A garment with a long history in Japan, yukata decorated in more modern styles have become trendy in recent years. But Sweet Angel's original clothes and accessories are clearly in a class by themselves. They go well beyond traditional summer wear for outdoor festivals and – like the gyaru scene that spawned them – go way over the top in search of both sex appeal and sparkling "kira kira" cuteness.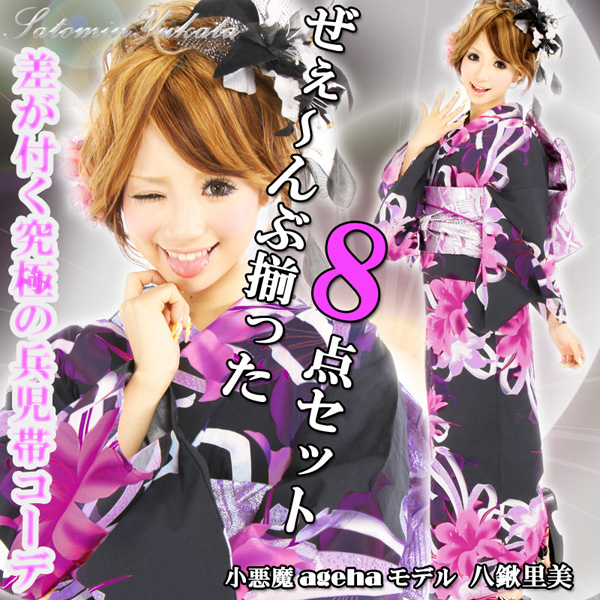 The front line of Sweet Angel's 2011 yukata selection features top models from Koakuma ageha magazine. For instance, here's Satomi Yakuwa showing off a basic summer yukata set, which Sweet Angel has cannily dubbed the "Satomi Yukata".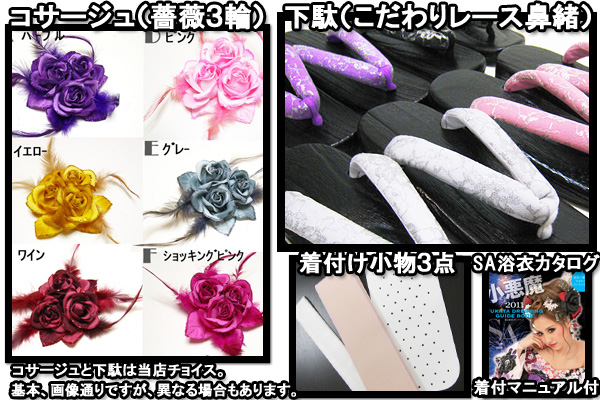 An entry level yukata from Sweet Angel – costing 7,800 yen (US$96.00) – gets buyers an 8-piece set containing yukata robe, obi belt, wooden geta shoes, corsages, kimono belt accessories, and a yukata styling manual that doubles as a catalog for yet even more merchandise from Sweet Angel!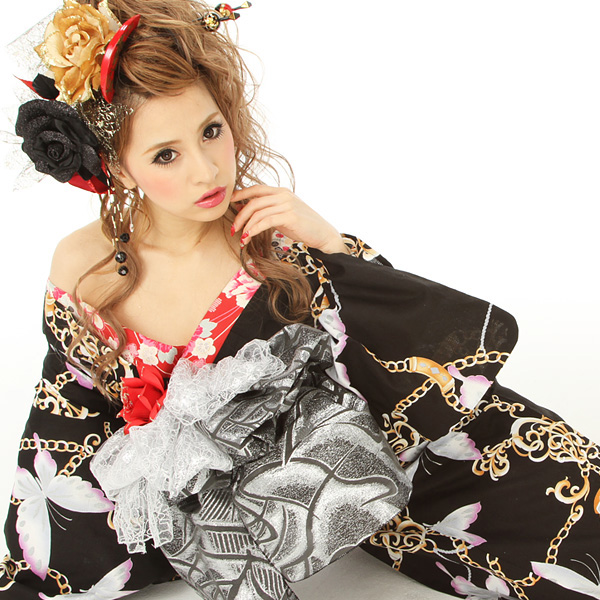 Sweet Angel bills this "Silver Lame Black and Gold Chain Butterfly" set, priced at 13,800 (US$171.00), as their "Ultimate Yukata". Like many of their designs, the basic idea comes from classic Japanese culture – indeed, it is closely patterned after a kimono – but the sheer amount of skin shown here by ageha model Sayaka Araki (as well as the Western-style lace on the obi belt) makes for a massive break with tradition.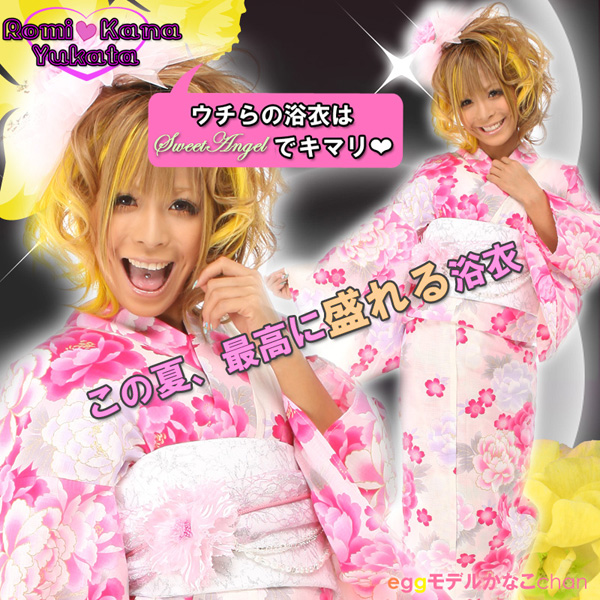 She isn't showing off much skin, but wow, what a tongue piercing! The parade of Koakuma ageha models is briefly broken up by the appearance of Kanako Kawabata, who has escaped from the pages of egg magazine in her Pink Peony Yukata which retails for 9,800 yen (US$121.00).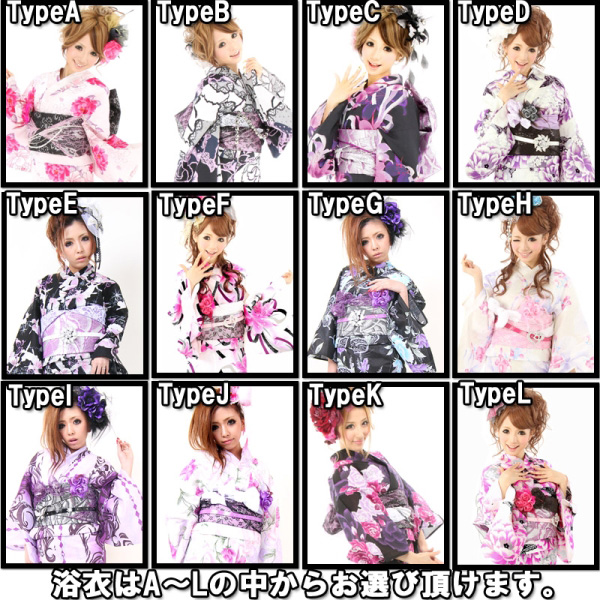 Sweet Angel currently boasts 399 different yukata and related items at their web store (believe me, I counted). Above is just a small sampling of the dazzling selection they carry. Go catch 'em all!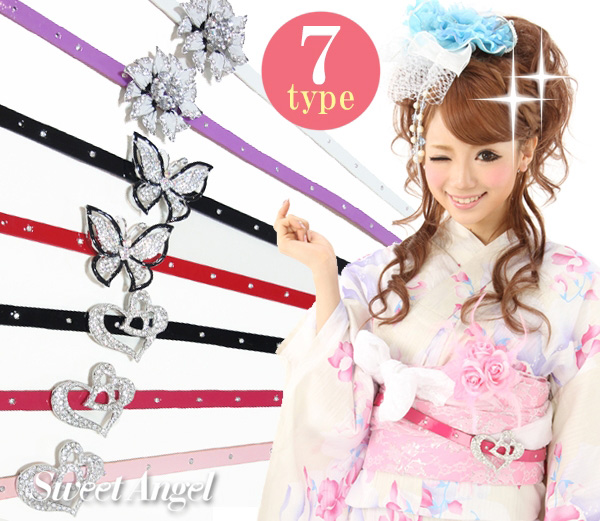 Among the hundreds of must-have accessories at Sweet Angel is this set of seven glittering decorated belt ornaments shaped like flowers, butterflies, and hearts, and priced to move at 3,675 yen (US$45.00).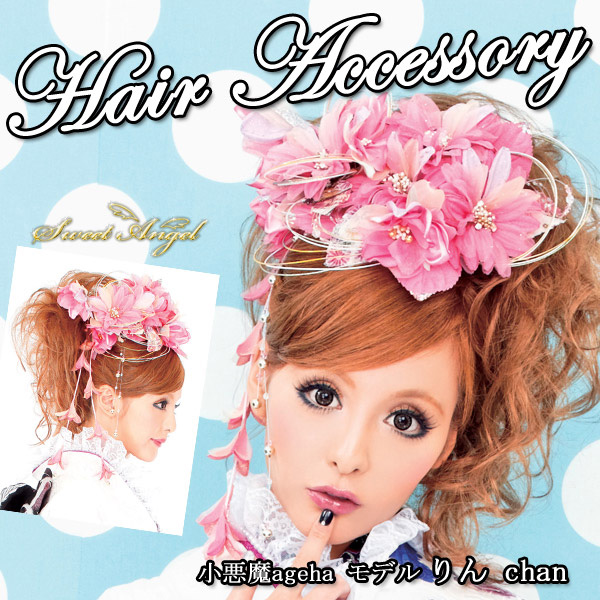 None of Sweet Angel's outfits are complete without a whopping oversized flowery hair accessory. But be warned: they don't come cheap…Here's ageha model Rin-chan sporting one that costs 29,400 yen (US$364.00). That's nearly four times as much as many of the yukata themselves!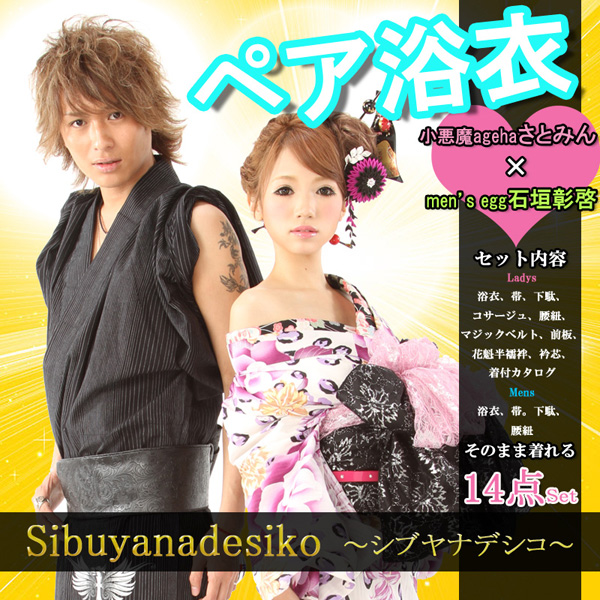 Imagine that! All the time and money spent into looking your best for festival season might actually pay off in a sweltering summer romance. For such lucky types, Sweet Angel handily offers a Pair Yukata set, which includes 14 pieces for 22,000 (US$273.00). Pictured here are Satomi and Akihiro Ishigaki, a model on loan from men's egg magazine (nice tattoo, bro).
What's up with the baffling word "Sibuyanadesiko" at the bottom? My secret decoder ring informs me that Sweet Angel probably wanted to say "Shibuya Nadeshiko – by which they are referencing the classic Japanese ideals of beauty and kindness known as "Yamato Nadeshiko". Not sure exactly how that would play out in the streets of one of Tokyo's wildest neighborhoods, but it probably has something to do with eye-catching yukata…
For more information on Sweet Angel Yukata:
Article by Patrick Macias, photos courtesy of Sweet Angel.
About the author:
Patrick Macias is the owner of media company jaPRESS and the author of "Japanese Schoolgirl Inferno: Tokyo Teen Fashion Subculture Handbook" (Chronicle Books). He has written for a variety of publications in the US and Japan including Wired, Studio Voice, and Weekly ASCII. His blog can be found online at patrickmacias.blogs.com.