Snoopy x Porter Limited Edition Japanese Bags
I was in Tokyu Hands this last weekend and I stumbled across a cool Japanese fashion collaboration – Snoopy x Porter x Tokyu Hands. You can't really go anywhere in central Tokyo without randomly finding something interesting.
A little research shows that this collection is called the "Hands Snoopy Collection" and it consists of three collaboration bags. All of the bags are based on Snoopy / Peanuts comic strips somehow related to the anniversary of NASA (the American space program) and the anniversary of Snoopy. I wasn't sure exactly how it was all related, but regardless of the exact reasoning, we get a Snoopy x Porter x Tokyu Hands x Outer Space bag collaboration!
Snoopy x Porter @ Tokyu Hands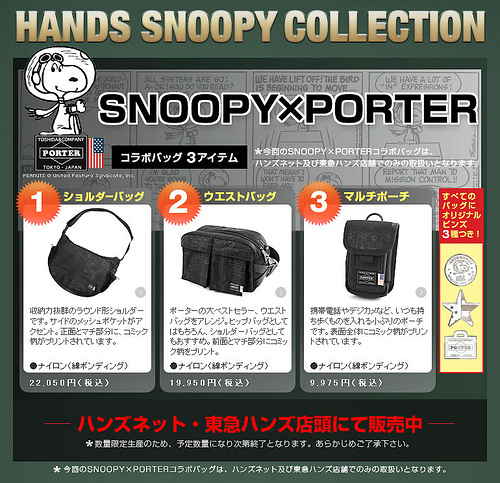 So, let's see the three bags that make up the collection…
Snoopy x Porter Shoulder Bag:

Snoopy x Porter Waist Pack:

Snoopy x Porter Phone Wallet / Mobile Case:

The bags are priced at between US$100 and about US$250, depending on which one you want. Each of the bags comes with a little limited edition Snoopy pin and/or charm and an actual Peanuts comic strip. They went on sale on December 6, 2008, exclusively at Tokyu Hands stores (not available on their online store) and they are expected to sell out quickly. The Shibuya Tokyu Hands location still had some in stock when I was in the store in the last few days, but you better hurry if you want one.
In case you didn't know, Tokyu Hands is actually a great place to buy Porter bags in Tokyo. Each of the Tokyu Hands stores has a great selection of bags, purses, wallets, backpacks, and other Porter bags. The Shinjuku Hands location actually has a small Porter boutique on the bottom floor. They also carry a wide selection of non-Porter bag brands including North Face, Gravis, Wise Walker, and tons of others.
As usual, check our Flickr page if you want to see more Snoopy x Porter pictures and bigger sizes.