SOL & BeBe SOL Harajuku – Kawaii Handmade Goods, Vintage & Remake Fashion Boutique
SOL & BeBe SOL is one of those quirky hidden boutiques which have made the backstreets of Harajuku famous. Its location on a side street (just off of the famous Cat Street) and relatively chill exterior (racks of vintage clothing and a couple of Teddy Bears on a swing) make it easy to miss if you're not in the know. But missing out on SOL & BeBe SOL would be a mistake! For well over a decade, SOL & BeBe SOL has been a Harajuku haven for vintage fashion lovers, collectors of kawaii handmade accessories, and those who want their style to be one-of-a-kind.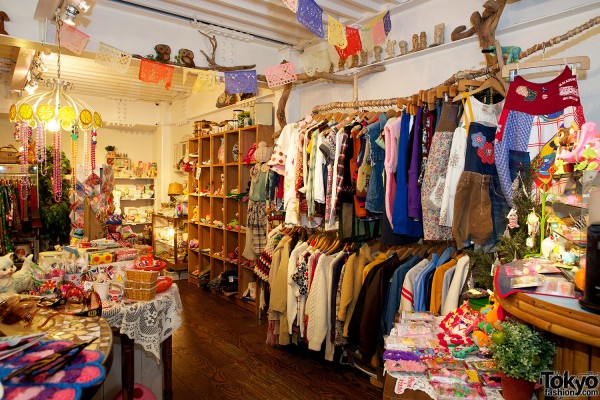 Launched in Harajuku in 2000 by the shop's creative director Lily, SOL & BeBe SOL lives by a simple credo – "Only one in the world." SOL & BeBe SOL handles handmade and remake items from over seventy different "makers". Most of the creative designers SOL & BeBe SOL works with are independent – and for many, their items are available exclusively at the shop. In addition to the vintage/remake fashion and handmade accessories, Lily told us she also carries "a variety of other goods irresistible to mushroom lovers". When you visit the shop, you notice her collection of large colorful mushrooms right away, along with many other quirky goods that give SOL & BeBe SOL its own one-of-a-kind personality.
The interior of the SOL & BeBe SOL Harajuku shop has a rustic vibe to it, with hardwood floors and wooden shelves packed with countless kawaii handmade goods. Racks of vintage and remade clothing line several of the walls. Gremlins, Popples, Barney the Dinosaur, ET, giant mushrooms and other funky characters share shelf space with handmade iphone cases, hair accessories, jewelry, purses, pouches, hand-decorated shoes, knitted hats, and more.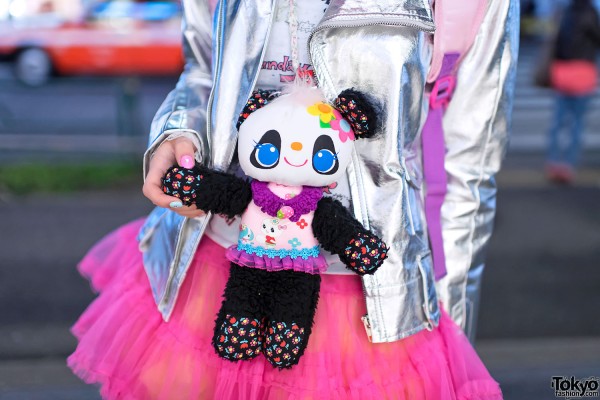 One of SOL & BeBe SOL Harajuku's most popular projects recently is an ongoing series of collaborations with KERA Magazine model Haruka Kurebayashi (aka 90884). Kurebayashi worked with Japanese designer Miyamo on a collection of super-kawaii pandas and other characters. We've seen a number of Harajuku kids wearing these SOL x Kurebayashi x Miyamo plush dolls around the streets of Harajuku. They've been featured in KERA, and the pieces tend to sell out very quickly. SOL has also collaborated with other Japanese artists, including well-known illustrator Saki Murata.
The Harajuku boutique is the only standalone SOL & BeBe SOL shop. However, the brand has also held temporary shops inside of LaForet Harajuku in the past, as well as popup shops with Parco Shibuya and other Parco Department stores around Japan. SOL & BeBe SOL also operates an online shop and participates in various special events – including art shows, craft fairs, and anywhere handmade fashion and art is appreciated.
Almost every item at SOL & BeBe SOL – whether it's a 1970s denim skirt re-imagined with Mickey Mouse ruffles, Converse sneakers covered in purple fur, ear muffs made out of Teddy Bears, a LEGO iPhone case with a face, or a tote bag with a doll head attached – is one-of-a-kind. That means that once each item is gone, it's gone forever. The stock of SOL & BeBe SOL is ever-changing, as they add and remove designers from their roster. If you're a fan of real Harajuku fashion and/or Japanese kawaii in general, you should definitely seek out SOL & BeBe SOL! In the meantime, check out all of our pictures of the shop – and scroll down for the address, a map, and all of the rest of the important details.
Click on any of the SOL & BeBe SOL Harajuku pictures to enlarge them.
A big thank-you to Lily and the entire SOL & BeBe SOL staff for talking to us about the store and for allowing us to take pictures. Lily is in the shop much of the time, and she's super friendly – so stop in and say hello the next time you visit Harajuku! Check below for all of the important information on the boutique.
About SOL & BeBe SOL Harajuku:
What: Handmade Japanese kawaii goods, one-of-a-kind accessories, remake fashion, vintage fashion, and various cute things.
Where: Backstreets of Harajuku. Very near to the Design Festa Gallery, just off of the famous Cat Street (a minute walk from h.NAOTO). Look for the two Teddy Bears in a swing.
Address: 3-20-3 Jingumae, Shibuya-ku, Tokyo, Japan 150-0001
Phone: 03-5772-2044
Hours: 11:30-20:30
Websites: Official Website, Lily's Blog, Staff Blog, Twitter, Facebook
Photos by Kira.
***
About the photographer:
Born in Japan, educated in Japan and the US, Kira shoots exclusively with Canon DSLRs. Photography assignments include fashion, bands, sporting events, and portraiture for various companies and bands throughout Japan & the world. His portfolio can be viewed at Artist-Photo.