Takashi Nishiyama, Japanese Fashion Designer
All during Japan Fashion Week in Tokyo #11, TokyoFashion.com's photographers have been running all over town covering runway shows, exhibitions, parties, and other goings-on. In between the official JFW events, we've tried to make time to grab a few quick street fashion snaps whenever we see interesting and/or stylish people around town.
It was during one of these random street snap stops in Harajuku when we met Takashi Nishiyama. Nishiyama-san first came to our attention while walking on Omotesando Dori because of his eye-catching raw leather jacket. (It reminded us of something from Rick Owens). After chatting with him for a few moments, we learned he was actually an award-winning young Japanese fashion designer taking part in JFW.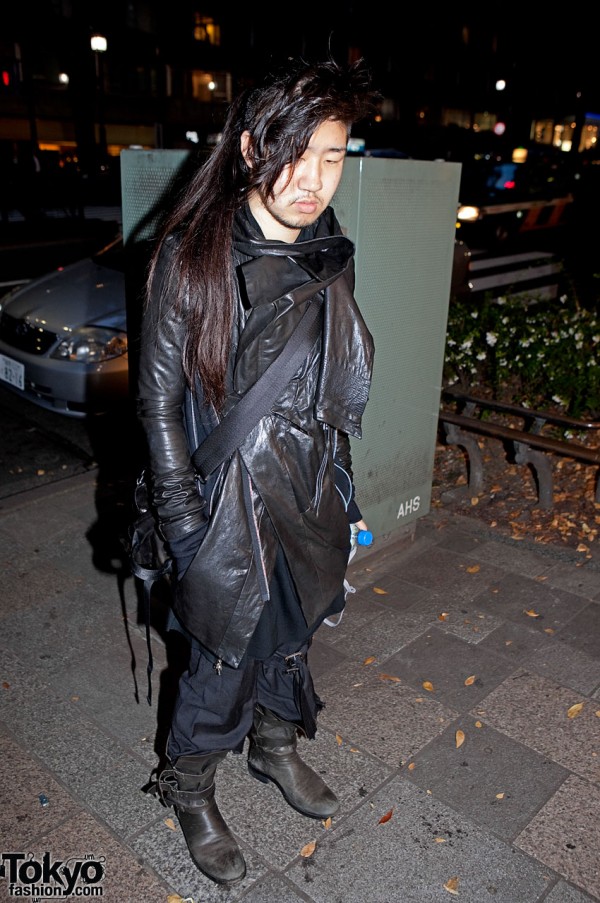 Earlier this year, 23-year-old Takashi Nishiyama became the first Japanese designer ever to win the prestigious International Talent Support (ITS) fashion contest. The judges for ITS#Nine included fashion designers Viktor&Rolf, Vogue Italy editor Sara Maino, and Nina Nitsche of Maison Martin Margiela.
Nishiyama's award-winning collection was called "MONSTER HUNTER", and was inspired by the Japanese video game by the same name. The jury sighted the extreme "originality" of his collection. We think you'll likely agree when you see the pictures below.
Born in 1987, Takashi Nishiyama attended Bunka Fashion College in Tokyo between 2006 and 2009. After Bunka, he began advanced courses at coconogacco, a creative design institute set up by Japanese designer Yoshikazu Yamagata of writtenafterwards. In July of 2010, he won the ITS#Nine competition. In October of 2010, he participated in Japan Fashion Week in Tokyo #11.
Click any of the photos of Takashi Nishiyama's "Monster Hunter" collection to see high resolution versions.

Click any of the pictures to enlarge them.
External Link: Its#Nine
Runway photos by Giovanni Giannoni, courtesy of EVE.