Tokyo Chic: Foreign Models in Japan Tell (Almost) All
One of TokyoFashion.com's favorite blogs right now is HORA Confessions. It's written by two non-Japanese models living and working in Tokyo. The blog gives you an insider's view of a foreign model's life in Tokyo. The updates alternate between being informative (wanna know where to go in Tokyo to party with models and musicians?) to hilarious (how many times have the girls been caught at high fashion events wearing Forever 21?) to pure celeb paparazzi fun (photos from a party with Marc Jacobs, video from backstage at the Prodigy show, and more).
We love their blog, so we decided to track down the authors and find out a little bit more about "HORA". Luckily, we didn't have to look too hard – the girls are very active on Twitter. After a few friendly exchanges, the HORA girls were kind enough to set aside some time for an interview. If you've ever wanted to take a look inside the long days – and longer nights – of a model's life in Tokyo, this one's for you!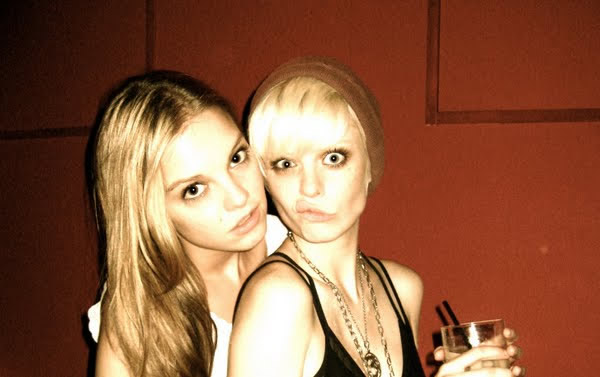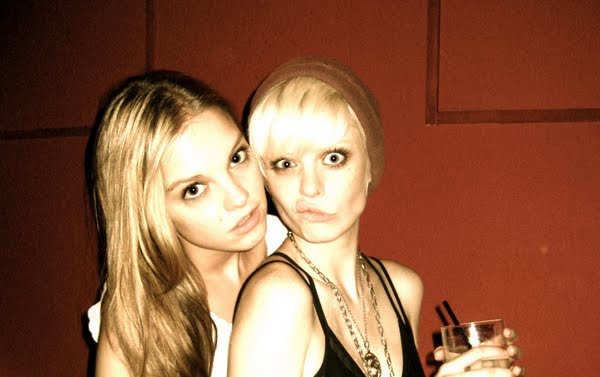 The brains and beauty behind HORA Confessions are models Heather Burton (from Los Angeles, USA) and Laura Hayden (from Barcelona, Spain). The word "HORA" is a combination of "Heather" and "Laura". Cute, eh? The girls write, photograph, shoot & edit all of the videos for the blog themselves.
So, let's meet the girls and find out what they have to say for themselves…
Both Heather & Laura are represented by Forza Pregio 62 modeling agency in Tokyo. Each of them is also represented by an agency in their home country. Heather has been in lots of Japanese and international fashion magazines including Leon (July), WWD (August), Mode e Mode (September), Shelter (August), and Nylon (still not out). Laura's numerous magazine and catalog appearances include Leon (August Issue), Peach John (lingerie – winter issue), Peach John (clothing line – winter issue), Anan magazine (October), Natiful (nail magazine – winter issue).
TF. How did you get started in modeling?
Heather – Started when I was 13. I went to modeling conventions in Seattle, Washington, Miami, etc.
In the Miami convention I got scouted & signed by Click (New York) at the age of 15…the rest is history!!
Laura – I got scouted in a local restaurant back at home (Spain) while I was stuffing my face, at the age of 14. My mum was an ex model, so she was able to supervise :p
TF. What made you come to Tokyo? How many times have you been here? What's the longest you've stayed in Tokyo?
Heather – This is my first time in Tokyo. My mother agency decided she wanted to send me here to make some money. Things worked out really well here, so I decided to stay longer than the established 2 months..I've been here for 4!!!
Laura – It is my second!! :p I was here last summer 2008. I was supposed to stay 2 months and ended up staying for 3! This year it's been the same. I got here at the beginning of summer (2009) and decided I would stay 3 months instead of 2.
TF. You seem like best friends on your blog. Did you know each other before you came to Japan, or is this a "Lost in Translation" friendship where you met in Tokyo?
HORA – For SURE it is a Lost in Translation friendship!!!!!!
Laura – The first time I met Heather was the day I arrived. All the models were in the van, and we were all waiting for Heather – who was of course, fashionably late. She had been MIA from the agency & castings all day. They even called the police to search for her!! Suddenly, out of nowhere, the door bursts open and in comes Heather yelling, with a lollipop stick in her mouth.
Turns out she'd been out all night and couldn't be bothered to pick up her phone. I knew then it was the start of a beautiful friendship!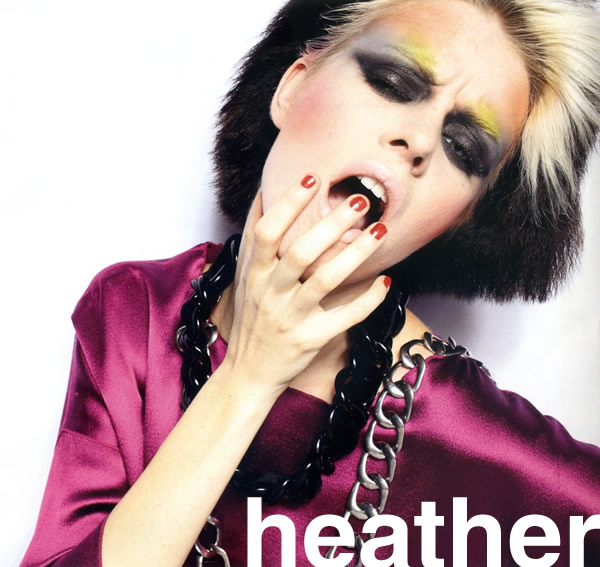 TF. Do either of you speak Japanese? Are you studying the language?
Heather – It's totally hard for me because I suck at languages!!! :S Numbers are my thing…
Laura – I understand it MUCH better than I speak it :p . I do know how to say basic & important things like "Ikura des ca?" or "Toi-re doco des ca?" :D
TF. How is modeling in Tokyo different from in the West?
HORA – Tokyo fashion is different because it is a lot more commercial than Western "fashion", it is very "Kawaii".
Tokyo Fashion is a lot more perfectionist as well. "No wrinkles!!!" – that is the phrase we are most scared of!!!
TF. Do the local Japanese models treat you as friends or as competitors?
HORA – Local Japanese models are great!!!! They are beautiful, exotic and very friendly! They don't treat us as competition because a client that wants western models will not chose Japanese, and vice-versa. It's like two different categories of models in the Japanese Market.
TF. What brands/events have you worked for in Japan?
Heather – Topshop for Tokyo Girls Collection, Barak Japan, Marc Jacobs (editorial), Louis Vuitton (editorial), Le Coq Sportif (catalog), Gilfy (campaign).
Laura – Peach John (lingerie + clothing line), Amo's Style (lingerie), Cecile (lingerie), Le Ciel Bleu (campaign + catalog), Pola, Odakyu (department store), 109 (last autumn-winter campaign)
TF. Do you wear Japanese fashion in your real life (when you aren't modeling)? What are your favorite Japanese fashion brands?
Heather – I have my own unique style that basically consists of vintage clothes. I do love H&M & Forever21 in Tokyo, it's so much cooler than in the US! I love WeGo, the vintage shop in Tokyo.
Laura – I love Japanese fashion! It's so inspiring!!! Probably my favorite stores would be ANAP (I love the selected pieces they sell.. :p), Peach John (ALL my underwear is from there!), but my most favorite fashion label in Japan would be Le Ciel Bleu and Comme des Garçons – I think both of their styles are unique, classic and SUPER cool & trendy!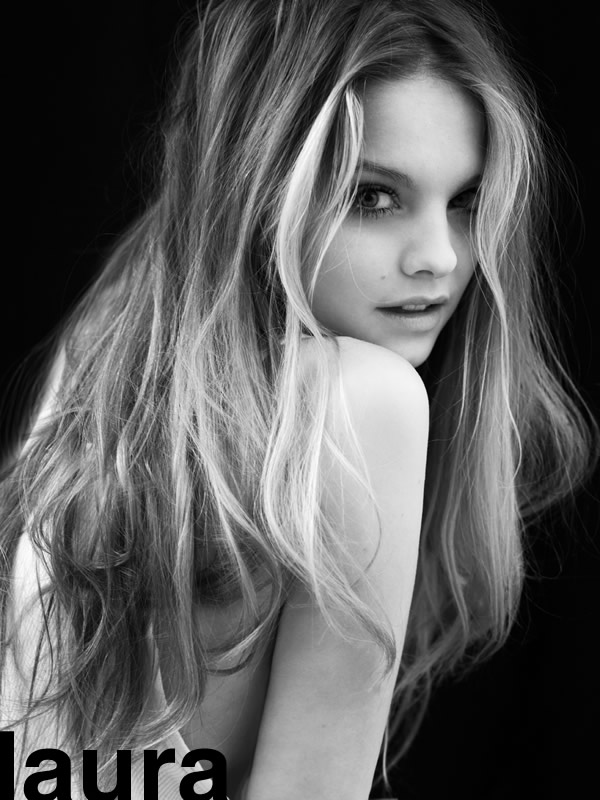 TF. People who see Fruits Magazine probably imagine that all Japanese fashion is insane. How did the reality of the Japanese fashion scene differ from the image you had before you first actually visited Japan?
HORA – We thought that Japanese fashion would be charged with the Harajuku Girl style – the "Hello Kitty Candy Ravers" .
It's not like that at all, though. We find that in all different areas of Tokyo, there is a style to each one of them. In Harajuku – Harajuku Girls as well as many other arty styles; in Shibuya – the girls with the super dark tans, blonde hair and HUGE platforms!; in Omote-sando – it's super high, cool fashion…it is where it all starts!; in Ginza – the very luxurious, classical style…; etc!
The funny thing is – there are stores and magazines that cater to all of the different styles! It is amazing how you can just create an individual personality for yourself my mixing and matching all these different styles!
It's crazy how nearly every woman in Japan wears heels ALL DAY! (how do they do it?!)
TF. Any advice for girls wanting to start modeling in Japan?
HORA – where to begin??
Make sure you read the contract carefully.
Be patient at jobs.
Be on time.
ALWAYS be friendly to everybody.
Make sure you don't get a suntan.
Always dress up for castings (little dress and high heels is always the best way to go).
Don't over do it with too much make-up! Japanese clients like their models to be natural.
There are a lot of girls here, so you need to have something that will differ you from the rest – something that will give you an image and personality that will help you stand out to a client.
Don't go crazy! Tokyo can be just as dangerous as any other city, so you need to have a strong personality and your feet firmly on the ground!
TF. What made you decide to start your blog?
HORA – It started through Facebook! We were taking pictures every day (20-50 pictures a day) and uploading them every single day! People were liking it, as well as the funny footnotes underneath them! We started getting private messages from random people asking us to upload more!!!
Another reason is that we have both been here for a while now. When you are away from home for so long, you start thinking about all the amazing things you see and experience, and you begin to think about HOW you are going to manage to tell ALL of family & friends back at home what happened while you were away!
We are a bit lazy, so we decided – why not let them know already and save some VERY long stories for when we get back?!
And this is how HORA was born!!!
TF. Readers of your blog might think you guys are living a crazy party all day and night. True or false?
HORA – (LOOOOOOL) ummm… (blush)… It's not ALLL party!!! (Lol)
Oh god…it's REALLY hard work to be here, actually! The thing is, you always hear models talk about their jobs, castings…and that is about it!
Why do you never see them eating McDonald's??? Or having a crazy party with friends??
The difference between our blog and any other model's is that we combine TRUE LIFE with MODELING LIFE. We don't want to be seen as JUST models. We are REAL people with friends and embarrassing stories to tell!
In a world like nowadays, where everybody wants to know the TRUTH, the reality of things, the "behind the scenes" of everybody and everybody's life, we would be nothing but superficial and "stuck up models" if we were just to talk about work.
We are very proud of the work we do, the jobs we get. But we also want to enjoy our stay here, and make as many friends as we can!!!!!
Trust us, we aren't the only ones that go out… We are just the only ones brave enough to talk about it!!! :) :p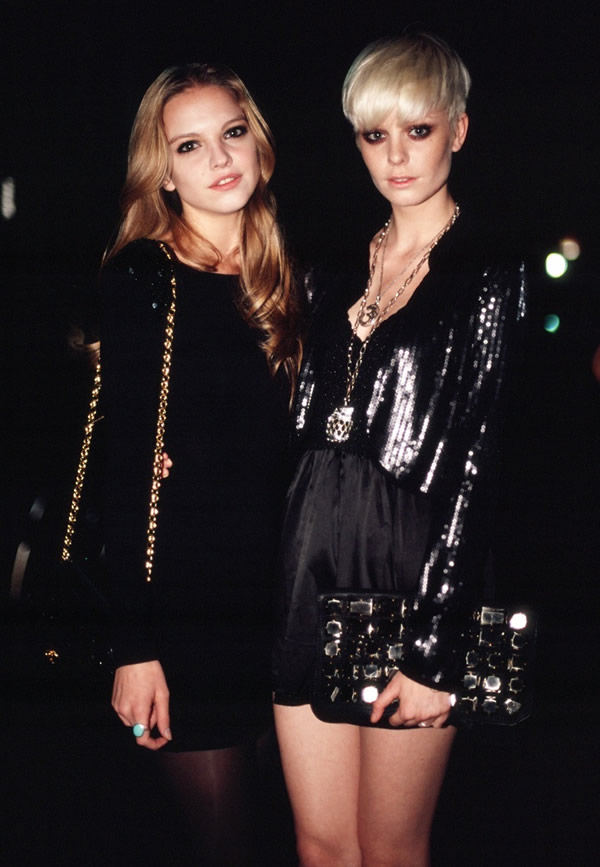 TF. You often mention hanging out at Feria (Roppongi club) on your blog. What are your other favorite/recommended Tokyo party spots?
HORA – HORA loves Feria!!! We have some VERY good memories there. There are also a lot of other places where we love to go, such as:
Mi Casa (Roppongi)
Fashion Bar (Azabu-Juban)
Mado Lounge (Roppongi Hills)
Lime Sports Bar (Roppongi)
Trump Room (Shibuya)
Le Baron (Aoyama)
These are the places we visit frequently. Every night there is a new story to tell!!! (hence "The Blog" :p)
TF. Do you get recognized on the street and/or in clubs by people who've seen your modeling work?
HORA – It has happened sometimes, but doesn't happen frequently because there are so many models here and they change so often!
We get more recognition from people that have been reading our blog!!!:p LOL, we were SHOCKED when that started happening!
TF. Will the blog continue when you leave Japan? Maybe your continuing adventures in Spain or LA or some other far away place?
HORA – We haven't posted on it yet…which is something we are working on as we speak! The blog WILL continue, but you are going to have to visit the blog to see what is going to happen!! :p We will tell you, however, that it is going to be very exciting!
TF. Any other advice, crazy stories, or last comments to share?
HORA – Tokyo has united us by complete fate. Two people from opposite ends of the globe (Heather & Laura) have been united and created a "baby" inspired by Japan… and you don't get that often!
Tokyo is an amazing city, but you need to create your own "family" around you in order to enjoy it! we LOVE Tokyo and cannot wait to come back!!
Domo Arrigato Gosaimas!!!!!!!!!
---
Thank you very much Heather and Laura for taking the time to answer these question!
If you want to read more about HORA's adventures (and we know you DO!) and see their photos and videos (they have been posting a lot of video lately), check out the Hora Confessions Blog, follow them on Twitter, and join them on Facebook.