6%DOKIDOKI "Beyond the Kawaii" Evolution & Harajuku Shop Renewal
For nineteen years, Harajuku's iconic 6%DOKIDOKI boutique has been a key player in the spread of "kawaii" culture in Japan and around the world. The brand's founder Sebastian Masuda might be described as a "kawaii evangelist", eager to share his well-considered and well-informed philosophies on Harajuku and kawaii with everyone from the shop's colorfully-dressed customers to academics at international conferences on Japanese culture. In addition to 6%DOKIDOKI, Masuda has been involved in many other kawaii-related projects – from the "Mighty Harajuku" earthquake recovery efforts to helping launch the career of Kyary Pamyu Pamyu (Kyary was a 6%DOKIDOKI fan long before she became a household name).
With the brand's 20th anniversary quickly approaching, Masuda decided that it was time for 6%DOKIDOKI to evolve "Beyond The Kawaii"!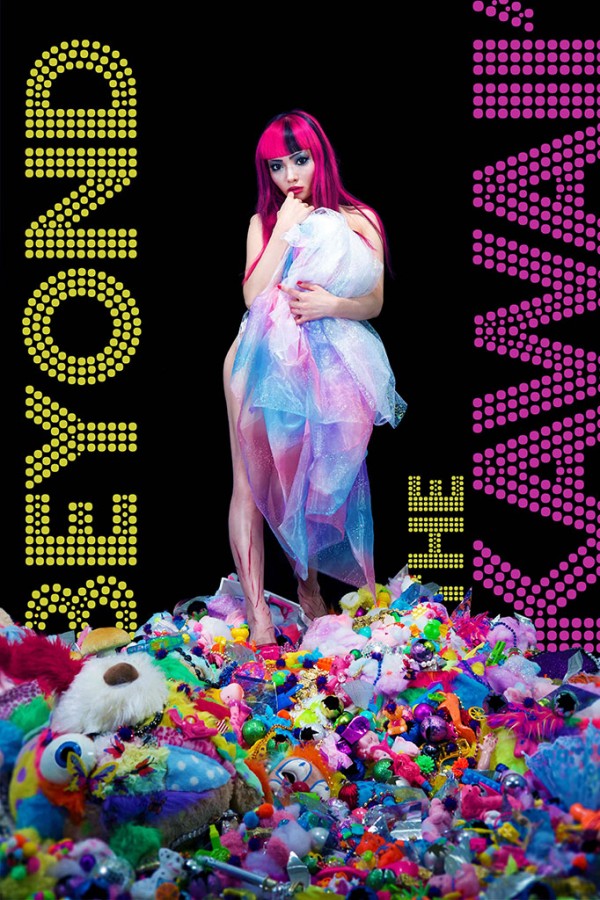 6%DOKIDOKI's new direction embodied in the "Beyond The Kawaii" theme has been kicked off with a full renovation of the Harajuku shop. On November 16th the 6%DOKIDOKI shop re-opened with an interior redesign, a new 6%DOKIDOKI shop girl (Mel joins Vani and Yuka), and several exclusive products (with more on the way). The new shop design immerses visitors in the 6%DOKIDOKI world – featuring bright colorful decor (with a slightly dark undercurrent), a large sculpture of a wide-eyed creature, and even a giant lighted "6%" suspended from the roof. 6%DOKIDOKI has always been a required destination for fans of kawaii culture, and the redesign makes it even moreso.
6%DOKIDOKI founder Sebastian Masuda released the following statement to fans upon the launch of "Beyond The Kawaii" (English translation by us):
"A lot of people might think it odd that we have done a remodel on our interior at this point in time, but it actually fell just within the parameters that I have been planning for a long time. I have always known that as the 'kawaii' culture, which was born in Harajuku, develops, 6%DOKIDOKI must quickly make the next step.

This new remodel is packed with many individual components. Harajuku is 'the city of individual attitudes,' and many people who visit Harajuku thinking of it as 'my own place.' Harajuku's 'kawaii' culture having spread throughout the world is a very good thing, and of course it is something I desire in my work. However, on a different line, I also feel the need to take the 'everybody's place' that Harajuku has become and break down what I have made before to remake it as 'my own place' once again.

Actually, the design from the original 1995 opening of the shop when I was 24 years old is reflected in the new interior of 6%DOKIDOKI. In a way, you could think of this as simply being a return to the starting point, but I think it would be more accurate to think of it as something I wanted to do due to the evolution of my feelings and energy. Some people who liked the previous iteration of 6%DOKIDOKI might be shocked when they first see the new design, but I want you to really, REALLY look closely. My work always stresses the importance of 'color and shock.' That is the one thing I want to convey, and this change only represents different vehicle for showing that. If you are afraid of change you cannot make progress, and nothing new will arise. By looking forward in this manner 6%DOKIDOKI has thrived within Harajuku for 19 years. Maybe the Harajuku and 'kawaii' you know about are only the beginning to a new story…

I hope you take that important first step into the new store with a sense of excitement!"
With all of that in mind, take a look at the "Beyond The Kawaii" visuals below and see what you think. We've also got pictures from inside of the renewed 6%DOKIDOKI Harajuku shop, and images of the just-released Colorful Rebellion "CRASH" tights. Enjoy all of the pictures and we hope that you have a chance to visit 6%DOKIDOKI and experience "Beyond The Kawaii" in person soon!
6%DOKIDOKI Beyond The Kawaii
Key visuals for the "Beyond The Kawaii" launch.

6%DOKIDOKI Harajuku Shop Renewal
The interior of the renewed 6%DOKIDOKI shop with Sebastian Masuda and the 6%DOKIDOKI shop girls.

6%DOKIDOKI Colorful Rebellion "CRASH" Tights
To commemorate the reopening of the 6%DOKIDOKI store, Colorful Rebellion "crash" print tights were released for the first time. Sebastian said of the tights, "At first glance it may look cute, but if you look closer you'll notice elements that give the tights a dangerous motif." The "Colorful Rebellion" name indicates that these tights are from Sebastian Masuda's new product series "Defiance of Color."

6%DOKIDOKI's shop remains at the same address as before, and the hours remain unchanged. For more information you can find the brand online at:
About 6%DOKIDOKI (official brand bio)
Sebastian Masuda, well-known in contemporary art and the stage, opened this store as a place of expression in 1995 in Harajuku. The shop has continued to evolve along with the culture of Harajuku. The store's concept of 'Sensational Lovely' refers to things that take cuteness past the extreme, and under this concept original goods, selections, and plans are developed. Reaching past the boundaries of 'fashion,' 6%DOKIDOKI remains on the leading edge of Japanese pop culture and 'dispatches culture that surpasses the limits of the world.'