6%DOKIDOKI Fashion Show at "Harajuku Kawaii"
6%DOKIDOKI, Harajuku's only "Sensational Lovely Shop", are always up for a party – especially when the party is called "Harajuku Kawaii" and includes a fashion show! When Tokyo entertainment and model management company AsobiSystem held a huge bash for their 4th anniversary, a 6%DOKIDOKI fashion show was one of the featured items on the bill.
We published a full report on the AsobiSystem Harajuku Kawaii Party. However, since the 6%DOKIDOKI show was so bright and colorful and fun, we decided to give them their own article so we could share even more pretty pictures with you.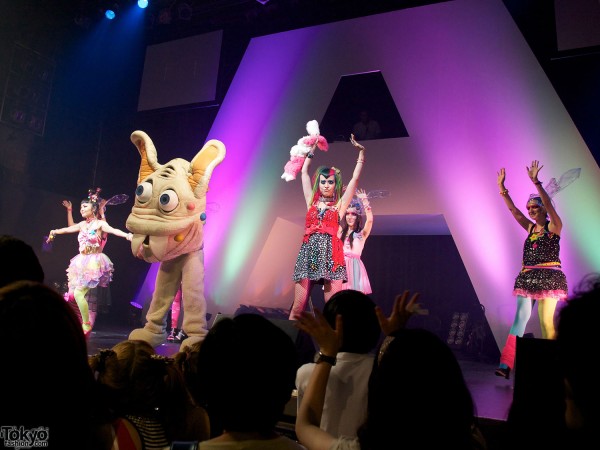 The 6%DOKIDOKI fashion show at AsobiSystem's Harajuku Kawaii Party kicked off with large robotic rabbits zooming around the stage (and eventually diving right off the edge of the stage), and ended with a human-sized one-eyed monster dancing in sync with the colorfully-dressed models. Anywhere else it might sound like insanity, but this is exactly the kind of madness is what made the born-in-Harajuku 6%DOKIDOKI famous.
Well-known 6%DOKIDOKI models Yuka and Vani starred in the show, along with a cast of non-Japanese models – all wearing plastic rabbit ears. Yuka showed off her graceful dance moves, while Vani's amazing punky style and Japanese-flag-hairstyle was done to perfection. The outfits on display were trademark 6%DOKIDOKI – bright colors, patterns, and lots of cute accessories.
After the fashion show, 6%DOKIDOKI creative director Sebastian Masuda was on stage – along with Yasumasa Yonehara and Kyary Pamyu Pamyu – for a talk show about the history of Harajuku. We also caught up with the entire 6%DOKIDOKI team backstage, where they let us photograph the large robo-rabbits that kicked off their fashion show. Don't take our word for it, though. Check out the pictures below for yourself! Also, remember that you can click on any of the photos to blow them up.
Click on any of the picture to see high resolution versions.
Don't forget to check out our full report on AsobiSystem's Harajuku Kawaii Party, with 50+ pictures, including fashion shows, Capsule live, and the debut singing performance of Kyary Pamyu Pamyu. We'd also like to send out a big "Congratulations!" to everyone at AsobiSystem on their anniversary, as well as a "Thank You!" to 6%DOKIDOKI for inviting us to photograph their fashion show.
For more info on 6%DOKIDOKI:
All photos by Kira.