ANAP
Anap is a popular Japanese fashion brand that specializes in clothing for young women.  The brand's name is sometimes associated with "Shibuya" and "gyaru" style, and it is a popular brand at Shibuya 109, but that's not all it offers.  Rather than catering to a specific genre, they offer a wide range of goods for different tastes.  What you can generally expect is hip, urban design – the kind of stuff "gals" and Tokyo women in their 20's and 30's might wear.
Anap was founded in 1992 as "A N Art Planning." With singer Ayumi Hamasaki wearing Anap in a 1999 music video, the popularity of the brand grew rapidly. In 2006 the brand changed its name to Anap Yatakai Corporation, and a year later in 2007 shortened that to simply "Anap."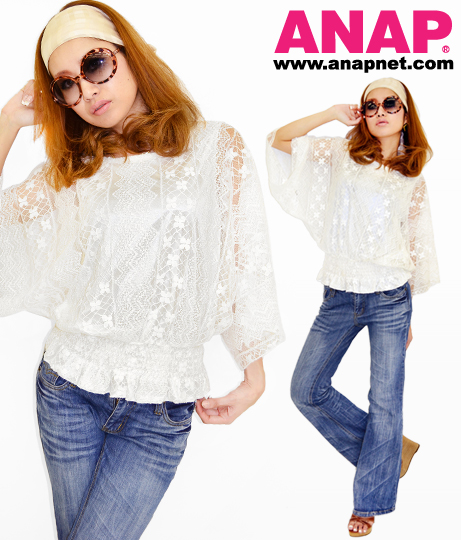 The main ANAP flagship shops are located in the Harajuku and Shibuya areas of Tokyo, but the brand has more than 60 stores all over Japan (30 of which are in Tokyo). Outside of Japan, there's an Anap shop in Los Angeles and one in Bali, Indonesia.
Anap also does a lot of business through their online shop.  They carry their own Anap brand, as well as distribute popular brands from overseas.  The online store offers goods and deals that aren't available in the stores, and there are seasonal specials.  The site also has news and blogs about various fashion topics, and they have a mobile site for those who surf the web on their phones.
Anap also has its own hair salons.  They sell their own hair products, which are also available on their website.  Aside from clothes, the brand sells accessories of all kinds including bags, shoes, jewelry and more.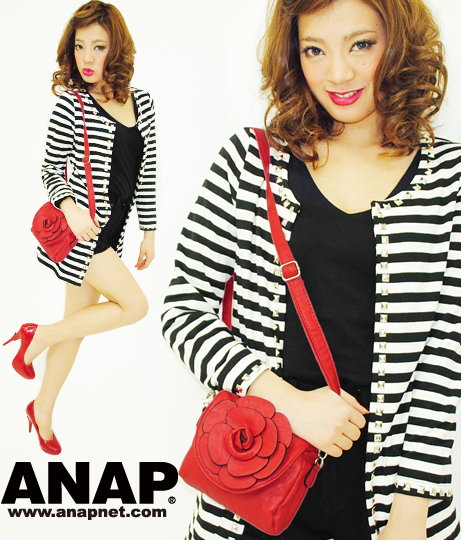 The clothes offered by Anap are divided into several categories and numerous sub-brands.  Anap Mimpi is for surfwear.  Anap USA carries imports from Los Angeles, including casual wear and more high-end, glitzy styles.  Latina is also for LA imports, but it focuses on higher quality goods. Chille Anap offers a cutesier, girly style with lots of ribbons, dots and other details.  There's also Anap Kids, Anap Men, Anap Sports and Homewear And Underwear.  Anap Outlet offers clothes at a discount price, and the site even sells music online through Anap Music.
Two original Anap brands that can be found in stores and online are Love Handles and Sandie Luv.  Love Handles sells mostly t-shirts with unique and flashy designs. Sandie Luv makes a variety of shirts, bottoms, jackets and accessories.
One of the things Anap shoppers love about the company is that it offers a full range of colors for all of its goods, giving them more selection to choose from.  Most of their goods are also reasonably priced, which is another of the company's strong selling points with young Japanese women.
Anap fashion appears regularly in many popular Japanese fashion magazines, further building the reputation of the brand.
External Link for ANAP: