Bubbles: Vintage Fashion Boutique in Harajuku
Last weekend, Tokyo's newest vintage fashion boutique opened in the heart of Harajuku. Located on the second floor of a building on the same street as many of Japan's most famous streetwear and sneaker shops, Bubbles Harajuku offers a very different atmosphere and style. The shoes at Bubbles are more likely to be 1980s Christian Lacroix or 1970s Chanel than Nike or Adidas, and the t-shirts are more likely to be classic Thompson Twins or Scorpions tour shirts rather than the latest from Harajuku neighbors Supreme and Ice Cream. In addition to the vintage items, the shop also stocks a limited number of handmade and indie fashions from young Japanese designers.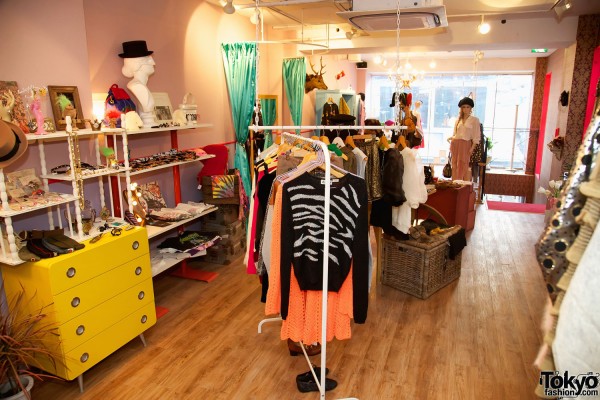 Though Bubbles Harajuku just opened, the shop's owner Coi is no stranger to Japan's vintage fashion scene. Coi – who you might recognize from FRUiTS or other Japanese fashion magazines – previously worked at the popular Harajuku resale shop Kinsella. While working at Kinsella, she travelled the world with the shop's buyer – hitting resales shops, swap meets, and other locations throughout Asia and America in search of interesting items to bring back to Tokyo. Now that Bubbles is finally open, she is ready to share the treasures she found.
The Bubbles shop aesthetic shows Coi's love for vintage styles from America and other countries, with a strong focus on the 1970s and 1980s. E.T. has a special place in the store's interior design, and vinyl records from bands like The Cars, The Clash, Roxy Music, and even Barry Manilow are strewn about artfully, along with various retro toys and some extremely awesome 1970s wallpaper.
The fashion offered at Bubbles includes a carefully selected collection of 1970s and 80s fashion – everything from vintage tops, dresses, skirts, and pants to footwear and purses, to colorful 1980s leggings, to lots of pins, accessories, and handmade items (zakka). Besides the vintage goods, a small number of new original pieces from young Japanese fashion designers and accessories from popular-on-the-streets-of-Harajuku Japanese accessory brands like Pe-Poco are also available at Bubbles. In the future, Coi may be adding more original items and even some of her own pieces under the "Bubbles" brand name.
Rather than try to explain too much to you, have a look at all of these pictures of the new shop and you'll get a good idea of what it's about. As usual, you can click any of the pictures to see them in high resolution.
Special thanks to Coi for giving us the full Bubbles tour. We definitely recommend that you stop in and say "Hello!" to her the next time you're in Harajuku. This shop isn't far from Spinns, 6%DOKIDOKI, and Nadia, so there are plenty of reasons for you to make the trek, no matter where in the world you might be coming from.
Here's all the important info on Bubbles Harajuku :
What: Bubbles vintage boutique
Where: Harajuku – 1st floor, just off Meiji Dori, near LHP & Astro Hall
Address: 4-32-12-1F Jingumae, Shibuya-ku, Tokyo, Japan (new address Jan 3, 2012)
Address: 4-32-2-2F Jingumae, Shibuya-ku, Tokyo, Japan (old address)
Phone: 03-5772-7126
Nearest Station: Harajuku Station or Meiji Jingumae Station
Map: Bubbles Harajuku Map
Website: Official Bubbles Blog (Japanese)
All photos by Photographer Kira.