Fairy Kei Brand ManiaQ Closes Harajuku Store After 15 Years, Webshop Remains Open
Sad news from Harajuku for lovers of fairy kei, pastel backpacks, cute character t-shirts, and colorful tulle skirts: Japanese fashion brand ManiaQ has closed their beloved Takeshita Dori shop. According to their website, the brand has been in Harajuku for 15 years. ManiaQ released a statement on their website announcing the sudden-and-unexpected closure, assuring fans that the brand will live on as a web store. They also say that they hope to open a new shop in Harajuku at some time in the future.
In this photo, you can see that the ManiaQ sign has (sadly) already been removed from their brick building on Takeshita Dori.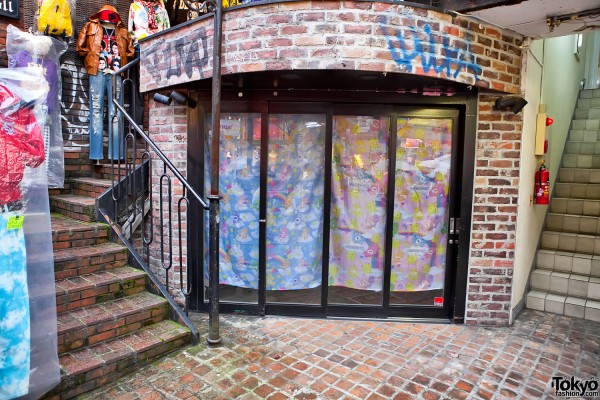 Here is the official announcement from ManiaQ, translated from Japanese to English:
NOTICE
Thank you for always visiting our store.
We're sorry for the short notice but we will be closing our store in Harajuku.

We apologize for not being able to let you know until the last minute.

We really appreciate everyone who has visited our store up until now.
For those who bought original items, especially our remake items, I didn't get a chance to talk to you personally, however, I feel very grateful for you all.

As I have been here in Harajuku for 15 straight years, I hope that I can have another store in Harajuku again someday.
For now, I will do my best using our website.

It's a small shop but I would be very happy if you could continue with us through our website.

So, I hope to see you again! November 27th will be our last day for the Harajuku store!
Thank you for all your business up until now!

We are still accepting orders as usual through our website.

We will attentively handle any inquiries you may have by email.
For those of you who gave us your phone number to reserve something at the Harajuku store, we will maintain business with you until your order is complete.
Here are pictures of the ManiaQ shop back when it was a Takeshita Dori landmark popular with Japanese Fairy Kei and pastel-loving girls.
Click any of the ManiaQ pictures to enlarge them.
If you'd like to see girls wearing fashion from the brand, check out our ManiaQ Street Snaps.
The official ManiaQ website – which is still taking orders – is right here.