Fuck Bear by Hysteric Glamour x Medicom
Attention all fashionable girls, Japanese brand Hysteric Glamour has a message for you this winter – Fuck You! No, not really – maybe the message is Fuck Everyone! Whatever the exact message, the hot cartoon character on Hysteric's winter 2008 clothing is called the Hysteric Glamour Fuck Bear. Why is he/she/it called that? Because he's flipping everyone off, that's why. This isn't a name we made up, either – check some of the online Japanese fashion stores like Zozo and you'll see that's the actual name they're using – "Fuck Bear".
Meet The Hysteric Glamour Fuck Bear: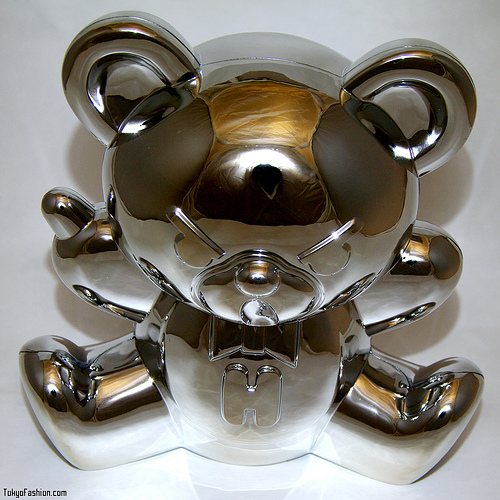 Hysteric is known for their punk rock attitude and collaborations with punk bands like the Ramones and pop culture figures like Andy Warhol, so this character isn't a big surprise – but it's still pretty harsh for Japanese women's fashion. Not to be too harsh, though, the Fuck Bear is cute (kawaii!), of course. In fact, he's so cute that many of the items featuring him are already sold out at online shops and even in some of the Hysteric Glamour shops around Tokyo. Just try finding a black version of the Fuck Bear N-3B parka / jacket!
But don't worry too much, there are all kinds of Fuck Bear items for this season – from jewelry, purses and bags to t-shirts, dresses, and the super-popular jackets. Sorry guys, the Fuck Bear is a girls-only item at Hysteric!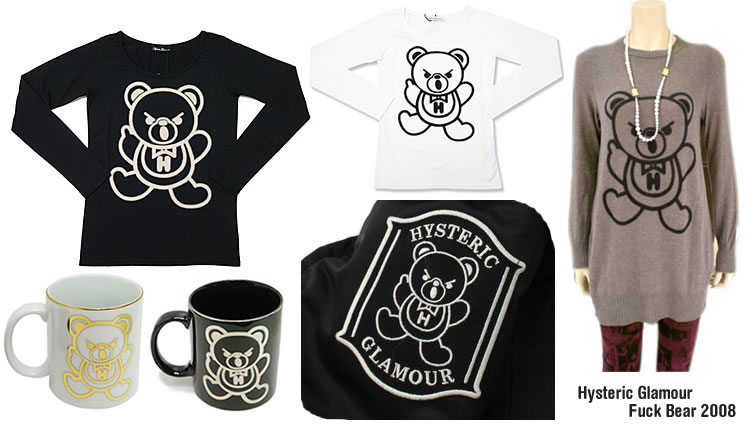 Just in case Fuck Bear clothing and accessories aren't enough for you – there's more! Hysteric is doing a special promotion for the holidays (December 6th – 25th) where you can own your very own Fuck Bear action figure. And this isn't some tiny cell phone strap – this is a pretty big "Ultra Detail Figure" – one created by highly regarded Japanese toy and figure company Medicom. (See the picture at the top of the article – that's the figure.)
Hysteric Fuck Bear Figure – Even The Box is Cute:

But, the catch is, you can't actually buy the figure. You have to buy stuff at an official Hysteric Glamour shop to get a free Fuck Bear Action Figure. How much stuff? A lot! To get a figure, you have to spend 50,000 yen – that's just over US$500. So, if you buy $500 worth of stuff at Hysteric Glamour between now and Christmas, you get a free Hysteric Bear figure.
Here is a pamphlet from Hysteric explaining the whole give away thing:

The figure comes in two different colors – white or chrome. The chrome model is even more limited than the white one. To get the chrome Fuck Bear, you have to go to certain Hysteric stores. The Aoyama Shop is one of the few stores where you can get the super-limited chrome version of the Bear Figure – most other stores offer only the white version.
Here are a few more pictures of the chrome version of the figure…
The back of the figure has "Hysteric Glamour" text just above the cute tail:

The back of the box with Medicom Toys info (and a warning not to eat the figure):

The size of the Fuck Bear figure is about 16cm tall x 14cm wide x 9cm deep. That's about 6 inches x 5.5 inches x 3.5 inches. A nice size for a bear that you have to spend $500 to get and whose only purpose in life is to flip you off!
If you're into strange Hysteric Glamour toys, and you're rich, don't forget to check out our recent article on The Rocking Machine by Hysteric.