Harajuku KAWAii!! 2012 Spring – Photo Report Featuring Kyary & Momoiro Clover Z
The streets of Harajuku were a bit less crowded on Saturday, March 24th as fashion fans headed to Tokyo Big Sight for "Harajuku KAWAii!! Spring 2012". With 6,800 attendees, this edition of the seasonal Japanese fashion event was the largest yet.
We've been covering Harajuku Kawaii since it started, and the event – along with its main star Kyary Pamyu Pamy – has grown exponentially from its start on the streets of Harajuku to its current mainstream success. With all of the excitement about the rising popularity of Harajuku fashion in Japan and abroad, we definitely weren't going to miss out on the Spring edition of Harajuku Kawaii!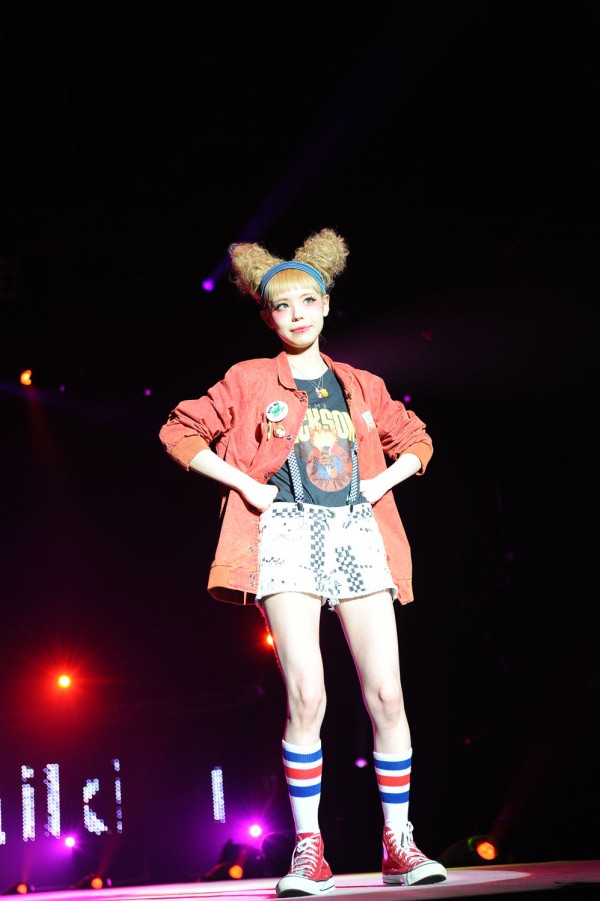 The show was co-hosted by the iconic twin models and founders of the brand Jouetie, Ami & Aya.
The Harajuku Kawaii fun began with the appearance of the noteworthy Negoto, a fast-rising (and fashionable) all-girl Japanese rock band. Their three-song set got the crowd started. Next, Megumi Yanagi stepped on stage for a one-song set featuring her single "I Love the People".
Harajuku's favorite superstar Kyary Pamyu Pamyu performed a long set – including "Kyary no March", "Cherry Bon Bon", "PONPONPON", "Candy Candy", "Tsukematsukeru" and her new single "Onedari 44°C" – in a kawaii ensemble flanked by child dancers. In a moment of promotion-meets-surrealism, KFC's Colonel Sanders joined her onstage during one segment of the show. Super popular Japanese idol group Momoiro Clover Z rounded out the musical portion with a high-energy performance to the delight of their legion of dedicate fans.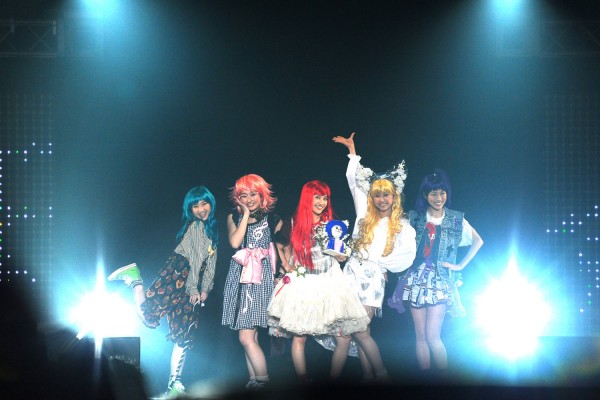 There was also plenty of fashion fun in addition to the music. Fans cheered on runway shows by brands such as Spinns, mysty woman, Ships, Yecce Vecca, E hyphen world gallery, and Namiki – worn by popular models such as Seto Ayumi, Shiho Takechi, Rina Tanaka, and Fumiko Aoyagi. Momoiro Clover Z modeled the Spinns spring collection.
Attendees also had the option of visiting clothing and beauty brand booths – snapping up freebies and enjoying photo booths with brands' models, fashion coordinate photography, and other fashion-related fun.
Those in attendance did not go home empty-handed. All went home with goodie bags containing a free magazine, cute DECOO phone strap and a two-set nail polish from Tsubasa Masuwaka's favorite eyelash brand, Dolly Wink.
All in all, Harajuku KAWAii!! 2012 Spring continued the event's tradition of kawaii fashion, music, and fun!
Harajuku Kawaii – Runway Shows
Kyary Pamyu Pamyu at Harajuku Kawaii
Ami Aya at Harajuku Kawaii
Negoto Live at Harajuku Kawaii
Harajuku Kawaii Crowd & Booths
Megumi Yanagi singing at Harajuku Kawaii
Click any of the Harajuku Kawaii pictures to enlarge them. Also, check back soon for our second report featuring street snaps of the Harajuku Kawaii attendees!
For more information, please check the following links:
Article text by Kaila. All photos provided by Harajuku Kawaii.
About the author:
Kaila is a graduate of Bunka Fashion College's sister school — Bunka Institute of Language. She loves taking photographs, getting lost in her own world and discovering new places with her fisheye, making accessories out of boredom and blogging whatever goes in her Japan life.