MIGHTY HARAJUKU Project: Tokyo's Youth Fashion Capitol Pulls Together in Wake of Disaster
Leaving Harajuku Station on the afternoon of March 11, 2011, I never could have imagined how drastically different things would feel by the time I returned only a few hours later. When the Tohoku Earthquake and Tsunami struck Japan that day, the enormity of the tragedy seemed almost beyond comprehension. Many people throughout Japan were shell-shocked by the scale of what had happened, as well as by their inability to do anything about it. When I walked back home that evening through Harajuku and other neighborhoods of Tokyo, I could sense so much sadness, confusion, and uncertainty in the air.
Those of us living in Tokyo were very lucky. While scary, the damage to Tokyo from the actual earthquake was minor. The people hardest hit were those in the north-eastern Tohoku region, as they faced the double brunt of the earthquake and the deadly tsunami. Everyone who I have spoken with in Tokyo is absolutely heartbroken over the plight of those who lost their lives, were injured, or made homeless by the tsunami. We are all doing our best to send our support to those affected – both by donating what we can afford, and by conserving energy and other resources so that they will be available to those who need it the most. If you haven't looked into the options for helping out, we highly recommend that you check out the Google and Yahoo earthquake relief websites for more information.
While the situation in Tokyo was much better than in other parts of Japan, the impact of the earthquake was strongly felt even in Harajuku – the neighborhood that TokyoFashion.com calls home. Harajuku was nearly deserted immediately after the earthquake as a result of various train lines shutting down, rolling blackouts, and shops closing to conserve energy. But as with every other disaster in history, it didn't take long for people to start working toward getting their lives back to normal – even if it's a "new normal".
Enter the "MIGHTY HARAJUKU Project".


One of our neighbors in Harajuku is the Japanese fashion brand and boutique 6%DOKIDOKI. The brand's founder, Sebastian Masuda, has been in Harajuku for over fifteen years. In that time, he has seen a lot of changes. One thing he had never seen before, though, is what we all experienced on March 11th. In the days after the earthquake hit, Sebastian began thinking of ways for Harajuku to come together and regain its strength and sense of purpose.
When you first think of 6%DOKIDOKI, you probably think of brightly colored accessories, cute fashion, a cute shop & website, cute everything. Your first impression wouldn't be wrong – there's good reason that 6%DOKIDOKI calls their store a "Sensational Lovely Shop" and uses phrases like "Kawaii Anarchy" to describe their aesthetic. But while Sebastian is known globally for his unique and extremely cute designs, there is far more to his philosophy than just making cute things. He has been a strong supporter of maintaining the "spirit" of Harajuku during the various trials that the neighborhood has gone through over the years – including the closing of the Hokoten (Pedestrian Paradise) by the government in the late 1990s, the economic crisis, and the recent onslaught of fast fashion brands into the neighborhood.
Through it all, Sebastian has been a constant champion of Harajuku as a place where young Japanese girls and boys can express themselves and have fun, mostly free of the pressures that permeate much of the rest of their lives. He believes that the "health" of Harajuku as a creative center and a place for young people is directly related to the "health" of Tokyo and the entire country of Japan. Having traveled extensively – and after talking to people around the globe both in person and online – all of us here at TokyoFashion.com also strongly believe that Harajuku is very important to Japan's image in the world.
With all of that in mind, Sebastian came up with the idea for the "MIGHTY HARAJUKU Project" in the days after the earthquake. The basic idea was simple: to bring together the people of Harajuku (those who live here, those who work here, and those who visit here) to help the people in other parts of Japan who are most in need – and to give each other strength and support in a time of turmoil and uncertainty.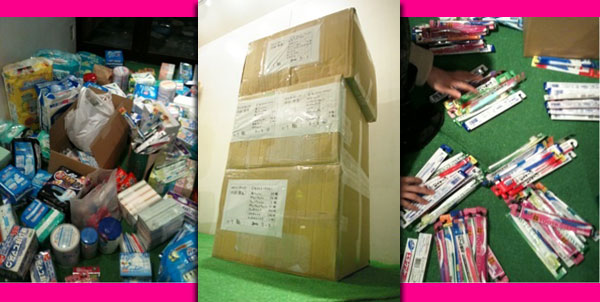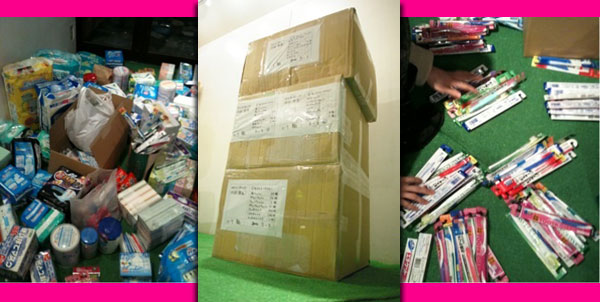 The first and most urgent order of business was to gather donations for the victims of the tsunami. 6%DOKIDOKI's staff, customers, and many others brought goods and money to the brand's shop in Harajuku, where they were boxed up and made available to those in the worst-hit areas of Japan. But Sebastian had a lot more in mind than just donations when he envisioned MIGHTY HARAJUKU.
The MIGHTY HARAJUKU Project also seeks to ensure that Tokyo's young people still have a place where they feel safe and relatively worry-free – even when many potentially scary and stressful things outside of their control are happening in the country. Furthermore, Sebastian decided that it would be important to share news and images from Harajuku with other areas of Tokyo, Japan, and the rest of the world – to let people all over the planet see that even in troubling times, Harajuku is still hanging tough and moving forward.
Sebastian put the MIGHTY HARAJUKU Project into motion immediately – reporting on the situation on the streets of Harajuku in the days following the earthquake via his own mobile phone photos and short news items posted to his blog, Twitter, and Facebook in both English and Japanese. As more shops began to re-open, other people and businesses joined together to support the project and help contribute as well. Less than a week later, Sebastian had designed a "MIGHTY HARAJUKU" button/pin that is given away free at various locations around the neighborhood.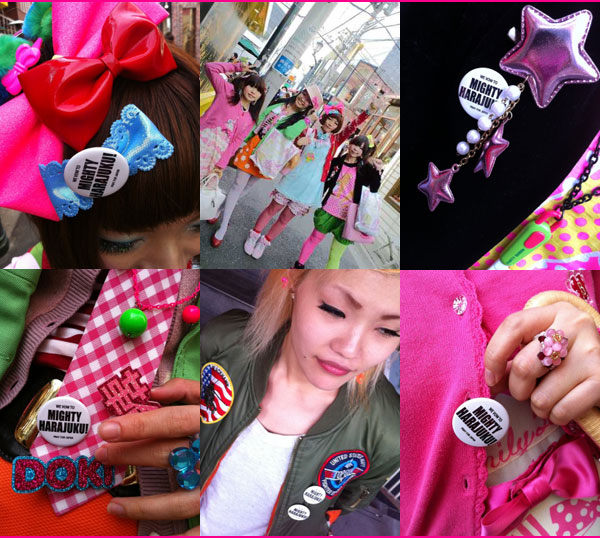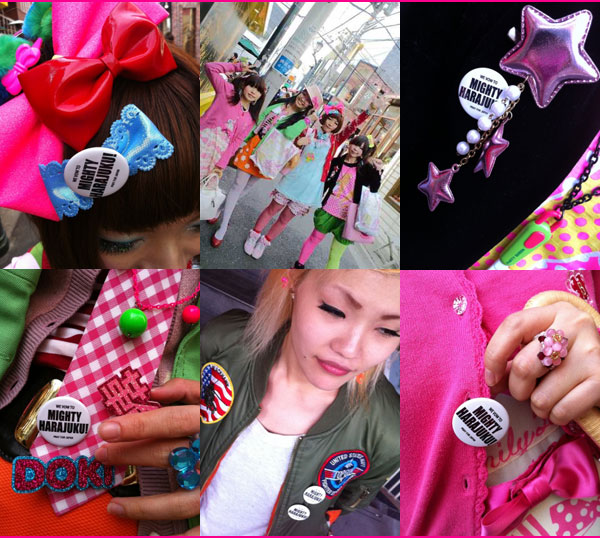 The shops, brands, and organizations who have been supportive of the MIGHTY HARAJUKU Project so far include FRUiTS Magazine, ADD, Dr. Martens, Faline Tokyo, Nadia, G2?, Spinns, Panama Boy, Hypercore & many more. Please see the list at the bottom of this article, as new Harajuku-ites are joining the project in every day.
The story of the MIGHTY HARAJUKU Project is the story of how each neighborhood in Japan has been touched by this disaster. It is about how communities are coming together to support those who most need help, while also supporting each other and giving each other strength during a crisis most of us never imagined we would experience.
For more information on the MIGHTY HARAJUKU Project:
Here is a partial list of organizations supporting the MIGHTY HARAJUKU Project (in alphabetical order):
6%DOKIDOKI
ADD
Business As Usual
DETECT
Dr. Martens
Faline Tokyo
flower
FRUiTS
Furugiya-honpo
G2?
Green
Harajuku Fashion Walk
ILLEI
Kissa Christie
LISTEN FLAVOR
NADIA
Naval.
NPO Shibuya College
P's
PANAMA BOY
HYPER CORE
Rid Snap
SPINNS
Spiral
TokyoFashion.com
TokyoKawaiiMagazine
VACANT
VOLUME
For more information on donating money or other goods to help support earthquake and tsunami victims: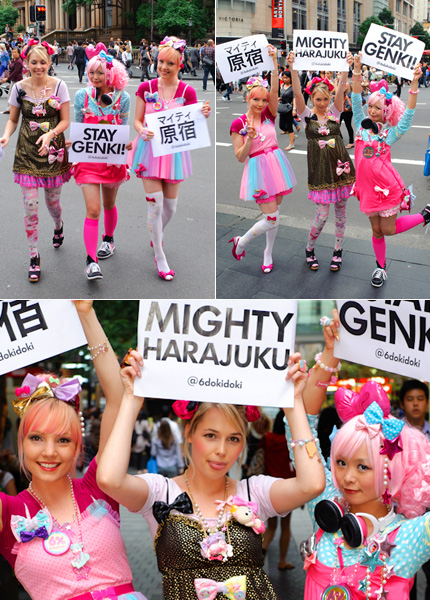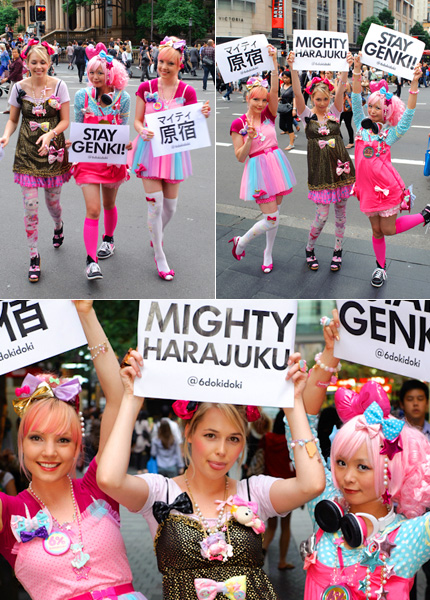 Photos courtesy of Sebastian Masuda & Photographer Kira. Three girls in pink photo by Electric Alice.