Shojono Tomo – Japanese Fashion Designer & Artist Interview
Shojono Tomo is a Japanese artist and fashion designer who came to international attention last year when hip hop superstar Nicki Minaj showed up at several big events wearing her colorful kawaii creations. Early in 2012, Minaj even name checked Tomo in one of her raps. Nicki Minaj's support has been a huge boost for an indie Japanese designer whose biggest fans had previously been a select group of colorfully dressed Harajuku girls. With all of the attention focused on Shojono Tomo recently – and because of her popularity the Harajuku fashion scene that we document daily – we thought it would be a great time to sit down with her and find what she's all about.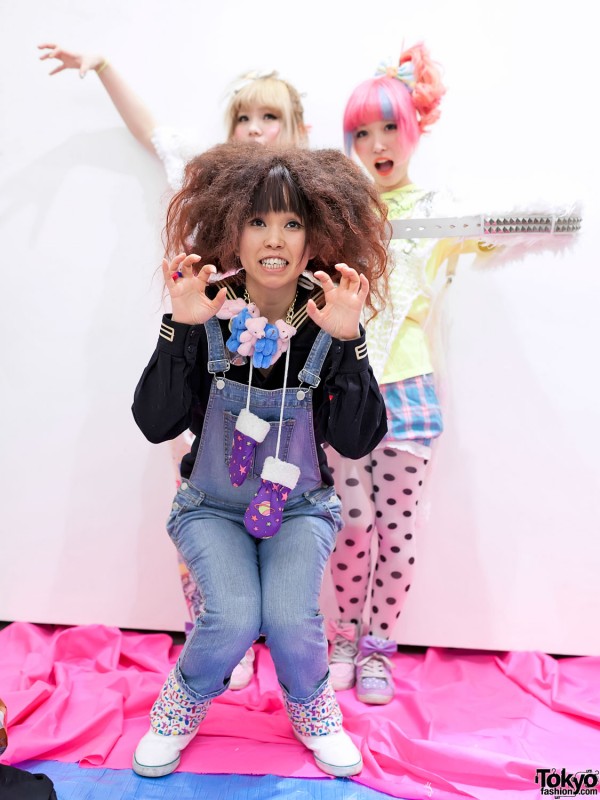 When we tracked Shojono Tomo down, she was at her studio inside of Tokyo's Meme Machine Gallery working on clothing for one of her many upcoming exhibitions – the "Double Tee" project. Shojono Tomo is an artist first and fashion designer second, so her projects are sometimes conceptual and not always made for everyday wear. The "Double Tee" project involves two people wearing the same shirt, forcing the wearers into skin-to-skin contact. For more on this intriguing project, check the video below in which Shojono Tomo explains the concept and how she came up with it.
In addition to the story behind "Double Tee", Tomo also talked to us about her ongoing collaborations with Nicki Minaj, the meaning of Nicki Minaj's nickname "Harajuku Barbie", the real Harajuku, her lifelong hobby of fortune telling, her various other upcoming projects, and much more. We were also lucky enough to see Harajuku models Kumamiki and Erika modeling a few of the "Double Tees" Tomo was working on in her studio. The girls are featured in both the video and the photos below.
Please check out our Shojono Tomo video interview! We hope that you enjoy watching the video as much as we enjoyed making it!
Shojono Tomo Interview Video

Please subscribe to the official TokyoFashion YouTube Channel!
Shojono Tomo "Double Tee" Project Pictures
Click any of the Shojono Tomo "Double Tee" project pictures to enlarge them.
We'd like to send out a big thank you to Shojono Tomo for taking time out of her schedule to talk to us. Also, thanks to Meme Machine Gallery, the "Double Tee" models Kumamiki & Erika, and Shojono Tomo's American manager Caro.
From March 5-26th, 2012, Shojono Tomo has a popup shop inside of Munky King on Melrose Ave in Los Angeles. For more information on the popup shop, check this Facebook page.
If you'd like to know more about Shojono Tomo, check out her official Japanese website, her Facebook page, her American website, or her online shop (English).
Video shot & produced by 1K Films.
***
About the filmmaker:
1K Films is a full production independent video company working in both the US & Japan. For more info, check out the 1K Films website.